TWITTER CO-FOUNDER JOINS OTHER DIGITAL PIONEERS INCLUDING ARIANNA HUFFINGTON, JIMMY WALES AND PETE CASHMORE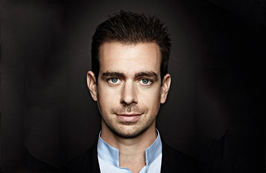 23 AUGUST 2012 – LONDON – Twitter co-founder Jack Dorsey, recently named Media Person of the Year at Cannes Lions, is today announced as Counsellor at this year's One Young World Summit in Pittsburgh, PA, taking place from 18-22 October.
Dorsey, one of the great digital entrepreneurs of the past decade, was a founder of Twitter in 2006 before going on to create the revolutionary mobile payments service Square, transforming the way people pay for goods.
He will join a growing number of digital luminaries at One Young World in Pittsburgh, making this the most digitally focussed summit yet. Arianna Huffington, founder of the Huffington Post; Jimmy Wales, founder of Wikipedia; and Pete Cashmore, founder of Mashable, are also confirmed Counsellors for this year's event.
They will address 1,500 delegates from more than 190 countries at One Young World, the world's largest global youth leadership summit. The news follows the recent announcement that Former US President Bill Clinton will address the Summit for the first time.
Other confirmed Counsellors at One Young World 2012 include Bob Geldof, Fatima Bhutto, Jamie Oliver, Joss Stone, Muhammad Yunus, Natalia Vodianova, Oscar Morales, Rahul Gandhi and Doug Richard.
David Jones, One Young World co-founder and Global CEO, Havas, said:
"People like Jack Dorsey and Arianna Huffington have pioneered the tools of the social media revolution. The expert application of those tools belongs to this amazing generation of young people. Bringing them all together, in person, at One Young World 2012 is extremely exciting."