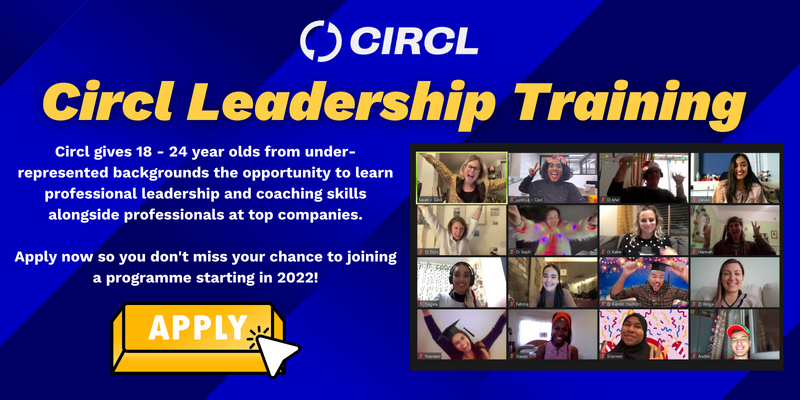 ABOUT CIRCL 
Circl gives 18-24-year-olds from under-represented backgrounds the chance to earn a qualification in leadership skills whilst learning, as equals, alongside managers from top global businesses such as Google, Facebook, Uber, Etsy, Sony, Allen & Overy, British Land, Hello Fresh, eBay and Innocent. We want to support young people whose background would traditionally be a limiting factor in them becoming a leader (primarily: low-income households amongst other factors e.g. first-gen to go to university, disability, ethnic minority, single-parent family etc). 

This qualification is worth over £1000 but free for you and it looks amazing on your CV!
HOW IT WORKS AND WHAT YOU'LL GET
You'll be matched 1 to 1 with a manager and together you'll learn the 'coach approach to leadership' and use your new skills to help each other set and achieve ambitious goals.
There are 6 2 x hour workshops and individual coaching sessions that run over 3-5 months, and you'll also meet your professional 1 to 1 match in between each session to coach and be coached by them. It's only a small time commitment that can fit around your studies/work.

HOW DO I APPLY?
Please apply through the application link below. The Circl team will then get in touch to let you know more about the programme and answer any questions you have.