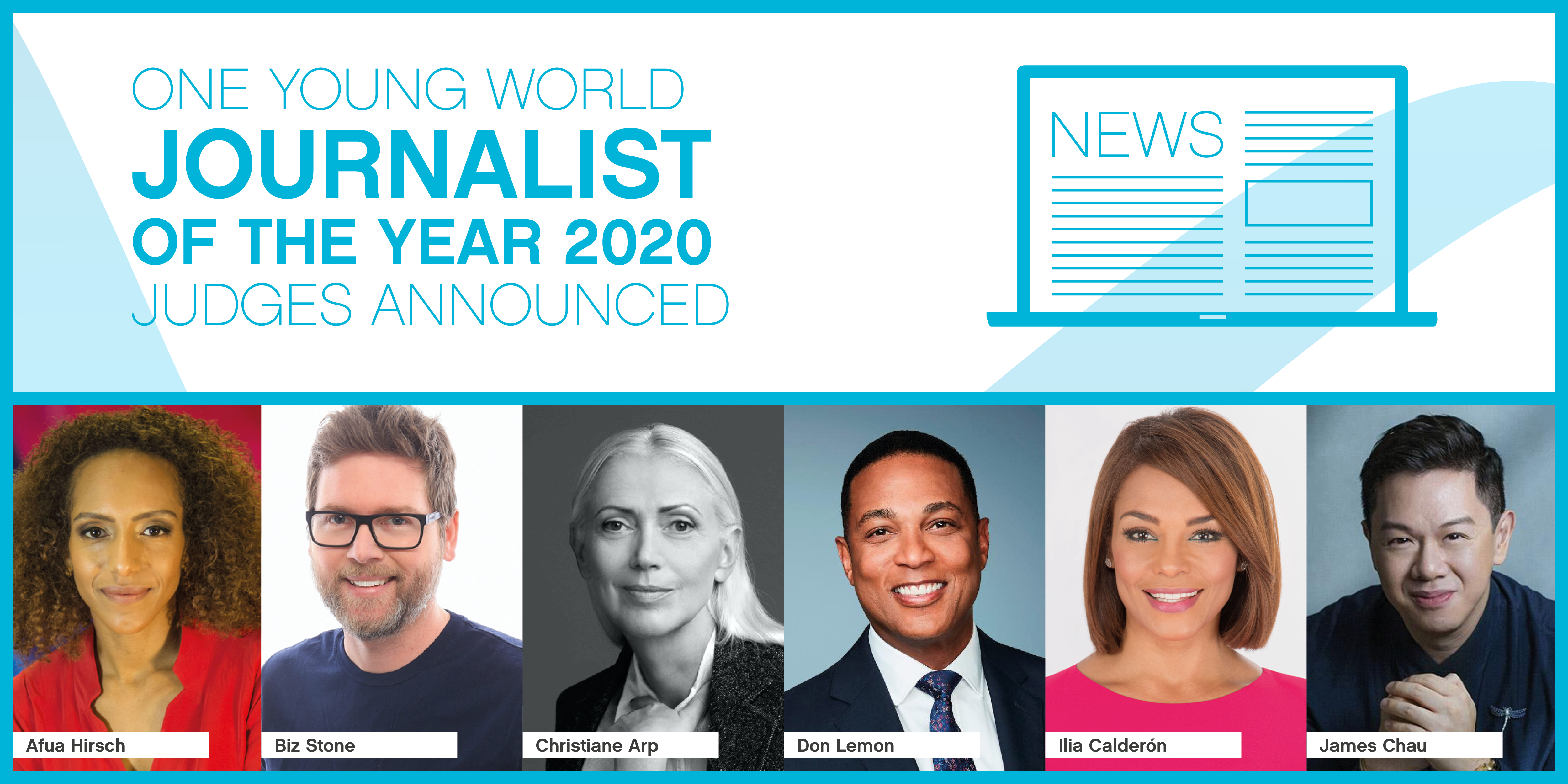 One Young World announces expert panel of judges for first ever One Young World Journalist of the Year Award
The One Young World Journalist of the Year Award was created to recognise five of the most promising young journalists between the ages of 18 to 35 from around the world. Fearlessly bold, these young leaders have shown considerable commitment to inspiring and empowering others through their work, and changing the way stories are reported in a turbulent journalistic landscape. 
The expert judging panel has been invited by One Young World to choose five winners who have created a meaningful global impact through exceptionally crafted reporting and who are clearly passionate about the rights to freedom of thought, expression and speech.
The shortlisted nominees are currently under review by One Young World's expert judging panel, who will decide the five winners. The judges are:
Afua Hirsch - Journalist, writer, broadcaster and filmmaker

Biz Stone - American entrepreneur, and co-founder of Twitter, Medium and Jelly

Christiane Arp - Editor-in-Chief of Vogue Germany

Don Lemon - CNN Correspondent and Anchor of CNN Tonight

Ilia Calderón - Emmy® award-winning journalist, Co-anchor of Noticiero Univision and Co-host of Aquí y Ahora

James Chau - International broadcaster and Host of The China Current
THE JUDGES
Afua Hirsch
Afua Hirsch is a journalist, writer, broadcaster and filmmaker. Her current projects include a 6-part series with Samuel L. Jackson, a major BBC series about African art, and another about whiteness, both forthcoming. She regularly writes, reports and speaks on international current affairs, and has published two bestselling books, Brit(ish): On Race, Identity and Belonging, winner of the Royal Society of Literature Jerwood Prize, and Equal To Everything, about the UK Supreme Court. Afua was a judge on last year's Booker Prize and is currently the Wallis Annenberg Chair of Journalism at the University of Southern California in Los Angeles.
Biz Stone
Biz Stone is an American entrepreneur best known as co-founder of Twitter, Medium, and Jelly. A progenitor of social media, Stone has been developing large scale systems that facilitate the open exchange of information for more than twenty years. Stone is an investor, board director, and philanthropist. In 2017, Stone returned to Twitter at the request of Jack Dorsey, its Co-Founder and CEO.
TIME listed him as one of the "100 Most Influential People in the World," The Economist recognized him with their annual "Innovation Award," INC named him "Entrepreneur of the Decade," CIPR honoured him for "Leadership in The Forefront of Developing New Media," and GQ Magazine saw fit to label him "Nerd of the Year." In 2019 Vanity Fair featured him as a "Bright Spark".
Christiane Arp
Christiane Arp has been at the helm of VOGUE Germany as editor-in-chief since March 2003 and has rejuvenated the brand's relevance to international fashion. Alongside her role as editor-in-chief, she has a personal hand as a stylist in many international fashion shoots. At the moment she is preparing an exhibit about 40 years of VOGUE Germany at the Museum Villa Stuck in Munich. 
While raising the global profile of German VOGUE, Arp has pursued a range of initiatives to promote Germany as a center of fashion. In 2011 she established the VOGUE Salon showcasing up-and-coming German designers during Berlin Fashion Week. Furthermore, she is president and founding member of the Fashion Council Germany. 
Christiane Arp studied fashion design at the Hamburg University of Design.
Don Lemon
Don Lemon anchors CNN Tonight with Don Lemon airing weeknights at 10pm. He also serves as a correspondent across CNN/U.S. programming. Based out of the network's New York bureau, Lemon joined CNN in September 2006.
Lemon has served as moderator for CNN's political town halls, co-moderated the first 2020 Democratic Presidential Debate, and co-hosted the Color of COVID Special that addressed the pandemic's effect on communities of color.
Lemon has reported and anchored on-the-scene for CNN from many breaking news stories, including the Orlando shooting at Pulse Nightclub (2016), the Charleston church shooting (2015), the death of Freddie Gray while in police custody, the shooting of unarmed teenager Michael Brown in Ferguson, MO (2014), the George Zimmerman trial (2013), the Boston marathon bombing (2013), the Philadelphia building collapse (2013), the Sandy Hook Elementary School shooting (2012), the Colorado Theater Shooting (2012), the death of Whitney Houston, the Inauguration of the 44th President in Washington, D.C., the death of Michael Jackson (2009), Hurricane Gustav in Louisiana (2008) and the Minneapolis bridge collapse (2007).
Lemon serves as an adjunct professor at Brooklyn College, teaching and participating in a curriculum designed around new media. He earned a degree in broadcast journalism from Brooklyn College and also attended Louisiana State University.
Ilia Calderón
Ilia Calderón is co-anchor of Univision Network's flagship evening newscast, "Noticiero Univision" and she also co-hosts Univision's primetime newsmagazine, "Aquí y Ahora." Calderón is the first Afro-Latina anchoring an evening newscast for a major broadcast network in the United States. She previously reached a similar milestone in her native Colombia, as the first black woman to ever host a national news program in her country: "Noticiero CMI." 
Prior to joining Jorge Ramos on "Noticiero Univision" in 2017, she was co-anchor of Univision's "Noticiero Univision Edición Nocturna", before that she was co-anchor of Univision's "Primer Impacto" (First Impact). Prior to that, she served as co-anchor of the weekend edition, "Primer Impacto Fin de Semana". Before joining Univision, Calderon co-anchored Telemundo's weekend national newscast and Telemundo Internacional, where she interviewed numerous prominent politicians and celebrities, among them former Secretary of State Hillary Rodham Clinton, former Colombian president Álvaro Uribe, and world-famous singer/songwriter Shakira. 
As a respected journalist, Calderón has received several recognitions during her professional career, including an Emmy® Award. In 2005, she received the "Premio Orquídea" award, which honours Colombians abroad, for Best International Journalist of the Year. In 2002, she was named one of the 100 most important Hispanic journalists by the Hispanic Media 100 organization.
James Chau
James Chau is an international broadcaster and Host of The China Current.
He has earned a special reputation for his interviews with leaders in politics, science, and health, including Nobel Peace Prize laureates Jimmy Carter, Kofi Annan, and Muhammad Yunus. He has also interviewed Winnie Mandela, Christine Lagarde, Jane Goodall, Paul Kagame, Elton John, and Arianna Huffington, among others. He hosts The China Current, a multimedia platform launched in 2019 that explores the relationship between humanity and our shared global future. Since its launch, The China Current has had more than 150 million lifetime views and is followed online by over 700,000 people worldwide.
In 2015, James was selected by the World Economic Forum as a Young Global Leader. In 2016, he was appointed World Health Organization Goodwill Ambassador for Sustainable Development Goals and Health. He previously served as UNAIDS Goodwill Ambassador.
He has chaired and moderated international events led by Bill Gates, Angela Merkel, Jack Ma, Justin Trudeau, and Laura Bush. Born in London, James studied at the Royal Academy of Music, graduated from Cambridge University, and attended the Harvard Kennedy School on an executive education program.
The five winners will be announced in mid-June and will be presented with this award at the One Young World Summit in Munich.