The One Young World Academy powered by Pearson offers a brand new online learning experience. We're offering the chance to help young leaders tackle some of the biggest challenges facing our world by learning from world-renowned subject matter experts and gaining tools.
The One Young World Academy experience will empower will learners to embed practices and frameworks and build their knowledge, practical skills and approaches to make informed decisions and take responsible actions for environmental integrity, economic viability and a just society.
We take a future-proof community approach to learning, where learners will be supported online by colleagues and One Young World Ambassadors serving as project mentors, offering guidance and feedback coursework.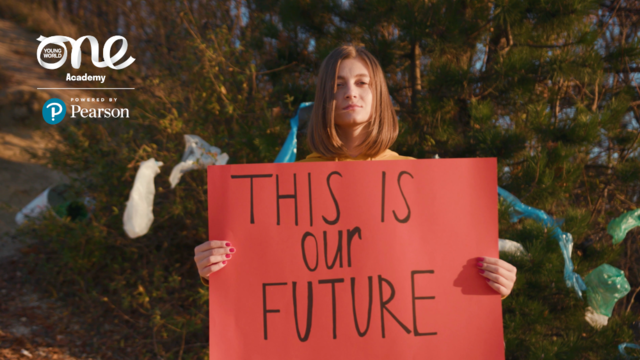 What will you learn?
Learners will gain the knowledge and the know-how to solve business-critical challenges relating to:
Tackling climate change
Peacebuilding and conflict prevention
Diversity and inclusion
The courses are practical and project-based, designed to help learners develop practical skills in sustainability and data-driven decision-making, leading to outcomes that accelerate the impact to build a fair and sustainable world.
The courses will not only help improve learner's confidence and their own ability to be a force for change, but will also help to strengthen their ability to collaborate successfully with experts and stakeholders.
All our courses are aimed at engaging everyone who is passionate about making a difference, regardless of experience. After successfully completing a course, learners will receive a a recognised credential badge anchored in the blockchain which they can add to their LinkedIn and online CVs.
One Young World Academy powered by Pearson - Where learning meets action
Coming early 2023
Register your interest to be the first to receive updates, surveys, and incentives about the One Young World Academy