Message from the Founders
The first global pandemic in over a century was daunting but, all over the world, One Young World Ambassadors organised and drove forward exciting initiatives doing the hard work necessary to make a difference.  
The demand for both in-person and digital attendance for the Summit in Munich, postponed from 2020 due to the pandemic, was greater than anyone could have expected and provided inspiration and impetus for all of us. 
In 2021 the first, truly hybrid, global Summit, new initiatives, and long-standing programmes inspired young leaders to drive impact, build capacity, and elevate their profiles on the local and global stage. With One Young World's support, they are achieving positive change at a substantial scale… 
Working across the entire range of the UN's Sustainable Development Goals, our Ambassadors have helped more than 5.4 million people and removed 812,000 tons of carbon emissions from the atmosphere. In this report, you can read stories from just a sample of this terrific work.
We are deeply grateful to all who contributed to One Young World this year, enabling our young leaders to develop, grow, and increase their impact. In 196 countries around the world, this Community continues to set an example for all people to take solutions into their own hands and drive their own social change to create a sustainable future for all.
35

.

8

M

people directly impacted by Ambassador projects featured in Annual Impact Reports since 2010
5

.

4

M

people directly impacted by Ambassador projects featured in the 2021 Annual Impact Report
812
K
tonnes of CO2 mitigated by Ambassador projects featured in the 2021 Annual Impact Report
$
650
K
distributed to young leaders working towards the SDGs in 2021
3
,000+
people educated as part of the Pandemic Preparedness Academy Series
11
,000+
people attended 82 Community events in 2021
The 2021 report includes 70+ stories and case studies to highlight the substantial impact being created by young leaders in the Community.
Edmilson Angelo
Change 1's Life
Angola has markedly lower rates of electrification and literacy than many of its neighbours in Southern Africa, with less than 40% of its population currently able to access electricity and its youth literacy rate falling behind in recent years.
Through Change 1's Life, Edmilson has stepped in to help solve these almost overwhelming problems and the many gaps in the country's infrastructure.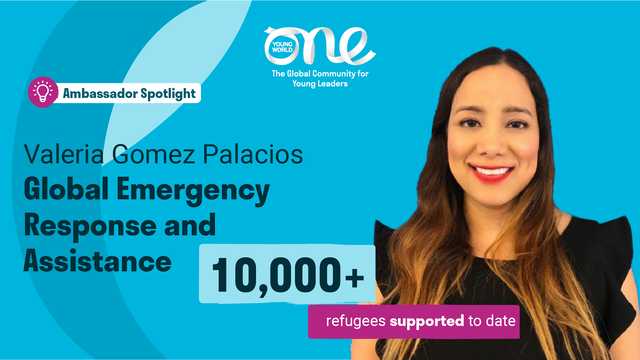 Valeria Gomez Palacio
GERA
Valeria Gomez Palacios co-founded GERA in an effort to assist Syrian refugees in New Jersey, a state with an under-supported resettlement scheme.
In the wake of the US withdrawal from Afghanistan and the evacuation of 73,000 non-US citizens, Valeria's organisation has intervened by creating a coalition of 20 partner organisations to assist the resettlement process.