Following the One Young World Summit 2016 in Ottawa, Canada, OYW Ambassadors Jemima Lovatt and Uzair Patel brought together a group of ~15 passionate young individuals from private, public and third sector backgrounds to create a OYW Working Group to End Domestic Abuse. The aim of the group is to engage corporate organisations and employers in ending domestic abuse. Now the working group has launched a free, 1-day training for young professionals who are interested in learning what they can do to tackle domestic abuse.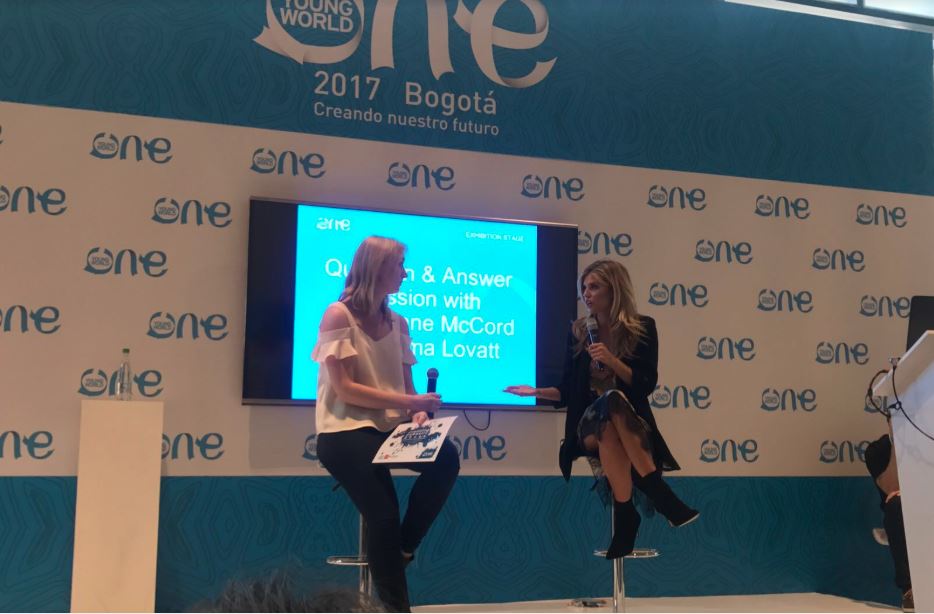 Domestic Abuse is not an issue that stays in the confinements of one's home – it seeps into the workplace, affects a person's ability to perform, their health and wellbeing. It costs UK businesses £2.7 billion annually of which, £1.3 billion is absorbed by employers. 70% of those affected by abuse are targeted in their workplace. This shows that in addition to the catastrophic impact that this issue can have on the health and wellbeing of your employees, domestic abuse can also affect the company's bottom line.
Domestic Abuse is not an issue that stays in the confinements of one's home – it seeps into the workplace, affects a person's ability to perform, their health and wellbeing.
Writing a policy or guidance is not enough – we need to start changing cultures, raising awareness of the issue, and help to break down the stigma. This is why the OYW Working Group to End Domestic Abuse has partnered with five specialist charities to develop an exciting training to help businesses engage with the topic. This is a great opportunity for employers to come together to learn and share ideas on how to approach this issue and thus create a safe space for victims of abuse.
The charities are: sTandTall (founded by OYW ambassador Esther Marshall), UK Says No More (a national campaign launched by Hestia and NO MORE), Solace Women's Aid (with over 40 years of experience of supporting women and children in London to build safe and strong lives and futures free from abuse and violence), Jeena (experts in providing a holistic, victim-centred and culturally aware frontline service) and the ManKind Initiative (the first charity in Great Britain to support male victims of domestic abuse). Here more from our partners below!
We invite anyone interested in attending this FREE training in London to see details below, and register by clicking here: https://www.oneyoungworld.com/training-day-22-november-ending-domestic-abuse-register-your-interest. We have very limited spots so register quickly!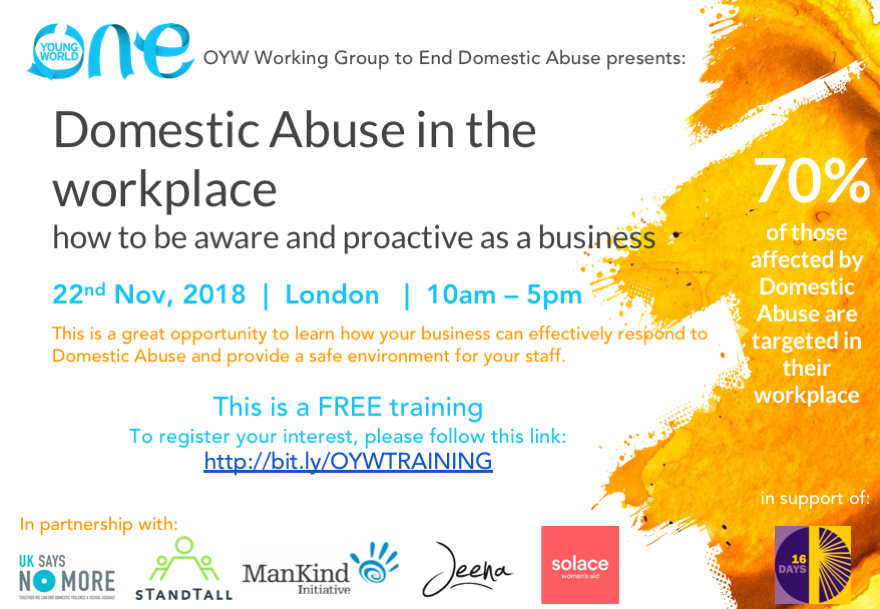 "Solace are proud to be partnering with One Young World to increase awareness and develop a targeted response to domestic abuse and sexual violence in the workplace. Working with young leaders on a national level will allow us to build a model that is both relevant and effective in creating safer, stronger futures for those who have been affected by abuse."
"Jeena are looking forward to working in partnership with OYW and others, in an holistic approach to recognise understand and combat domestic abuse, sexual harassment in a diverse global workforce, which impacts an individual's career, emotional, economical and physical wellbeing. The employer also has a moral and legal duty to ensure systems and processes are put into place to safeguard their employees and themselves which would lead to overall increase productivity and staff retention." Rani Bilkhu, Founder of Jeena
"This partnership brings the very best expertise and knowledge from across the whole domestic abuse sector to help employers better understand and support their staff. We all have a responsibility to look out for each other and support anyone who we think is suffering from an abusive relationship." Mark Brooks, Chairman of ManKind
"UK SAYS NO MORE is excited to work with One Young World and their Ambassadors. The commitment and dedication that is shown to creating real social change around these issues is powerful, and we know that together we can end domestic abuse and sexual violence." Lyndsey Dearlove, CEO of UK Says No More
"Standtall believes the best change happens when people work together and share knowledge. We are therefore very excited to be launching this partnership alongside One Young World and four leading UK domestic abuse organisations. Each will be sharing their expertise, and collectively we'll deliver an insightful training to help employers tackle these issues and better support their staff." Fernanda Munhoz, Projects Director sTandTall
Over the last 18 months, the OYW ambassadors have:
For further questions about how to join or support the working group, please email [email protected].