One Young World is deeply saddened to learn of the passing of long-time One Young World Counsellor and Seventh Secretary General of the United Nations Kofi Annan (80).
Mr Annan served as UN Secretary General from January 1997 to December 2006. During that time, he led a comprehensive programme of reform that sought to revitalize the United Nations and make the international system more effective.   In 2001, he and the United Nations were jointly awarded the Nobel Prize for Peace.
After his tenure as Secretary General, he set up the Kofi Annan Foundation in 2007 to mobilise leaders of all sectors to provide leadership where it is needed.
Kofi Annan has served as a Counsellor at seven One Young World Summits: 2010 in London, 2012 in Pittsburgh, 2013 in Johannesburg, 2014 in Dublin, 2015 in Bangkok, 2016 in Ottawa and 2017 in Bogota.
Having touched the hearts of Ambassadors and fellow Counsellors alike, the OYW community have paid tribute to Mr Annan's passing:
OYW's official tribute can be read here. 
---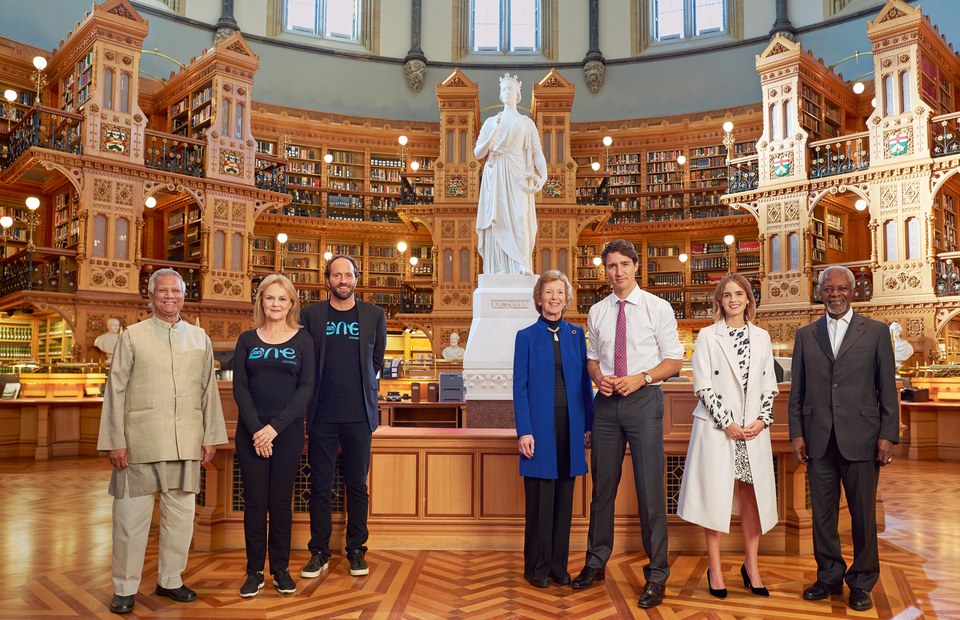 "Today, I join the world to mourn the passing of a great statesman and humanitarian, the former Secretary-General of the United Nations, Kofi Annan. I recently met with Mr. Annan ahead of the One Young World global forum in 2016. He believed deeply in the power and potential of young people. He recognized their innate sense of a world that has never been more interconnected or interdependent, and knew that young people, in many ways, had more to teach us than we had to teach them."
Prime Minister Justin Trudeau of Canada. 2016 Counsellor
"As a Kenyan - I will never forget meeting him as our nation was going through a truly difficult time. His words to me " I will not leave until we solve this situation. I hope I have your support." His resolve to stand by Kenya validated my resolve to stay on-air and do my part. Every time I ran into him at OYW he would take my hand warmly & say " East Africa is here." Being a OYW Counsellor has always mattered because I knew he needed the continent to be seen & heard. It was my duty to be there. I ache terribly today. Kenya has lost a friend, Africa has lost a son and OYW a guiding light for good."
Caroline Mutuko, Kenya. OYW Counsellor & Africa Local Organising Committee member

"I remember the feeling of joy, hope and possibilities the appointment of Mr Annan as the new Secretary General evoked. A person with a story not too dissimilar from mine, at the helm of international diplomacy. When I met him at One Young World, I thanked him for it. The world, the continent and One Young World has lost a giant. He showed leadership, gave us something to aspire to and told us that we should not vote for people aged 70+ to lead us. Rest in Power."
PJ Cole, Sierra Leone. 2014 Ambassador
"I always thought leadership was mostly about self - something you get into as part of your career journey. Kofi Annan taught me it's never been about oneself, but the community, not just the one under your leadership but even that which neighbors it - their collective welfare. Thanks Kofi Annan. Your name was and will always be synonymous to great leadership, and I am honoured to have had a chance to meet you. Rest In Peace."
Keith Asan, Uganda
"It is with great sadness we have received the news that our founder, our leader, our inspiration and mentor Mr. Kofi Annan has passed away. It has been a great privilege to work with Mr. Annan for the last two years on the Extremely Together Initiative. He was in the truest sense a global statesman. His legacy and work lives on. More than two years ago he tasked the ten of us with the mission to lead the path for young people across the world in the global challenge to counter violent extremism. We are thankful for all Mr. Annan has done to support this work and will continue our struggle against injustice in his spirit. In this spirit we stand ready to continue our work, to fight for the values he believed in, for a better future, for a better world.
During our last meeting with Mr. Annan in June this year he reaffirmed his support for our mission and his firm belief that "you are never too young to lead". Kofi Annan dedicated his life to peace, human rights and justice, an internationalist who fought throughout his life for the betterment of this world. He was in the truest sense of the word a global leader.
He taught us what it meant to work for a better and more peaceful world. Gave us the tools we need to lead and always had faith in our mission. Mr. Annan we salute you and your life's work. This is a sad day, and there are difficult times to come. As we, and the world mourn this loss, our thoughts are with Mr. Annan's family, his, and our colleagues, his friends, and all those lives he touched through a lifetime of service made better."
Extremely Together - Fatima Zaman, Ilwad Elman, Mimoun Berrissoun, Bjorn Ihler, Hajer Sharief, Hassan Ndugwa, Zaid Al Rayes, Jonah Obajeun, Arizza Nocum and Syed Ali Abbas Zaidi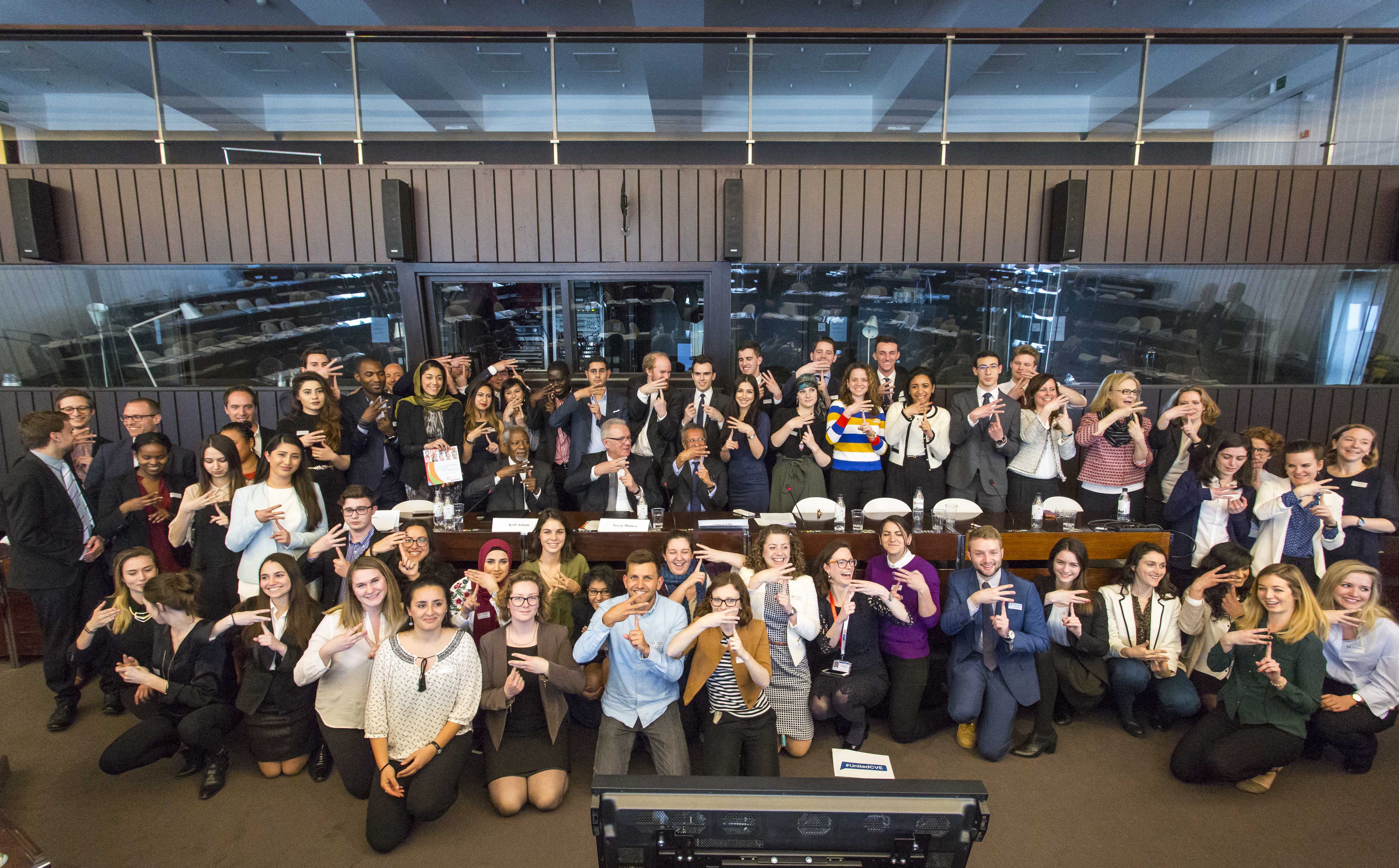 ​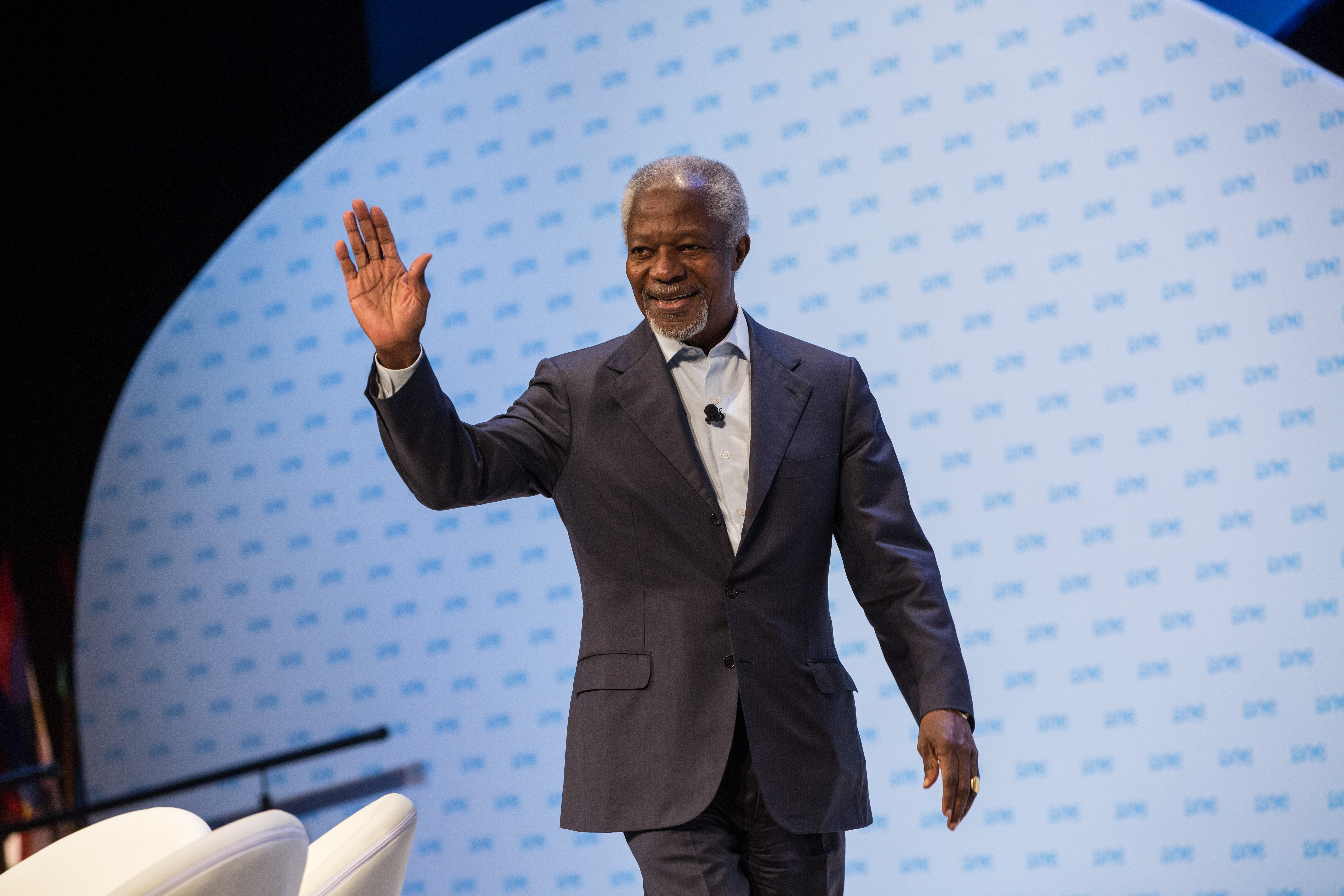 "We have more reasons to celebrate the life of our world's foremost diplomat and humanitarian, Mr Kofi Annan. The day I shared the same stage with him in London 2010 at the One Young World summit I had the pleasure seeing first hand his humility and wisdom of this great son of Africa and Africa's gift to the world. His legacy will continue to live in the heart of young Africans who believe in global peace, development and citizenship!"
Lina Imran, Ethiopia. 2010 Ambassador
"Kofi Annan has made me realise that our greatness lies in our ability to affect those around us positively. I learned from Mr. Annan that true happiness can never be far behind a peaceful mind and a grateful heart. His message, to rise above all selfish misconceptions by choosing to keep our values sheltered in grace and integrity, will remain with us forever."
Zana Silind, South Africa. 2017 Ambassador
"A simple yet very powerful statement by the honourable Kofi Annan got my mind racing; "You are never too young to lead". I looked around in the room and was in awe of not only the greatness I was surrounded by but the age as well. As young South Africans, we need to ask ourselves, "Who are we entrusting with building the future we want to see?" Since then, I look at every conversation with my peers with a different lens and I must say, the youth's tolerance for incompetence is decreasing significantly and I believe that will be reflected in how they vote. The above simply reflects the man's impact on not only myself but I believe far more young people. May his soul rest in peace."
Kagisho Masae, South Africa. 2017 Ambassador
"Kofi Annan was the UN Secretary General while I was still a little girl and learning about the world. His words, passion, and fight for justice and equality sparked something within me. He was the reason why I became so invested in the work of the UN, and one of the reasons why I chose to pursue a life devoted to humanitarian work. I know that his work and spirit will continue to inspire me in my work and generations of future leaders."
Begonia Randhav, Sweden. 2015 Ambassador
"I met Kofi Annan personally and had the chance to speak in front of the same audience he addressed in 2014 One Young World Summit in Dublin. as I always say to my grandpa, family and friends;  I want to be the next "Kofi Annan" due to his engagement in peace building and conflict resolution. He inspired me from my career as the President of the youth parliament/DRC to my peace building career! I will forever treasure everything I learnt from you "hero". He dedicated his life for a better and peaceful world! May your soul rest in everlasting peace! I celebrate your life!  #RIPKofiAnnan"
Eddy Musoke, Kenya & DRC. 2014 Ambassador
"Visionary. Your words will live long in the echoes of the universe."
Krisen Padayachee, South Africa. 2017 Ambassador
"At last year's One Young World Summit, Kofi Annan said "Finding solutions to these complex global problems is a difficult inheritance. Fortunately, we have a road map to the future." Little did he know he has been and will continue to be the roadmap for many of us.  Through his compassionate, peaceful and stern leadership style. We have looked to him for inspiration and direction. He deserves all the honour. Rest in Peace, Kofi Annan."
Khanya Mkhoto, South Africa. 2017 OYW Ambassador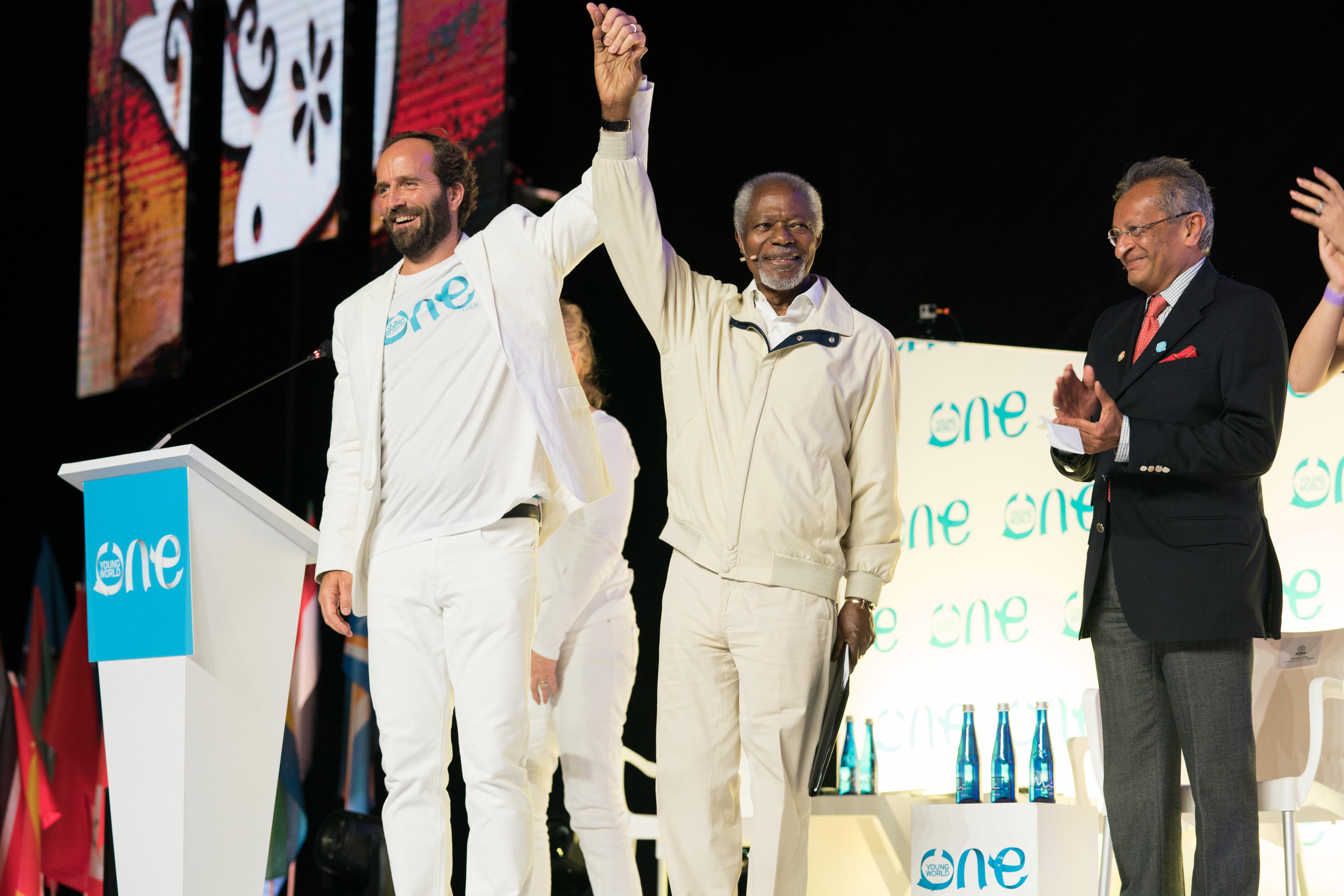 "Kofi's confidence and unwavering belief in a peaceful world inspires me into agreeing that indeed the world will surely overcome the challenges."
Isah Yusuf Aruwa, Nigeria. 2013 Ambassador
"A Great Ambassador for World Peace and Food Sustainability has passed on! Deepest sympathy to his family and friends. Will be sadly missed by the One Young World family to which he gave so much inspiration!"
Geoff Rothschild, South Africa. Africa Local Organising Committee member
"I first saw Kofi speak at OYW Ottawa 2016. I remember him to be a gentle, softly spoken man. Every person present listened to him intently and with the utmost respect. His fight for peace will live on in the legacy he has left, for he has given hope to many people. Let us never forget his light. He will be greatly missed."
Chiara Lisowski, United Kingdom. UK2 Coordinating Ambassador, 2016 Ambassador
"There are specific moments I recall from the One Young World summits where the room was so silent that one could hear a pin drop. The one being where Yeonmi Park delivered her harrowing story of escaping North Korea and the others being each time Kofi Annan took to the stage. A true gentleman, an authentic and timeless leader, that is how I will always remember him. The magnitude of the impact he had on me made his passing feel like a true personal. Thank you Mr Annan for the time, wisdom and love you poured into our community. You will forever be the wind beneath our wings and we will strive to not let you down by leaving this world in a better place than we found it. We are richer for having lived in your presence."
Mandy Muchnick (Benjamin), South Africa. Southern Africa Coordinating Ambassador, 2015 & 2016 OYW Ambassador
"The world has lost a citizen of all nation on the mother earth. Kofi Annan you was a hero, a fighter and an Achiever.  You was a peace maker who fought a great war in bringing peace. You knew no boundary with your work, you worked hard to make every human being enjoy his peace. Words can't describe you but you have left us a mark that symbolise why you existed for 80 years. You inspired me and changed my life the day we met in Colombia. Your legacy will leave on forever. Rest well Annan."
Happy Arnold, Malawi. 2017 Ambassador
"I'm mourning the loss of a dear friend, uncle and role model I have had since I was 17. Many didn't know or understood why I loved him so dearly, but the important thing was that I did. Last time I spoke with Mr. Annan was on 14th of May. We were on the phone as he expressed his enthusiasm regarding the OYW caucus I had arranged in Stockholm and he was looking forward to seeing me and hear all about everything I had done this year, we were going to meet each other in The Hague for OYW 2018. Back when my father was a peshmerga and he was fighting for democracy and human rights against the Baath regime, he used to hide in mountains with his brothers and fellow peshmergas. My father carried a small radio with him and every now and then he hoped to receive connection somewhere and listen to the news. He once heard the man that was his role model as well, giving a speech at the UN, defending the basic human rights of the Kurdish people as we were going through a genocide. My father used to write down short quotes of his speeches and carry it with him as he was facing death every day. He influenced the lives of so many and I am honored, humbled and forever grateful that life allowed me to work with Mr.Annan. This is all thanks to OYW.  Kofi Annan was a symbol of justice, equality and dignity. He influenced so many people with his deep compassion and empathy. I will always remember him as the man who hated taking selfies but loved informal and heartfelt conversations. I love you. Thank you for everything boss. Your spirit will live on forever."
Taffan Ako Sharif, Sweden. Europe 4 Coordinating Ambassador, 2014, 2015, 2017 Ambassador
"Mr. Kofi Annan exemplified dignified diplomacy, with true grace and humility. He showed us all - young and old - how quiet strength and being a voice of reason during the most tumultuous of times affirms you, as a true leader. A great light that each one of us hopes may guide others and shine as brightly he did for us, at home and to all the world, may his soul rest in peace."
Noni Hlophe, Swaziland. 2017 Ambassador
"I will be forever grateful to Mr Annan for the role he played in how I understand leadership. One of the most important lessons I've learned - and hopefully will continue to learn every day - is that organisation is critical to achieving great things. Mr Annan was an inspiration to many but he has left an impression on me of humility and a willingness to learn and speak truth to power."
Catherine Peter, South Africa. Chairman of the Africa Local Organising Committee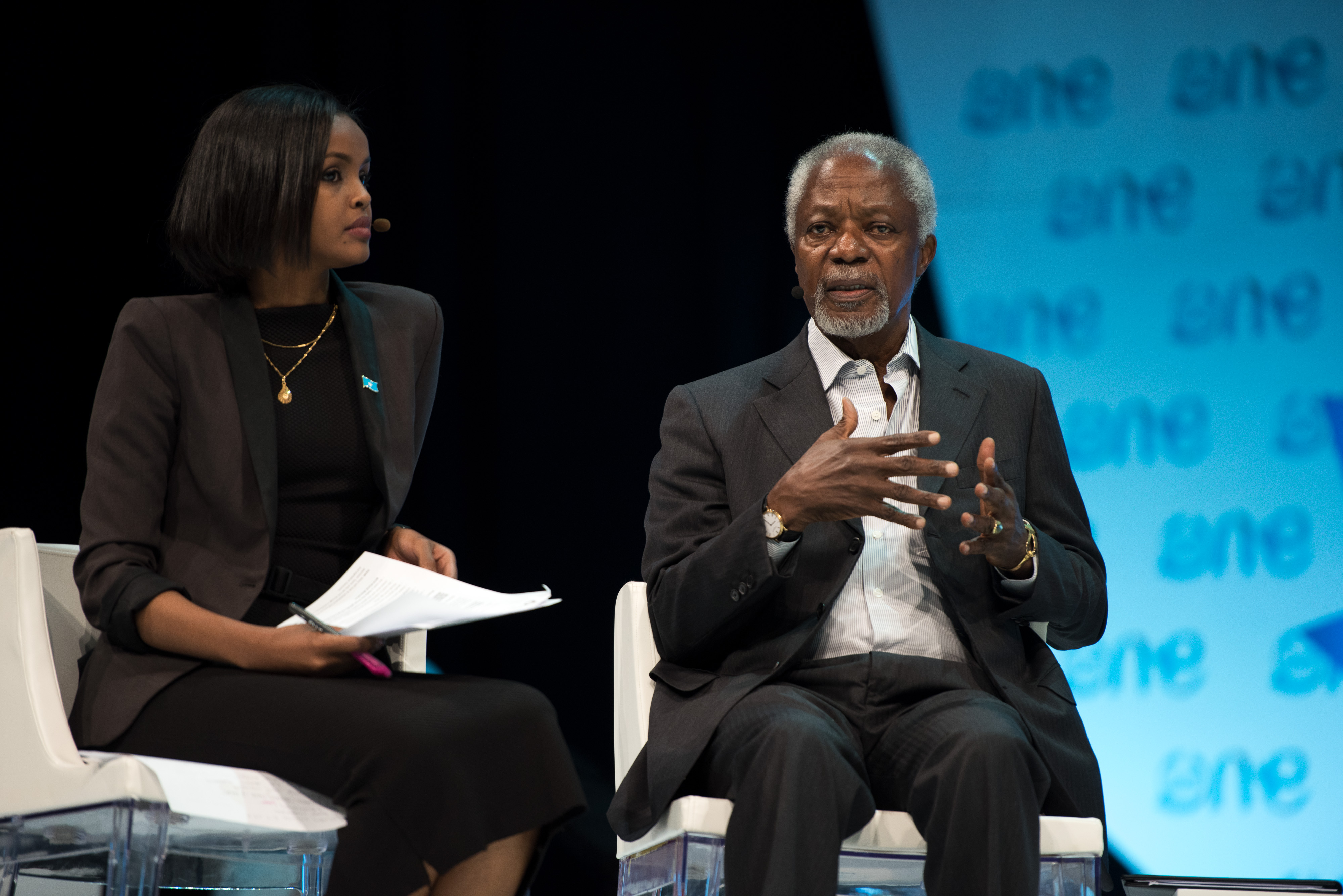 "So sad to hear of Kofi Anan's passing. I will never forget the energy he left in the room when he spoke at One Young World in Ottawa in 2016, how softly spoken he was and how he captivated the audience with his passion and belief in change. Mr Annan, thank you for believing in us and for empowering us to lead change. You will truly be missed."
Tala Dajani, Jordan. UK1 Coordinating Ambassador, 2016 Ambassador
"Dear Mr. Annan. By being the change you wanted to see, you gave me an apt representation of what leadership and service are all about. Thank you for being an inspiration and the perfect role model. Rest in Power!"
Nina Forgwe, Cameroon. 2016 Ambassador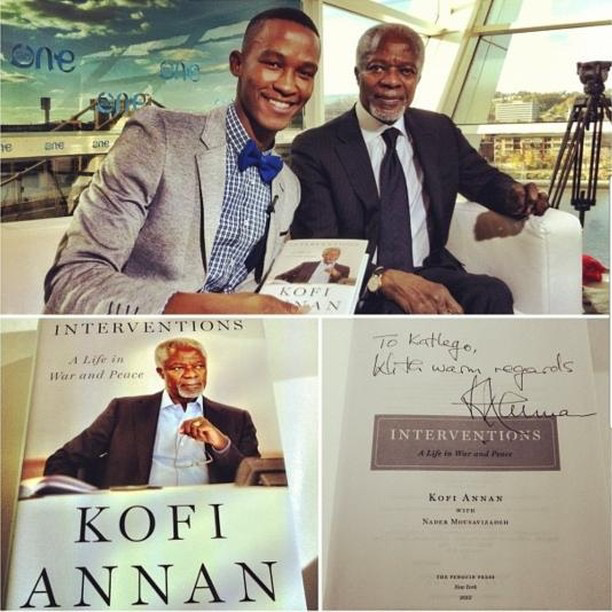 "I remember that day fondly, especially because of the sacrifice Mr. Annan and OYW  made to accommodate my meeting with him. His commitment to the betterment of the world and humanity, his belief in the ability of young people to achieve it and inspiring leadership were evident in every word and thought during that interview. He made me believe, even more, that it is possible for people to take hold of their destinies and actively shape them every day. Even after his retirement as UN SG he continued to be a beacon of hope and guiding light for future leaders. The world has lost an icon."
Katlego Maboe, South Africa. 2012 Ambassador
"As a young student, I always saw Kofi Annan as a mentor for his global leadership and passion for world peace. The opportunity to meet him in Bogota at the One Young World Summit in 2017 was a defining moment as his sober words reinvigorated my sense of duty to humanity and the world. Indeed, Ghana, Africa, and the world at large have lost an iconic leader and a true statesman. His legacies will forever remain in our thoughts. Rest well Africa's proud son."
Alexander Afram, Ghana. 2017 Ambassador
"As a little girl, Kofi Annan inspired me because he was an African leading a global organisation. As a One Young World counsellor, he inspired me to lead and to continue changing the world. He represents excellence, dignity and humility. His life reminds me that there is still much work to be done and I am capable."
Geneve Kroutz, South Africa. Africa Managing Ambassador, 2012 Ambassador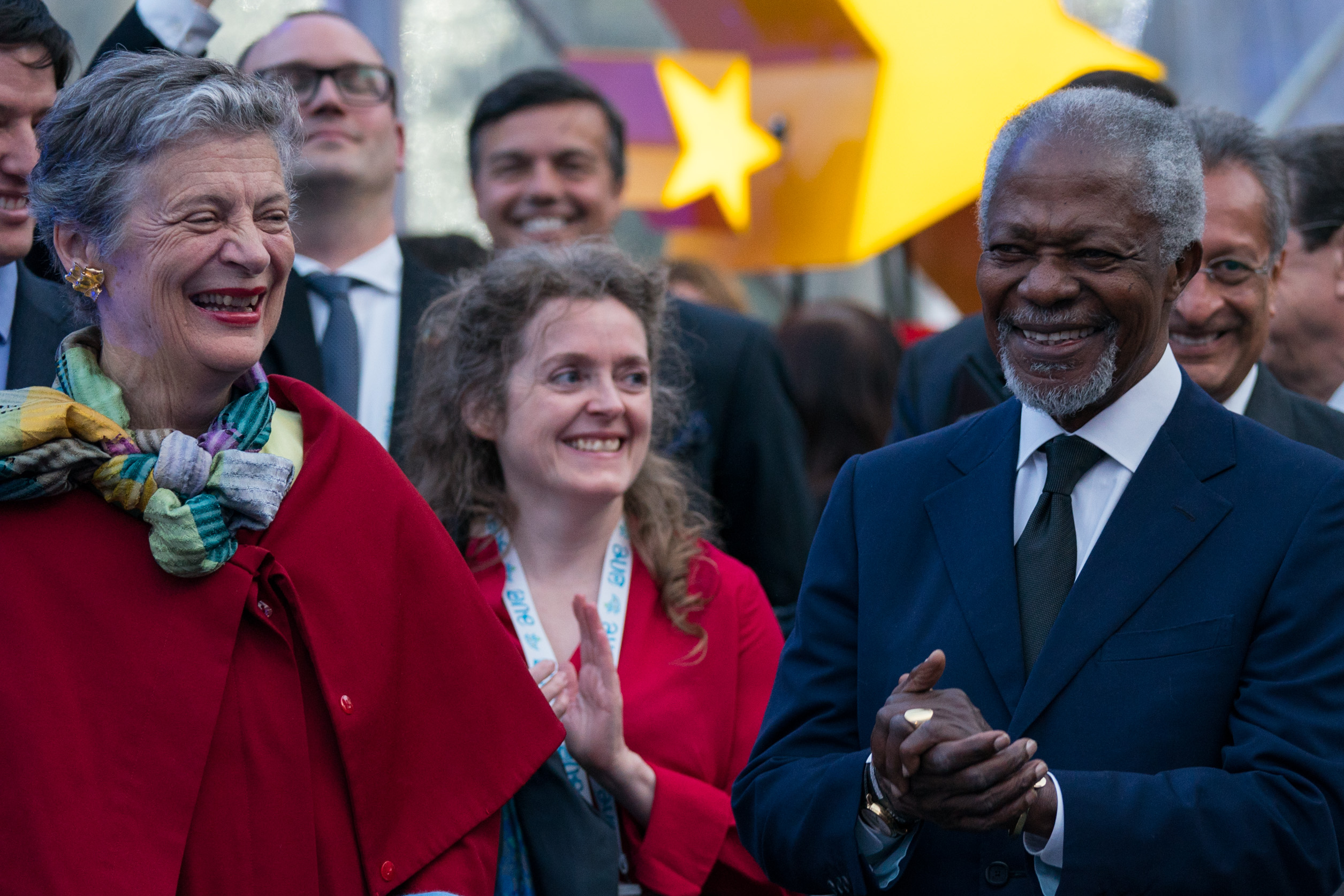 "Foundation, community, whatever you want to call it, start it now. Kofi Annan's death came as a shock to me. Five years ago, I got to participate in a live dialogue with him with a few other young people from around the world. It was part of his Kofi Annan Dialogues initiative, where he got to talk to young people and advise them.  I took part in the Democracy & Elections dialogue and I remember being so star-struck and feeling that I did terribly on the call. A few weeks later, I was asked by One Young World to record a tribute to him for his 75th birthday and never for a second did I think we would lose him. He had the sharpest mind, the calmest demeanour and he gave me the feeling that he would always be around, keeping the world from destroying itself. 
Now that he's gone, I'm scrambling to listen to all the lessons he passed to me, to us, in that call. I bet many other people who interacted with him are doing the same. The thing is, there are MANY of us who are doing the same. He touched MANY lives and we remember him for that.  In his speech in the One Young World 2012 conference, he calls all of us to action. He says in his speech that we can start from wherever we are, he asks us to challenge the status quo, to be bold and to believe, like he did, that change can take place. I keep asking myself why he started those live dialogues with young people. Did he know that his time was almost up? It's a scary thought. I have also been telling myself lately that I am ready to go at any moment but I now feel that is no longer true. I have spent a lot of time and effort building for myself and now it is time to build for others, for community; just like he did."
Catherine Chepkemboi Kipsang, Kenya. 2012 Ambassador
"Mr. Annan, your death is an inevitable blow. You served selflessly. Your leadership was remarkable. You had a special heart for young people in Ghana and globally. You did not only preached peace, justice and young people's development but you walked the talk indeed. OYW Ambassadors from Ghana served at OYW summits. The summit will not be the same this year without your wisdom, guidance and your ears. You always listened. I remember standing beside you during the inaugural summit listening to you feeling humbled. A big respectable man seriously paying attention and listening to young people talk about glibal challenges and most importantly answering questions from us and encouraging as to continue working together for a good cause. You were an epitome of peace and honor. We say 'Ayekoo!'for a life well lived though our hearts bleed right now. Rest well. World Greatest Hero Mr. Annan. Domirefa due."
Gifty Pearl Alimo, Ghana & USA. 2016 Ambassador
"One Young World was founded to identify and develop the next generation of leaders. Our community could not have asked for a better role model in Mr. Annan. His wise, conciliatory and global outlook had universal applicability for all that will follow him. He will be profoundly missed."
Charlie Oliver, UK. Managing Ambassador for Europe. 2013 Ambassador
"Kofi Annan's passing touched me deeply as he is one of the statesmen I admired and looked up to. He was not just an ordinary statesman. He embodied integrity and taught us all how to look at the humanity as one unified fabric. I'll never forget when told in Bogota that "You're not too young to lead". Those words will forever stay with me. Thank you Mr Annan for living an extraordinary life, contributing to humanity and inspiring the next generation of African leaders. Rest in peace."
Lily Okoworo, Nigeria. 2017 Ambassador