Three students from the University of Belgrade are on their way to One Young World's 2018 Summit in The Hague after solving a series of business challenges to win a global competition that attracted more than 50,000 entrants.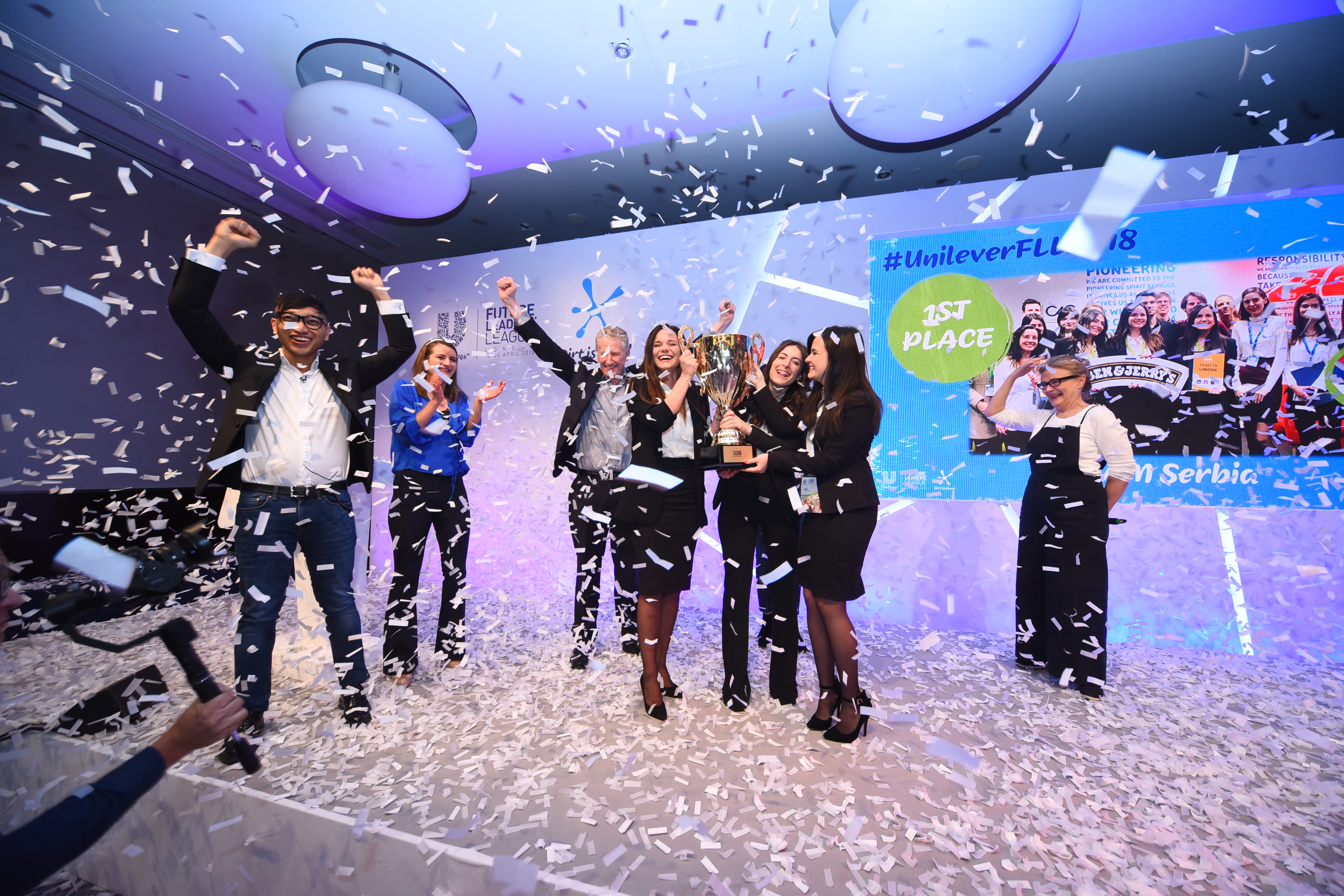 Milja Radosavljevic, 20, Tina Rakulj, 23, and Vanja Popov, 23, competed as 'Team Serbia' in the annual Unilever Global Future League (FLL), in which contestants demonstrated their business skills over three days of intense competition in London.
"It was so emotional, I started crying," said Milja of her feelings after the winners were announced. Tina said she was looking forward to the global environment of One Young World Summit. "I think it will be a whole new experience," she said. "We will meet a lot of people from different countries and we will hear a lot of amazing sessions."
One Young World co-founder Kate Robertson sat on the judging panel which chose Team Serbia as Global Champions in the contest, meaning that the three business management students from the University of Belgrade's Faculty of Organizational Sciences will travel to the Hague in October as part of Unilever's delegation. The global company is a great supporter of One Young World, and the Unilever CEO Paul Polman has regularly attended Summits as a One Young World Counsellor since 2011.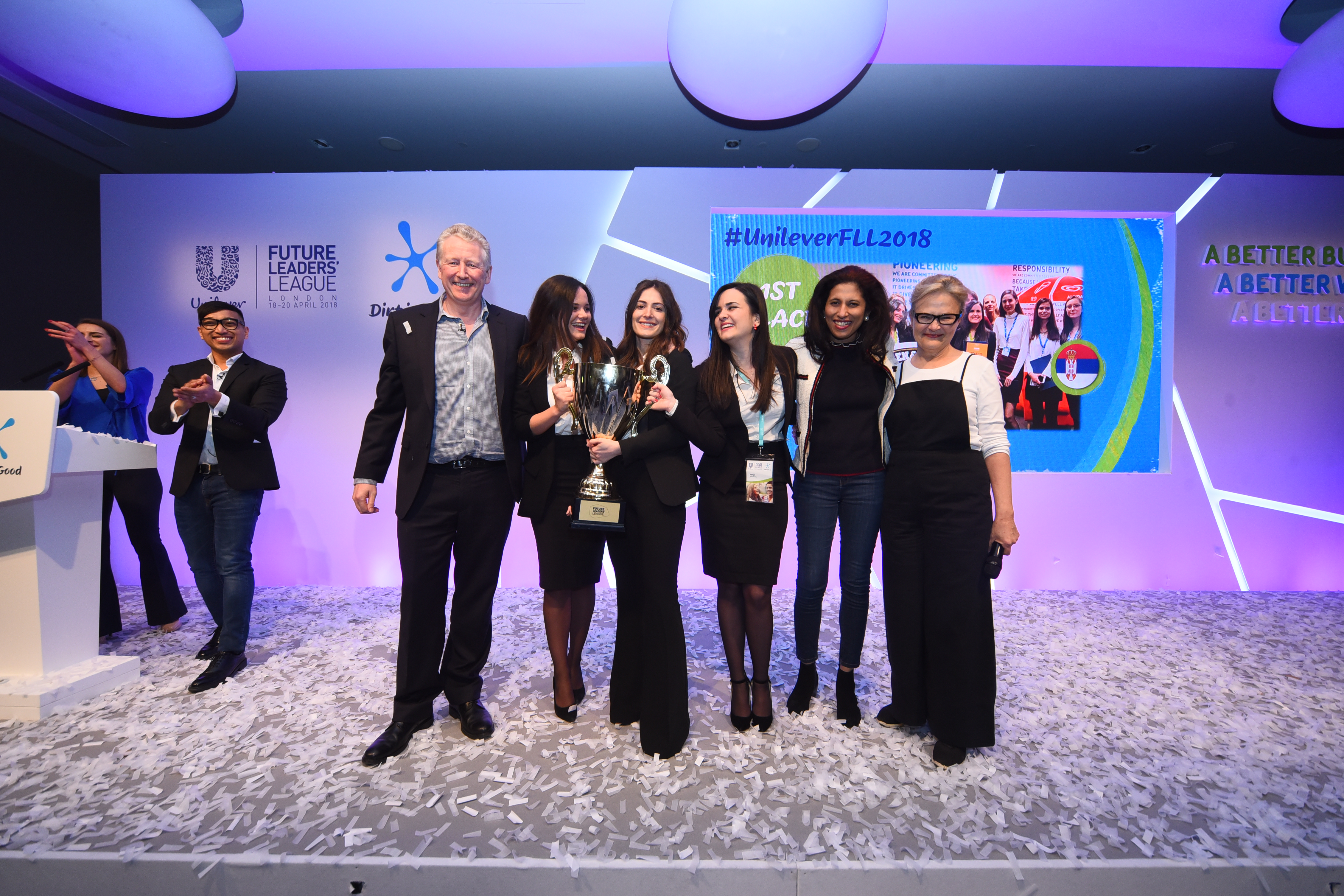 Unilever introduced FLL in 2013 with the aim of making the company more attractive to university students worldwide. It is a business case competition that is intended to showcase Unilever brands, the company's vision, and its business leaders.
This year Unilever received over 54,000 applications from 50 countries and 1,014 Universities; from which the 75 Global Finalists (25 teams of three) were selected after a series of initial country-based rounds. The Global Finals took place in London between 18-20 April. Business challenges were created with input from the Persil 'Dirt is Good' campaign, which takes the position that stains on children's clothing can represent positive signs of adventure, exploration and discovery.
Second place in the competition went to 'Team Bangladesh', with 'Team El Salvador' in third. These winning students will take part in a Reverse Mentoring programme, through which they will mentor and be mentees to Unilever's Presidents of Home Care, Personal Care and Food & Refreshments.
The event attracted huge global interest online, where it was shown on Facebook Live and on Instagram Stories. The hashtag #UnileverFLL2018 attracted 32 million impressions during the three-day event, a major increase on the 22 million who engaged with coverage the previous year.
Vanja, Milja and Tina are all members of a 'Case Study' club at their university faculty, which has honed their skills in tackling business management tasks. Lazar Djelic, a university alumnus who now works for Unilever, suggested they enter for FLL. "We loved the idea of competing in a competition given by such a great and inspiring company, but also a competition with long tradition and international perspective," Vanja told One Young World.
In the national stage of the FLL the trio worked on a challenge for the Ben & Jerry's ice cream brand, before they progressed to a regional round, held in Prague. "This was the first time we got to meet people working at Unilever and hear from them how passionate they are about their jobs and purposes they are fulfilling, which was very inspiring for us" Vanja said.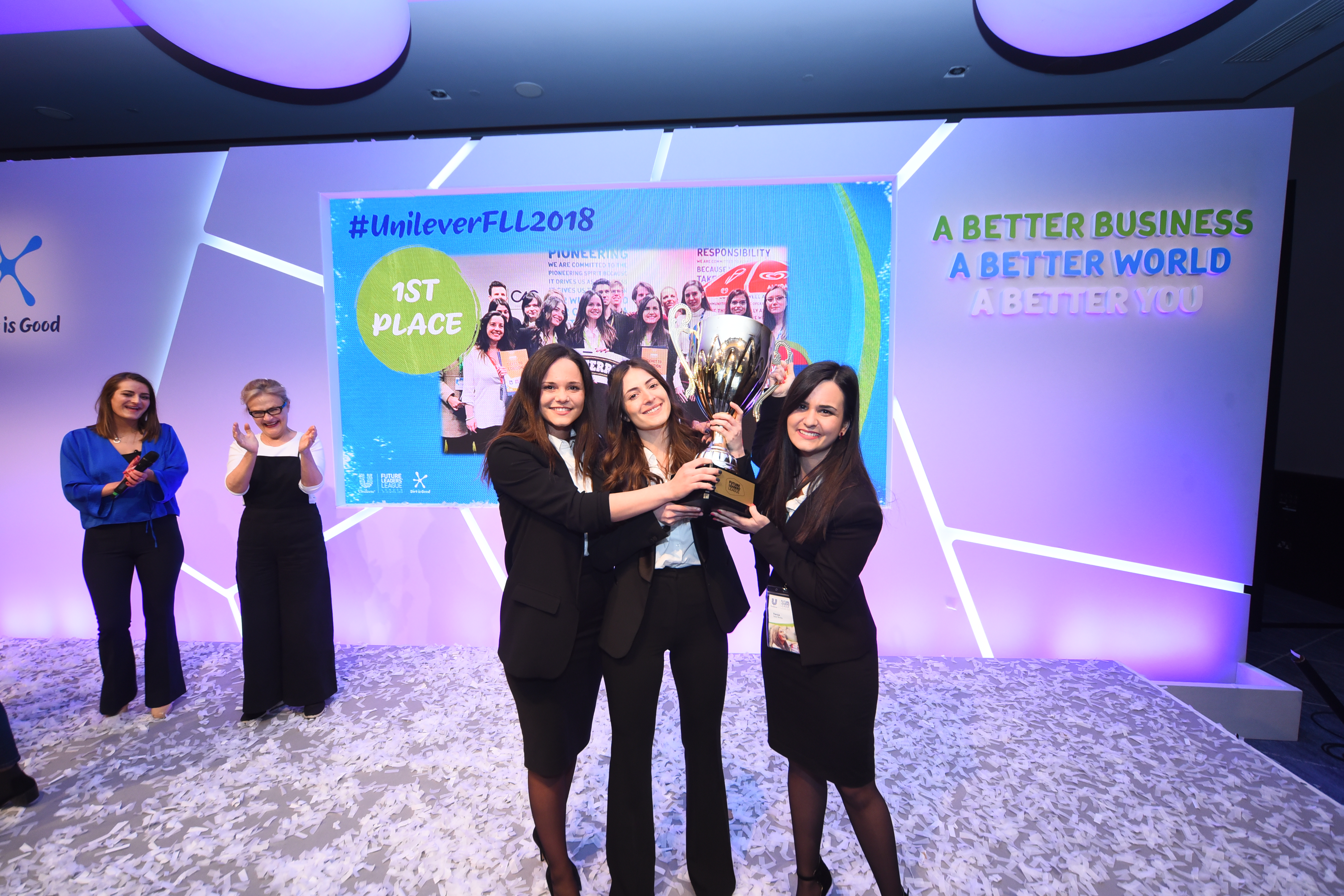 She said she particularly enjoyed engaging with Unilever's 'Dirt is Good' slogan during the London finals of the event. "The work they are doing through this platform caught our emotions right away and we absolutely loved working on these cases and figuring out the solution which would be in line with Unilever - to connect their care for people and planet, but also make profit," she said.
Vanja said she was also impressed with the "amazing and creative ideas" of the other teams taking part in the final. "It was a very strong and high quality competition," she said. "As it all ended with a sweet victory, we couldn't have been happier and feeling more proud as we represented our small country for the first time ever at FLL, and on top of everything we go to the One Young World Summit, which we are extremely excited about."
One Young World Summit 2018 takes place 17-20 October in The Hague.