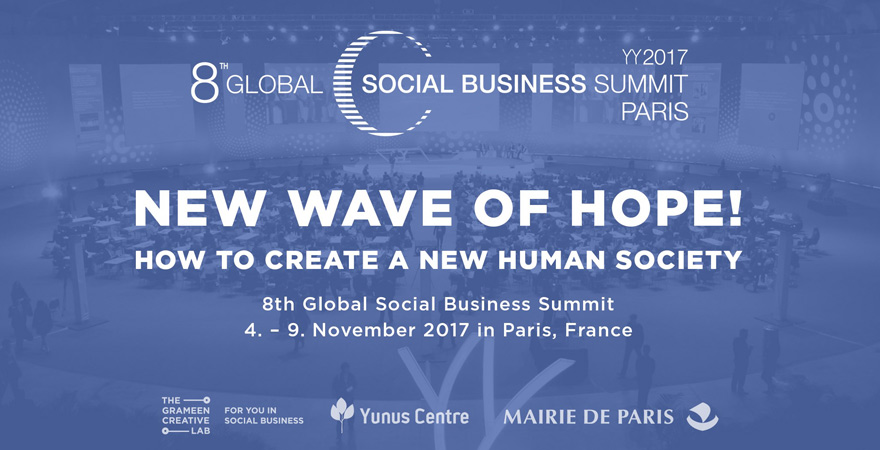 The Yunus Centre and The Grameen Creative Lab would like to warmly invite you to the 8th Global Social Business Summit. It will be held from 6th - 7th November 2017 in Paris (France) and is hosted by Yunus Centre and The Grameen Creative Lab under the auspices of the City of Paris.

What is social business?
The concept of social business was created by Nobel Peace Prize Laureate and One Young World Counsellor Professor Muhammad Yunus with the aim of finding solutions for the most pressing social needs, in a financially sustainable way.
Global Social Business Summit 2017 - 6 and 7 November 2017
The Global Social Business Summit will bring together many inspirational speakers and opinion leaders from private sectors, civil societies, governments and academia. During two days of meetings, forums and workshops, this event will spread awareness about social business, foster discussion and collaboration between practitioners and stakeholders, as well as present and conceive best practices. It will be the biggest networking place for social business entrepreneurs worldwide.

The main event on November 6th - 7th will take place at Cité Internationale Universitaire de Paris, whereby the closing ceremony on November 7th and several side events are located at Paris City Hall. The events will gather more than 1000 participants and guests from all around the world.
The Summit will be framed by the Social Business Young Challengers' and Social Business Young Pioneers' Meeting (4th – 5th Nov. 2017) as well as the Academia Conference (8th – 9th Nov. 2017).

Costs
 GSBS Standard rate: 1,790.00,- EUR
 GSBS One Young World Ambassador/Grameen rate: 840,- EUR 
 GSBS Student rate: 370,- EUR
 Combined ticket Young Challengers'/Young Pioneers' Meeting GSBS: 370,- EUR
More information and the registration are available under www.gsbs-2017.com.