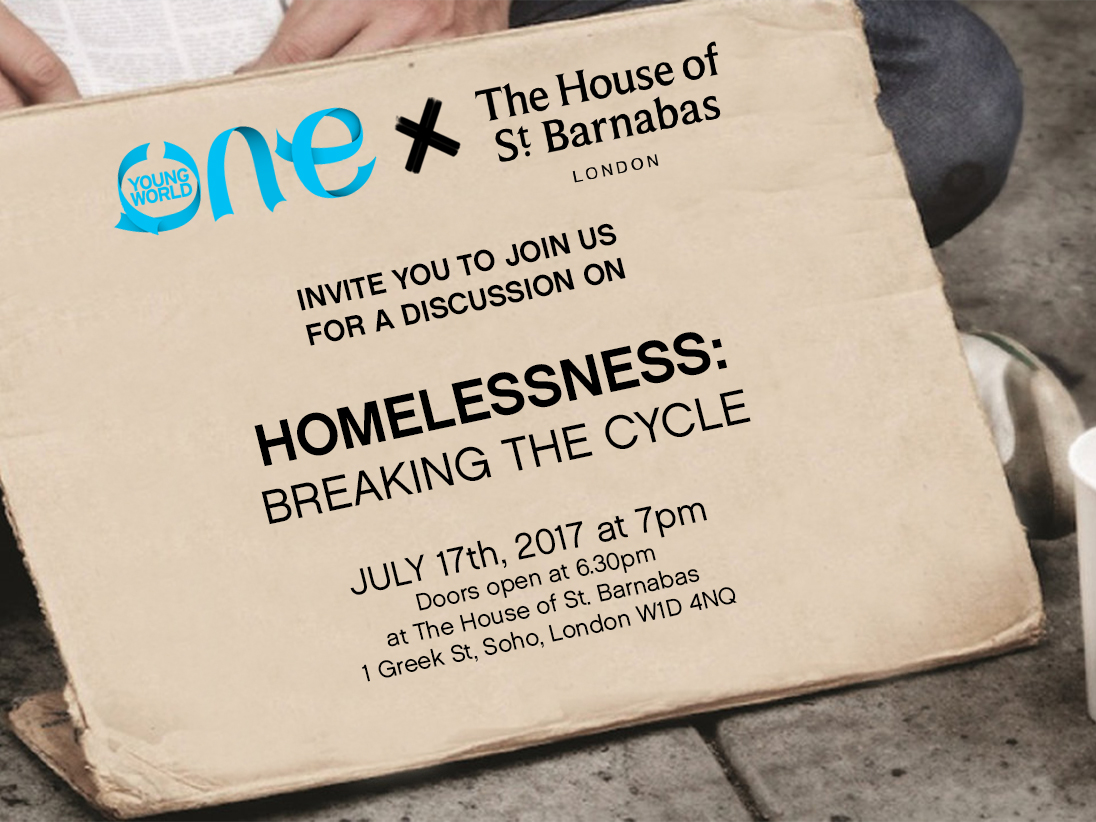 One Young World is collaborating with The House of St Barnabas in London for an evening of inspiring talks to discuss Homelessness: Breaking the Cycle. 
The event will feature One Young World Ambassadors and House of St Barnabas members that will talk about their own experiences and initiatives in helping break the cycle.
Jamala Osman:
Jamala 'Jam' Osman Jam is a 23 year old Bank Manager from East London, currently the youngest manager in the country. She is a talented, inspirational speaker with a background in sport and art. Having not had the best start to life, Jam is passionate about helping others realise their self worth and potential despite their past.
Sal Mohammed
Sal Mohammed is a Strategic Partner Development Manager at Google and CEO of Connected Homeless (CIO, 1172896), a charity looking leverage technology to provide the homeless community with support and information. Backed by partners including O2's social arm Connected Homeless is working to increase access to resources, underpinned by their unique digital currency and vouchers
Sophie Maxwell
Sophie Maxwell founded the Really NEET College in March 2011. Prior to that, she had successfully beaten her previous NEET status aged 14-16, overcoming homelessness aged 16-18, she went on to study first at Norton College to then go onto Sheffield Hallam to graduate in Leisure Events Management in 2009. Whilst studying at Sheffield Hallam University Sophie set up her social business AW Education which gets teenagers engaging positively with education again through engaging, practical sessions aiding both personal and social development.
When & where?
Date: 17 July
Time: 6:30pm
Location: ​The House of St Barnabas. 1 Greek St, Soho, London W1D 4NQ
Who can attend?
All One Young World Ambassadors are welcome to attend. Limited Tickets available. 
For any enquiries, please contact [email protected]
About The House of St Barnabas
The House of St Barnabas is a charity pledging to break the cycle of homelessness and social exclusion in London. They run a social enterprise, a not-for-profit members' club, to help the people they support back into lasting paid work. Their Employment Academy offers accredited qualifications, on-site work experience, real job opportunities and mentoring. The House of St Barnabas are seeking to redefine the notion of a members' club, to challenge stereotypes around the idea of exclusivity and to create a different kind of membership. The club is a creative, socially conscious and vibrant space.