NOTE: The 8 May show has officially been SOLD OUT. Another date has been added for Monday, 15 May. You can purchase tickets here.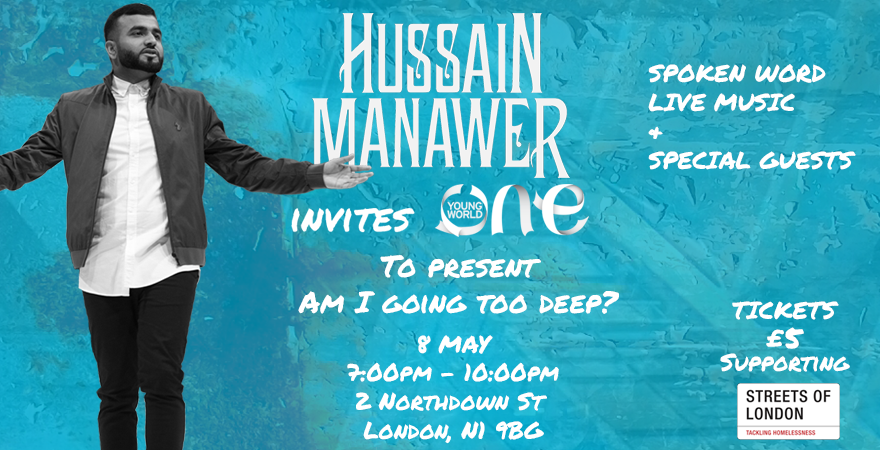 One Young World is teaming up with Ambassador Hussain Manawer to present 'Am I going too deep?' an evening of music and live performances to mark Mental Health Awareness week. 
50% of ticket sales will be donated to Streets of London, a UK charity which funds specialist support for people who are homeless in London, and raises awareness about homelessness.
Note: The event is FREE for One Young World Ambassadors. For your special promo code, please email [email protected].
About Hussain
Social entrepreneur, poet, mental health spokesman, campaigner and future astronaut, Hussain Manawer, is unlike anyone you will ever meet.
In 2015, Hussain entered and won the Kruger Cowne's Rising Star Competition after a breath-taking spoken-word performance at the One Young World 2015 Summit in Bangkok. One of thousands of entrants from over 90 countries, his enthusiastic and dynamic stage presence saw him battle the issues surrounding mental health, leading to a standing ovation from the 2000 strong audience and an influx of social media support. The Kruger Cowne Rising Star, Hussain will become the voice of the next generation and will travel into space with XCOR Space Expeditions.

Hussain is using this opportunity to campaign passionately about mental health issues. His goal is to alleviate the stigma that exists around mental health.Since taking on the role of Kruger Cowne's Rising Star, he took the issue of mental health to the streets of London, leading a convoy of branded#MentalHealthMatters supercars through one of the world's busiest cities and addressing the issue head on.

In 2017 Hussain landed in the Guinness World Records for a largest mental health lesson ever held. Manawer also released his first EP 'I'm Ashamed' from an upcoming album with Universal Music Group.

Listen to 'I'm Ashamed':