The first year of the 2020s has highlighted the world is in urgent need of strong, positive leadership. One Young World believes this vacuum must be filled by young people, however, discrimination can make young people feel patronised, neglected, and even marginalised. 
Despite proven value, underfunding remains a fundamental obstacle for young people as an estimated half of youth-led organisations are operating on under $5,000 per year. One Young World helped to address this in 2020 by providing more than $1.1 million to organisations run by leaders under 30 at an average grant size of $20,000.
One Young World had to adapt rapidly to continue its support for young leaders in light of the pandemic. The One Young World Academy, an innovative learning platform, and a new series of education videos were launched to provide engaging content to inform a generation of social changemakers. 
One Young World works hand-in-hand with more than 190 Partners to tackle social challenges, by co-creating opportunities for young leaders inside and outside the organisations. One Young World has also partnered with governmental institutions to identify leaders around the world and provide them with a platform for their leadership. 
One Young World is proud to assist a network of young leaders who are heading their own organisations and initiatives that are generating an average of $16 social value for every $1 invested. This is significantly higher than average charities in North America and Europe which return an average of $2 for every dollar donated.
In this network, One Young World connects activists and elected officials who have driven through legislation to address gender-based violence, failures in education, and land conservation. It has also supported young entrepreneurs who have designed innovative sustainability solutions, and young professionals who have embedded social purpose at the core of multinational corporations.
Covid-19 may have isolated people, but tackling humanity's challenges requires collaboration on a global scale. This makes One Young World, as the global forum for young leaders, more important than ever.
30

.

4

M

people directly impacted by Ambassador projects featured in reports since 2010
4

.

4

M

people directly impacted by Ambassador projects
190
K+
tonnes of CO2 emissions mitigated by Ambassador projects
$
250
M+
social value generated by Ambassador projects
$1:
16
social return on investment of Ambassador projects
$
550
K
distributed to young leaders working towards the SDGs
$
450
K
distributed to projects tackling the pandemic
23
K+
young leaders attended 180 Community events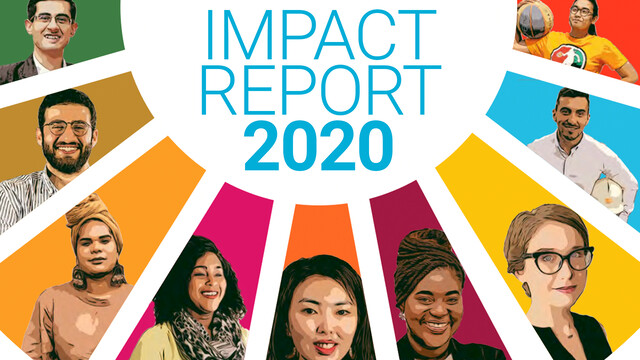 2020 Impact Video
Watch this video to see a summary of the ground-breaking impact achieved in 2020, and hear directly from the Founders of One Young World and some of the young leaders featured in the Annual Impact Report.
⟵ Watch the video now