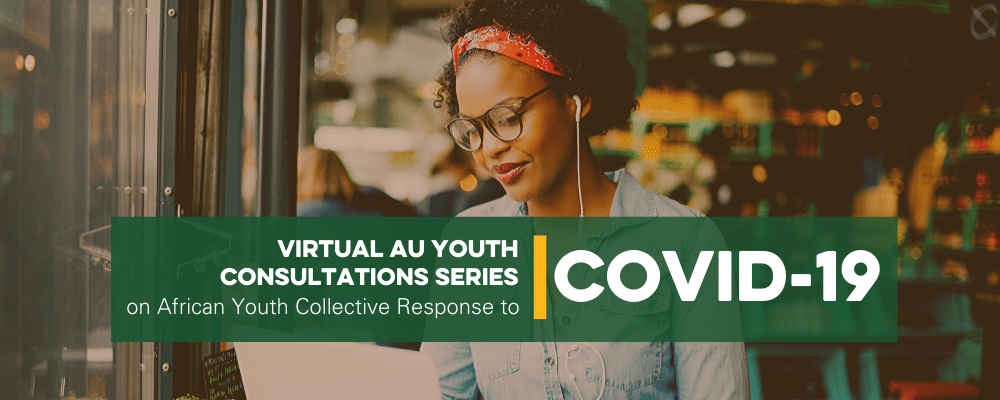 Virtual AU Youth Consultations Series on COVID-19 are led by the African Union Office of the Youth Envoy. The consultations start with briefings on country situations followed by brainstorming on the relevant questions and ends with agreed actions.  
The objectives of the consultations are to:
Inform & innovate with Africa CDC regular continental briefings

Amplify youth-led initiatives, best practices and actions on the frontline

Unite Youth Collective Response, Power and Solidarity  
The sessions focus on key questions:
How can we strengthen innovative communication tools between institutions and the local community both online and offline ?

How can we mobilize and organize the youth and the non-governmental actors to play a key role in prevention, response and transformation of the crisis?

What are the best practices and learnings we can share from countries and other viruses (Ebola, HIV etc.) ? 
Guests so far have included:
H.E. Mme. Bineta Diop. AU Special Envoy on Women, Peace and Security

Dr Ngozi Okonjo-iweala. AU Special Envoy to mobilise international support for the fight against COVID-19. Gavi Board Chair.

Dr. Solomon A Dersso. Chairperson, African Commission on Human & People's Rights

Dr John Nkengasong.  Director, The Africa CDC
For further questions please contact [email protected]
The AU Youth Envoy is Aya Chebbi, a One Young World Ambassador from Tunisia.