In an effort to further share the incredible work of the OYW Ambassador community, we've launched our monthly list of top projects you need to know about.
The OYW network is all about collaboration - so please get in touch if you're interested to learn more or join forces with any of the listed Ambassadors. Remember, if you log into your OYW profile, you can email them directly via the messaging button on their OYW profile, located on the bottom left. You must be logged in to do this.
Want to be featured on next month's list? Contact your regional Coordinating Ambassador - full list here.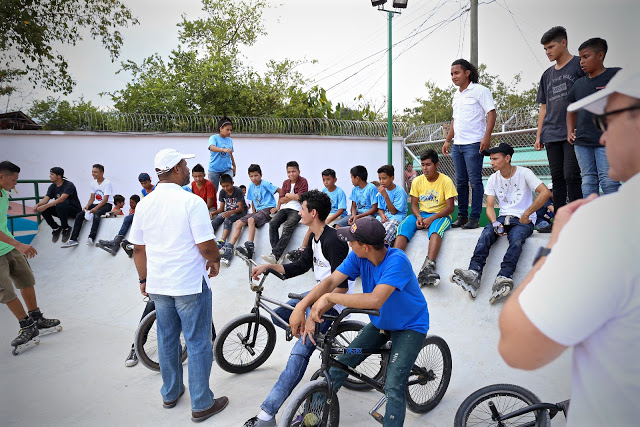 At the age of 16, Jessel Recinos fell victim to gang violence when he was shot in the back and almost killed. After recovering from this horrific incident, Jessel decided to use his experience to make a positive change in his community. He founded SkateBrothers, a youth club with the purpose of engaging young Hondurans into a supportive network that rejects gang culture and promotes community cohesion. SkateBrothers has been running for 7 years, and it has built the first ever skate park in Honduras. Hundreds of young people have been engaged through SkateBrothers, and the park has given them a place to meet and collaborate in a social setting they can call their own.
Connect: Facebook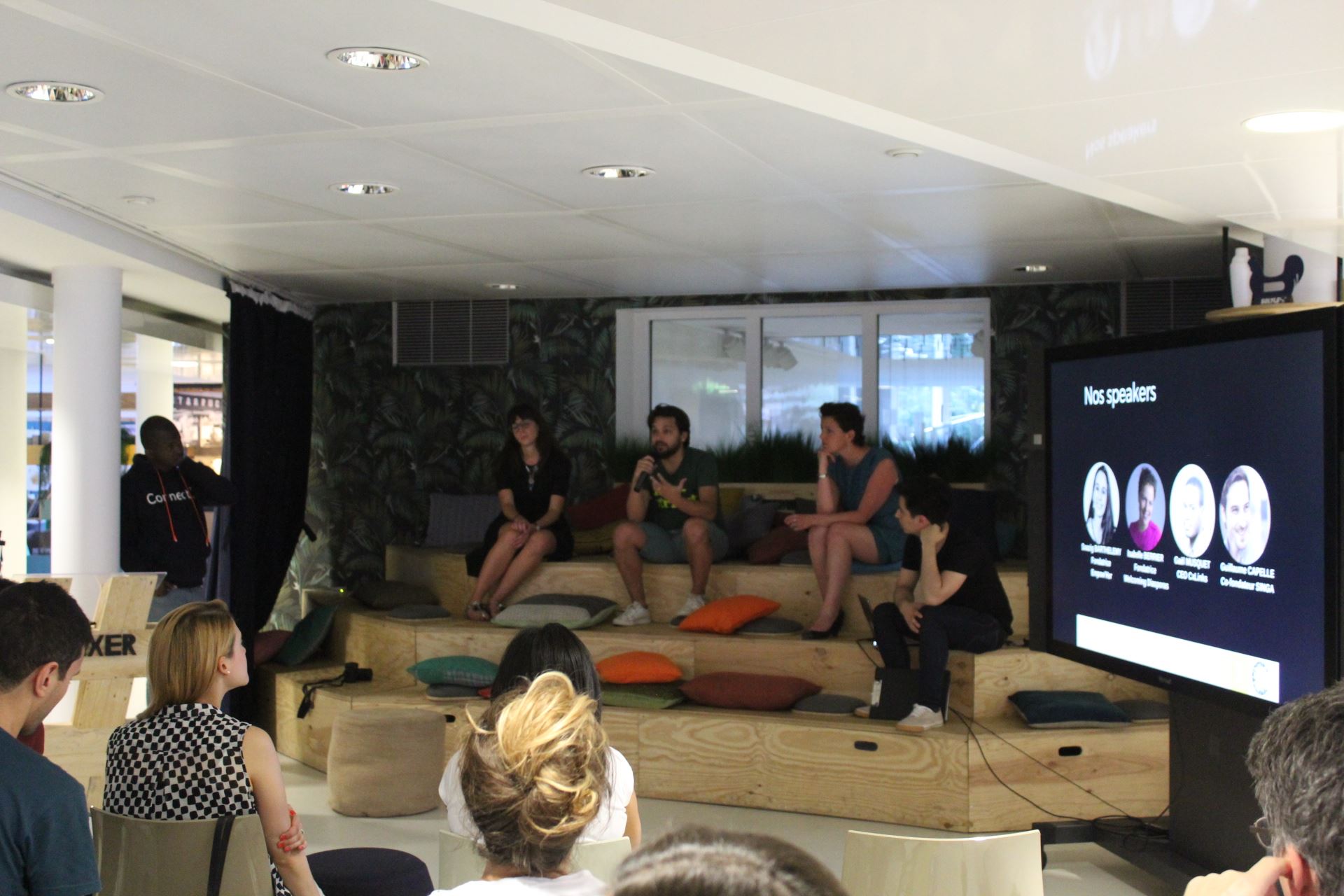 In developing countries, entrepreneurs often struggle to find the networks and support they need to succeed. Juan co-founded ConnectX to solve this problem by developing entrepreneurial communities in emerging economies through training and networking opportunities. ConnectX aims to promote entrepreneurship to solve social issues including income inequality and gender discrimination.
ConnectX currently has a network of 5,000 entrepreneurs spread across 8 countries in 3 continents. At the One Young World 2017 Bogotá Summit Juan took the opportunity to establish partnerships that will help ConnectX to grow further in 2018.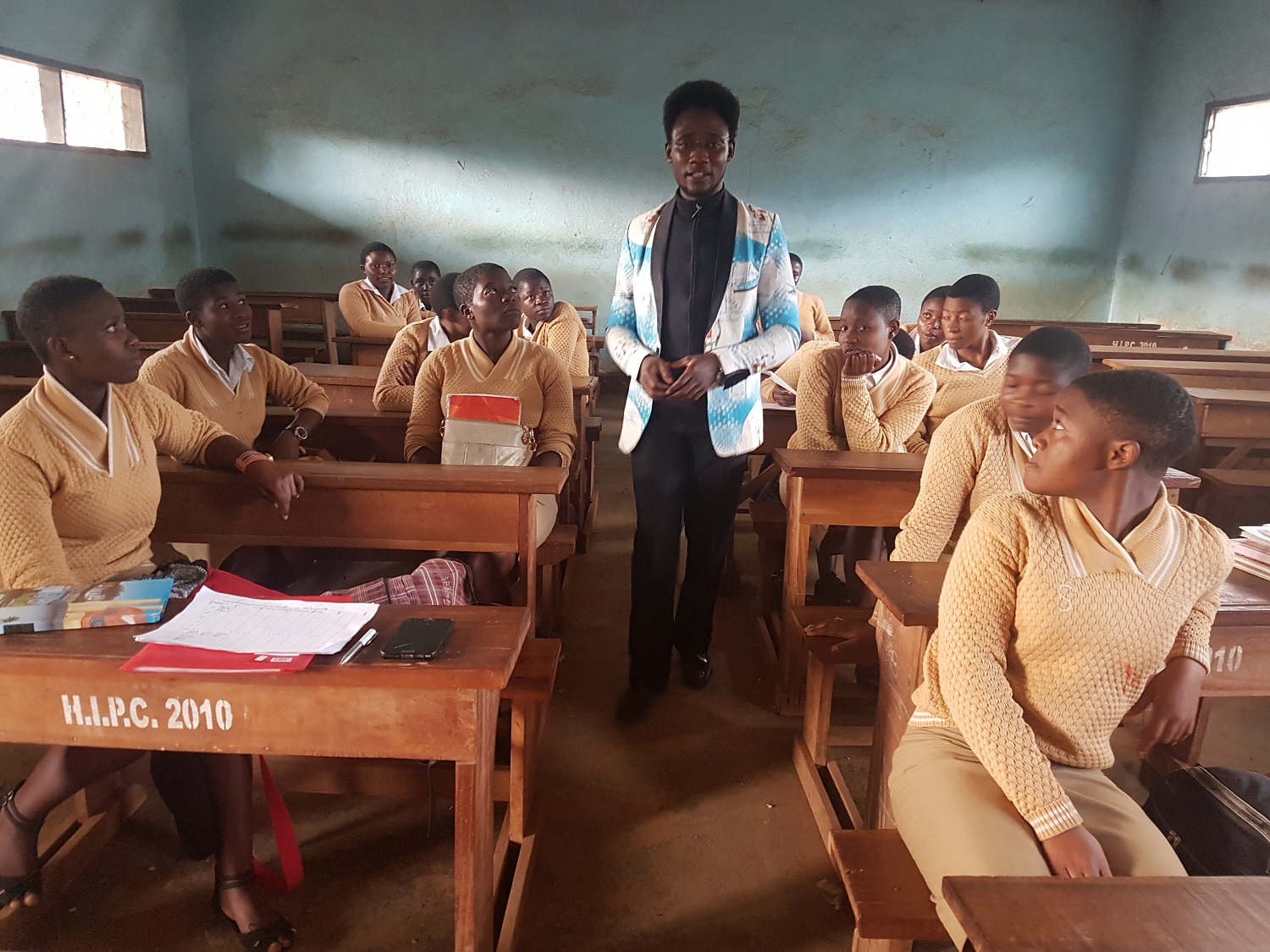 ​
Desmond works on two projects to eliminate two key problems in Cameroon: lack of sexual health education and the prevalence of counterfeit pharmaceuticals.
Deserve provides school children, particularly women and girls, with comprehensive sexual and reproductive health information. Their mass sensitization and education campaigns have reached more than 10,000 young people in secondary schools and out-of-school young people in the North West Region of Cameroon.
BlockFakeRx works to ensure that quality health products are available to consumers so that people don't have to suffer the negative health consequences of buying illicit pharmaceuticals. It does this by working to ethically overhaul the supply chain of pharmaceutical and health commodities and eliminating fake products from the market.
Deserve: Website | Facebook. Desmond: Facebook | Linkedin | Instagram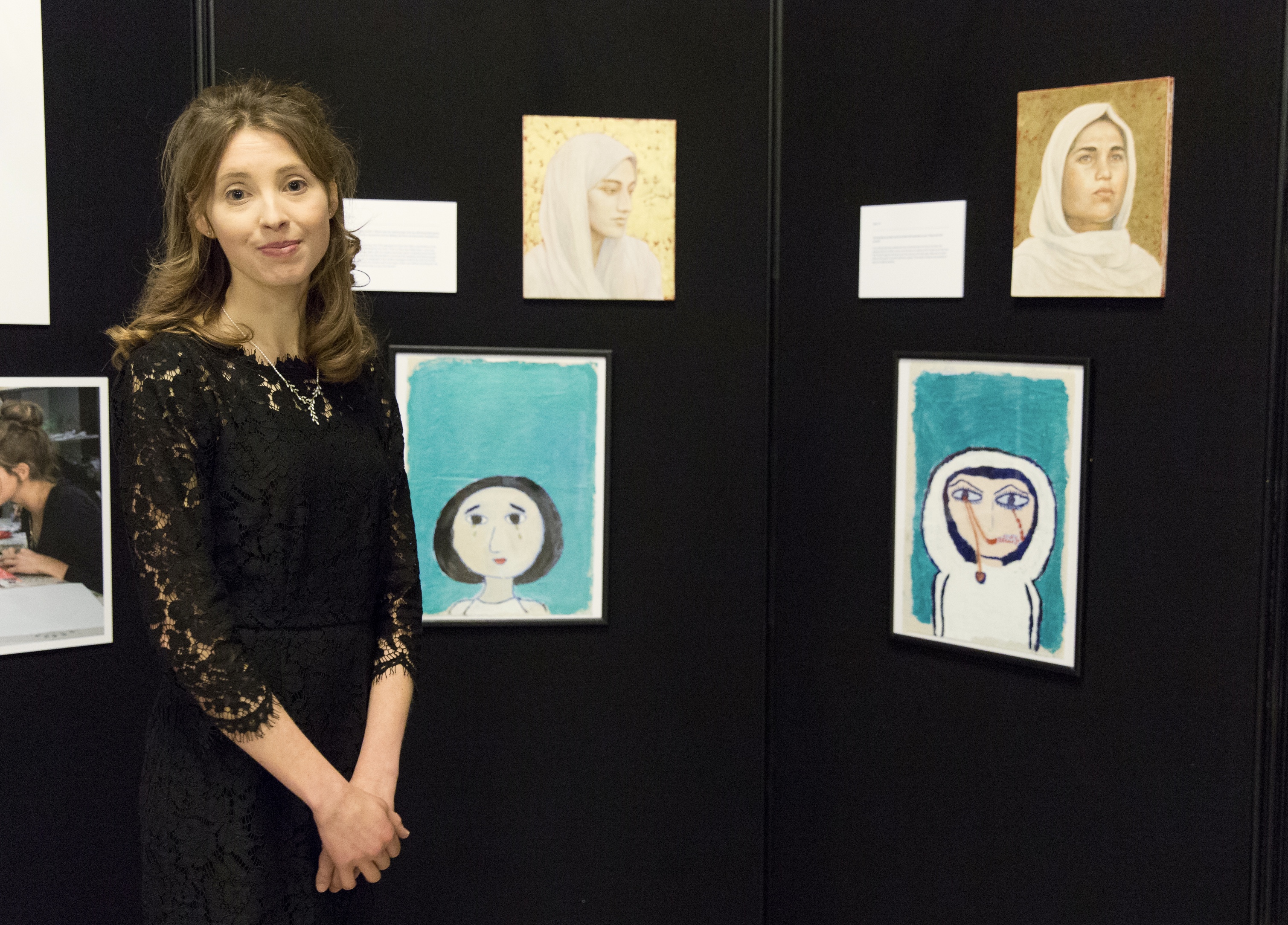 Hannah has traveled across the globe using art to illustrate the perspective of women who are often overlooked and underserved in modern society; she advocates for the rights of women, refugees and minority groups through her work.where she showed her paintings of refugees. Most recently, she held an exhibition in the British Houses of Parliament, where she showcased both self portraits of Yezidi women who had escaped ISIS and her own portraits of the same women. She just returned from Bangladesh where she spent time illustrating and working with Rohingya refugees. In 2016, One Young World sponsored her art exhibition 'The Divine Image' in London. 
Follow Hannah: Facebook | Instagram
5. Maxine Gray, South Africa. Winter Warmer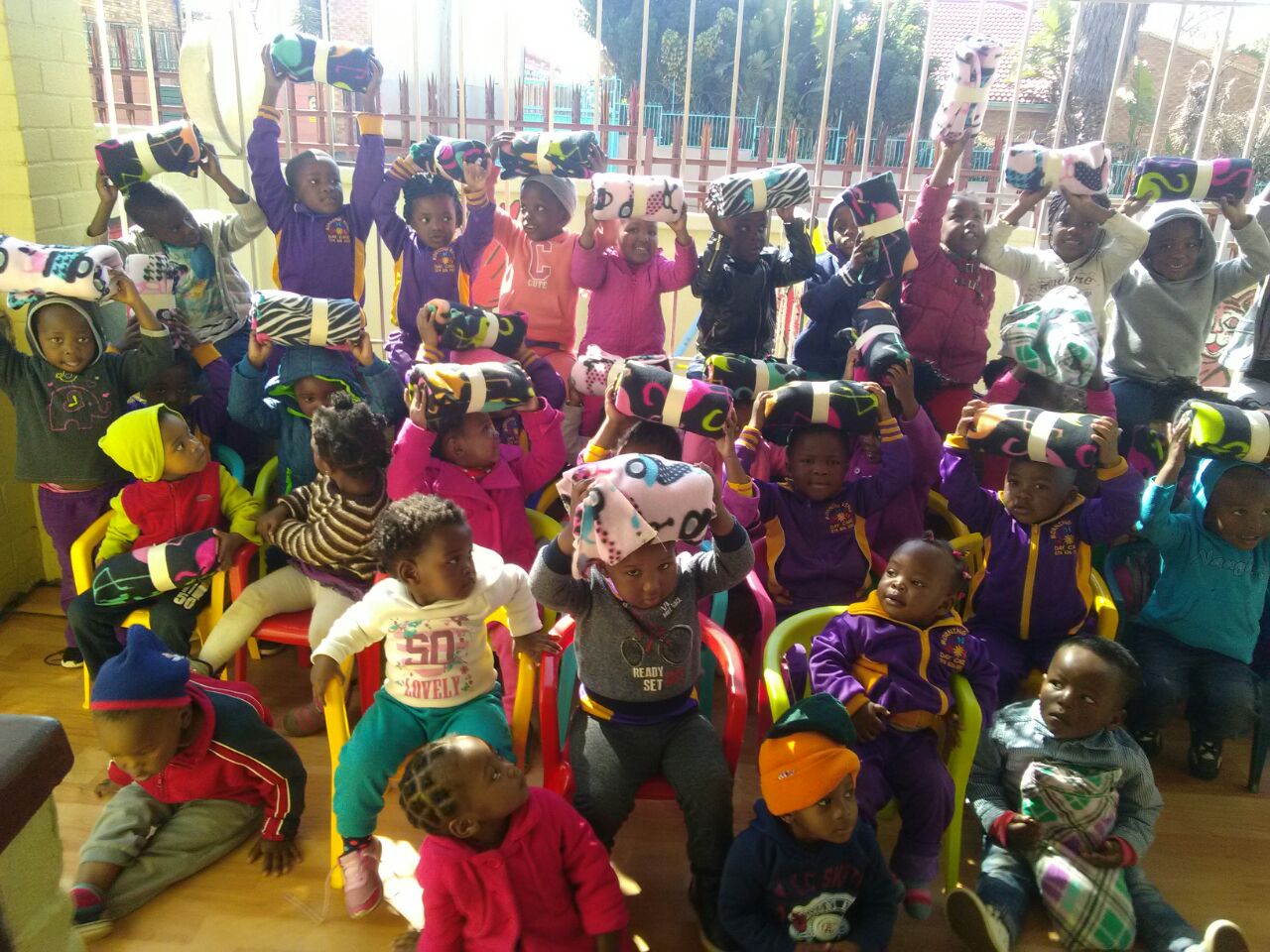 ​ 
Winter Warmer, part of the imagine.nation project, seeks to protect children against the cold during winter by providing them with blankets, hats and scarves. Founded in 2010, Winter Warmer provides these items to children to help them keep warm and feel safe which in turn allows them to focus on their school work. Maxine and her team spend roughly 4 months each year handing out these items to people in need, reaching over 10,000 people to date. Winter Warmer is currently fundraising for its 2018 campaign where it plans to provide polar fleece beanies and scarves as well as blankets to help underprivileged people face the cold winter months.
Learn more via imagine.nation: Facebook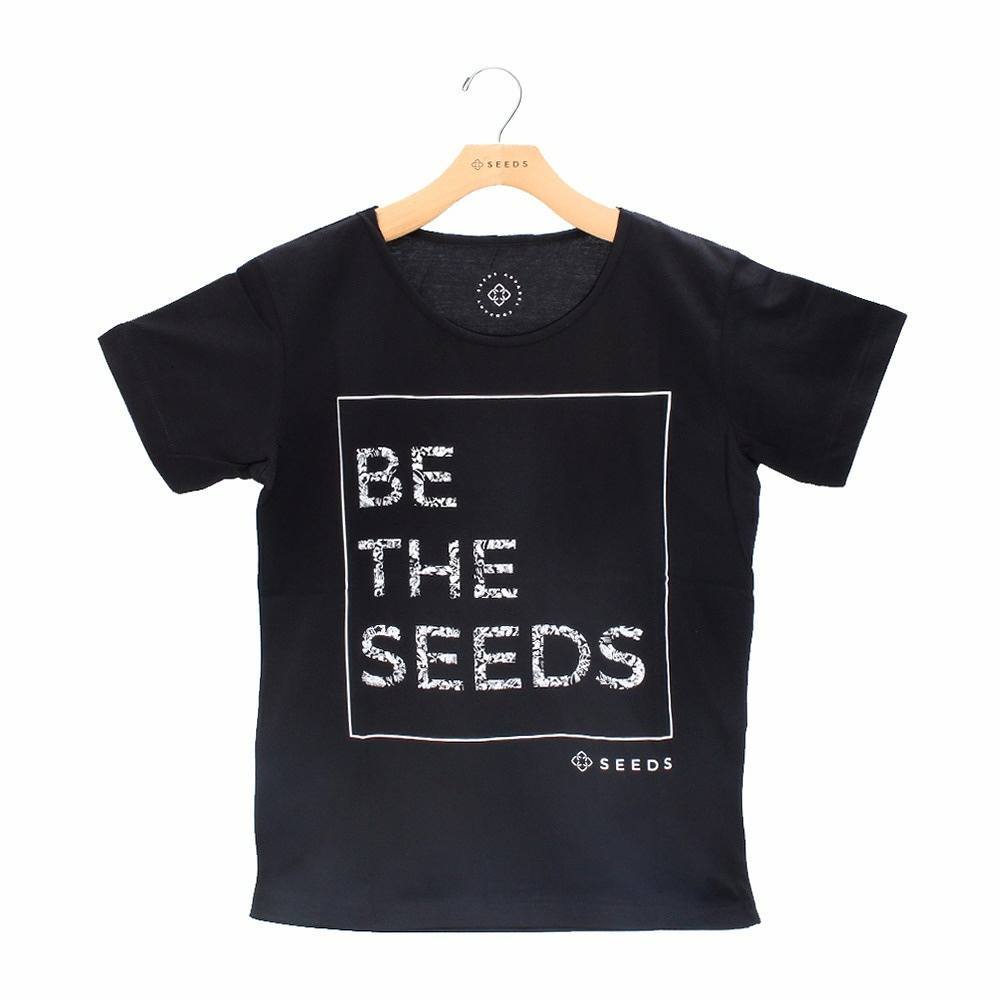 Rodrigo founded Seeds Apparel Company in December 2016 as a fashion brand to encourage the sustainable consumption and production of fashion in Brazil. Through this brand, he seeks to promote smart fashion consumption that minimises the impact on the environment whilst also giving back to the community. The company does this by donating part of its profits to social causes, fostering partnerships with NGOs and third sector organisations whilst contributing to the local economy through the sourcing of material and employment. Rodrigo is also involved with a range of volunteer projects including youth mentoring schemes and local community initiatives.
Leroy works to eliminate the problems of poor sanitation and limited access to renewable energy in communities across Kenya. Whilst in school he developed a bioreactor using both human and other organic waste to produce Biogas and organic fertilizer to power his school. Greenpact has established systems in local schools to improve sanitations whilst also collecting organic matter to be reused as fuel. Over 20,000 people have been impacted by Greenpact's work so far. In the future, Greenpact plans to provide affordable renewable energy solutions and proper sanitation to 9 million Kenyan households. Leroy also works on CampBuni, which encourages entrepreneurship and innovation amongst teenageers.
Facebook | Twitter | Instagram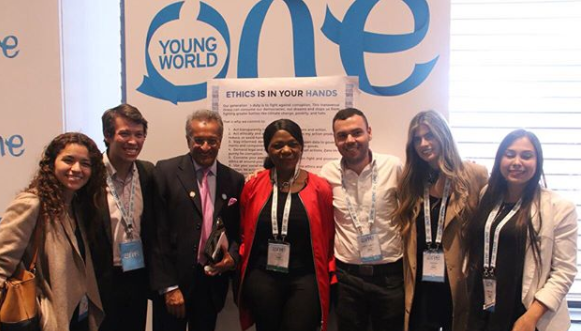 The problem of corruption is rife in Colombia, making it difficult for people without means to access opportunities or justice in the country. This is particularly troubling considering the recent history of conflict in the country, where the ceasefire ending over 50 years of conflict was signed only two years ago. To address this issue, Juan José Rojas-Ortiz co-founded the Sabana y Paz Foundation alongside fellow One Young World Ambassador and co-founder Luis Alberto Caroprese. The Foundation is currently running a campaign called #ManosLimpiasAccionesLimpias, which translates to 'Clean Hands Clean Actions'. The campaigns calls on people to reject corrupt practices and to hold corrupt officials to account. The Sabana y Paz Foundation has partnered with the Bogotá Chamber of Commerce, UNODC, universities and local media outlets to support their campaign.
9. Michael Chin, Australia, The Youth Network at Westpac
The Youth Network is an Employee Action Group that aims to unite aspiring young people across the Westpac Group to help them reach their full potential. The Youth Network was founded by ten One Young World Ambassadors from Westpac that attended the inaugural London 2010 Summit. Michael Chin currently serves as the Co-Chair of the National Youth Network in Australia, alongside fellow Ambassador Louise Ferguson. Michael and his team are currently focussed on exponentially growing the membership and scale of initiatives delivered through The Youth Network by harnessing the concepts of Intrapreneurship and leveraging internal networks and frameworks. On a personal note, Michael and his wife Dee, also a One Young World Ambassador, have recently welcomed their first child, Emerson.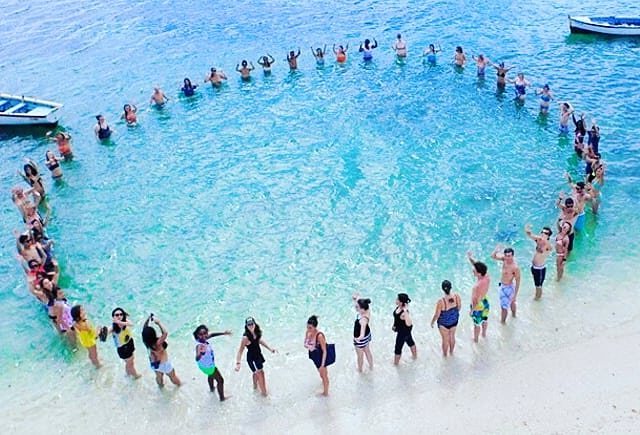 Our oceans are increasingly under threat due to plastic pollution and global warming. #SeeingBlue seeks to redress this issue for Small Island Developing States (SIDS) by giving young people a platform to work on these issues with civil society. Karuna Rana co-founded #SeeingBlue with fellow One Young World Ambassador Barkha Mossae to raise awareness of the environmental damage to our oceans caused by human activity. #SeeingBlue runs the Young Ocean Champion Award to encourage young people to come up with innovative solutions to protect the ocean. The Ocean AdvocaSea programme is a mentoring scheme that teaches young people management and leadership skills whilst deepening their connection to the ocean through scuba diving sessions. #SeeingBlue also organises multi-stakeholder meetings where underrepresented groups are given a platform to address issues important to them. #SeeingBlue was awarded the Mary Robinson Foundation Climate Justice Award in 2016.
Connect: Facebook
When he attended the One Young World 2015 Bangkok Summit, Tucker Matheson was co-authoring a book for college students on how to maximise their investment in their college degree by recounting the stories of successful young leaders. Students face many barriers to securing gainful employment after graduation, so Tucker co-founded Fast Forward to provide students with the skills and confidence they need to secure the job they want. It does this by hosting youth leadership events bringing over 600 students together with top companies, innovators and community leaders. It also offers 'Start Your Hustle' workshops and the 'Graduate & Dominate' youtube series to prepare students for the real world. Fast Forward is set to provide 1,000 students with work experience by the end of 2018.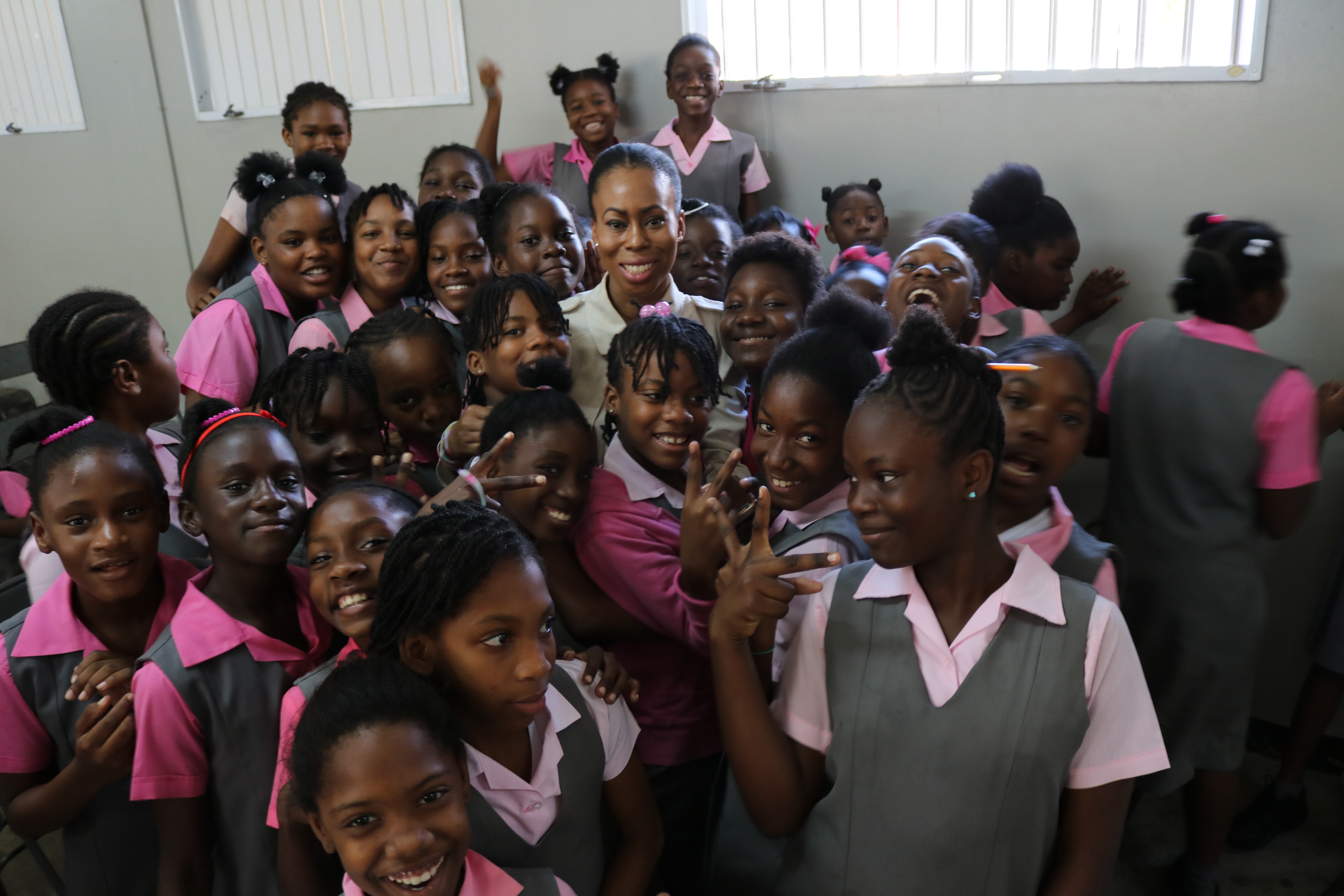 ​
Animka founded ForUsGirls to help address the gender imbalance that is prevalent in society and to fight for the rights of LGBTQ communities. ForUsGirls organises regular mentorship and leadership programmes for school children. The 13 week programme covers topics ranging from health and sustainability to career planning and coding. Programme participants have benefitted through increased confidence, spurring them on to achieve more academically and to gain rewards and scholarships for their hard work.
ForUsGirls has also started working internationally, sponsoring 5 schools in Jamaica. ForUsGirls works to develop partnerships with local organisations to provide students with access to coding programmes and technology to help them progress their education.
Facebook | Twitter | Instagram
Ryan Frame co-founded SproutAbout with youtuber Dan Mace as a platform that uses filmmaking to enact social change. SproutAbout does this by showcasing inspiring stories of people who work in social activism in a way that can drive other young people to take action in a similar way. Supporters of the movement can 'plant a sprout' on the SproutAbout website to showcase their participation in the campaign. The long term aim of the project is to bring about a cultural shift that favours grassroots action to solve the big challenges of our age.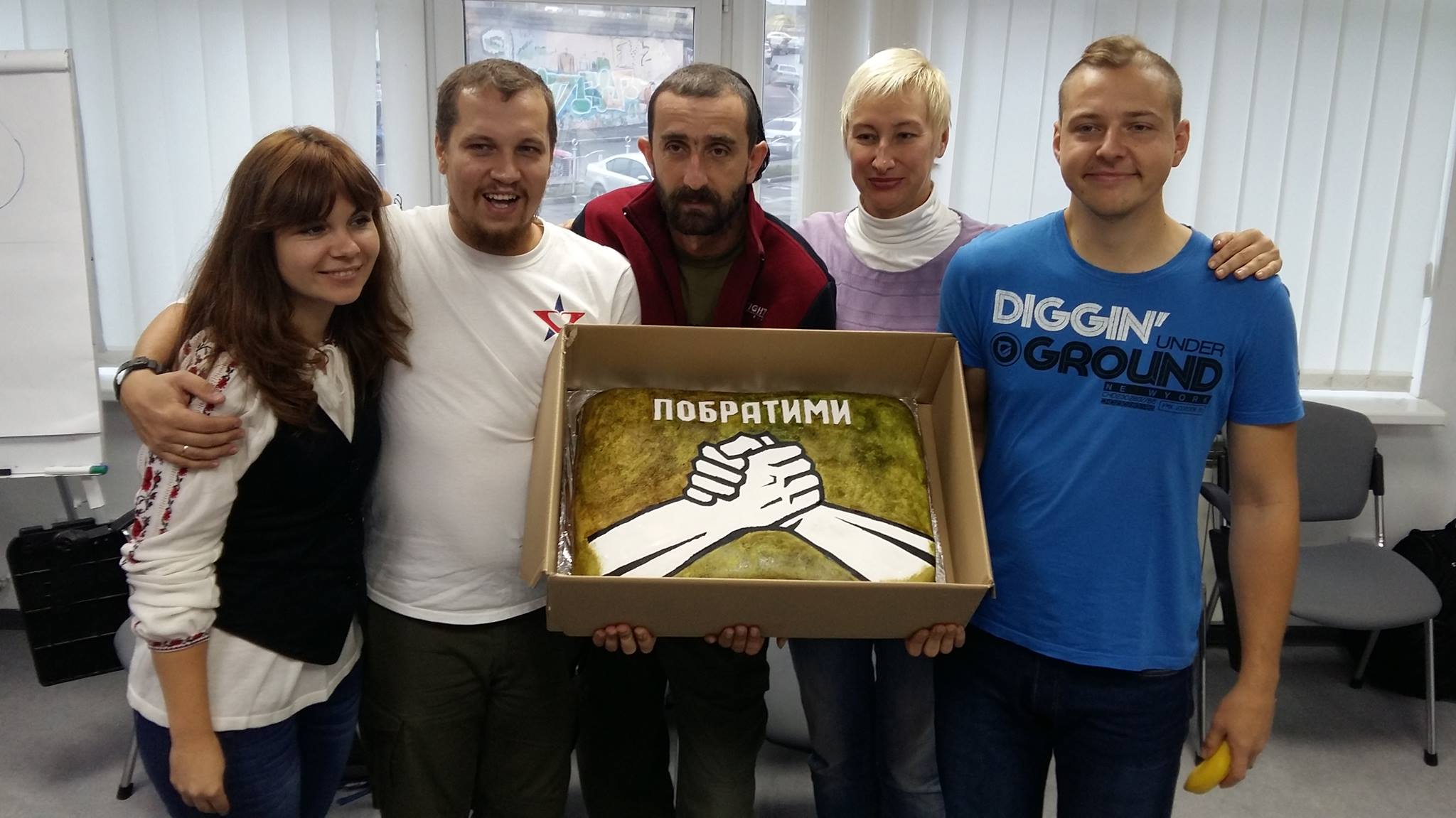 Pobratymy provides psychosocial support to war veterans returning to civilian life. Since 2014, over 320,000 people took part in the war against Russian Armed Forces and their proxies in Eastern Ukraine. However, war veterans are often not provided with adequate resources and support upon their return home which can make readjusting to civilian life more challenging. The Pobratymy approach looks at reintegration in a more holistic way by giving attention to the psychological damage caused by participation in warfare and helping survivors to overcome their trauma and become active citizens. Pobratymy provides physical therapy to help overcome shock, trauma and post-traumatic stress disorder. Pobratymy also organises lectures and conferences which have been attended by over 3,000 people. Ivona has also worked on the Veteran Hub ++ project and the International VETSummit, which took place in April 2018.Currently, Ivona is working on a documentary about the journey of soldiers returning from war, which is due to be released in 2019.
Follow: Facebook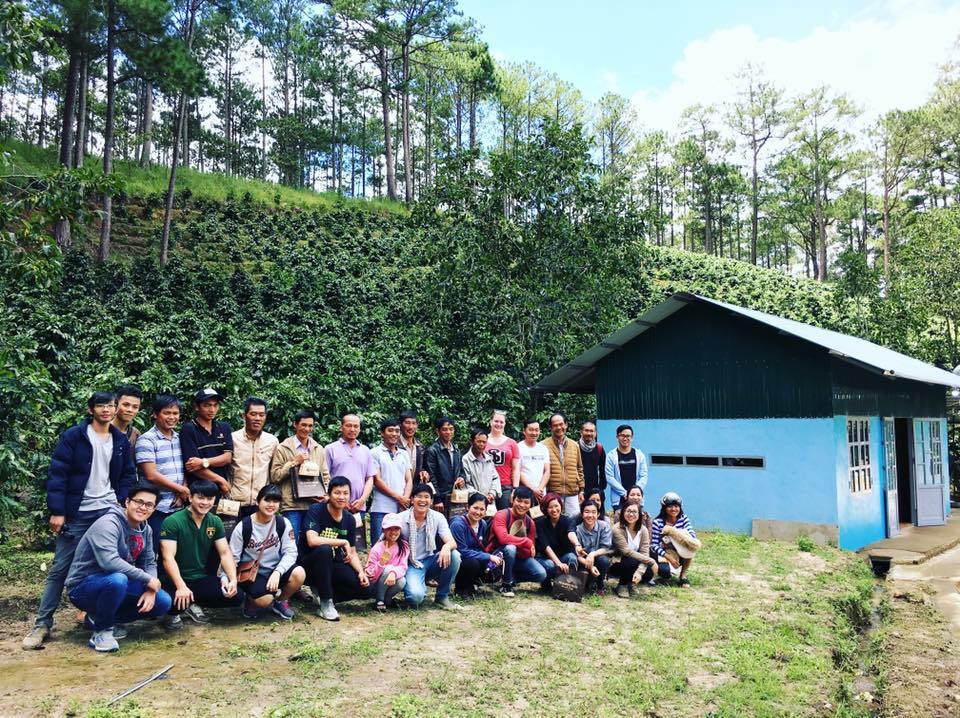 Founded in May 2017, Coffee Warriors is a community of coffee lovers who are fighting for a better coffee ecosystem in Southeast Asia. Coffee Warriors seeks to help coffee farmers by building the leadership capacity of young people in coffee growing areas and by strengthening ties between key stakeholders in the coffee industry in Vietnam. It does this by hosting workshops for different people in the coffee supply chain and by organising exchange programmes between coffee farmers in Southeast Asia to enable them to learn from each other's experiences. Quan Nguyen Ha also founded the Do Good project, an online portal for young people in Southeast Asia to access resources they need to create social impact in their local communities. This includes access to mentors, sponsors and potential partners to help their project progress.
Coffee Warriors: Facebook. Do Good: Facebook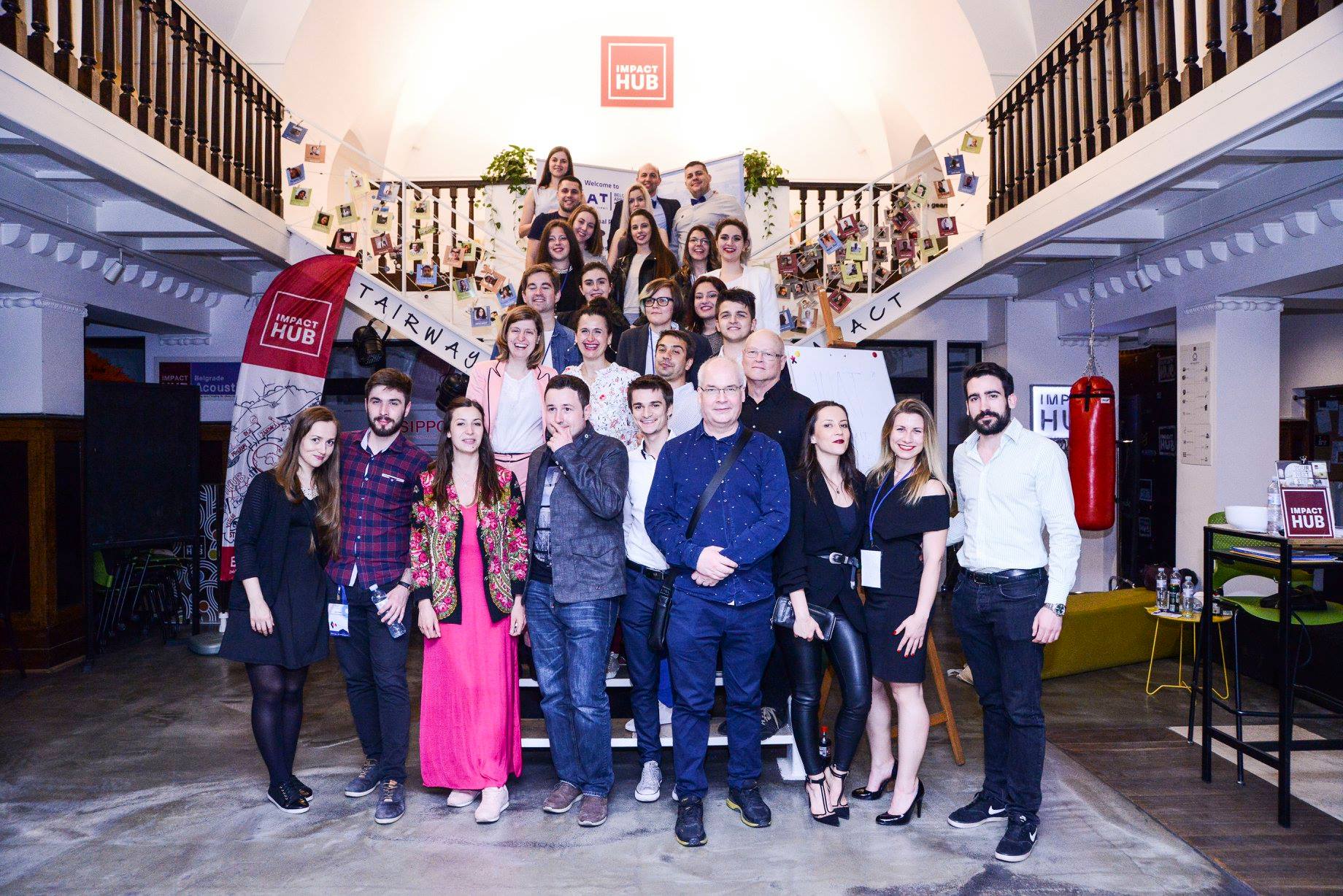 The Innovation Attitude Centre, referred to as INAT, work to connect the brightest young minds working in the ICT sector with the most innovative companies to create new products and services befitting of the digital age. The Centre focuses on developing capacity for young people, fostering entrepreneurship and enhancing education. It does this through a range of conferences, projects and collaborations with different stakeholders including local universities and businesses. The Centre's flagship event is the annual INAT Summit. The most recent Summit was held in April 2018 to develop the skills of young professionals on topical issues including artificial intelligence, business skills and exploring exponential technology. Following the Summit, the Centre continues to develop the skills of its network through monthly seminars on topics such as 'The Psychology of Success'. This helps the community to remain active and engaged with each other, fostering collaboration and innovation across multiple sectors.
INAT Centre: Website. INAT Summit: Website | Facebook | Twitter | Youtube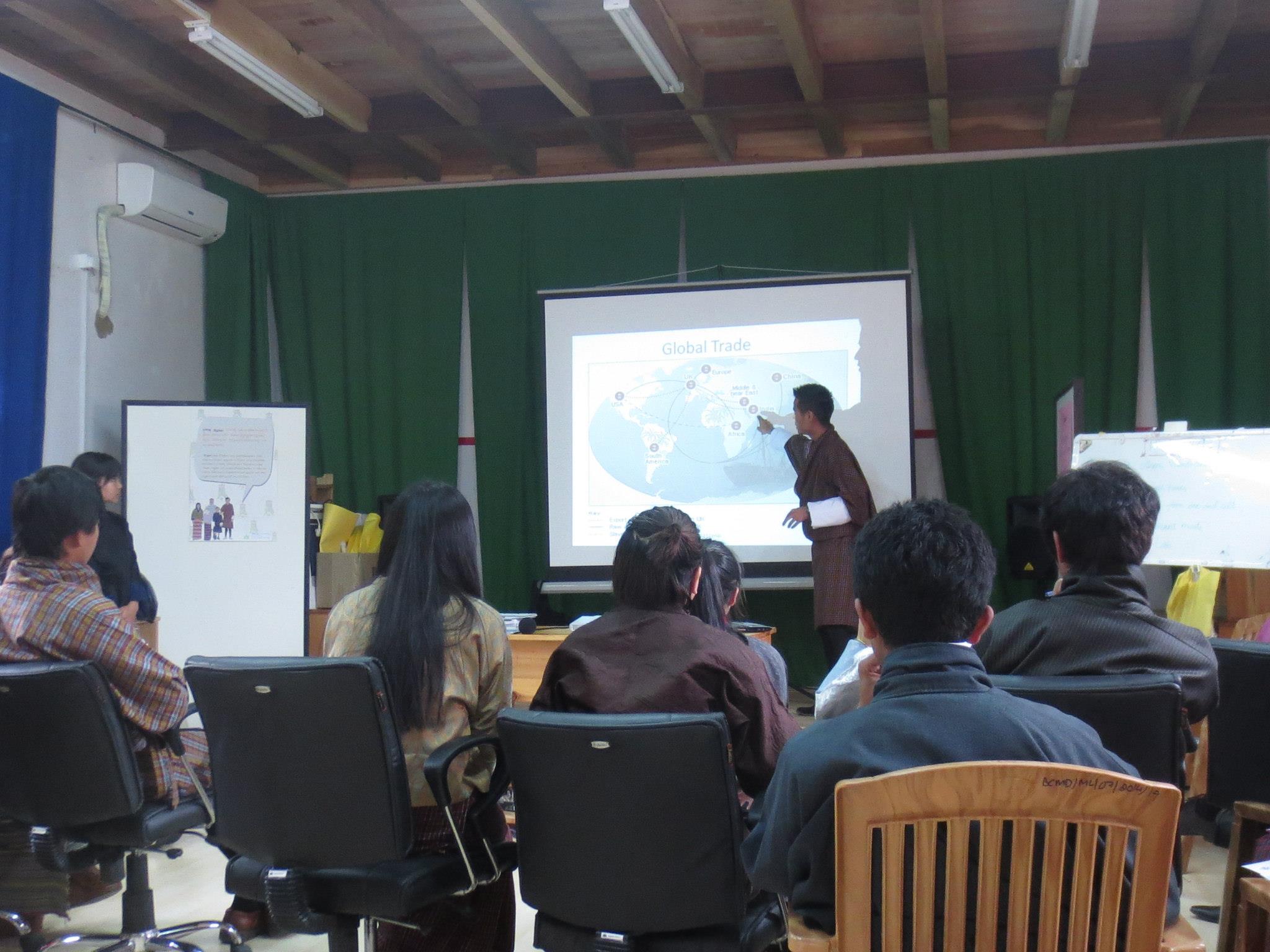 Ngawang Gyeltshen founded the Youth Social Cooperative in 2016 as a platform through which to begin to establish a Universal Basic Income (UBI) for citizens in Bhutan. The aim is to create a realistic model of UBI that serves as a financial net for all citizens whilst allowing them to retain economic independence. UBI helps to minimise income inequality by providing each citizen with a base level of income, so the Youth Social Cooperative works to protect those living in poverty. The Youth Social Cooperative aims to unite young people across Bhutan through this initiative, and it has already amassed a membership of over 1,000 young people. This Cooperative is unique since it uses a social business model as the mechanism through which to establish UBI for all members and eventually the country as a whole.