Young people working in corporate positions can be the agents of change who help the world to reach the United Nations Sustainable Development Goals (SDGs), it will be argued at a pivotal event in Brussels this week.
The in-depth discussion panel is being hosted by One Young World as part of European Development Days (EDD), the annual event which brings together the world's development community to share ideas and experiences. EDD will be attended by Christine Lagarde, managing director of the International Monetary Fund,100 world leaders and seven Nobel Prize Laureates, including the One Young World counsellor Professor Muhammad Yunus.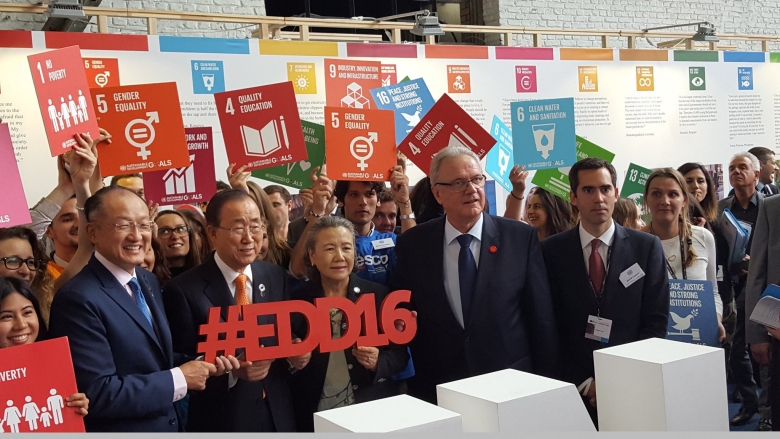 Titled "Driving Social Change in the Private Sector", the discussion will be moderated by Christiaan Rebergen, Director General for International Co-operation at the Ministry of Foreign Affairs of the Netherlands. Four of One Young World's most engaged Ambassadors will address the question: "Are young people the key to making the private sector take corporate social responsibility seriously?"
The Ambassadors will identify the challenges as well as the opportunities that young people face in seeking to bring about transformational change within their companies.
On the platform will be Miganoush Magarian, the German-based co-founder and CEO of Teachsurfing, an education platform which connects local schools in 47 countries with travellers and refugees who have teaching skills and are prepared to work on a voluntary basis. Magarian was inspired to create Teachsurfing after attending a One Young World Summit in 2012.
Also speaking is Alexander Zdravkovic, manager of strategic growth and programme delivery at Cardno Emerging Markets, a professional infrastructure and environmental services company based in the UK. Zdravkovic attended One Young World's Summit in Ottawa last year.
Aouatif Tawfik is sustainability manager at Unilever, which actively supports the SDGs and for seven years has run a Unilever Sustainable Living Plan. Tawfik previously worked in Government, believing that only the public sector could have social impact, but her experience at Unilever has taught her that private sector companies can and should have a role in the field.
Katrin Hauser, is an associate at On Purpose, an organisation which is running programmes across London, Berlin and Paris to attract and develop leaders for purpose-driven business. "We are a community that helps you find your work in the world: work that matters and work you care about," says Hauser, who formerly worked for Telefonica. "We believe that only by doing this will we have a chance of solving society's most difficult problems."
To attend, learn more here.