Akon, the first music artist ever to hold down the top two places on the Billboard Top 100, is coming to One Young World Summit 2018.
Not content with being a triple-Platinum selling recording artist and Grammy-nominated singer and songwriter, Akon, who was born in the United States but spent much of his childhood in Senegal, has in recent years turned his attention to improving energy supplies and business opportunities in Africa.
First he established an ambitious solar lighting project, Akon Lighting Africa, which launched in 2014 with significant financial backing. It has introduced 100,000 solar street lights across 480 communities in 15 African countries.
Earlier this summer he announced a mysterious plan for a new cryptocurrency - called the Akoin - which aims to empower young African entrepreneurs by creating a smartphone-based finance system supported by blockchain technology.
The financial scheme was given a surreal edge by being linked by Akon to an African 'Crypto City' in Senegal where the 'Akoin' could be exchanged. Announcing the idea at the Cannes Lions International Festival of Creativity in June, he expressed his belief in the potential of cryptocurrencies.
Earlier this year, Akon spoke of his frustrations in taking on the challenge of energy supply in Africa. "It becomes so political to make a simple decision as to bring basic electricity into these countries," he told CNBC. The singer said that decisions in African countries were unduly influenced by Western money and prejudices. "The risk in Africa is supposedly so high that a lot of these projects cannot be financed," he said.
He will come to the One Young World 2018 Summit in The Hague on 17-20 October to discuss his experiences, his vision and his insights.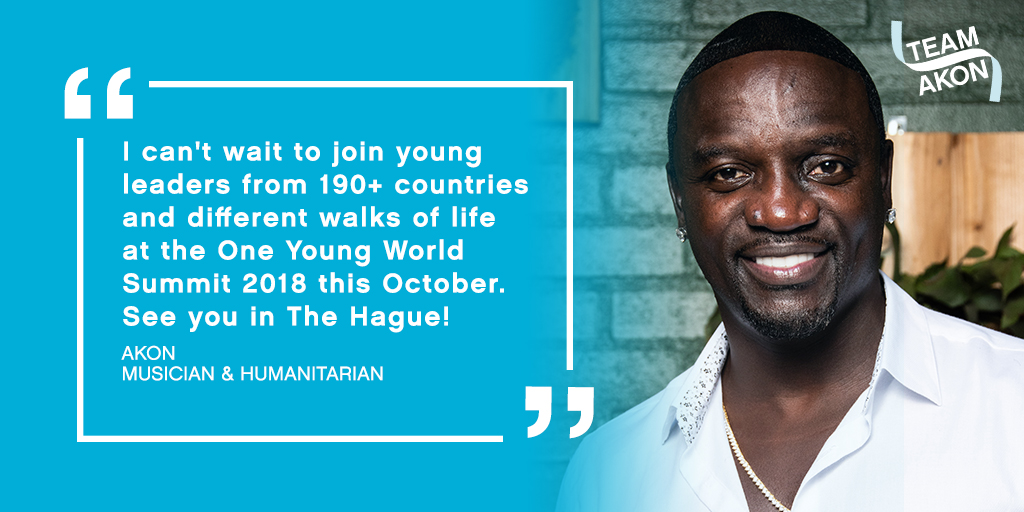 Akon released his debut solo album 'Trouble' in 2004 and had an immediate impact, registering hit singles with 'Locked Up', 'Ghetto' and 'Lonely'. AKON released the "Konvicted" album in 2006, with contributions from Snoop Dogg and Eminem. However, it was not released through his own label.  His singles 'I Wanna Love You' (featuring Snoop Dogg) and 'Don't Matter' became the first consecutive number ones on the Billboard Hot 100 from a single artist. Justin Bieber and Drake have since matched that achievement. He went on to discover Lady Gaga, which was the first artist under his KonLive label in 2008.  
In exciting developments, Akon is to mentor ten One Young World delegates who have been selected for their work as social entrepreneurs.
The 'Team Akon' delegates will receive mentorship from Akon both during and after the One Young World 2018 Summit in The Hague on 17-20 October.
The 9 delegates in Team Akon include: