We are pleased to share that our Ambassador of the Week is Kristin Duquette, a disability advocate who represents the US.
This past week, Kristin was asked to speak at the United Nations Headquarters for the World Youth Report Launch on July 15th. The Report, prepared by the UN Department of Economic and Social Affairs, analyses the engagement and participation of young people in economic, political and community life. Taking part in the only disability-related discussion, Kristin discussed the importance of physical activity and sports for young girls and women with disabilities, and provided recommendations to the panel about promoting this group. Attended by Lakshmi Puri, Assistant Secretary General and Director of UN Women, and Lenni Montiel, Assistant Secretary General of Economic and Social Affairs, the Launch was a momentous day for Kristin to act as a voice of the disabled community.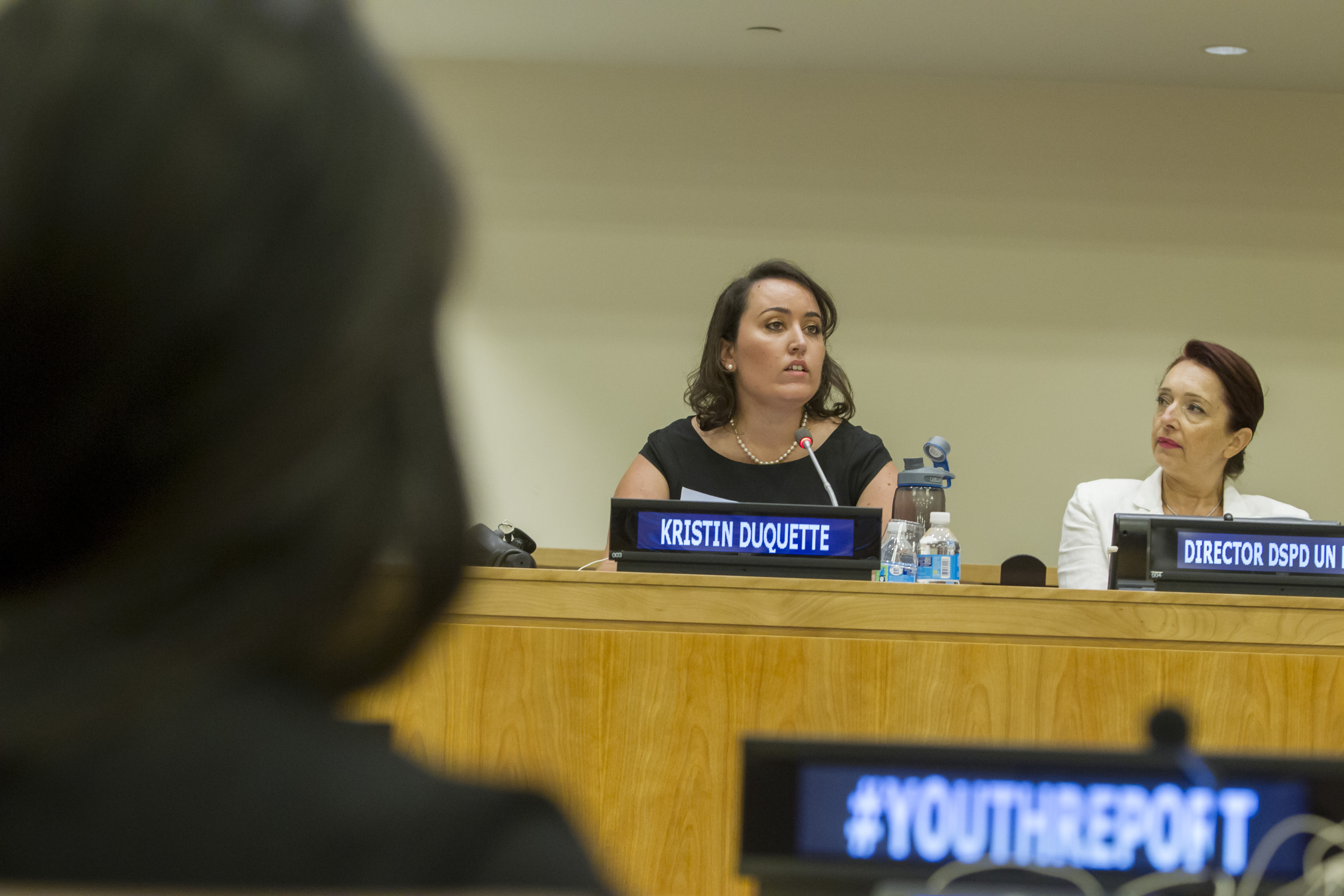 Kristin has been an active advocate of disabled people's rights and disability empowerment, involved in several initiatives including A Day in a Wheelchair (ADW), which she founded whilst earning her B.A. in Human Rights from Trinity College. ADW aims to change the social stereotypes surrounding disabilities, and leverages academic institutions to promote human rights, awareness and understanding of the disability rights movement. She has worked with the Clinton Global Initiative, advising commitments to disability programs to over 50 universities across the US. She is also a frequent Huffington Post contributor.
Kristin, passionate about sport, is a 5-time American Paralympic Record Holder, and has completed a 1.2 mile Half Ironman open ocean swim sponsored by the Challenged Athletes Foundation. She was also featured in the adaptive sports documentary Endless Abilities during her training for the London 2012 Paralympic Trials.
Kristin is a Presidential Appointee of the Obama Administration, working as an Executive Assistant to the Chief of Staff inside the National Endowment for the Arts. She is also currently pursuing her studies at Harvard University, focusing on Non-Profit/Public/Organizational Management.
A recording of the World Youth Report Launch can be found here. A full transcript of her speech can be read here.