Poet Hussain Manawer (27) received an honorary fellowship from the prestigious King's College London this past July. Presented by President & Principal Professor Edward Byrne AC, held at the Barbican Centre Hussain joined the faculty of social science and public policy students as he accepted the highly distinguished award.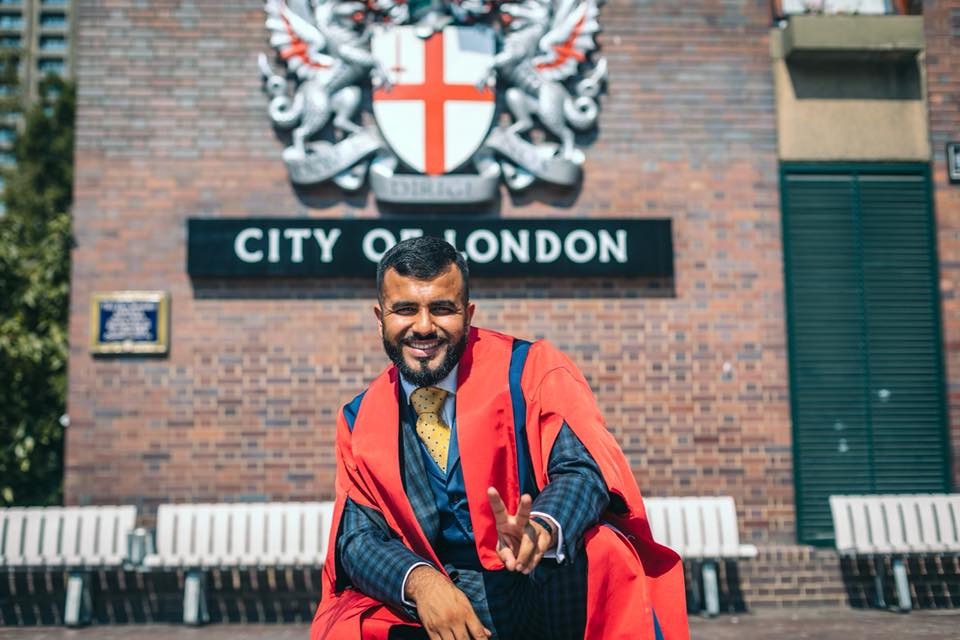 He joins the exceptional list of King's Fellows which includes Archbishop Desmond Tutu, Lord Attenborough, Lord Hall of Birkenhead and comedian Jo Brand. The fellowship comes at a time Hussain has just launched the UK's largest mental health youth festival in partnership with Twitter #HussainsHouseLive and having recently set the Guinness World Record for The World's largest mental health lesson.
Hussain has used social media platforms as well as educational institutes to spread his work, within the field of mental health he has galvanised a huge magnitude of followers from across the world as he openly speaks and performs on topics such as bereavement and grief whilst unpacking their relationships with depression and anxiety, along with tackling new age social pressures and cultural stigma.

'I put my heart and soul into everything I do because the journey of my own mental health has been an adventurous one, I just don't want anyone to ever feel alone. I am very grateful to King's College London for recognising my work, this is a big deal I can't lie!' says Hussain.
Professor Dame Til Wykes DBE, Institute of Psychiatry, Psychology and Neuroscience at King's College London, who works closely with Hussain also received a King's College London Fellowship and added, 'I am delighted and, of course, honoured to be made a fellow of King's College London. The awards today have highlighted the importance King's places on the impact on research, treatment and prevention of mental health problems in our community. It is such great company with Hussain reaching out to young people with his poetry.'
Reaching a diverse audience ranging from presidents, princesses, professors and prisoners. Hussain's work has also led him into supporting Oscar winning actress Cher, pop-star Ellie Goulding and sharing global stages with leaders such as Justin Trudeau, Kofi Anan and The Duchess of Sussex Meghan Markle.
Hussain has just released his latest poetry video entitled 'The White Rose' dedicated to his late mother.
Further information:
www.instagram.com/Hussains_House
www.facebook.com/HussainManawer
More than 4,200 King's graduates will attend the university's ceremonies, held at Southwark Cathedral on 5 July and 6 July, and at the Barbican Centre on 23 July, 24 July, 25 July, 26 July and 27 July. Graduates are presented to Lord Geidt, Chairman of the College Council, and other members of the College Council, and to the President & Principal of King's, Professor Edward Byrne AC, and to King's Provosts and Vice-Presidents.
The fellowship of King's dates back to 1847 and marks contributions by exceptional individuals to King's and/or to wider society. The fellowship is awarded to current or former staff or students or members of King's Council, in recognition of their exceptional achievement and/or service to King's. The honorary fellowship is awarded to individuals from outside King's in recognition of their contribution to wider society.
Notes to editors
For further information about King's College London visit our King's in brief page.
For further media information, contact the Public Relations Department at [email protected].