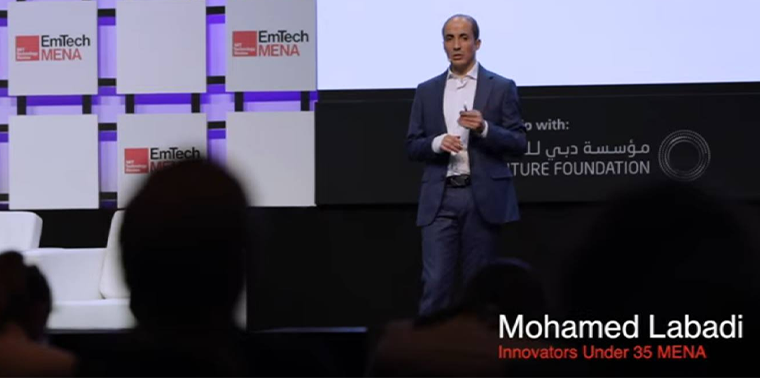 One Young World is pleased to announce that OYW Ambassador Mohamed Labadi has been awarded with the MIT Tech Review Innovators Under 35 Award in the MENA region. 
Mohamed won the award for his work as Co-Founder and CEO of Singularity Computing, a cloud-based scientific simulation and high-performance computing solution. Singularity Computing is reinventing the whole computation science & engineering (CSE) and high-performance computing (HPS) fields, enabling R&D engineers and scientists to solve advanced scientific and engineering problems.
The company has invented the concept of "Engineering Intelligence (EI)™" which aims at coupling computational modelling and engineering simulation with artificial intelligence and machine learning, in order to let a real engineer collaborate with a virtual AI-based engineer to co-develop the optimal products and systems faster.
Mohamed is also a co-founder of Deep Trial, which monitors a patient's physical and mental health conditions and quality of life before, during, and after clinical trial.
About MIT Technology Review
MIT Technology Review Innovators Under 35 MENA is an annual list that recognizes outstanding innovators below the age of 35 whose superb technical work promises to shape the coming decades. IU35 MENA focuses on candidates originally from the MENA region. Since 1999, MIT Technology Review has honoured the most exciting and promising young innovators.Their work – spanning biomedicine, computing, communications, energy, materials, software, transportation, web and internet, and more – is changing our world.
The Award Ceremony took place at the EmTech MENA conference on 4 - 5 November at the Jumeirah Emirates Towers Hotel in Dubai. The event was organised in partnership with Dubai Future Foundation under the patronage of His Highness Sheikh Hamdan Bin Mohammad Bin Rashid Al Maktoum, Crown Prince of Dubai and Chairman of Dubai Future Foundation's Board of Trustees. 
Well done Mohamed!