Day two of the One Young World Summit kicked off today with inspiring sessions on human rights issues, ranging from the refugee crisis to standing against sexual violence. Check out the  top 10 moments from today's discussions.
1. Bob Geldof challenges delegates to create a new world
To help solve issues impacting today's world around the environment, human rights, health, poverty and politics, the next generation must take action, urged Bob Geldof.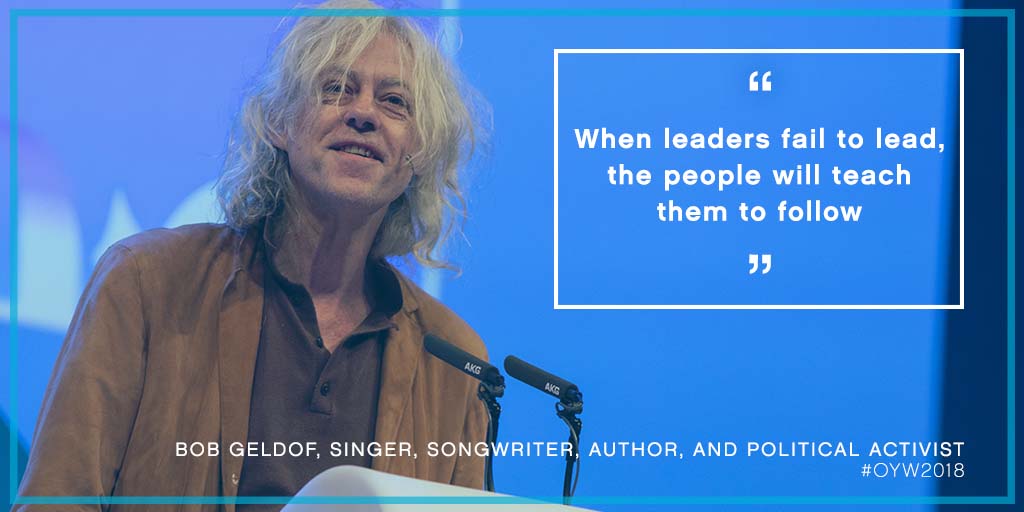 2. OYW launches Young Leaders Against Sexual Violence
Rosario Dawson urged delegates to pledge to not only raise awareness against sexual violence but to take action and change culture. "We are no longer going to protect the victims and the violators. We are going to protect the victims and the voiceless," said Dawson. Several delegates and Ambassadors shared their truth and vowed to continue sharing their stories and causes.
"We are no longer in a moment of awareness, we are in a moment of action" - @rosariodawson is on stage calling on all #OYW2018 delegates to stand together and take action on sexual violence. 

 https://t.co/xhPL7h5y6Y
 https://t.co/pV8caEOcoo #OYW2018 #MeToo pic.twitter.com/XxgQovGXMm

— One Young World (@OneYoungWorld) October 18, 2018
3. Amber Heard shines a light on the refugee journey
Many refugees have experienced sexual violence in the conflict they fled or en route to the refugee camp. Providing care and protection for survivors of sexual violence is immensely challenging. Panelists discussed how they have taken actions and how other young people can support refugees' rights.
"Misery doesn't stop at the #borders of the conflicted country, this is just the beginning in the #refugees journey" Kathryne Bomberger @KatBomberger General Director of the International Commision on missing persons faces the reality of the Refugee Crisis in the world #OYW2018 pic.twitter.com/eD6x5EWOl9

— Timothée Simonnet (@Tim_Smnt) October 18, 2018
4.  Alongside OYW delegates, Counsellor Kumi Naidoo puts human rights at the center of the SDG agenda
Kumi Naidoo spoke on the need to design a society that puts respect for human rights at its core. Several delegate speakers shared testimonials where they suffered a human rights violations in their own communities.
Words cannot describe how much I admire these individuals. May you never stop your efforts to #leavenoonebehind. Yasmeen Mjiali, @IrwinIradukunda, Tamana Asey, @SheriffSatta, Ibtissam Abaâziz, and Luke Hart. You are role models for our planet. pic.twitter.com/HsYEBnMIlp

— Lilian Thorburn (@lilianthorburn) October 18, 2018
5. OYW Counsellors urge investment in education
Currently 260 million children are not going to school. In a tribute to Kofi Annan, former British Prime Minister, Gordon Brown urged delegates to be a part of the first generation in history where every child enjoys the right to education and to sign up for the global network for education.  
"We need to invest in education. Education for individual opportunity, for success, for a civilised society, and for citizenship." -Rt Hon Gordon Brown, former Prime Minister of the United Kingdom and the current United Nations Special Envoy for Global Education at #OYW2018 pic.twitter.com/wvyIzdt6OW

— One Young World (@OneYoungWorld) October 18, 2018
CEO, Tidjane Thiam in conversation with Marisa Drew discussed how investing in education drives economic empowerment and social mobility. "Knowledge is the way you deal with any problem or challenge," said Thaim.
CEO, Tidjane Thiam, on the importance of quality education at the @OneYoungWorld summit. #SDG4 #Lead2030 pic.twitter.com/a9sR9ewbfK

— Credit Suisse (@CreditSuisse) October 18, 2018
6. Returning Ambassadors share programming to address 17 SDGs
The inspiration and excitement that ignites at One Young World extends far beyond the four day Summit. Ambassadors from around the world are working on initiatives to address the 17 Sustainable Development Goals (SDGs). Case studies from returning Ambassadors Bernard Dingemans, Morgan Hewett and Gero Joks highlighted how this year's delegates can take the encouragement they gain in The Hague and turn it into meaningful impact.
Amazing to hear of the impact from the @facebook social entrepreneurship award winners! @OneYoungWorld @OYWTheHague #OYW #OYW2018 #OYWTheHague #COYI @CircleofYi pic.twitter.com/H1OvkMEKa2

—   (@KelwynLooi) October 18, 2018
7. OYW Counselor Richard Branson reflects on Kofi Annan's humanitarian efforts
"Crucial to Kofi was the idea to involve everyone in the United Nations, central to this was business as not the problem, but part of the solution," said Branson
.@richardbranson joins #OYW2018 via video to pay tribute to late @KofiAnnan who was a long standing #OYW Counsellor: "To live is to choose. But to choose well, you must know who you are and what you stand for, where you want to go and why you want to get there." pic.twitter.com/7Y8hACGoMh

— Justina Spencer (@JustinaAdlyte) October 18, 2018
8. Rt Hon Sir John Major announced winners of Young Politician of the Year Award
This award honors the work young politicians are doing to make a difference and improve youth engagement in politics.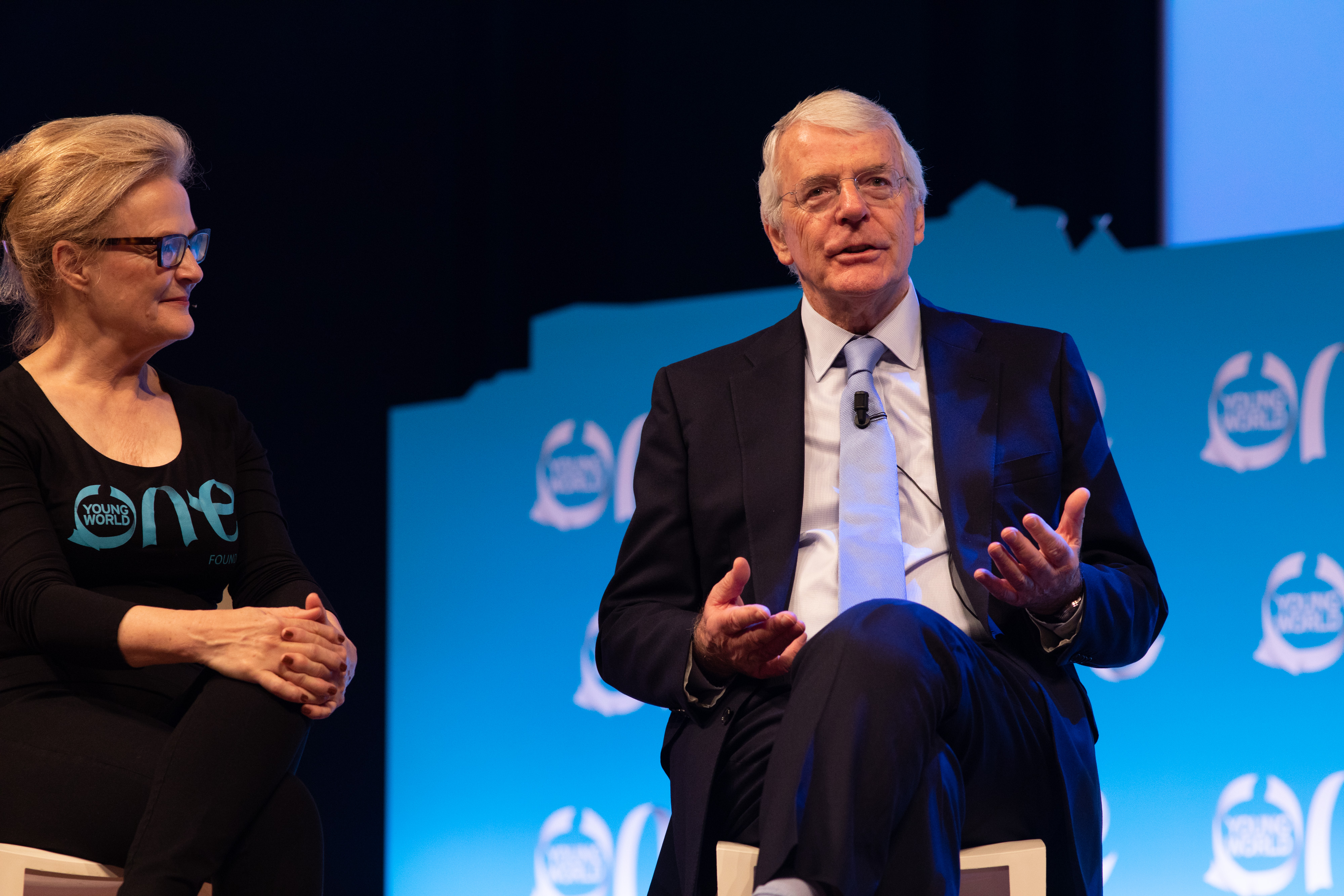 9. Business leaders step up as change makers
Counsellors Bob Dudley, John Roberts, Rakesh Kapoor and Ben van Beurden spoke on how a company's mission should go far beyond creating products.
Brilliant and moving presentation by @discoverRB CEO Rakesh Kapoor on the importance of brands with purpose! #OYW2018 @OYWTheHague @OneYoungWorld pic.twitter.com/X5BmyGbGji

— Disebo Mareletse (@MrltsDidi) October 18, 2018
10. Returning Ambassadors focus on how to run an effective election campaign
Ambassadors Kenny Imafidon and Tabata C. Amaral de Pontes shared key lessons learned from their election campaign in São Paulo, Brazil.
This past week @OneYoungWorld Ambassador Tabata Amaral de Pontes was elected as a Deputy in São Paulo. Congratulations to Tabata and fellow #OYW Ambassador @KennyImafidon for their successful election campaign! #OYW2018 Read more: https://t.co/FzkHD2PuIS

— david jones (@davidjonesOYW) October 14, 2018