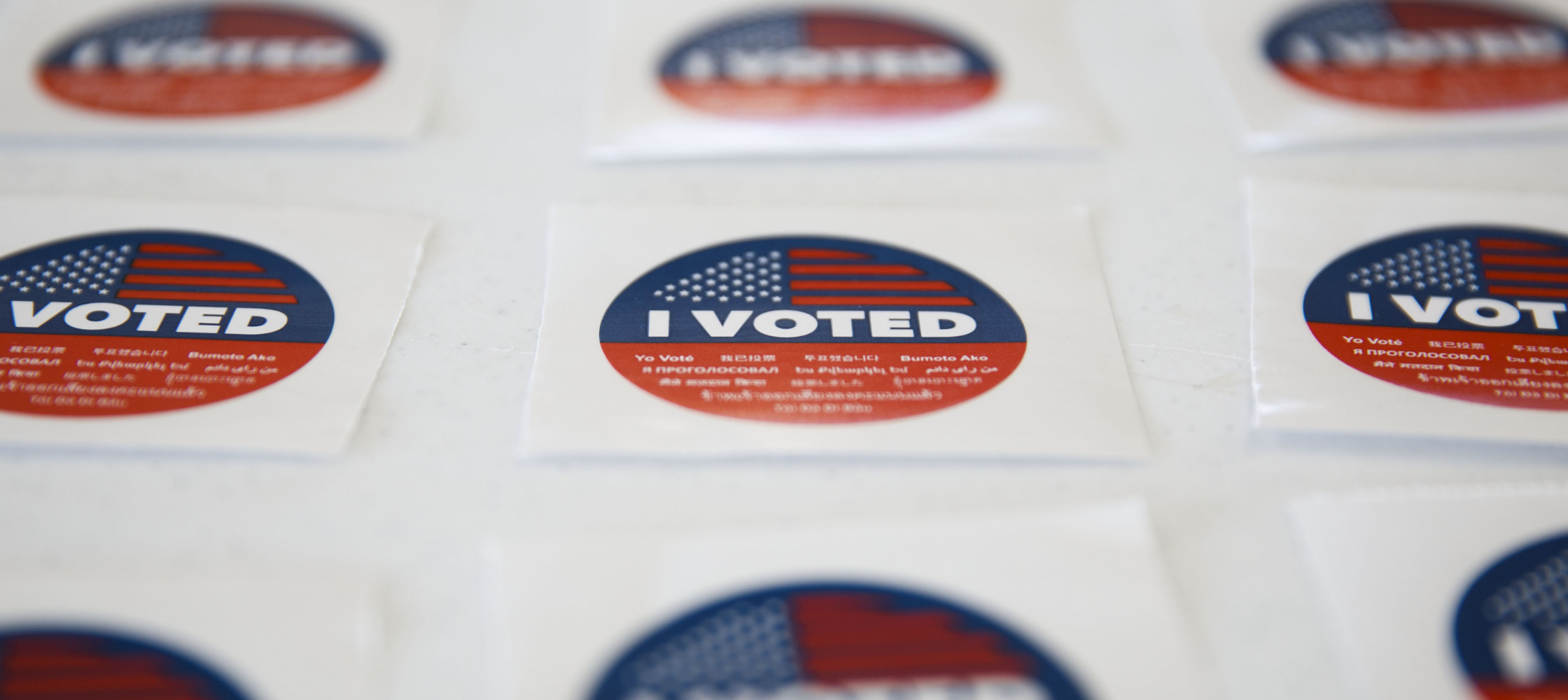 After four days of election limbo, Joe Biden has just been elected the 46th President of the United States of America.

The 2020 US election saw voter turnout projected to be the highest since 1900, with nearly half of all eligible young people casting ballots in the most critical election races in the country. 
First, let's look at the historical moments that came out of this election.
Sen. Kamala Harris has made history:

No woman has ever served as vice president or president in the US.

Her election to the office — and the representation she brings — is significant for many voters. https://t.co/ioaCGUfK3t pic.twitter.com/BW6vHZEF5P

— Vox (@voxdotcom) November 7, 2020
Mondaire Jones is set to become the 1st openly gay Black man elected to Congress, and Ritchie Torres the 1st openly gay Afro-Latino.

At least 35 of the record 574 LGBTQ+ candidates have won their respective races so far. pic.twitter.com/wYgKqjGZwE

— AJ+ (@ajplus) November 4, 2020
Sarah McBride, a Democrat who won a seat in the Delaware Senate, will be the first transgender state senator in the U.S.

She is one of several candidates who broke barriers on Tuesday. https://t.co/FTMkJHy7k3

— The New York Times (@nytimes) November 4, 2020
100 years since women could vote in the United States, we finally have a woman of color as Vice President.

That's elating and depressing at the same time. But one thing we know for sure is that she won't be the last.

Congratulations to President-elect Biden and VP Harris!

— Jayathma Wickramanayake (@jayathmadw) November 7, 2020
We have work to do. pic.twitter.com/pcfHN0fxPo

— Michael Tubbs (@MichaelDTubbs) November 7, 2020
Dear America,

Black people showed up for you. Don't ever ever forget it.

Love always,
A Black woman on the outside looking in.

— Amanda Bartley (@bartleyamandaj) November 7, 2020
So amazing America. Well done, Joe & Kamala.

— Khanya 🇿🇦 (@khanya_mkoto) November 7, 2020
It's a new day in America 🇺🇸.

It's a new day.

— G U L E D (@realKnowmad) November 7, 2020
The American elections have shown us that EVERY VOTE CAN BE THE DIFFERENCE!

— Mete Coban MBE (@metecoban92) November 7, 2020
The country spoke.

Soon, a Black woman and the daughter of immigrants will also run the most powerful office in the world. pic.twitter.com/vsKauFN3WP

— Paola Ramos (@paoramos) November 7, 2020
How close #Election2020 was terrifying. So many still voted for Trump, despite his blatantly corrupt & bigoted ways.

This feels like such a huge relief ... and at same time, it is clear there is so much work to do (& that must involve righting previous wrongs). https://t.co/689fAsp6XM

— Sheree Atcheson (@nirushika) November 7, 2020
Congratulations to my president @JoeBiden and @KamalaHarris!!! This is the only birthday present I prayed for this year. 2016 I spent my birthday crying and this year we made history... We can finally go back to ending violence against women again with a president that cares. pic.twitter.com/E0ggEn2Mvk

— Jaha Mapenzi Dukureh (@JahaENDFGM) November 7, 2020
To the YOUTH, ya'll turned out across ethnicities making this election the one with the highest #youthvote ever recorded. I love to see it! Welcome to the arena!

— Liz Rebecca Alarcón (@LizRebeAlarcon) November 7, 2020
A vitória de Biden e Kamala não é apenas eleitoral, mas uma vitória contra o negacionismo, contra o ódio, contra o extremismo e contra a desinformação. Uma democracia forte só é sustentada com líderes que respeitem seu povo e as suas instituições. Não podemos perder a esperança! https://t.co/krFMSmLyL6

— Tabata Amaral 🇧🇷 (@tabataamaralsp) November 7, 2020
I wanted to share the happiness as a former refugee who voted for the first presidential election and her voice matters! President Joe Biden please do not disappoint us. We had enough.

Posted by Basma Alawee on Saturday, 7 November 2020
We look forward for the new American leadership for #ClimateAction, welcome @JoeBiden & @SenKamalaHarris https://t.co/jvHnEkdUZ3

— Neeshad Shafi (@ineeshadvs) November 7, 2020
Never forget that Black, Brown and Indigenous communities did this on a shoestring budget because no one believed their voices mattered. #Election2020

— Jamira Burley (@JamiraBurley) November 7, 2020
Pt 3: their victory is by no means a silver bullet. It's going to take all of us to instill hope, empathy, love and understanding into our divided society. In order for us to move forward, we must heal, forgive, help one another and restore the essence of what it once meant...

— Daniela V. Fernandez (@dvfernandez1) November 7, 2020
If there's anything we learned in these past 4 years, it's how quickly the government can move when it wants to.

Let's use that energy for good, now. Everybody deserves healthcare, let's cancel student debt, guarantee food and shelter, and build public safety beyond policing.

— deray (@deray) November 7, 2020
Congratulations, @JoeBiden & @KamalaHarris. If you didn't think America was already great, where else but this awesome nation can the son of a car salesman and a daughter of immigrants be elected to its highest offices? Let's first celebrate that before getting back to politics. https://t.co/Jab4gu6131

— Jason Emert (@JasonEmert) November 7, 2020
Somos un mundo diverso. No hay otro camino que el de la tolerancia y el respeto.

— ilia calderon (@iliacalderon) November 8, 2020
.@paoramos: The beauty & power of yesterday is that when #KamalaHarris takes office she is bringing a story, an identity, that has the power to change power as we know it. When we can finally center people of color & immigrants at the center of power that can be incredible #AMJoy pic.twitter.com/BnYYCED7P3

— AM Joy on MSNBC (@amjoyshow) November 8, 2020
"We need to restore cooperation and compassion as the necessary guides of world affairs, from climate action and nuclear non-proliferation to gender equality and the rights of refugees."

Mary Robinson on the challenges ahead for President-elect @JoeBiden. https://t.co/LtsvZweJz4 pic.twitter.com/k3U3sVsC5f

— The Elders (@TheElders) November 9, 2020