One Young World Counsellor and two time Olympic Gold medallist, Hope Solo, has officially announced that she is running to be President of the US Soccer Federation (USSF). The World Cup winner and record-breaking US goalkeeper made the announcement in a post on Facebook on Friday, after incumbent President, Sunil Gulati, announced he would not seek re-election to the post earlier this week.
In her post Hope detailed her tough upbringing where despite having always dreamed of playing soccer, her family did not have enough money to support her passion and she had to rely on the generosity of her neighbours, coaches and state government. Unlike her other teammates she did not have "enough money to shop, to eat out and to buy all the latest soccer gear."
Hope is focussing her election campaign on four key pledges: making soccer accessible for everyone and supporting young players, reforming USSF's corporate culture, equal pay for women players and greater financial transparency within the organisation.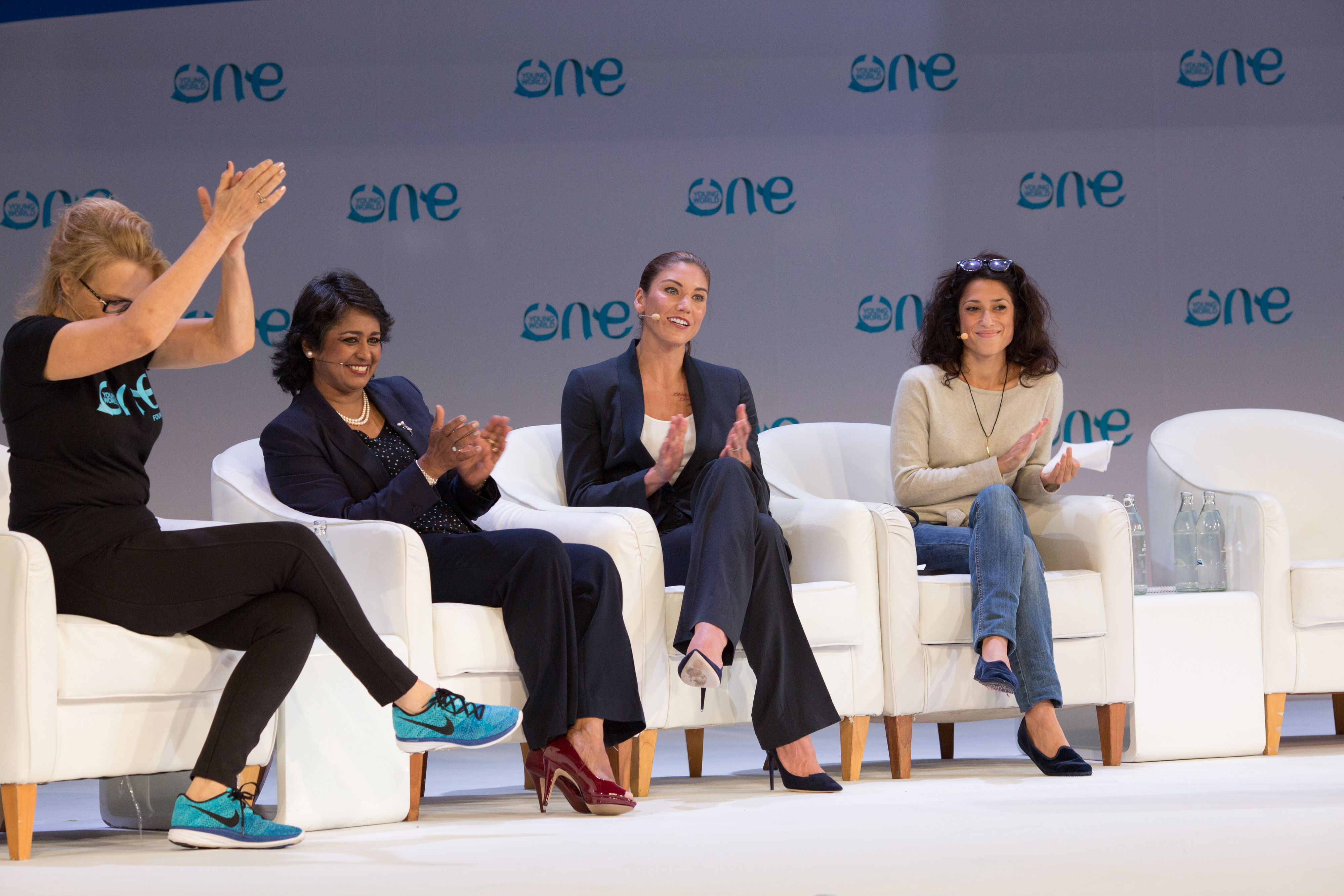 Hope Solo at the OYW Summit 2015 in Bangkok, Thailand alongside President Ameenah Gurib-Fakim of Mauritius and author Fatima Bhutto.
Hope wrote "I know exactly what U.S. Soccer needs to do, I know exactly how to do it, and I possess the fortitude to get it done."
During her 17 year international career as goalkeeper for the US national soccer team, Hope became one of the world's top female goalkeepers. She has the longest undefeated streak of any US goalkeeper, 55 games and helped the US team win the 2015 FIFA Women's World Cup in Canada.
She joins eight other candidates who have announced their candidacies, and if elected Hope would become the first ever woman to be President of the Federation in its century long history.
At the One Young World Summit 2017, she spoke about the major pay gap women face in sport, saying, "I got fired for fighting for equal pay."
We wish Hope the best of luck in her election campaign!
[tweetable hashtag="#oneyoungworld #OYW"] We wish Hope the best of luck in her election campaign![/tweetable].