Today, April 6, is International Day of Sport for Development and Peace. The international celebration of sports as a tool for positive social change was first recognised in 2013 by the UN General Assembly, and has been honoured annually by regional, national and international sport and development organisations across the globe ever since.
Sports has always had a central role at the yearly One Young World Summit. We have been honoured to welcome tennis player Roger Federer, gymnast Li Xiaopeng and cricket player Steve Waugh as Counsellors, amongst many others. In 2014, One Young World hosted a panel on 'Sport and Society' during which tennis player Boris Becker, footballer Sol Campbell and swimmer Adam Walker were joined by Olympic athlete and Ambassador Kirani James from Grenada.

One Young World Ambassadors are fostering sustainable peace and development through sports all year round. Take a look at how these young leaders are using sports as positive tools for change:
Refugee Olympic Team: James Nyang Chiengjiek and Anjelina Nadai Lohalith, South Sudan
For the 2016 Summer Olympic Games in Rio de Janeiro, Brazil, the International Olympic Committee (IOC) decided to welcome a team of refugee athletes to show solidarity with the world's refugees. Anjelina and James, both refugees from South Sudan living in Kenya, were part of this prestigious and took part in the 1500m and 400m respectively. At the One Young World Summit 2016, James declared that "sport has brought us together - we take care of each other and want to show that we love unity." Their participation in the Olympic Games and the One Young World Summit has brought the status of displaced people around the globe to the forefront of our minds and continues to show the plight of refugees everywhere.

Virginia da Graça, Timor-Leste ​
Virginia works at SportImpact in Timor-Leste, an organisation committed to using the power of sport to create a peaceful and developed world with equal opportunities for everyone. As Head Facilitator, Virginia trained 300 young participants and co-organised with those participants 'Sport for Life' events for more than 5000 children and youth around the country.
#WindiesRevival, Caribbean and Central American Ambassadors
In 2016, in the belief that success on the sports field is a powerful catalyst for inspiring young leaders, One Young World committed to bringing the Ambassador community together to support the revival of West Indies cricket. From the mid-70s to the early 90s, The West Indies dominated world cricket and captured the hearts of fans around the world. The team still holds the record for the most test series played without defeat (29) and is widely regarded as one of the most influential sides to have played the game. On the International Day of Sport for Development and Peace, Ambassadors in eight countries across the Caribbean and Central America organised cricket events to bring together communities and revive the sport of cricket regionally. The projects included Saint Lucian Ambassador Vernesta Isidore's 'Cricket Debate' on cricket culture as an important factor in regional cohesion, and Jamaican Ambassador Ashaney James' 'Bat for Peace' to bring young people from volatile inner city communities together to engage in a cricket match and foster collaboration.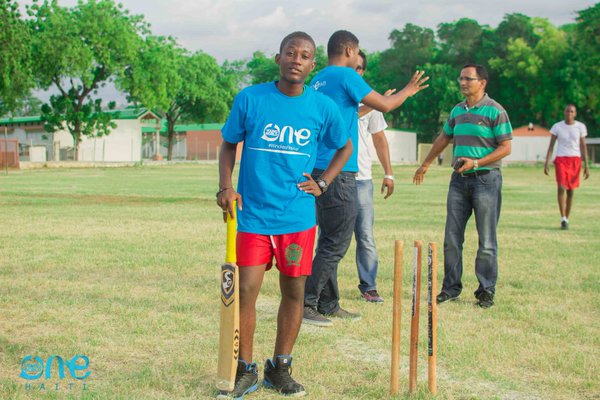 Eric Mitchell, Canada
Sport is supposed to be a vessel for good health and well being, but 64% of LGBT children do not feel safe to take part, and 1 in 5 LGBT people have suffered physical abuse. Eric and his fellow Olympians launched the #oneteam campaign. Over 100 professional coaches committed to making sport more inclusive and the Olympic Charter was amended to say discrimination of any sexual orientation is incompatible with the Olympic Movement and values.

Royston Alkins, Guyana
Royston is passionate about sports and youth development. In 2015 he founded The Xercise, a non-profit initiative that seeks to enhance the involvement of Guyanese athletes in activism within society.​ On this year's International Day of Sport for Development and Peace, Royston will be joined by several Guyanese athletes to give presentations in schools and organise a cricket match.