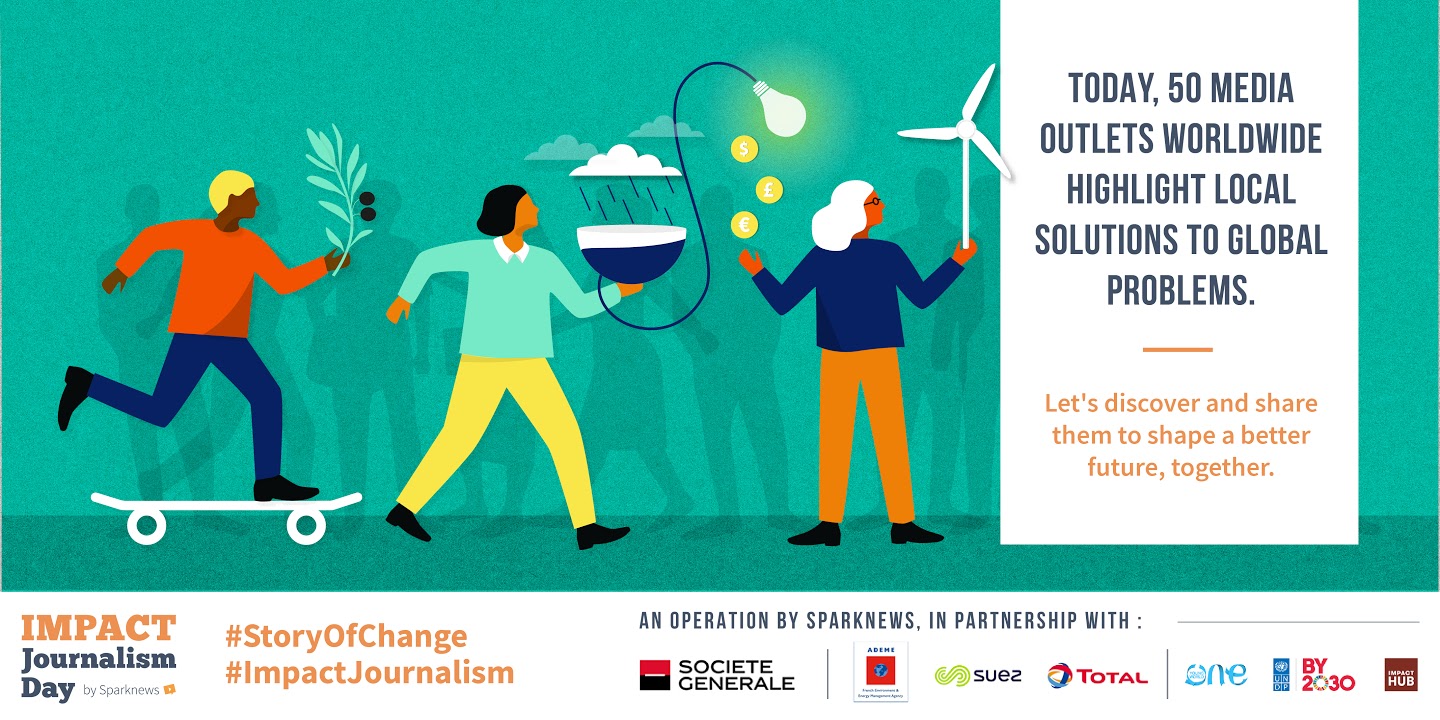 Six years ago, Sparknews launched the Impact Journalism Day, the first international alliance of twenty newspapers around the world. Today, this alliance has grown: more than 50 newspapers take their pen every year to write the stories of unknown women and men who innovate to find local solutions to global issues. Together, on June 16th, these newspapers will simultaneously publish articles and videos to help those innovative solutions travel and be replicated. While still underlying current major issues in these reports and through a questionnaire on Sustainable Development Goals, the media have decided to show what works so as to restore confidence and inspire people to act.
They do not write this new story alone: anyone can take part in it and tell the world as they want to see it evolve.
More than a one-day publication, Sparknews is launching a global call to each and every one of us. We, too, can share the admirable initiatives that contribute to making our neighborhoods more resilient and greener, and that reinvente our ways of moving, managing, working, consuming, investing our money, etc. Through our networks, we all have the power to talk about these projects to our communities and help them grow.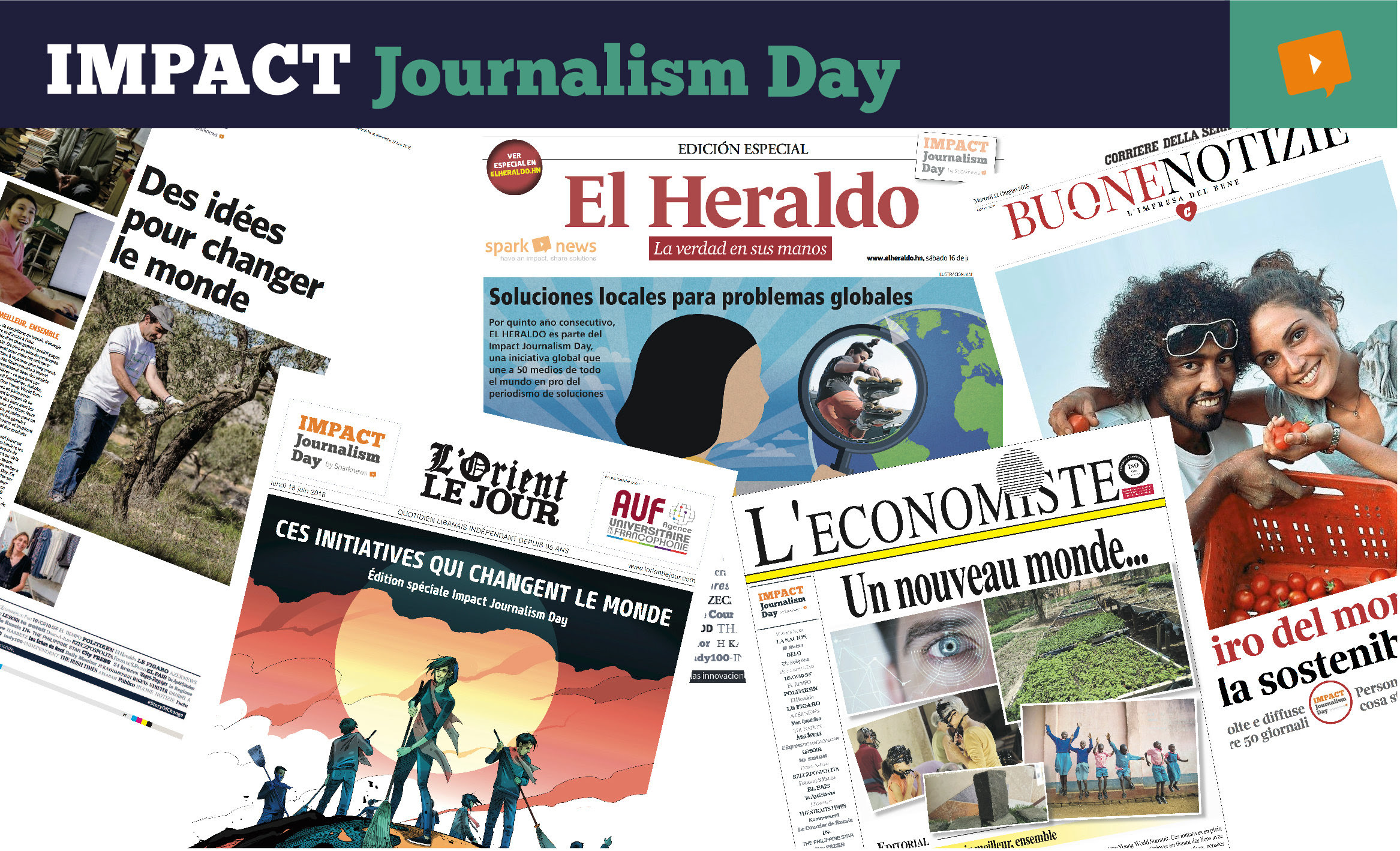 For the first time this year, an artists' collective is also working alongside Sparknews to announce the publication of June 16th. The Team Spi Rhythm collective took up a unique challenge: in 15 days, this multidisciplinary and multicultural crew experienced collective intelligence to achieve - from writing a song to filming a clip - the Impact Journalism Day teaser video. The latter invites readers to discover 60 projects with a high social or environmental impact from every corner of the world. Haytham, a Syrian poet, Thibaut, a French beat-boxer and slammer, Mandaakh, a Mongolian singer, Maïa, a Franco-Japanese singer, Silvio, a Franco-Italian editor, Julianna, a Polish singer and many others, have worked all together to convey in their way the following message: "Let's share solutions, let's make them travel [...] Optimistic or pessimistic, what is important is what we're doing, so we wield our pen, put it in the ink to be authors of our history".
The Team Spi Rhythm collective uses art as an universal language to spread this optimistic word, and in the same way as Impact Journalism Day newspapers do, these artists "mix their voices", their cultures, their languages, and their will to change the world.
A 4 min video of a completely new style to discover and share without moderation!
A growing movement of change-makers.
Everywhere, locally and globally, this positive and committed movement continues to develop. More and more organizations are working to help social entrepreneurs gain a greater voice by investing in them and accelerating their approaches (such as the Skoll Foundation, Ashoka, Impact Hub, One Young World Summit, etc.). These growing initiatives are also finding a way to scale up their businesses by developing links with traditional businesses. As a result, large companies are incorporating new ways of creating value into their business model and developing more virtuous products.
---
STORIES TO LOOK OUT FOR
OYW Ambassador Noorjahan Akbar is the founder of Free Women Writers in Afghanistan: Free Women Writers highlights authentic stories written by Afghan women. Led by a group of Afghan women, FWW operates primarily on Facebook and reaches an audience of 48,000 Afghans a week. It fights against the hateful ideas conveyed by the most affordable books that can be found in Kabul. Check out their feature in China Post. 
Zelij - Morrocco: Zelij turns bottles, bags and plastic films rejected by households and industries into paving, tiling and traditional Zelij.
The Shoe that grows - USA: a company has developed sandals expanding with the feet of the child, allowing poor families to buy shoes less often.
Lord of the Books - Colombia: this 53-year-old garbage man is collecting trash books to make sure everyone in his community, in the south of Bogotá, can read. He has saved more than 20,000 books, opened a library in his home and more than 15 libraries have been created in Colombia ever since.
Holocaust museum - USA: The Holocaust Museum & Education Center in Illinois, USA, is an exhibit that uses artificial intelligence to create holograms of Holocaust survivors to testify to visitors and answer their questions.
Piipee - Brazil: Piipee is a product designed to reduce up to 80% of water consumption in the toilet bowl. It releases a biodegradable and environmentally friendly solution that removes the smell of urine and changes its color, providing a cheaper alternative to flushing.
II - KEY FACTS
Impact Journalism Day 2018 is: the 6th edition // 50 media partners (print, pure players, TVs, etc.) // in 45 countries // publishing 60 stories of solutions.
Following Impact Journalism Day 2017, 55 projects had been publicized:
- ⅓ projects were publicized for the first time internationally
- 81% of them experienced replication in new regions after the publication
- 45% of them signed new partnerships or acquired new customers
- 20% of them found new sources of funding or R&D support following their media coverage
More information at:
- Join the movement to share solutions on June 16th: www.sharestoriesofchange.org
- Discover our quiz on global issues on this link
- Sparknews is a social company that identifies, shares, and amplifies positive solutions to tackle the world's most pressing issues. Find out more at www.sparknews.com
Thanks
Team Spi Rythm collective for their work and their confidence in the creation of this unique clip
GoodPlanet Foundation and Bettencourt Schueller Foundation - HUMAN film team and Yann Arthus-Bertrand for providing the splendid images, and for their precious support, from near and far, in the Sparknews projects
Famae Foundation for the attribution of a special prize Sparknews by Famae for Impact Journalism Day. Famae Foundation has launched a 1 million euro competition dedicated to the environment and open to all. For more information, please visit https://famae.earth/.
All Impact Journalism Day partners and particularly our sponsors - Société Générale, Total, l'Ademe, Suez and the Suez Foundation - for their trust
One Young World, Impact Hub and the United Nations Development Program to be part of this global movement and to contribute to the success of Impact Journalism Day
CONTACTS
Aubance LAMOUR - Communications manager - [email protected]
Agathe DUFFOUR - Project manager - Impact Journalism Day - [email protected]