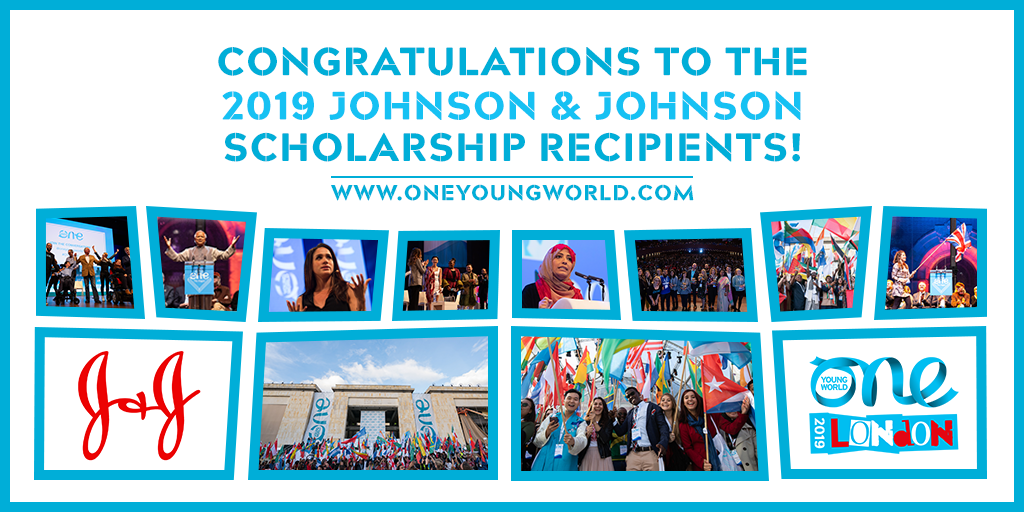 For the third year running, Johnson & Johnson Global Community Impact collaborated with OYW to offer scholarships to 12 aspiring young leaders working on the front lines of care across the globe to participate in the 2019 Johnson & Johnson One Young World Program. The Johnson & Johnson Global Community Impact team supports and champions people on the front lines who are at the heart of delivering care and through its global and community-based partnerships and programs, the Team aims to support the next generation of global and community-based health leaders to develop the skills and tools they need to drive health and well-being in underserved populations. 
Johnson & Johnson (J&J) believes good health is the foundation of vibrant lives, thriving communities, and forward progress. For more than 130 years, they have aimed to keep people well at every age and every stage of life. Today, as the world's largest healthcare company, they are committed to using its reach and size for good and strive to improve access and affordability, create healthier communities, and put a healthy mind, body, and environment within reach of everyone, everywhere. Every day, over 130,000+ J&J employees across the world are blending heart, science, and ingenuity to profoundly change the trajectory of health for humanity. 
As well as attending the upcoming 2019 One Young World Summit in London, J&J scholarship recipients will receive individual coaching from senior J&J leaders to further develop their goals, strategy and/or initiatives. In addition, all 2019 J&J OYW scholars are buddied with a team of 2019 J&J OYW delegates for a six-month program to help build the capacity of the Scholar through the sharing of their skills and knowledge. This year, the theme for J&J's One Young World cohort is Resiliency For Change: Adapt, Recover, Grow.
Congratulations to the 2019 Johnson & Johnson Scholarship recipients:
Faheem Ahmed, UK
Director & Medical Doctor, Selfless
Faheem Ahmed is a medical doctor with a background in public health (MPH) and policy (NHS England), currently undertaking his MBA at London & Columbia Business Schools. Born in South London of Bangladeshi descent, Faheem has committed himself to address the growing burden of local and global health inequalities.
Alexandra Carrizo, Panama
Clinical Psychologist and Program Coordinator, Vital Voices
Alexandra Carrizo is a Clinical Psychologist and Psychotherapist at Vital Voices Panama. Vital Voices is a non-profit non-governmental organization that promotes the participation of women and their basic rights to education, healthcare and equitable access to opportunities, in order to achieve a profound social transformation. Alexandra has a great passion for Mental Health and Women's rights, especially regarding Afro-Panamanian and indigenous women.
Shubham Choudhary, India
Founder, Safe Access
Shubham Choudhary is the founder of Safe Access, a not-for-profit organization enabling equitable healthcare for India's LGBTQ community. He is an Echoing Green Fellow, and a Rise Up Youth Champion working in the field of sexual reproductive health and rights (SRHR).
Allison Crha, United States
Registered Nurse, Health Care Advocacy & Legislative Council
Allison Crha is an Emergency Department Nurse with expertise serving in Washington D.C.Allison is passionate about empowering nurses to use their voices to advocate for patients at the bedside and to inform health policy.
Wesam Eid, Turkey
DDS, Specialist in Public health, Head of Programs & Co-Founder for AHS Organization
Wesam Eid is working in Syrian Humanitarian Operations as Head of Programs for the NGO (AHS). AHS, set up in Syria, vision is to be the most effective and successful organization in crisis management and rescue victims of wars and disasters by offering emergency response to the needy and help affected communities recover through the development of their own resources and capacity building.
Rahat Hossain, Bangladeshtheir 
Social Entrepreneur and Business Development Manager, Ayat Education
Rahat Hossain is a social entrepreneur and business development manager at Ayat Education, from Dhaka, Bangladesh. He works on innovative health care training and the implementation of nursing colleges in Dhaka. He is also working on his next health care start-up to improve emergency medical care.
Tracy Kobukindo, Uganda 
Intern Nurse & Co-Founder, Community Health Movement
Tracy Kobukindo is a Nurse who studied in Uganda at the International Health Sciences University in Kampala. She has a Master of Science in Public Health and currently works at the Kabale Regional Referral Hospital in Kabale, as a volunteer intern nurse. Here she sees up to 20 patients a day, diagnosing, providing treatment and health education to men, women & children.
Yuliya Labko, United States
Certified Nurse Midwife, Policy Director, March for Moms
Yuliya Labko is a certified nurse/midwife and a public health nurse from the United States of America. She provides midwifery services in the state of New York as well as holds home visits to at-risk moms and babies in her spare time. Yuliya is passionate about maternal health advocacy, addressing maternal mortality, and the advancement of midwives in the US.
Rayan Mamoon, Sudan
Medical Doctor, Founder, and CEO, Courses Cross Borders
Rayan Mamoon is a doctor, minority's health rights activist, researcher and social entrepreneur who spent her last seven years addressing health issues affecting underprivileged communities in rural and conflict settings in Sudan.
Durga Sapkota, Nepal
Registered Nurse, Karma Health
As a registered nurse, Durga Sapkota is pursuing an advanced nursing degree, as well as a law degree. She is an executive member of "Karma Health", where she has been prototyping a community-driven integrated health care model that comprise comprehensive clinical care and proactive community-based care to support Universal Health Coverage.
Silvia Velasco, Bolivia
National Clinical Quality Lead, Marie Stopes International
Silvia Velasco is the National Clinical Quality Lead at Marie Stopes International in Bolivia. The NGO empowers young leaders within the reproductive and sexual health area and provides contraception services. Since 2016, she has been working on Marie Stopes program "Children by choice, not chance" in Bolivia, first as a principal provider of contraception services in rural areas of her country, and now in her role as the National Clinical Quality Lead.
Sharon Yabilsu, Nigeria
MHPSS* Field Officer, International Committee of the Red Cross
Sharon Yabilsu is a Clinical Psychologist with over 4 years' experience in the development, planning, and implementation of Mental Health and Psychosocial Support (MHPSS) in humanitarian context in North-East Nigeria, a region that has continued to face a critical humanitarian situation
*MHPSS = Mental Health & Psychosocial Support Network
Find out more about the 2019 J&J Scholarship Programme here.