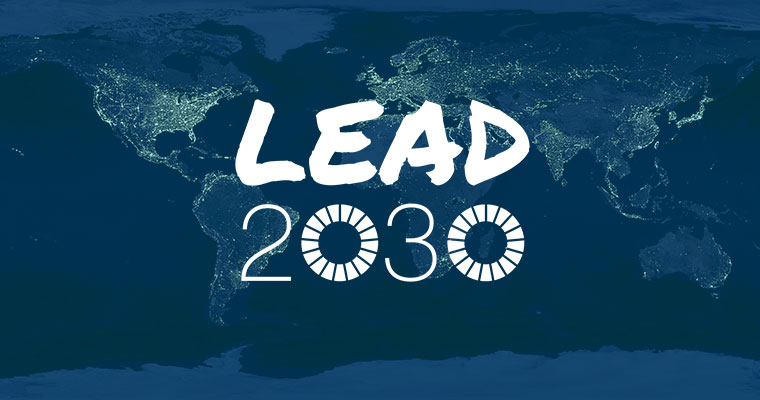 25 September, New York: One Young World – the global forum for young leaders that counts Meghan Markle, Justin Trudeau and Emma Watson as Counsellors – today announces the launch of Lead2030, a new initiative to drive progress on the United Nations Sustainable Development Goals (SDGs).
Supported by some of the world's most prestigious brands, Lead2030 will find, fund and accelerate the most impactful youth-led solutions that are moving the needle on the SDGs.
The 17 Sustainable Development Goals – or Global Goals – were agreed upon by 193 countries in 2015. From ending poverty to protecting the oceans, these goals represent an ambitious to-do list to create a sustainable future by 2030.
Yet with an estimated annual investment gap of $2.5 trillion in developing countries alone, achieving the Global Goals requires meaningful contribution from the private sector.  United Nations Secretary General Antonio Guterres recently stated that "funding gaps for SDG investments are vast and urgent. We must unlock the large levels of financing necessary to implement the 2030 Agenda."
Each Lead2030 Challenge Partner [see below] has committed to funding and mentoring a youth-led initiative, business or movement that is making a tangible impact on a selected Sustainable Development Goal.
The young leaders who will receive this transformative support for their work will be selected following a global search that launches this October at the One Young World Summit 2018 in The Hague, The Netherlands.
Lead2030's inaugural Challenge Partners include:
Goals 2 & 6: RB. Zero Hunger & Clean Water & Sanitation
Goal 3: AstraZeneca. Good Health & Well-being
Goal 4: Deloitte. Quality Education
Goal 4: Credit Suisse. Quality Education
Goal 7: BP. Affordable & Clean Energy
Goal 9: Standard Chartered. Industry, Innovation & Infrastructure
Goal 10: Bristol-Myers Squibb. Reduced Inequalities
Goal 12: Mondi Group. Responsible Consumption & Production
Goal 17: KPMG. Partnerships For The Goals
Additional mentorship will provided to selected challenge winners by Activation Supporter, Porter Novelli. 
Kate Robertson, co-founder of One Young World, said:
"Since 2010, One Young World Ambassadors have positively impacted the lives of more than 17.5 million people. They are a testament to the progress young people can achieve when they have a platform to lead to from. Lead2030 will enable this community and young leaders like them to achieve even greater results.
The Global Goals will not be achieved without ambitious and meaningful contributions from leaders across every sector of society. With 380 million jobs predicted to be created by achieving the SDGs, and $12 trillion unlocked in market opportunities, the business case for accelerating progress on the Global Goals is clear. The world leading organisations that have committed to join Lead2030 are not just doing the right thing, they're doing the smart thing for their business."
Visit www.lead2030.com to register your interest in the challenges and find out more about the initiative.
– ENDS –
For more information
Sophie Poston
 T +44 20 7199 6415
M +44 77 3601 7336
Becky Emery
T +44 20 7199 6210
M +44 7415 206753
Notes to Editors
Quotes from influential Counsellors and media outlets include:
Justin Trudeau, Prime Minister of Canada: "An unparalleled network of forward-thinking, progressive leaders from every corner of the world."
Bob Geldof, Activist and Musician: "It's not small this, it's not a talking shop…At One Young World the delegates get to share the problems of their own countries and together, through social media and throughout the year, they engage with their governments and their own leaders to try and resolve the problems. It's very effective"
Kofi Annan, Former UN Secretary General: "Meeting tomorrow's young leaders and hearing your solutions to today's challenges is always a highlight of my year."
Yeonmi Park, One Young World Ambassador, North Korea: "I am here at One Young World because I believe that sharing my story is the first step to changing my country."
CNN: "The junior Davos"
VICE: "The world's largest & most impactful youth leadership summit"
SABC: "At the One Young World Summit leaders old and young come together to say, 'enough – let's make the solutions to tomorrow's problems today."
About One Young World
One Young World is the premier global forum that connects young leaders to create lasting positive change around the world. Its annual Summit brings together 1,500 of the most talented young leaders from across 196 countries to tackle the globe's most pressing issues, from climate change to conflict resolution.
One Young World is actively supported by a distinguished line-up of Counsellors including Kofi Annan, President Bill Clinton, Prime Minister Justin Trudeau, President Mary Robinson, President Juan Manuel Santos, Sir Bob Geldof, Archbishop Desmond Tutu, Emma Watson, Meghan Markle and Professor Muhammad Yunus. One Young World Counsellors work alongside delegates at the global Summits, sharing their collective experience in creating positive social change.
Since launching in 2009, One Young World has built a network of over 8,000 Ambassadors, whose projects have gone on to benefit 14.6 million worldwide. Notable Ambassadors include Olympic champion sprinter Kirani James, North Korean defector Yeonmi Park, Alan Mak MP, mental health activist Hussain Manawer, Lauren Bush, founder of FEED, and social media star Jérôme Jarre.
The award-winning annual Summit has been named International Conference of the Year on three occasions by C&IT. One Young World also has the largest corporate footprint of any NGO, and is partnered with more than 500 of the world's leading organisations, many of which are listed by Fortune 500 or FTSE 100.
To date, Summits have taken place in London (2010), Zurich (2011), Pittsburgh (2012), Johannesburg (2013), Dublin (2014), Bangkok (2015), Ottawa (2016) and Bogota (2017). The 2018 Summit is taking place in The Hague, Netherlands.
Image