One of the most prominent women in global finance, who is pioneering ways to help investors to make the world a better place, has been unveiled as the latest world-class business Counsellor headed to One Young World's 2018 Summit.
Marisa Drew, head of impact investing at Credit Suisse, is at the forefront of a $23 trillion sustainable finance sector which is growing apace in response to client demands for ethical investment. Marisa has been considered one of the world's most successful investment bankers and is credited with having personally raised over US$ 100 billion globally to build mobile and media infrastructure.
An American living in Europe, she is a pioneer in improving opportunities for women in business.
She is a banker with a creative streak. Her private passion is a vineyard in South Africa where she makes Cabernet wine, for which she designs her own labels. She is also a passionate supporter of young fashion designers.
Marisa will be a Counsellor at the One Young World 2018 Summit in The Hague, between 17-20 October.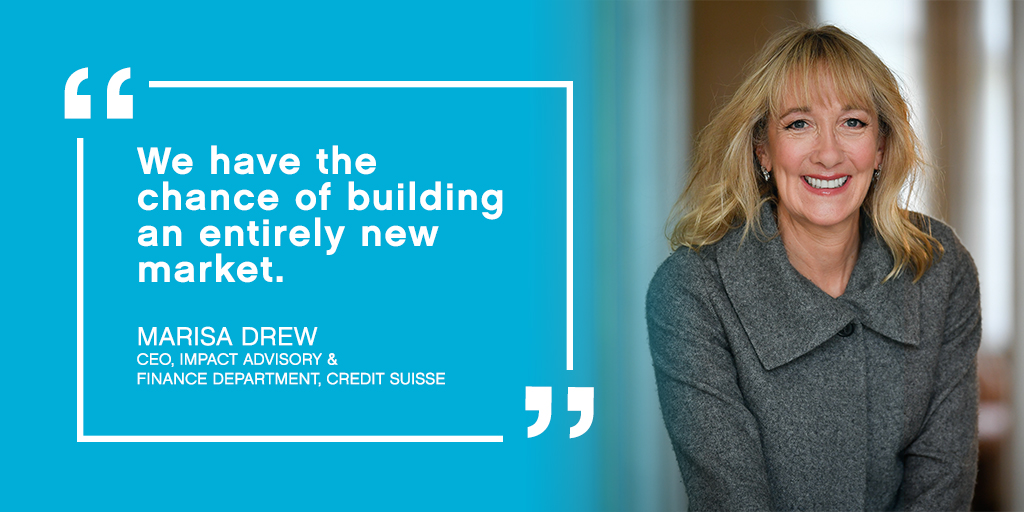 She was appointed to the role of CEO of Credit Suisse's new Impact Advisory and Finance (IAF) department late last year. The new unit is seen as fulfilling a crucial need for sustainable finance as younger generations and pension funds have increased focus on ethical investing and issues including wealth disparity and global warming have come to the fore.
In an interview with Bloomberg, Marisa said impact investing was enjoying an "extraordinary growth rate" and was expected to "grow at double digit rates for long into the foreseeable future". She said the IAF department was "absolutely strategic" for Credit Suisse and was "a growth initiative within the bank".
Speaking to Euromoney, she said: "We want to be able to offer the best-in-class opportunities in the responsible investing space, so we'll be working on screening and tracking, and creating bespoke investment alternatives."
Marisa began her career as an analyst in 1986 and rose to become a Managing Director at investment bank Merrill Lynch. She joined Credit Suisse in 2003 and became one of its most senior investment bankers, playing a major role in developing the international leveraged finance market.
Her new role entails looking across investment banking, private banking and asset management at Credit Suisse, and identifying investment opportunities that create socio-economic or environmental benefits while generating a financial return. "We have the chance of building an entirely new market," she told Finews.
Marisa Drew will be among a remarkable line-up of business and finance leaders who will be attending the One Young World Summit in The Hague as Counsellors. Other global CEOs attending include Paul Polman (Unilever), Jean-Laurent Bonnafeean (BNP Paribas), Ben van Beurden (Shell), Bob Dudley (BP), David Sproul (Deloitte), and Rakesh Kapoor (Reckitt Benckiser).