They are a mix of tech gurus, environmentalists, nutritionists, feminists and social media influencers, but every one of them is a peace activist and together they can build a safer world.
This second cohort of One Young World Peace Ambassadors consists of 40 outstanding young leaders from all corners of the world and all of them will be coming to the 2018 Summit in The Hague, Netherlands, from 17-20 October. Find out more about them here.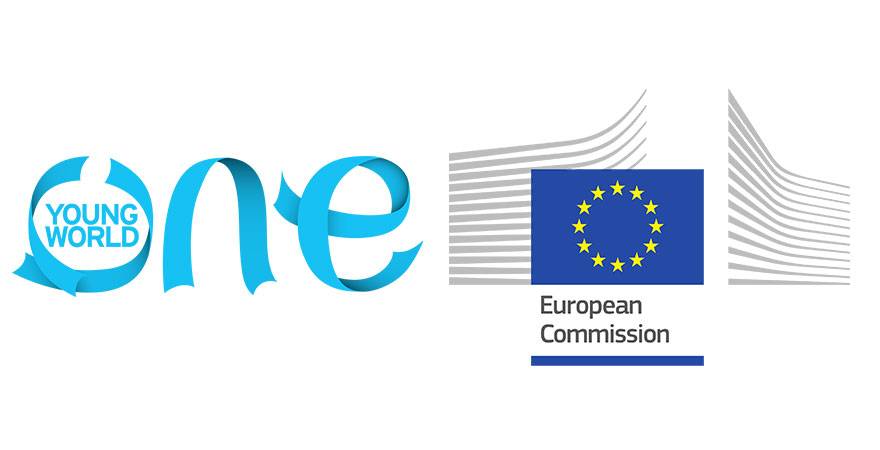 The One Young World Peace Ambassador initiative is run in partnership with the European Commission and is dedicated to preventing and countering violent extremism, promoting peace-building efforts and conflict resolution. It is intended to encourage young leaders to play an active role in building peaceful and cohesive societies.
When the project launched in 2017, Neven Mimica, European Commissioner for International Cooperation and Development, spoke of the importance of young people taking a more proactive role in improving the situations of the 600m young people who live in fragile or conflict-affected areas. The Peace Ambassador initiative, he said, would "empower young leaders to effectively contribute to the promotion and achievement of sustainable peace across the world".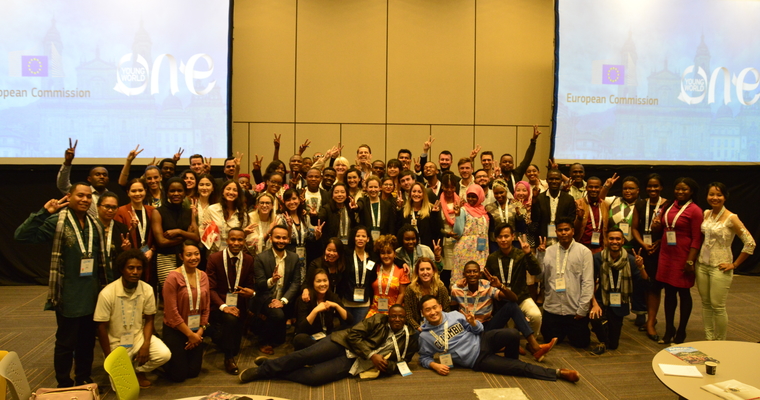 The threats to peace are "truly global" said the co-founder of One Young World, Kate Robertson. "One Young World believes that a lasting peace is a sustainable peace, which means respect for human rights, initiatives for a greener future, and equal access to education and economic opportunities for all."
Meet the 40 One Young World Ambassadors for 2018 (for a more extensive background, please visit the 2018 One Young World Peace Ambassadors' page):
Gwen Yi Wong (Malaysia). Her social venture Tribeless, which operates in 17 cities across three contents, is bursting the filter bubbles of social media and bringing together strangers form all walks of life in open and honest conversations to deepen understanding and build empathy.
Kemoy Lindsay (Jamaica). Runs a mentorship programme in juvenile detention facilities and inner city high schools to prevent excluded youth from being recruited into violent extremism.
Lida Minasyan (Armenia). A leading figure in the Women in Black feminist and anti-militarist movement in Armenia, she also campaigns for a National Action Plan on implementing UN Security Council Resolution 1325, reaffirming the vital role of women in conflict prevention and resolution.
Achaleke Leke (Cameroon). National Co-ordinator of Local Youth Corner Cameroon, which has built a curriculum and training for young people, and a prison-based skills and rehabilitation project that has helped 500 young people, including some recruited by Boko Haram.
Henri Sougourounoma Kabore (Burkina Faso). Founder of the Burkina Faso Interfaith Network, he promotes peace and combats terrorism through interfaith dialogue that encompasses interfaith panels, prayer nights, conferences and football tournaments.
Salimatou Fatty (The Gambia). Created the Salimatou Foundation for Education, which visits schools to inform and empower children, especially girls, with knowledge on the subjects of child marriage, discrimination, child labour and dropping out of school.
Miguel Zepeda Yassin (El Salvador). Co-owner of Desarrolladores de Empresas, S.A. de C.V., a social-driven company founded on 2014 that is dedicated to train people on life skills and soft skills such as emotional intelligence, effective communication, conflict resolution, team work and leadership.
Samet Shabani (Republic of Macedonia). Works as the CEO of Horizon Civitas which, amongst others, engages in various CVE programmes and currently holds an advisory role for Macedonia's newly-established body for National Committee for Preventing Violent Extremism and Counterterrorism.
Valeria Gomez Palacios (Nicaragua). Worked as research specialist for the Inter-American Program of Judicial Facilitators of the Organization of American States, promoting access to justice for marginalised communities in Latin America.
Emadeddin Baddi (Libya). Based at the global organisation Peaceful Change, where he leads on conflict sensitivity analysis and consults on community-led peace building initiatives.
Luis Bekteshi (Albania). Human rights educator with youth organisation Perspektiva, and activist with the 'No Hate Speech' movement, which has influenced the Albanian government to enable young people to report hate speech both online and offline.
Jasper Williams (Bahamas). Programmes Director for Rights Bahamas, she promotes individual rights and the rule of law, educating young people in building campaigns that support human rights and gender equality.
Irwin Iradukunda (Burundi). A dedicated activist working on advocacy for human rights and social development, particularly in the areas of LGBTQI and sex workers' rights.
Mensah Philippe Houinsou (Benin). Young leader who specialises in encouraging young people to use emotional intelligence to empower themselves and transform their communities; he has trained 4,000 people in 16 countries across Africa.
Senad Alibegovic (Bosnia and Herzegovina). At 26, he is already a ten year veteran of youth activism, co-founding several successful organisations including Youth Pulse, Youth Council and the Network of High Schools, and determined to remain based in Bosnia & Herzegovina.
Sesame Omphile Mogotsi (Botswana). Works for CYPAN, a network of peace advocates across the Commonwealth, reshaping the peace and security narrative so that youth are seen as stakeholders and not merely perpetrates and victims.
Martine Ekomo-Soignet (Central African Republic). Created the youth-led organisation URU which creates a bridge between youth initiatives in the CAR and the national government and international bodies including NGOs and the United Nations.
Sophie Kanza (Democratic Republic of the Congo). A campaigner against Afrophobia, highlighting discrimination against migrants and raising the issue on international platforms and though the award winning video #Singabantu - We Are Human.
Wilfried KS Adingra (Côte d'Ivoire). Helped create the Pan-African Youth Network for a Culture of Peace, supported by UNESCO and the Forest Whitaker Foundation, and also runs social company  LUMEN Corporation, empowering young people and promoting entrepreneurial culture.
Fatouma Ahmed (Djibouti). Campaigns to support women in improving their nutritive habits and food conservation to ensure that babies are not born malnourished. She also works for the IGAD CVE Centre of Excellence building resistance to extremism in Djibouti.
Veronica Almedom (Eritrea). Created the Information Forum for Eritrea, to promote understanding of Eritrea in Switzerland where many Eritrean refugees have settled. She has participated in high level dialogue as an invitee of the President of the Human Rights Council.
Koka Kapanadze (Georgia). Gender equality campaigner who worked with parliamentary staff on the historic Gender Impact Assessment project led by Georgia's Gender Equality Council. Also leading the Georgia's Future Academy, which hosts debates across Georgia's major cities to develop critical thinking.
Ahlem Nasraoui (Tunisia). Heads Young Leaders Entrepreneurs, which promotes start-up culture by using a training bus that tours the nation. Also runs hackathons and mentorship schemes such as She Start-ups, which encourages women to found their own businesses.
Simtekpe Koboyo Maza-Abolo (Togo). Volunteer for Togo Youth National Council and a leader in youth empowerment, political engagement and environmental activism.
Seleman Yusuph Kitenge (Tanzania). At 29 he is a veteran of a decade of campaigning on youth development, peace and security and was a participant in the drafting of the Conference of Youth on Climate Change manifesto which was circulated at the historic COP21 in Paris.
Mariela Shaker (Syria). Renowned violinist and a Syrian refugee in the United States since 2013, she was named a 'Champion of Change' by former President Obama in 2015 and a UNHCR High Profile Supporter. She has performed at some of the world's most prestigious music venues.
Regina Lepping (Soloman Islands). Peace campaigner and executive member of the Young Women's Parliamentary Group in the Solomon Islands, she is the founder of the Say It Out Loud film festival, empowering young people through filmmaking.
Victor Moinina (Sierra Leone). Youth leader who has worked not only in Sierra Leone but across the African continent to support youth empowerment and skills development.
Brice Dier Koue (Senegal). Piloted the P2P Project In partnership with the US State Department to raise awareness of radicalisation, deploying social media communication and travelling to the border regions of Senegal to combat extremism through education.
Shaandre Finnies (Namibia). Co-founded Empateamwork with the aim of using cross-cultural exchange to further understanding around the Herrero-Nama genocide that took place under Germany's colonial rule of Namibia. Its first project is to establish a community radio station in Namibia.
Zar Li Aye (Myanmar). Human rights lawyer dedicated to using the law to combat all forms of discrimination; whether based on ethnicity, gender, sexual orientation, age or religious background.
Rahama Nantoumé (Mali). Peace activist committed to fighting youth radicalisation and violent extremism in all Malian regions by using video and other coaching methods to teach values of reconciliation and coexistence.
Mohamed Hoodh Ibrahim (Maldives). Peacebuilder who champions youth participation in policy and decision-making. Co-founder of Youth To Leaders Forum and Founder of Maldives Youth Peace Security Consultation. Founding President of youth-led NGO Dhi Youth Movement. He campaigns for democratic values and safe spaces for youth.
Peter Yakobe (Malawi). Champion of youth entrepreneurship in the central African nation where young people aged 10-35 make up 65 per cent of the total population.
Satta F Sheriff (Liberia). Founder of Youth in Action for Peace and Empowerment, an NGO dedicated to defend and promote the rights of Liberian children and vulnerable groups, campaigning for changes to rape laws. Has won numerous awards for her work in defending children's rights and ensuring safe spaces for Liberian girls.
Arash Bordbar (Iran).A refugee who resettled in Australia after living in Malaysia, He faced ethnic and religious discrimination and is now campaigns for refugee rights. He has won the Young Australian Human Rights Medal in 2016 and is the Co Chair of the Global Youth Advisory Council with UNHCR.
Juan Carlos Enamorado Mendez (Honduras). Uses urban arts to reach and empower vulnerable communities and to help redirect young people away from gangs and violence.
Ayesha Hashem (Afghanistan). Human rights activist, policy specialist and development enthusiast working on gender inclusive growth and sustainable development issues in Afghanistan including The Imam Initiative Project which has trained over 5000 Imams across Afghanistan to advocate for the social, political and economic rights of Afghan women.
Berta Antonieta Tilman Pereira (Timor-Leste). Initiated Timor-Leste's first feminism movement, Grupu Feminista, which effectively lobbied the Prime Minister and Minister of Health to prevent the passing of a new law locking unmarried women out of accessing birth control.
In addition, five of last year's cohort of One Young World Peace Ambassadors will be coming to The Hague. They are:
Hyppolite Ntigurirwa (Rwanda). A survivor of the 1994 genocide, he created the Hyppolite for Peace Foundation and set up the Be The Peace initiative to promote inter-ethnic friendships and to educate and unite the post-conflict generations in Rwanda.
Aizharkyn Aisakhunova (Kyrgyzstan). Dedicated to helping children from orphanages to be given the opportunity to reach their full potential, and to campaigning for better education provision for young people in general so that they might be better equipped to build a safer world.
Heidy Quah (Malaysia). Founder and Director of Refuge for the Refugees (RFTR), an organization which aims to raise awareness about refugees in Malaysia and provide education for refugee children. Established in 2012, RFTR currently has 35 schools under one umbrella: 10 across Malaysia and 25 across Myanmar.
Nelson Kwaje (South Sudan). Social media manager for #defyhatenow a community peace building project that supports youth-oriented civil society organisations in South Sudan. He has led boot camps in educating South Sudanese youth in building a peaceful and literate nation.
Ngawang Gyeltshen (Bhutan). Sustainable development campaigner and founder of Youth Social Cooperative, Bhutan's first such organisation and aimed at creating a Universal Basic Income in Bhutan. She inspired national policies on the supply to schools of organic food from local farmers after campaigning in her own school.
Find out more about the 2017 and 2018 cohorts of Peace Ambassadors via https://www.oneyoungworld.com/one-young-world-peace-ambassadors.