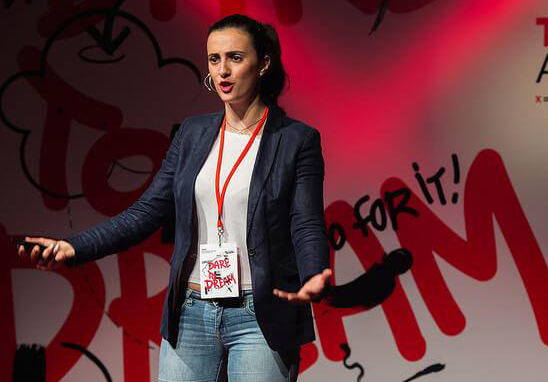 Our Ambassador of the Week is Ioanna Fotopoulou, a passionate young changemaker from Greece. After being named one of Greece's 30 under 30, Ioanna was invited to represent Greece at the 2016 Young Transatlantic Innovation Leaders Initiative (YTILI), an international exchange programme focused on developing entrepreneurial skills and enhancing Euro-Atlantic cooperation. 
YTILI Fellows kicked off their programme in Washington D.C. with meetings organised by Google and the U.S. Department of State. The two following weeks were spent at one of the host institutions across eight different American cities, where the participants benefitted from job-shadowing and interaction with various American professionals.
Ioanna spent these weeks at Nexus Energy Center in Huntsville, Alabama, where she worked directly with her mentor, the President of the company, on energy efficiency education programmes, primarily through a communication and social media strategy.
YTILI Fellows were also presented with the unique opportunity of attending the 2016 Global Entrepreneurship Summit (GES), organised under the auspices of the White House, in order to present their learnings and future plans. 
On her new venture, Ioanna has remarked:

"I am very proud to be able to represent my country in the USA. Entrepreneurship and innovation is the hope for my country today, and Greek politicians should finally understand that and start working towards a flourishing startup scene."
Ioanna was a Delegate Speaker at the One Young World Summit 2013 in Johannesburg, South Africa, where she spoke on her work as a founder of The Activests, a pressure group that pushes for greater transparency and leadership by the Greek government and governments of neighbouring states. You can watch her Delegate speech here:

[[[video 0]]]