We are pleased to share the results of the Coordinating Ambassador applications which were open to all One Young World (OYW) Ambassadors!
Coordinating Ambassadors are the glue that hold the community together and the linchpin between the OYW team based in London and the thousands of Ambassadors worldwide. They will work to sustain momentum after the 2018 Summit, organising events, tracking the impact of individual Ambassadors and making useful connections between them.
The selected 26 Coordinators have all demonstrated skills, passion and commitment needed to serve and support their regional OYW community in the year ahead.
Each region will be supported by a Managing Ambassador who will ensure greater cooperation and collaboration between regional Coordinators.
Latin America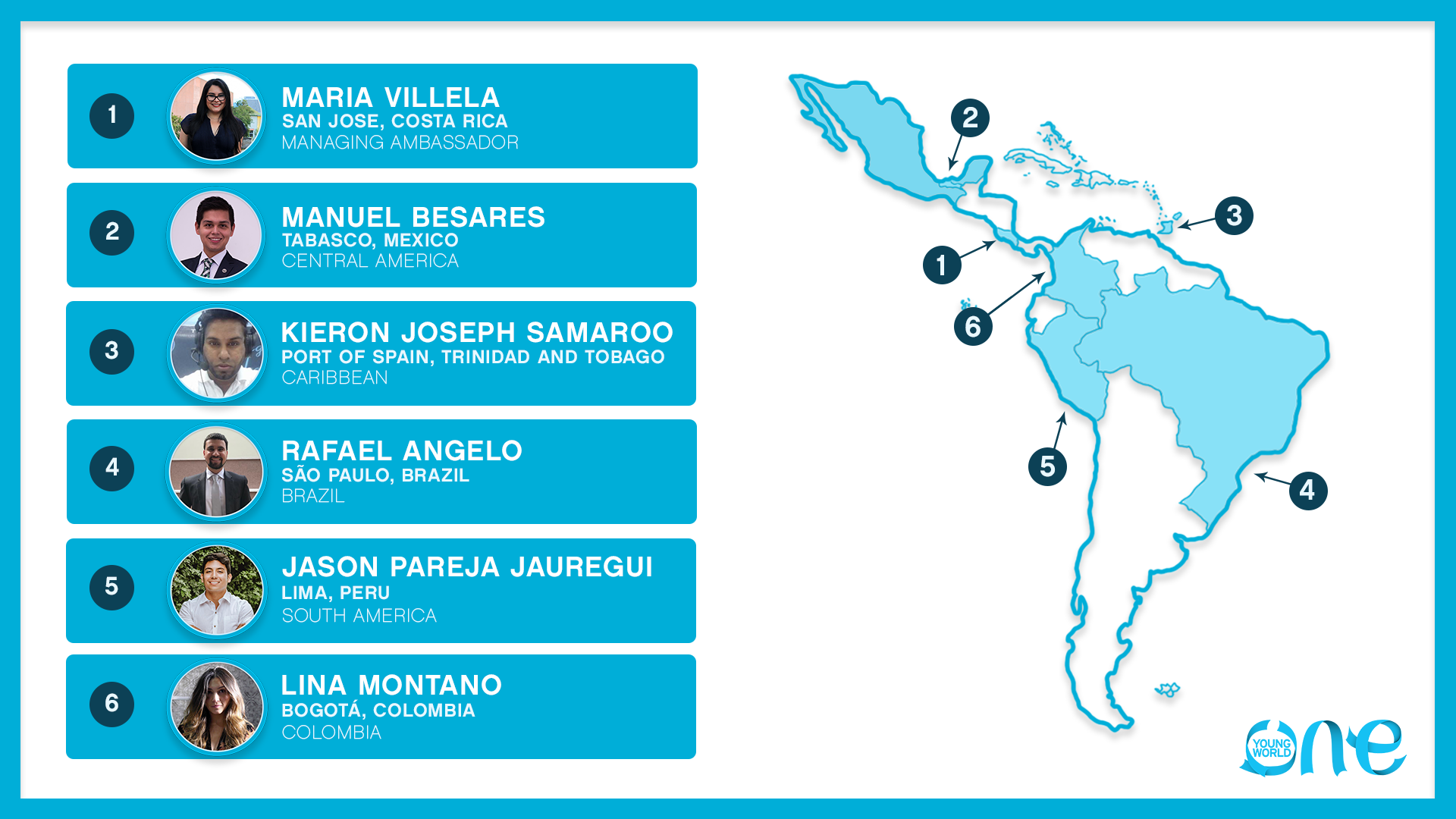 Managing Ambassador:
Maria Villela is a big supporter of empowering and inspiring young leadership. Her passion of bringing positive change to the world led her to serve as a Coordinating Ambassador for Central America during two terms from 2016-2018. Maria has an English Major and a degree in Translation and currently works as an Instructional Designer for Western Union.
Coordinating Ambassadors:
Manuel graduated in Genome Biotechnology at the Universidad Autónoma de Nuevo León (Mexico) and studied an MPH in International Health at the University of Nottingham (UK). Self-identified as a Global citizen, he is passionate to address and propose solutions for Global Health issues. In 2013, he was the first President of BIDESIDA UANL, a student initiative that he co-founded, focused on the Prevention of the HIV/AIDS among the youth. Recognised for his leadership skills in the Biological and Health Sciences, he won the prestigious Chevening Scholarship of the United Kingdom in 2016. In 2018, he obtained the "Young Health Programme Scholarship" of AstraZeneca to attend the One Young World Summit. Manuel is the winner of Tabasco's State Youth Award to the Academic Merit, Scientific & Technological Development 2018. As a US State Department and UK FCO Chevening Alumnus, he has been recognised among the "100 Young Leaders of the Biotechnology in Latin America" by Allbiotech, and one of the "100 Leaders of Tomorrow in Biotechnology" by Global Biotech Revolution.
Kieron is a Business Development and Corporate and Political Communications consultant. He is a media personality and co-hosts highly popular current affairs programme "The Morning Panchayat" on Aakash Vani 106.5FM in Trinidad and Tobago. Previously, Kieron served on the Board of Directors of the State-owned Trinidad and Tobago Film Company and the Board of Film Censors. From 2008 to 2013, Kieron served as the Chairman of the Youth Congress of the Congress of the People (COP), a political party in Trinidad and Tobago. Under his tenure as Coordinating Ambassador, he oversaw a robust digital media campaign that featured the contributions of One Young World Ambassadors in an innovative, inclusive approach which consisted of which included country spotlights and videos highlighting Ambassador of the Month. In August 2018, he spearheaded the hosting of the second One Young World Caribbean caucus in San Fernando, Trinidad.  The Caucus was attended by over 150 attendees from youth, student and civil society groups from across the Caribbean. Speakers included two former Prime Ministers, former directors at the United Nations, technical specialists from Yale University and the University of the West Indies, a Hollywood-based producer amongst others. The Caucus also included the hosting of "ONE-derful"; inaugural OYW Caribbean fashion show featuring young designers, models and photographers from the Caribbean.
I am 31 years old and I am from Brazil. I was graduated on Mechanical Engineer and I have post graduation on Energetic Efficiency. I have been working for Siemens for 8 years and my current role is Project Manager at Power Generation area. At Siemens, besides my regular job, I support Corporate Social Responsibility with some social initiatives (I have even created my own initiative, which is called Sustainability Games – poor children from public schools get in touch with Sustainability Awareness in a fun and easy way through games) and I am responsible for a Project which main target is to become Siemens Carbon Neutral by 2030. Outside Siemens, I have already joined social initiatives from well known NGO´s such as Teto (or Techo) and Hamburgada do Bem. Until the end of last year, I was also part of a NGO called Sonhar Acordado. Last but not least, I have been OYW Ambassador since 2016. I have been working closely to the past Coordinating Ambassadors and helped them to increase OYW community within Brazil and to organize the last two OYW Caucus Brazil.
Engineer with relevant experience leading strategic projects in multinational Technology, Telecommunications and Financial Services companies. Studies in Innovation and Entrepreneurship at Stanford University and WHU Otto Beisheim School of Management. Passionate about social change in less favored communities. Co-Founder and Director of "Vive Tu Futuro", a mentoring program which aims at connecting high-level professionals with low-income school students to offer them advice on career opportunities and life plans. This initiative has widened the life perspectives of high school students who live in risky and vulnerable situations, guiding them to make better decisions about their professional future. Peruvian Delegate at The United Nations Youth Assembly.
My name is Lina Montano, 25 year old Colombian with a B.S in Psychology and a minor Business, experienced in both, non profit and for profit sectors. OYW Ambassador since 2018, currently working as a Talent Attraction and Employer Branding Manager in Anheuser Busch InBev Colombia. I'm also a proud partner of Esensal Colombia, first underground spa where we offer only organic and locally sourced products and services that are all provided by women from vulnerable backgrounds. Fun fact about me: I am such a frustrated programmer and write mediocre code but can spend hours and hours doing it.
North America
Managing Ambassador: 
Devin Nash is a passionate community builder who leads content, media, and brand strategy for Underscore VC. As a young innovator, Devin pushes to prove the social power of marketing and experiences. Working closely with the Underscore Core Community, a network of top entrepreneurs, executives, and domain experts, Devin creates and distributes compelling online and offline content for entrepreneurs to consume and engage with. Driven by purpose, and passionate that entrepreneurship can change the world for good, Devin has earned leadership positions within several socially-minded organizations. Devin serves not only as the North America Managing Ambassador for One Young World but also as a Board Member for Breaktime LLC, a social business aimed at breaking the cycle of homelessness. Devin's also a Co-founding Partner of the Action Accelerator, a social business accelerator program born out of One Young World, and previously served as the North America Regional Director for the Circle of Young Intrapreneurs. Prior to joining Underscore VC, Devin was a Strategist at the world's leading experiential marketing agency, George P. Johnson. In her time at GPJ, Devin developed communication and event marketing strategies for Fortune 100 brands, including Google, IBM, Cisco Systems, and American Express. Devin holds a bachelor's degree in Hospitality & Tourism, with a concentration in Event Management, from New York University.
Coordinating Ambassadors:
My two main passion points are protecting our environment against climate change as well as diversity and inclusion. We have one planet and it is time to take serious measures in protecting her. I am always seeking initiatives at work and within my community to reduce garbage and pollution. I am fortunate to work for ABInBev, a global company that has a group of leaders that support my ideas and ensure that we as a company lead the change towards sustainability. I believe that Canada, as a global leader, has an obligation and the power to make a stance and change consumer behaviour in order to stop the speed of global warming. I also understand the importance of diversity and inclusion and my dream is to bring people together, and stop judgement. I believe that breaking these barriers in the workplace make for better results as all opinions and ideas are considered. I am constantly creating ideas to bring people together and make everyone feel included and part of the conversation.
Scott Lehman is a vice president at Citigroup, working in their investment bank and covering the U.S. financial institutions sector. Prior to Citi, Scott worked in various capacities at the boutique investment bank Keefe, Bruyette & Woods which also specializes in financial institutions. Scott is also passionate about elementary education / literacy issues and has spent the past decade volunteering with Working In The Schools, Chicago's largest literacy focused non-profit organization. During that time, he has served as a volunteer, associates board member, and board member. Scott currently sits on the executive committee as vice president of the board. Prior to his career in banking, Scott served for four years in the U.S. Marine Corps special operations unit, Marine Recon, conducting multiple deployments abroad. Scott earned his M.B.A. from the The Wharton School in 2014 with a concentration in Finance. He graduated with a B.S. in Real Estate Finance from the University of Southern California in Los Angeles. Scott resides in Chicago with his wife Jenny and their two daughters Madeleine and Emma Rose.
Cox is a Senior Customer Marketing Manager at Coca-Cola North America for the Restaurant Brands International – Burger King customer team. She also serves as the corporate workplace lead for Coca-Cola's newest Business Resource Group, This-Ability, which focuses on disability insights and advocates for a culture where inclusion is prioritized and diversity is respected, both inside the company and in the marketplace.  The This-Ability team partners and collaborates with community organizations to raise awareness of varied abilities, promote the worth of people with disabilities and create positive change in workplace environments and processes. In its first few months of operating, "This-Ability" teamed with organizations that support individuals with spinal cord injuries, brain injuries and Down Syndrome to highlight the value of an often overlooked pool of talent. Cox was nominated as one of fifty global 2017 Coca-Cola Delegates and attended the OYW Summit in Bogota, Colombia. In 2018, she was selected as one of two 2018 Coca-Cola Returning Ambassadors that led the 2018 Coca-Cola Delegation to the OYW Summit in The Hague, Netherlands.
I serve as a Cyber Security Manager at KPMG in California. I grew up in Mumbai, India raised by very liberal and humanitarian parents. I absolutely love to explore different countries and most importantly experience different cultures, traditions, people and food. During these short trips to a variety of countries, I take out time to interact with locals and truly try to understand a common man's point of view on various issues within the country. From a young age, I have seen the hardships of people in the country and have seen the world deteriorate time and again, especially environmentally and in its attempt to make our world a better place to live in for those who are less privileged. India as you know it, is a highly cultural and diverse country but it is challenged with excessive property, illiteracy, gender inequality and lack of worldly awareness. I have been blessed with parents who have always taught me the true meaning of helping others - The best way to not feel hopeless is to get up and do something. I felt an urge to proactively support the ongoing nonprofit efforts in India for education of underprivileged children and joined 'Teach for India' organization and facilitate services, largely to provide education and jobs to the less privileged families. Soon after that, I moved to the United States to pursue my education in computer science but stayed connected with orgs back in India. With One Young World and UNICEF as my active organizations, I hope to spread awareness and help expand on our common goal of providing education and alleviating poverty, illiteracy, gender inequality and most importantly empowering women across the globe.
Africa and Middle East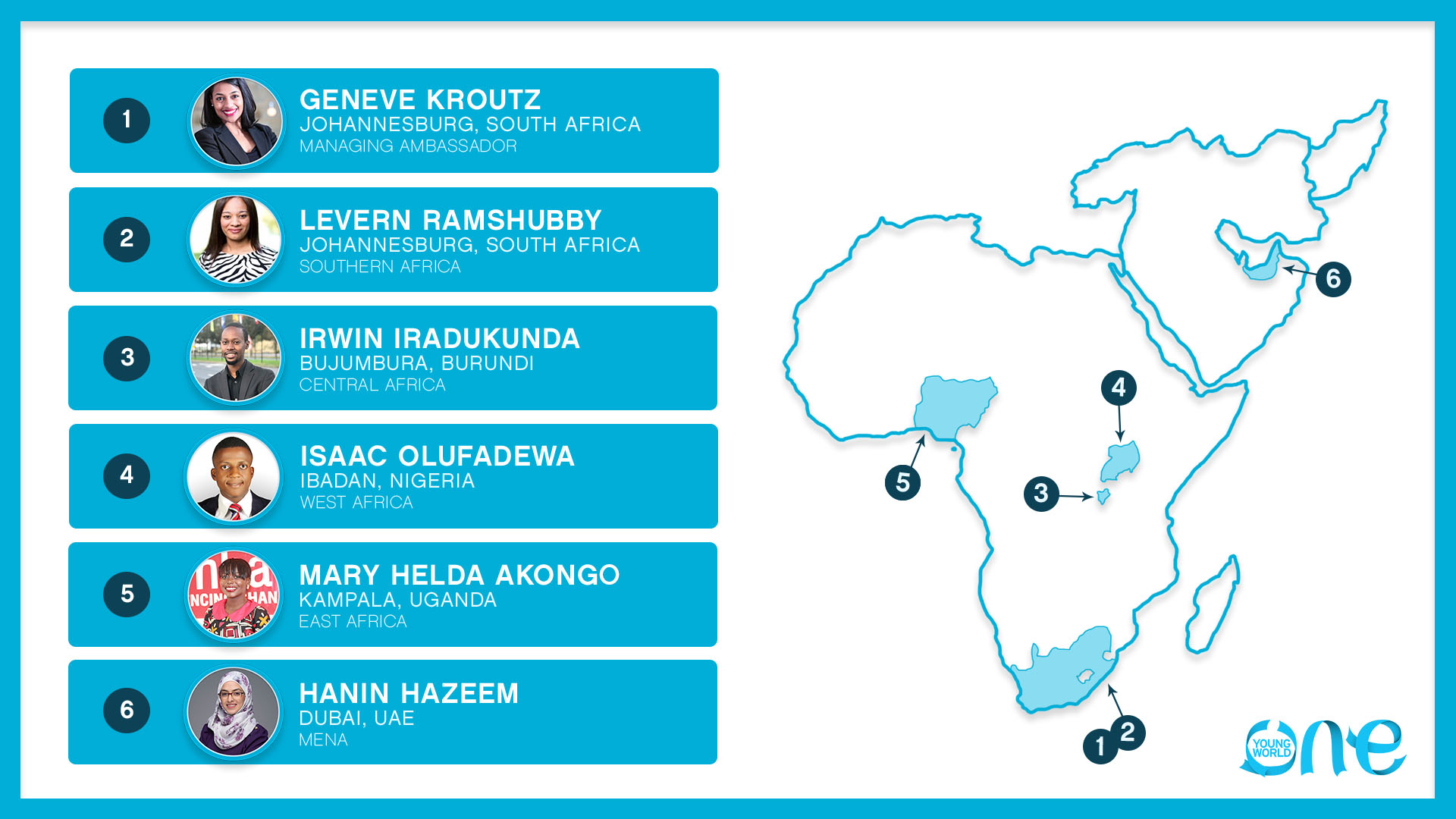 Managing Ambassador: 
I am passionate about Agriculture, Entrepreneurship and Youth Development. I started a small agricultural business in 2011, which is now a family cooperative producing A-grade products on a commercial scale. We are a community-based project, with six full-time and four part-time employees. We supply six creches with produce on a weekly basis at no cost and offer a holiday internship to youths interested in agriculture. I am also a founding member of a youth development program called, Marula Youth Foundation. Through this project, we develop children from the SOS children's village in Ennerdale, Johannesburg. We currently work with 76 children and aim to empower them in areas of career guidance, sports development and pursuing tertiary education. Lastly, in collaboration with two of my fellow OYW Ambassadors, Scott Lehman and Chiara Julius, we aim to raise funds for an organisation called Home of Hope.  This home is a safe haven for young girls who are trafficked into prostitution and drug peddling. The home currently supports 76 girls who live in two of the homes and an additional 150 vulnerable children through their outreach programme.
Coordinating Ambassadors:
Levern has always had a passion for making a difference and reimagining the possible whether that be big or small. She has an honours degree in Industrial Psychology and is currently a Manager at PwC South Africa. Levern attended One Young World in 2017.  Her contribution to driving change and making a difference in society has been through her position within her firm. Levern co-leads the Circle of Young Intrapreneurs in Johannesburg which focuses on driving good within an organization by doing good. She also leads the PwC Africa Millennial forum which focuses on young professionals driving change and building the future of tomorrow because that future is now.
Central Africa - Irwin Iradukunda. Bujumbura, Burundi
Isaac is a medical doctor, reproductive health advocate, social entrepreneur, author, One Young World Ambassador and multiple award-winning orator. He is a Pan African University Scholar currently on his Master's degree in Reproductive Health Sciences on a fully-funded scholarship by the African Union in Pan African University of Life and Earth Sciences Institute (PAULESI), Africa's premier continental university. He is also the Founder of Slum and Rural Health Initiative (SRHIN), an organization that takes quality healthcare through the use of advocacy, technology and research to underserved people in urban slums and rural areas in Nigeria with a vision to reach thousands of unreached parts of Africa.
Mary Helda Akongo graduated from Makerere University in Kampala, Uganda, in 2017, after receiving her Bachelor's degree in Information Technology. She is the founder of Roaring Doves; an online and offline peer support community for victims and survivors of gender-based violence (GBV) who come together to create awareness of GBV, share their stories and support each other. She is also the operations and programs manager for Zimba Women; a Ugandan organization that finds innovative technological solutions to create sustainable futures for African women. Mary Helda is also currently an innovation research intern at Katerva, where she works with young people around the world as they use technology to drive social and environmental impact in their communities. In 2017, Mary Helda was awarded the 25 under 25 award by the Internet Society for her exceptional work with ZimbaWomen, which is using the Internet to create a positive impact on the lives of women in Sub-Saharan Africa. She recently won the World Bank #Blog4Dev writing competition for penning a brilliant story on her experience as a victim of GBV and her work with Roaring Doves. Mary Helda believes that technology has the power to positively influence the social, political and economic development of women in Africa.
Hanin Hazeem is an Assistant Manager who works with OPAL Studio that creates creative media materials to government, semi government and corporate companies in the UAE. Hanin believes the creativity has a big share of all effective solutions to major problems humans face. She had worked in the field of interior architecture and sustainable entrepreneurship that allowed her to learn various skills in a short period of time such as negotiation, design thinking, creative product design, effective teamwork and much more. Hanin holds a bachelor's degree in interior design from the American University of Sharjah and so passionate about perfecting different languages other than Arabic and English.
Asia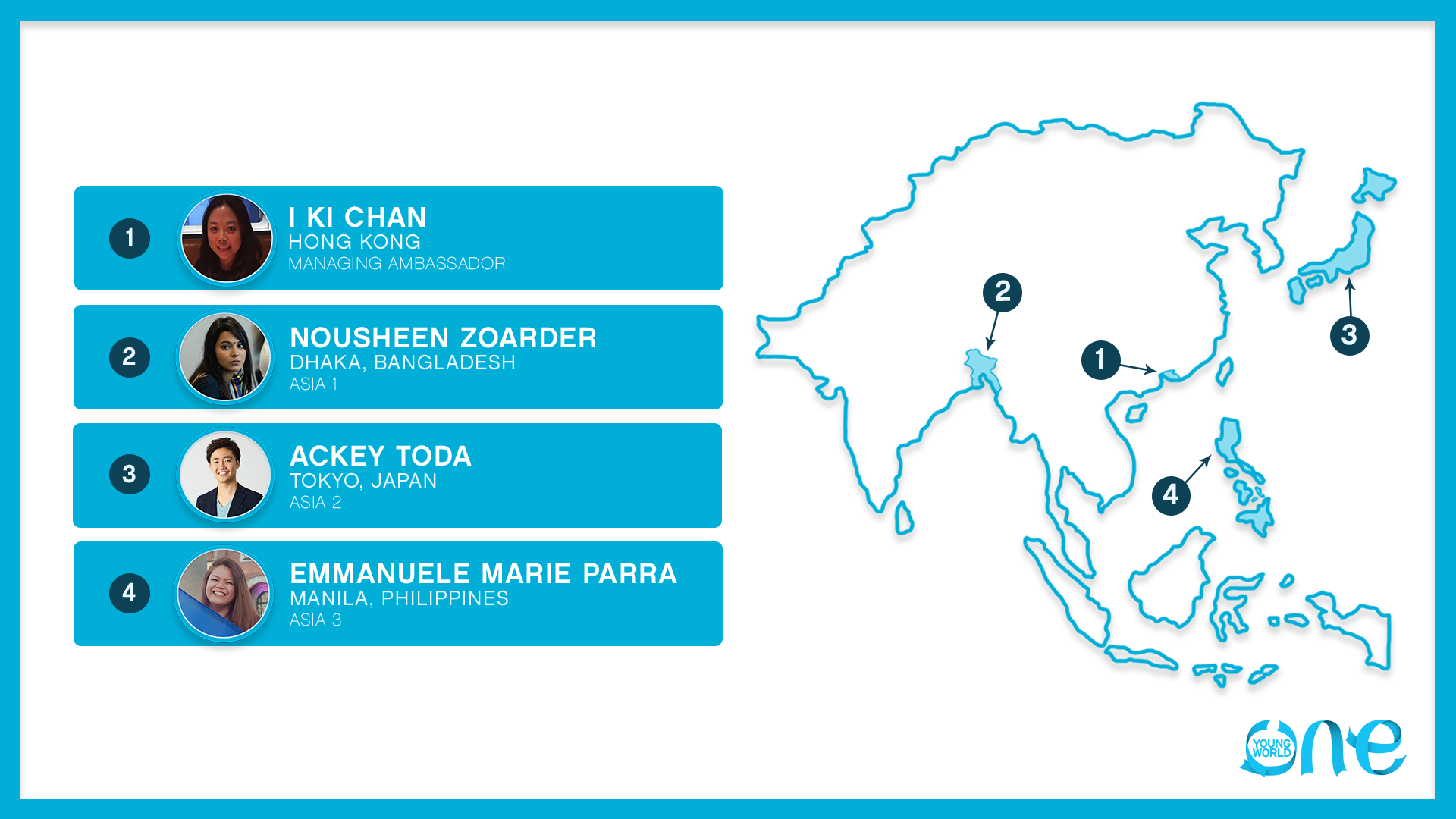 Managing Ambassador: 
Through my work in connecting different leaders for collative leadership programmes, I have been a part of many wonderful projects that support change like social entrepreneurship, responsible tourism, human rights, gender equality, social networking events and nature and wildlife conservation. In the past 7 years, I started over 10 youth leadership programmes (overseas apprenticeship, global seminar, summer school, exchange programmes, youth festival, youth service awards, school tours, workshops etc.), led a group of youth to publish two books. I reached more than 100,000 youth and connected with over 300 organisations, and successfully got over 30 millions funding from the government, corporates and charities fund. Apart from hosting the first ever Global Seminar in a cruise with the partnership with Peace Boat, one of my hosting flagship programmes "Leaders to Leaders", connects ambassadors from One Young World, Forbes 30 under 30 awardees, Global Shapers (an initiative of the World Economic Forum) and Queens Young Leaders with local young leaders to co-create positive social impacts. Over 30 global leaders were invited to Hong Kong to enlighten and inspire local participants through various interactive activities and overseas apprenticeship programmes. I also started the first Backpack Programme which encourages youth to develop their creativity, leadership and connection through experiencing their backpack travel with their own social mission. From 2015-2017, I facilitated over 500 youth to turn their ideas to action. The whole project runs online to touch thousands and thousands of people all over the world by bringing them together and to learn from each other.
Coordinating Ambassadors:
Nousheen is a law school graduate with 7 years experience in non-profit and development sectors, with special emphasis on Environmental Education and Advocacy, and Human Rights. She was an Advisory Panelist at the Queen's Young Leaders Program. In 2017, she joined the OYW Summit, Bogotá as a Yunus Delegate.
Akihide Toda (Ackey) has grown up in China for 8 years, South Korea for 10 years, Japan for 6 years, and Hong Kong for 1 year. The experience of living through East Asian countries formed his enthusiasm on bridging nations to nations as a community. He defines a community as successions of considerations that generate belongingness of human being. For making East Asia as a collaborative sustainable community, he is currently challenging on creating a platform connects different sectors in different social needs across the border. Also, he is currently working as a Global Business Development Manager in a brand new technology start-up which focuses on Food & Beverage, Evertron,Inc, a National Youth Organizing Partner of One Young World from Japan. To pull out enthusiasm of the youth in the region while bridging different sectors with potential of technology is his current keen interest.
Em-Em Parra works as a Publishing Specialist at Thomson Reuters and leads the Global Volunteer Network in Manila. She is an anti-human trafficking advocate in the Philippines who dedicate most of her free time volunteering with Voice of the Free (formerly known as Visayan Forum Foundation), an NGO that rescue victims of human trafficking and slavery. She was the former Ambassadress of Thomson Reuters Foundation and a member of Global Shapers Manila Hub. Em-Em first attended One Young World in Bogota Colombia last October 2017 as one of the fifteen delegates representing Thomson Reuters, and was appointed as a Coordinating Ambassador in Asia 3 (Brunei Darussalam, Cambodia, Indonesia, Laos, Myanmar, Malaysia, Philippines, Singapore, Thailand and Vietnam).
Oceania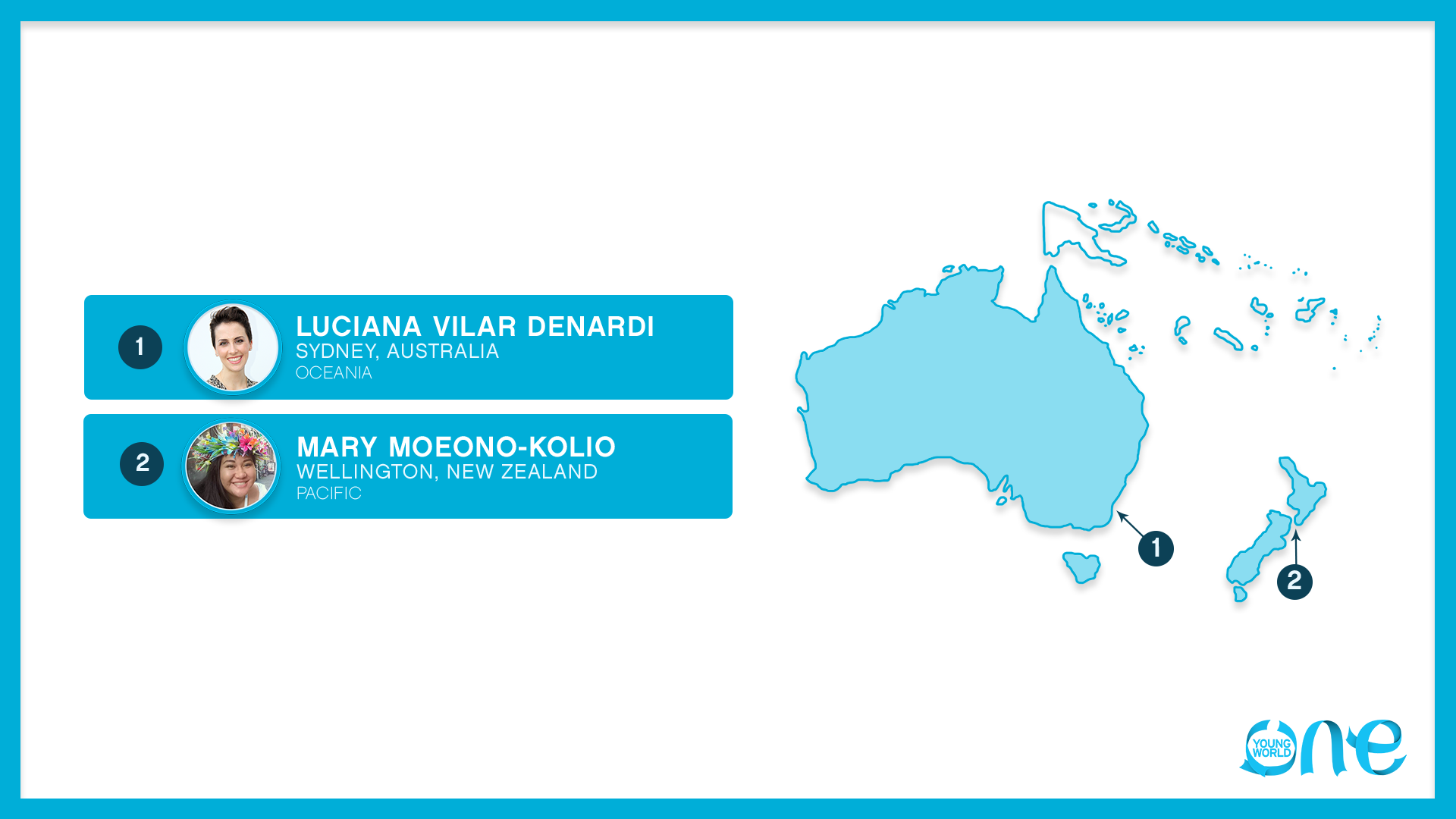 Coordinating Ambassadors:
Luciana is one of the youngest ever CFOs in business. She is currently working in Australia for Global Business COTY Beauty, after 5.5 years in Switzerland with Procter & Gamble while completing her MBA in Spain. Fluent in 4 languages, she has lived and worked in 6 countries across Europe, America and Oceania, and her impact ranged from community charity consulting to volunteering to reduce single-use plastics. Luciana holds a lifelong interest in sustainable solutions and her passion and strength is supporting people to contribute to business and society more broadly, which is a great asset to her role as Coordinating Ambassador for Oceania.
Mary Moeono-Kolio is an advocate for accessible and equitable education, climate activist, and young professional that currently works as a Senior Adviser in the Ministry of Education in New Zealand. She was recently appointed to the Commonwealth Youth Council, Inclusion and Engagement Committee where she hopes to increase the voice and visibility of Pacific young people. Mary is also part of the 350 Pacific Climate Warriors and played a key role in establishing the Wellington based team for this organization. Mary graduated with a Master's in Criminology with Honours from the University of Auckland, in which her research explored restorative justice as a culturally appropriate approach for dealing with Pacific youth violent offending in New Zealand. Her work and research has looked at how to best develop and deliver strategies and initiatives that address and ameliorate inequalities experienced by both Indigenous and Pacific communities, as well as other underrepresented equity groups within the policy and decision-making contexts. Mary believes that young people have the energy, passion, and the courage to be the innovative and compassionate thinkers that we need to change the world.
Europe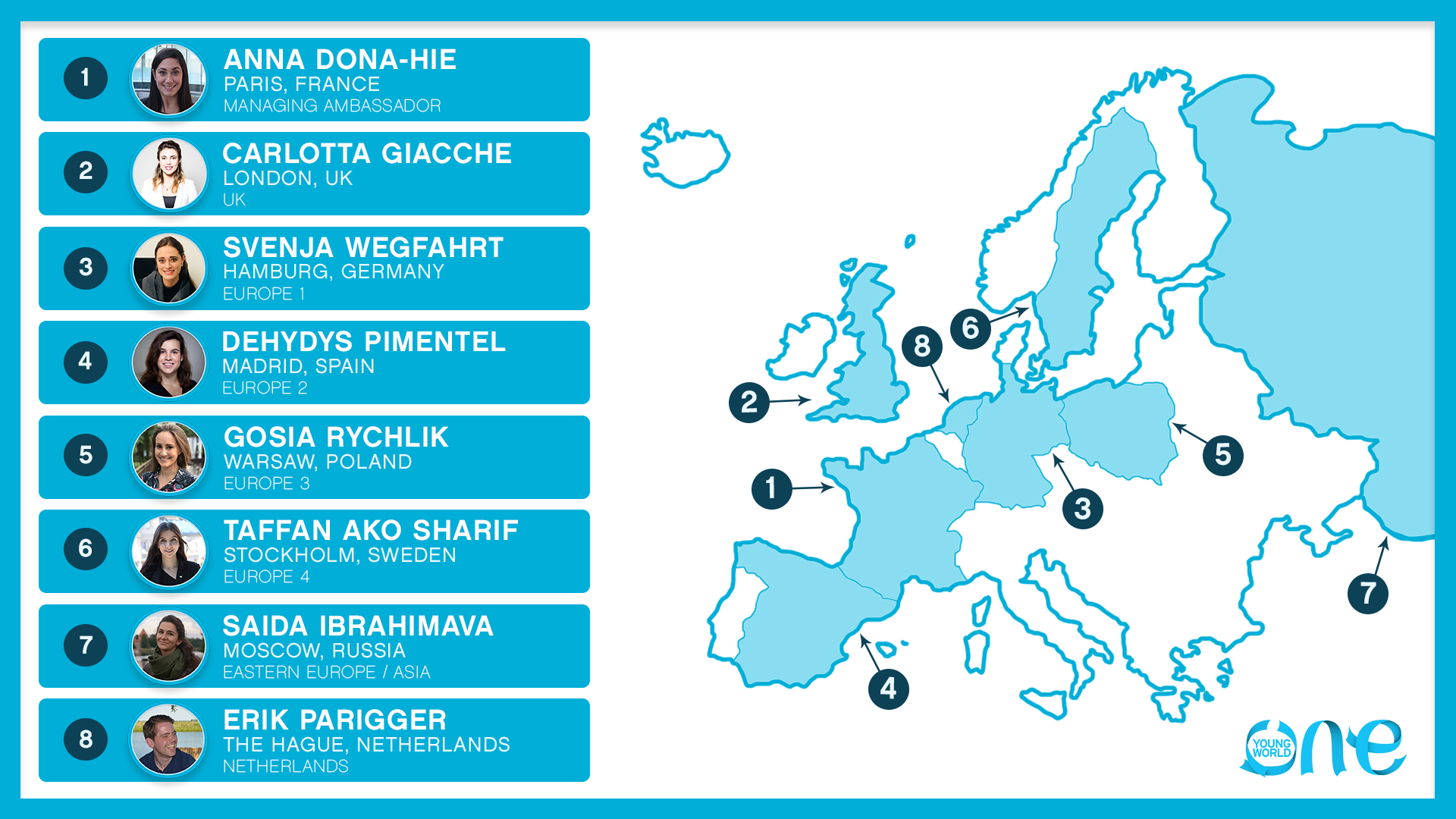 Managing Ambassador: 
I work as a senior consultant in strategy at Monitor Deloitte in Paris. In my 'day job', I help major organizations' top executives define corporate strategy plans, analyze growth opportunities and build roadmaps to achieve their objectives. Besides, I have been working on youth unemployment in France for the past 4 years. With a great team, I launched a partnership with the 1st social network for orientation in France. I am very self-committed, always mobilized to face challenges. While working as a management consultant, participating in One Young World Forum has been a great opportunity to ally the interest I have in my job with the passion I have for social impact. I had the unique opportunity to speak at the 2016 One Young World Summit in Ottawa about this action. I also participated in the Bangkok, Bogota and The Hague summits. Last year I was the Coordinating Ambassador for Europe 1 (Western Europe). I am looking forward to help the One Young World community strengthen as I manage all European Coordinating Ambassadors and don't hesitate to message me if you need anything!
Coordinating Ambassadors:
Carlotta currently works as a corporate banker within the renewable energy and digital infrastructure space. As part of her interest in green energy, she's also a leadership member of the CFA UK Energy Finance special interest group, which promotes thought leadership and new perspectives in this arena. Previously, she worked in corporate treasury and financial risk consulting. As a One Young World ambassador, she is also working on a number of diverse projects fostering community unity, sustainable consumption, mental health and elections campaigning. Carlotta holds a double Master's degree in Finance and Strategy from Sciences Po in Paris and the FGV in São Paulo, as well as a BSc in Business Management from Birmingham University. She also participated in the Yale School of Management Social Enterprise Programme in Brazil.
I am a Senior Key Account Manager at CHANEL, responsible for the business development of retailers in the German fragrance and beauty market. Before joining CHANEL about two years ago, I was a Key Account Manager at Procter & Gamble for four years. When I am not traveling around Germany visiting clients, I work at the HQ in Hamburg. Last year, I was asked to be part of a new CSR team within CHANEL Europe with an action plan for European and local projects in each country. This has been a very exciting and motivating journey, especially because it gives even more purpose to my regular job. Apart from that, I voluntarily support a home for disabled kids in Hamburg with various activities.
I have always been extremely passionate about the topic of CSR, growing up in Third World countries like Kenya, Pakistan, the Philippines and South Africa, experiencing hunger and misery at a very young age. When I am not working, I find my escape in fly fishing. Being born in the Italian Alps, I had an early connection to nature and have a deep intrinsic motivation in preserving our precious environment.
As an employee of a big company, I want to show that you do not need to quit your job to make a difference. Companies have the resources and great leaders that can show the world how sustainable business models can have an impact. We all care, but how do we engage people outside of this, who did not experience OYW? Everyone can give a little of themselves, not just money, but time, network, skills, passion etc.
I am originally from Madrid but lived in London for 12 years! I joined BP as a research technologist in Pangbourne before moving to LNG trading in London, and have recently returned to Madrid as a business developer. I am passionate about change and equality and feel strongly about making the world a better place by promoting these values - I am horrified by social injustice and try to fight it wherever I see it. I became an engineer to make our existence renewable, and want to make this a reality on a technical and socioeconomic level. 
I recently joined UNICEF Poland Business Fundraising team to build relationships and co-create CSR strategies with businesses across Poland. Previously worked as a Marketing Strategy Junior Manager for Central and Eastern Europe at Unilever, focusing on sustainable business development, innovation and collaboration with startups and young entrepreneurs. Passionate about driving positive change, advocating for sustainable development and action on climate change.
Born as a political refugee in Iraqi Kurdistan Taffan came came to Sweden in 1997 where she spent most of her years before returning to Kurdistan at the age of 18. She founded TISFF and EmpowHERment the organization. Her work focuses on change, integration, empowerment and education for women and children who have been put through human trafficking and sexual abuse. They run projects in Indonesia, Cambodia, Kurdistan, Sweden and Iraq. Taffan says "One Young World has played a key role and factor in my ability to carry out the work I do today as this is my fifth year within the OYW community. It gave me a support system and believed in me when no one else did." She is extremely passionate about young leadership and active citizenship, but her main areas of expertise are foreign policy, peace and security combined with gender equality.
Saida Ibrahimava has more than ten years of successful experience in the non-for-profit sector and more than five years of working experience for governmental institutions. She has implemented more than twenty projects in the sphere of social inclusion, education, social entrepreneurship and CVE activities. She is a graduate of Charles University in Prague, UNAOC Fellowship alumna, HKFYG CoCreators trainer, and the Co-founder of "Youth to Youth Initiative" - international youth-led organisation that focus on youth development. Currently, she serves as a Director of Projects Development under Y2Y Action Hub (an interactive online incubator for socially beneficial ideas, concepts, startups, projects and initiatives created by youth and for youth). She enjoys focusing on the topics of youth leadership, youth employment, deradicalization practices, peacebuilding, social business, and has a strong passion for sustainable education, design, and art.
The Netherlands - Erik Parigger. The Hague, The Netherlands
Since early 2019, Erik works as a Programme Advisor at Orange Corners (Netherlands Enterprise Agency) to support young entrepreneurs in Africa and the Middle East. Previously Erik worked as part of One Young World's Community Team in London.