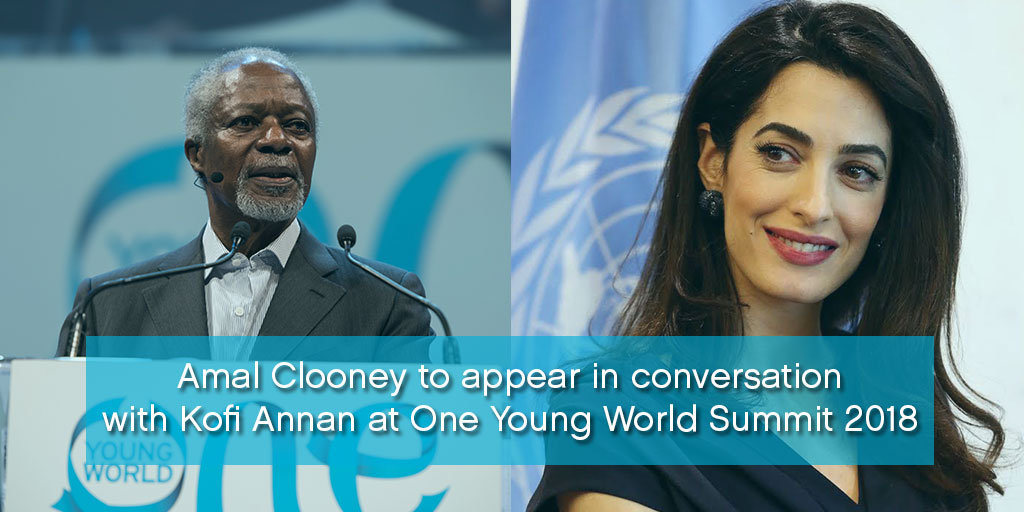 25 June 2018, London: One Young World, the global forum for young leaders, today announces that Amal Clooney will host a far-reaching discussion with Kofi Annan, the Seventh Secretary General of the United Nations, to mark his 80th birthday at this year's Summit.
Taking place on the 18th October 2018, international human rights lawyer Mrs. Clooney will shine a light on Mr. Annan's remarkable career and celebrate the work he has led to make the world a better place.
Together, they will reflect on Mr. Annan's achievements with the UN, as well as his career spanning 60 years, from winning the Nobel Peace Prize in 2001, to building the Kofi Annan Foundation that promotes better global leadership for a peaceful world. The Kofi Annan Foundation, with the support of One Young World and the European Commission established Extremely Together, an initiative bringing together young people against violent extremism.
Mrs. Clooney worked closely with Mr. Annan following her appointment by the United Nations as his legal adviser on the Syrian crisis in 2012.
This year's One Young World Summit will bring together more than 1,500 young leaders from over 190 countries to The Hague from 17 to 20 October. The city is home to major international institutions, NGOs, and UN agencies which makes it a perfect setting for this year's agenda, which places human rights at its heart.
Since 2009, One Young World has built a network of over 9,000 Ambassadors – young leaders whose initiatives have impacted more than 17.5 million people worldwide.                               
Kate Robertson, Co-Founder, One Young World said: "At One Young World, our mission is to provide a global platform for today's young leaders. What better way to inspire the next generation than to learn from one of our most popular and longest standing Counsellors, Kofi Annan.
"Amal Clooney is an inspirational human rights lawyer, who is raising aspirations of young women across the globe and we are thrilled to welcome her to this year's One Young World Summit."
Mr. Annan, Seventh Secretary-General of the United Nations, said: "I am very much inspired by the passion and enthusiasm of today's young leaders. From climate change to the global refugee crisis, their passion must inspire us to resolve some of the greatest threats facing us today. I look forward to this year's One Young World Summit where Amal Clooney and I will take the stage to discuss some of the world's major fault lines. 
Mrs. Clooney, International Human Rights Lawyer, commented: "I am honoured to be invited by One Young World to join Kofi Annan in a discussion to mark his 80th birthday and the tenth anniversary of the Kofi Annan Foundation. I look forward to hearing Kofi's expert insights on the global challenges we face and to engaging our young audience of future leaders".
– ENDS –