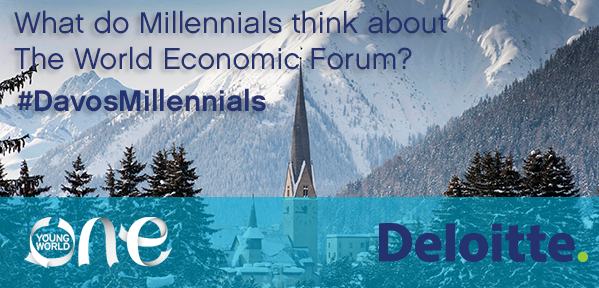 We are proud to be teaming up with Deloitte to drive conversations on topics that matter most to Millennials. Your voices will be a driving force for change as topics are discussed alongside the 2016 Annual Meeting of the World Economic Forum. 
We will be holding a series of tweet chats coinciding with the World Economic Forum, inviting you to share your thoughts on these particular topics and engage with One Young World, Deloitte and a number of key influencers who will be weighing in on the discussions.
How to get involved
Join the conversation and encourage your network to get involved. We invite you to participate in any or all of the Davos tweet chats:
Day one: 19 January
Setting the Davos agenda
3PM CET /9AM EST
Day two: 20 January
Societal issues facing millennials
3PM CET /9AM EST
Day three: 21 January
Millennials on reinventing leadership
3PM CET /9AM EST
Day four: 22 January
The role of purpose-led business
3PM CET /9AM EST
Before the chat:
Follow @OneYoungWorld and @Deloitte on social media and re-share posts promoting the chat. 
During the chat:
At the time of chat, sign on to Twitter and search the hashtag #DavosMillennials. 
Follow the conversation and share your thoughts. Tag us in order to respond directly to questions that we ask.
Remember to include #DavosMillennials in all your responses.
After the chat:
Continue to share some of your favorite responses from the chat. 
Each day, we're aggregating the best responses from that day's chat here. Check out our chat recap and see if your tweet was posted.
 

We are teaming up with @Deloitte to bring your voices to the forefront https://t.co/qjy20ETrB2 #DavosMillennials pic.twitter.com/QetnJ4IwDx

 

— One Young World (@OneYoungWorld) January 14, 2016