One Young World is delighted to announce the 20 nominees who have been shortlisted for the inaugural One Young World Entrepreneur of the Year Award. 
The Award was created to identify and promote 5 of the world's most revolutionary entrepreneurs aged 35 and below who are having a positive global impact and inspiring others with their leadership. The winners will be chosen based on the impact they are having on their field and their demonstration of the importance of entrepreneurship as a way to effect positive change. 
These nominees are taking on the world's major challenges, ranging from building a peaceful future, protecting the health of the planet, poverty alleviation and much more.
The shortlisted nominees are currently being reviewed by One Young World's expert judging panel, who will decide the final five winners. The judges are:
David Jones, Founder of You & Mr Jones and Co-founder of One Young World
Elio Leoni Sceti, Co-founder and Chief Crafter of The Craftory
Marisa Drew, CEO of the Impact Advisory and Finance (IAF) Department of Credit Suisse
Luis Javier Castro, Founding Partner at Mesoamerica Investments
Professor Orietta Marsili, Professor of Innovation and Entrepreneurship, Director of Studies MSc in Entrepreneurship and Management of University of Bath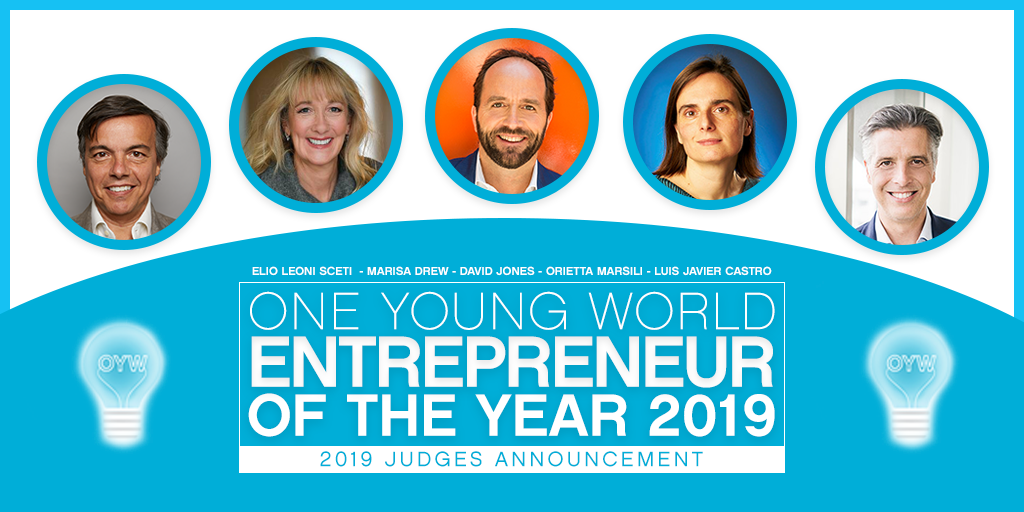 THE SHORTLIST 
Severin Hacker
Severin is the Co-founder and CTO of Duolingo; a language learning platform on a mission to make language education free, fun and accessible for everyone in the world. Duolingo has 300 million users and offers 84 total language courses for more than 30 distinct languages.
Kathryn Minshew
Kathryn is the CEO & Founder of The Muse, a career platform used by over 75 million people to research companies and careers. Her first book, "The New Rules of Work," was a Wall Street Journal national bestseller.
Silas Adekunle
Silas is known for creating the world's augmented reality gaming robot. He is the CEO and Co-founder of Reach Robotics, a consumer robotics company that creates robots for gaming and for STEM education.  
Elissa Freiha
Elissa is Director and Co-founder of womena®; pivoting from an investment network into a media platform, womena® is a multi-dimensional brand with its own flagship Accelerator program as well as a Bossladies network. womena® continues to invest in women and is dedicated to women's empowerment by producing content focused on independence and promoting female founders, creatives and change makers around the world. womena® is based in the United Arab Emirates [photo credit: Womena]
Vladimir Tenev
Vladimir is the Co-founder of Robinhood, a financial services company offering commission-free trading for stocks, ETFs, options, and cryptocurrencies on one platform easily accessible on mobile or desktop. [photo credit: Vladimir]
Matias Muchnick
Matias is Co-founder of The Not Company, a food-tech company that uses machine learning technology to develop nutritious and affordable plant-based food. He was also co-founder and CFO of Eggless, Chile's first food company to develop and launch healthy plant-based foods in animal-based categories. [photo credit: Demand Solutions]
Catherine Mahugu
Catherine is the Founder of two businesses.  Chiswara is an agri-tech venture that partners with coffee farmers to sell Kenyan coffee to the international market. Soko is an ethical fashion brand that supports artisans in emerging economies.
 
Srikanth Bolla
Srikanth is the Founder and CEO of Bollant Industries, a manufacturing company that produces eco-friendly disposable products and packaging solutions for manufacturers out of natural leaf and recycled paper. He created it with a vision to enhance employment opportunities for differently-abled people, mostly uneducated
and unskilled. [photo credit: India Times]
Audrey Gelman
Audrey is the Co-founder & CEO of The Wing, a network of work and community spaces designed for women. The Wing has a membership of over 5000 and is set to open new locations in 2019 including London. [photo credit: Circle Hamilton]
Gregory Rockson
Gregory is Co-founder and CEO of mPharma, a healthcare start-up that manages pharmaceutical inventory on behalf of pharmacies across Africa. mPharma manages a network of over 280 pharmacies across 5 African countries that serve hundreds of thousands of patients each year.
Ruzwana Bashir
Ruzwana is Co-founder and CEO of Peek. Peek is a one-stop shop for travellers and locals to book activities. The platform combines the Peek.com marketplace with Peek Pro, a suite of powerful software tools that enables activity operators to manage and grow their businesses by streamlining operations and growing revenue.
Gerard Adams
Gerard created Elite Daily, an online news platform targeted at millennials that sold to the Daily Mail for $50M. His current social enterprise, Fownders, offers inclusive education to inner-city youth, teaching workshops on entrepreneurship, emotional intelligence, and financial literacy.
Val Yap
Val is CEO and Founder of PolicyPal. PolicyPal Group connects insurance providers, agents and consumers on one platform with the mission to help people make the right choice for their protection needs. PolicyPal enables consumers to buy personal insurance and employee benefits online. It has a second business, PAL Network, blockchain protocol to create insurance products onto smart contracts within minutes, empowering partners to offer relevant insurance products at the point-of-demand, thereby bridging the financial protection gap among the consumers. 
Sharmadean Reid MBE
Sharmadean is CEO and Founder of Beautystack, a visual booking platform designed to connect clients with beauty professionals. She also launched Future Girl Corp, a business boot camp for women entrepreneurs. Lastly, she founded WAH Nails, a Nail Art Salon that has delivered global pop up nail salons for 100s of brands. [Photo credit: Medium]
Maria Rioumine
Maria is the CEO and Co-founder of Agora Systems, a supply chain and materials management platform for commercial construction. Agora automates the end-to-end workflows of ordering and tracking construction materials to make buildings faster and cheaper to build.
Michelle Phan
Michelle is the Founder of IPSY; a monthly subscription service for $10 per month which provides subscribers with a makeup bag of five cosmetics samples. She is also the founder of Thematic; a free peer-to-peer music marketplace that seeks to help content creators find music for their videos while promoting aspiring musicians. [Photo credit: Dave Kotinsky/Getty Images]
Fridtjof Berge
Fridtjof Berge is the Co-founder and COO of Antler.  The company works with exceptional individuals, from all geographies and backgrounds, to lower the barriers to entrepreneurship and support disruptive, impact-focused innovation. On an annual basis, Antler builds and invests in hundreds of companies across the world. [Photo credit: Antler] 
Taro Fukuyama
Taro is the CEO and Co-founder of Fond, an employee engagement platform that helps companies to increase employee happiness with recognition, rewards, perks, and survey programs. It offers an employee recognition platform for rewarding achievements and milestones; a premium corporate discounts program; and an employee engagement survey.
Whitney Wolfe
Whitney is the Founder and CEO of Bumble. Bumble is the first app to bring dating, friend-finding, and career-building into a single social networking platform. [Photo credit: Instagram/Whitwolfeherd]
Marianne Caroline Hughes
Marianne is the Founder of KnoData; a data platform for brands, factories and workers. Their combination of hardware & software allows them to measure factory happiness and sustainability in real- time. This means KnowLabel can tell brands how ethical and sustainable their products are and creates a digital label which showed the social and environmental impact of clothing items. [Photo credit: FashNerd]
The five winners will be announced by the end of June and presented with the award at the One Young World 2019 Summit taking place in London, 22 -25 October