Building on the success of the annual Summits, One Young World has launched a series of in-depth Summits, each with a focused theme.
The One Young World Environment Summit has been announced to take place on 19 – 21 May 2016 at the University of Arizona Biosphere 2 in Tucson, Arizona. The Environment Summit will allow young leaders to work together to create solutions to the world's most pressing problems.
Ella Robertson, Managing Director of One Young World International, commented:
"One Young World International will continue to amplify the voices of young leaders in between the annual global One Young World summits. The new events will focus on specific issues with the first being the environment, following on from One Young World's Call On COP campaign and the COP21 discussions in Paris. Biosphere 2 is an entirely unique experience where young leaders will be inspired by their surroundings to find solutions to the environmental challenges we face."
Over two and a half days delegates will hear from environmental experts from political, business and scientific spheres. As well as hearing from global figures, delegates will have the opportunity to make their own presentations and take part in workshops around the Biosphere.
Recently called a must-see "Wonder of the World," and located 4,000 feet in the midst of a desert reserve at the foot of the Santa Catalina Mountains, the glass-enclosed Biosphere 2 has a mission of advancing science research and education. The unique facility houses world-class scientific experiments and equipment, as well as containing the following live habitats:
     - Ocean with coral reef
     - Mangrove wetlands
     - Tropical rainforest
     - Savannah grassland
     - Fog desert
The Summit will feature speeches, Breakout Sessions and workshops inside Biosphere 2. A workshop on water scarcity will occur in the desert area whilst another Breakout Session focusing on deforestation will take place in the rainforest zone. The event will connect hundreds of young leaders who are passionate about the environment in this unique research facility so that they can generate solutions-led ideas which result in tangible action. This powerful grouping will work together to change the ways companies and countries tackle and react to environmental challenges.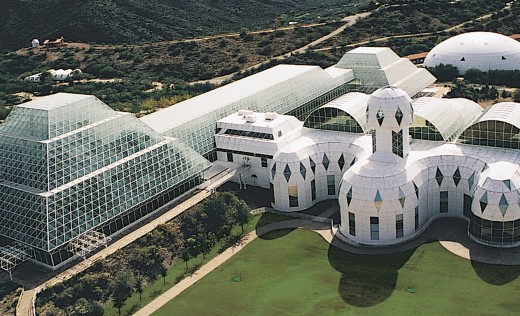 Joaquin Ruiz, Dean, College of Science and Professor, Geochemistry at the University of Arizona, commented:
"Biosphere 2, located in one of the most beautiful settings of the South-Western USA, has been a symbol of forward thinking on worldwide environmental issues. From its origins, which aimed at understanding the fundamental feedback mechanisms between biomes, to present day experiments that address how water availability will change worldwide as global climate changes, Biosphere 2 has been preoccupied with key questions of the environment. There is no better setting for a focused meeting of One Young World concentrating on environmental solutions."
Applications will be opening soon. Please note spaces to the Environment Summit are limited. To register your details to be the first to know when you can purchase your tickets at early bird prices, and for more information on the Summit, please visit this page.