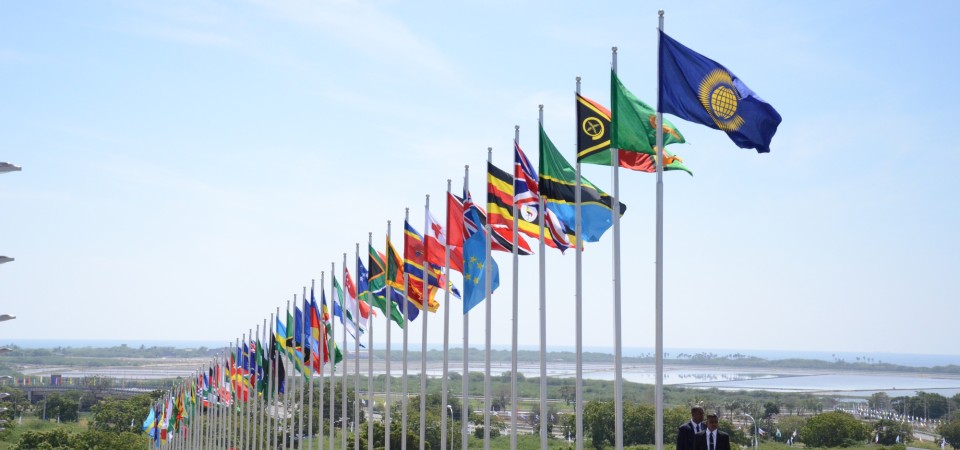 A delegation of One Young World Ambassadors will take centre stage as the Commonwealth Youth Forum convenes to discuss the futures of 1.2 billion young people across 52 nations.
Rwandan genocide survivor Hyppolite Ntigurirwa, Indian visually-impaired education entrepreneur Ankit Garg, Canadian indigenous people's rights activist Nikki Fraser and the creator of 3D-printed prosthetic limbs for refugee amputees Midia Shikh Hassan will address an audience that will include dozens of world leaders.
More than 30 One Young World Ambassadors will be among the 500 young leaders at the three-day forum, which opens on today at the Queen Elizabeth II Conference Centre in London.
The theme of the forum, 'Powering Our Common Future", has been chosen to reflect the potential of young people across the Commonwealth to devise solutions to complex global challenges and bring meaningful recommendations to Heads of Government. It recognises the active role of young people in building cross-cultural networks across the Commonwealth.
This week (19-20 April), Heads of State meet in London for the biennial Commonwealth Heads of Government Meeting, under the theme "Towards a Common Future". The youth forum's work will provide young people with a voice in those negotiations.
The delegates at the Commonwealth Youth Forum (CYF) will participate in planning and capacity-building exercises and a General Assembly to finalise their priorities. The forum's aim is to devise "solutions for a fairer, more secure, sustainable and prosperous future" for people in the Commonwealth.
Hyppolite was a Delegate Speaker at October's One Young World Summit in Bogotá, Colombia, where he participated in the Peace & Reconciliation Plenary Session. He described how, when he was only seven years old, his father had been murdered in the Rwandan genocide of 1994. Hyppolite became a child refugee but has since created the Hyppolite for Peace Foundation to build relations across Rwanda's communities with the stated aim of "halting intergenerational transmission of hatred".
Ankit, who has a severe visual impairment, is a credit analyst at Standard Chartered bank and, through his work on the Technology Based Education project, is helping to provide learning aids to children with disabilities at 100 schools across India.
Nikki is the National Youth Representative for the Native Women's Association of Canada and is a tireless advocate for the rights and well-being of aboriginal women and girls, their families and communities. She is also a UN SDG young Leader for the Sustainable Development Goals.
Midia is a Chemical Engineering student at the University of Ottawa, where she has co-founded the tech start up Dextra to use 3D printing to provide affordable and advanced prosthetic limbs for refugees of the Syrian conflict who have lost limbs from bomb and rocket attacks and from untreated infections of wounds. She also works to integrate Syrian refugees into Canadian society by providing them with mentoring and entrepreneurial training.
Other One Young World Ambassadors attending the CYF include:
Kriti Sharma, creator of the world's first accounting bot, Pegg
Raghu Appasani, mental health campaigner and founder of the MINDS Foundation
PJ Cole, Executive Director of Lifeline Nehemiah Projects
Ilwad Elman, peace activist and Extremely Together campaigner
Shaquille Knowles, Chairperson of the Caribbean Regional Youth Council
Heidy Quah, founder and director of Malaysian-based Refuge for the Refugees
Cecilia Aransiola, Nigerian human rights lawyer and pioneer of the #BringBackOurGirls campaign for the release of kidnapped schoolchildren
Tanjila Drishti, Bangladeshi anti-poverty campaigner
Shougat Nazbin Khan, Bangladeshi education campaigner and UN SDG Young Leader
Kevin Mendez, Belize-based equality and health campaigner
Farai Mubaiwa, founder of citizenship movement Africa Matters
Diana Constantinide, barrister and legal education provider
Tijani Christian, Caribbean youth leader and running for chair of the Commonwealth Youth Council
Charles Lipenga, co-founder of African youth business programme Maestros Leadership Company
Jack Hisard, Executive Director of Mama Clinic
Desmond Atanga, health educator and President of the Cameroon Youth Network
Karuna Rana, Mauritius-based environmental activist
Shakira Choonara, South Africa-based public health campaigner
Franz George, transparency and accountability campaigner and co-founder of the Integrity Action Movement
Elizabeth Kite, Tonga-based public health and education campaigner
Heloise Greeff Marais, machine learning and environmental specialist
Tefo Manase Mokhine, social entrepreneur and founder of P&P Mentors
Didintle Letlape, Accountant and social entrepreneur
Khanya Mkoto, Financial Analyst and Founder of The Young Catalyst, a platform for young leaders
David Rupa. Representative, Commonwealth Youth Council
Hillary Briffa, activist from Malta working on peacebuilding in frozen conflict nations and CVE policy