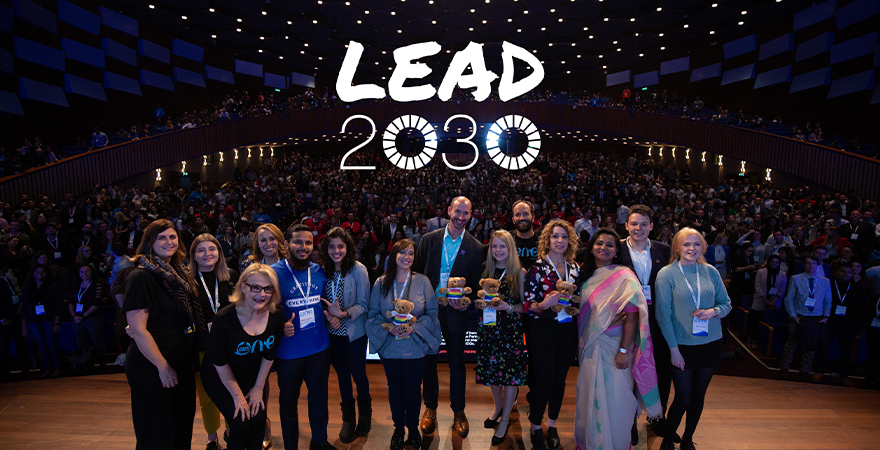 Source: Fast Company's 2019 World Changing Ideas
The winners of Fast Company's 2019 World Changing Ideas Awards were announced yesterday, honoring businesses, policies, projects, and concepts that offer innovative solutions to the issues facing humanity. All of the finalists are highlighted in the May issue of the print magazine, which hits newsstands April 16.
Now in its third year, the World Changing Ideas Award showcases 17 winners, more than 200 finalists, and more than 300 honorable mentions, with Health and Wellness, Education, and AI and Data among the most popular categories. A panel of eminent judges selected winners and finalists from a pool of more than 2,000 entries, such as Food, Energy, and Developing World Technology. The 2019 awards featured entries from across the globe, from New Zealand to Shanghai to Switzerland.
One Young World's Lead2030 initiative received an Honourable Mention in the General Excellence Category.
Lead2030, powered by some of the world's leading businesses, exists to find, fund and accelerate youth-led solutions to each of the UN Global Sustainable Development Goals.
The program seeks to meaningfully engage talented young leaders with the Global Goals, from tackling climate change and microplastics to reducing inequality and achieving zero hunger. Lead2030  innovators to scale impact in their area of expertise.
See below a full list of the winning initiative, finalists and Honourable Mentions in the General Excellence Category.
Winner - General Excellence
Aira, Aira
A set of glasses for people who are blind or low vision that allows a video connection with a call center, where agents can access the feed and help the user complete a task. Read more…
Finalists - General Excellence
Amazon Go, Amazon
Article One, The OpenGov Foundation and Twilio
Boundless, Boundless Immigration
Call for Code, IBM
Charting a global path to digital peace, Microsoft
Climate-action strategy, Levi Strauss & Co.
Climate-positive menu, Max Burgers AB
Four-day workweek, Perpetual Guardian
The Human Account, Dalberg Design, Dalberg Advisors, Dalberg Research, Rockefeller Philanthropy Advisors
MethaneSat, Environmental Defense Fund
Nori, Nori
1.1.1.1, Cloudflare
Perpetual Purpose Trust, Organically Grown Company and Purpose Network
Plastic-Free Aisle, A Plastic Planet
Tatami, Untitled Group
UCOT, UCOT
Urban95, Bernard van Leer Foundation
Wedew, Skysource/Skywater Alliance
Honorable Mentions - General Excellence
Andorra, Andorra
Atmosphere, Understory
Beyond Capital, Beyond Capital Fund
The Billion Dollar Fund for Women, The Billion Dollar Fund for Women
The Biomimicry Commons, Biomimicry Frontiers
ByFusion Global, ByFusion Global
Consumer Insights Collaborative, The Aspen Institute Financial Security Program
Darwin Home Wellness Intelligence, Delos
Delta Air Lines and Duke University Offset Program, Urban Offsets
Flood Concern, One Concern
For Days, For Days
Forefront Cultures, Forefront
Gender Equality Funds, As You Sow
Global Center for Cleantech Innovation, Greentown Labs
The Good Food Startup Manual, The Good Food Institute
Guardhat, Guardhat
Helm Personal Server, Helm
HP Metal Jet, HP
The ISS Cotton Sustainability Challenge, Target
Katadyn Universal Aquifer, Katadyn Group
Lead2030, One Young World
Live XYZ, Live XYZ
Microplastic-Sensing AUV, Sprout Studios and Draper
Million Waves Project, Million Waves Project
The Mother Board, Wongdoody
My Skin Track UV, L'Oréal USA
Open Road Ventures, Open Road Alliance
The Paper Bottle Project, Grow + Digitalist, BillerudKorsnäs, and EcoXpac
The Port of Rotterdam, Cisco, IBM, and the Port of Rotterdam
Power Ledger, Power Ledger
Project Debater, IBM
Reciclaya, Evrything and Recycl3R
Roo, Planned Parenthood and Work & Co
Sacred Vote, Sacred Generations
Safe work environment/sexual harassment clause, HoneyBook
Tech Bets for an Urban World, Dalberg Design, Dalberg Partners, UNICEF Innovation Unit, Arm Holdings
United States and Oceans of America, Activista and Surfrider
Virginia Treatment Center for Children, CannonDesign and Virginia Commonwealth University
About the World Changing Ideas Awards
World Changing Ideas is one of Fast Company's major annual awards programs and is focused on social good, seeking to elevate finished products and brave concepts that make the world better. A panel of judges from across sectors choose winners, finalists, and honorable mentions based on feasibility and the potential for impact. With a goal of awarding ingenuity and fostering innovation, Fast Company draws attention to ideas with great potential and helps them expand their reach to inspire more people to start working on solving the problems that affect us all.
Social Media:
@OneYoungWorld
@FastCompany
#FCWorldChangingIdeas