Homepage photo: originally published by Glamour. All copyrights reserved.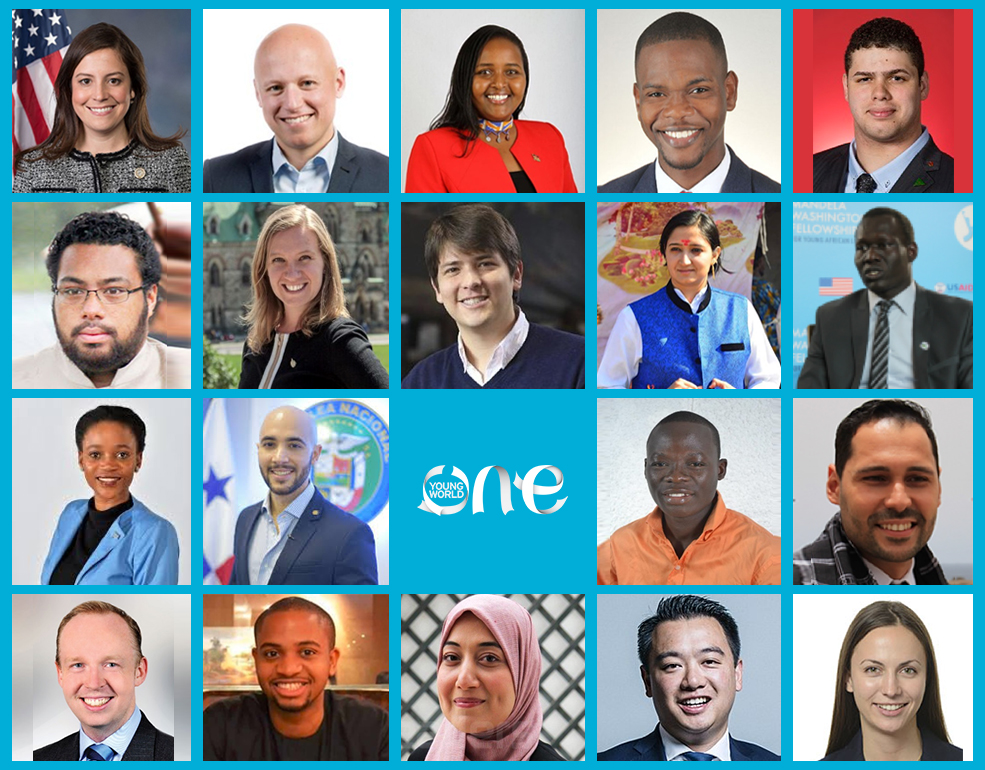 One Young World has announced the nineteen nominees who have been shortlisted for the inaugural One Young World Politician of the Year Awards.
The One Young World Politician of the Year Award was created to recognise the most promising young politicians between the ages of eighteen to thirty-five from around the world. The winners will be chosen based on the impact they are having in their home countries and how they have used their position to benefit young people specifically.
It is the first global award recognising the work of young politicians and was launched to counter the low level of youth engagement in politics. The purpose of this award is to highlight the work of those young politicians who are using their positions to make a difference and to encourage others who have not considered politics an appealing vocation to see it is one of the most impactful ways to create positive change.
The nineteen shortlisted nominees are currently being reviewed by One Young World's panel of judges who will decide the final winners. The judges this year are:
Ambassador Matthew Barzun, former US Ambassador to the UK and Sweden
President Vinicio Cerezo, first democratically elected President of Guatemala and current Secretary General of the Central American Integration System
Professor Thuli Madonsela, Chair: Social Justice, University of Stellenbosch, Chief Patron of The Thuli Madonsela Foundation, former Public Protector of South Africa, Forbes African of the Year 2017
Christine Ockrent, political journalist and 'First Lady of French Television'
Minister Tengku Razaleigh Hamzah, former Malaysian Minister of Finance and former Chairman of the World Bank
President Mary Robinson, First female President of Ireland, former UN Human Rights Commissioner and Chair of the Mary Robinson Foundation – Climate Justice
The winners will be announced and presented with the award at the One Young World 2018 Summit taking place in The Hague, 17th-20th October.
The nineteen nominees on the shortlist are:
Rep Elise Stefanik, 34, USA: Elected as a member of the US House of Representatives in 2015, Rep Stefanik is the youngest woman ever elected to Congress in US history and is currently the youngest member of the House. She currently serves as Chair of the House Republican Policy Committee's Millennial Task Force. Awarded 2018 Conservation Hero Award by the National Audubon Society for her leadership on climate change.
Rens Raemakers, 27, The Netherlands: Currently the youngest member of the Dutch House of Representatives, before which Mr Raemakers has previously served as a City Councillor in Leudal. Mr Raemakers introduced an annual day in Parliament for a youth debate in which 150 children, aged between 10 and 12 years, take part. Mr Raemakers has been very vocal in parliament's debate on fighting domestic violence and child abuse.
Naisula Lesuuda, 34, Kenya: A member of the Kenyan National Assembly since 2017, Ms Lesuuda previously served in the Senate from 2013 to 2017, when she was its youngest female member. She co-founded Peace Caravan, which worked with professionals from rural communities to help reduce cattle rustling and cross border conflicts. Through her Naisula Foundation she has been able to assist disadvantaged school students pursue their academic and career dreams.
Bhakti Sharma, 28, India: Since her election as Sarpanch of Bharkedi Abdulla in Bhopal, Ms Sharma has worked in partnership with Ministry of Women and Child Development to achieve 100% maternal health care in her villages. Ms Sharma has created an initiative called the Urban-Rural Interaction where young people from the city stay a day or a week in the village to learn how self-reliant villages are and how government functions on a local level.
Jordon Steele-John, 23, Australia: Mr Steele-John is the youngest senator to ever serve in the Australian parliament and only the second parliamentarian to use a wheelchair. Jordon is a passionate advocate for appropriate funding for the National Disability Insurance Scheme and improving service delivery to people with disabilities and their carers. Jordon is the first known senator to 'crowd source' the content of his inaugural speech, receiving input from over 3,000 people.
Travis Robinson, 23, The Bahamas: At 22 years old, Travis Robinson became the youngest MP to serve on a country's legislative body in the Caribbean. Two weeks later he was appointed Parliamentary Secretary for Tourism. Mr Robinson founded The Rising Star Organization, a mentorship organization which trains and empowers young student leaders to become world changers. Mr Robinson has launched local projects in his constituency such as the Bains and Grants Town Center for Academic Development to give residents the opportunity to develop their skills and learn about entrepreneurship.
Fatafehi Fakafanua, 33, Tonga: Elected to Parliament at the age of 23, Fatafehi Fakafanua became Speaker of the Tongan House when he was 27, the youngest speaker of a national legislature in the world. He has overseen major changes in the Tongan Parliament, including political reform, and passionately advocated greater representation for women in Parliament. He was re-elected Speaker this year and successfully pushed for further representation of youth in politics with Parliament agreeing to host the first Youth Parliament of it's kind in November.
Mark Okoye, 32, Nigeria: Mark Okoye is the Commissioner for Economic Planning and Budget in Anambra State and was Nigeria's youngest commissioner at 30. Okoye was selected as Africa's Young Person of the Year by the Future Awards Africa in 2016. In his role as Commissioner, Mr Okoye has worked to create 10,000 jobs in Anambra to help the economic future of Nigeria. Mr Okoye has worked closely with the Federal Government to roll-out social investment programmes such as The Home Grown School Feeding Program which will feed approximately 120,000 pupils in the State.
Miguel Uribe Turbay, 32, Colombia: Miguel Uribe Turbay is Bogota's Secretary of Government - Deputy Mayor and works to manage relations between the city of Bogotá and the community, being the youngest ever. Miguel has prioritized appointing young leaders to work in public service and creating opportunities to provide young leaders with educational and professional advancement. Miguel has also worked to make protecting human life in Bogotá a top priority. Before this Mr Uribe served four years as the youngest City Council Member in Bogota.
Pedro Lopes, 32, Cape Verde: Mr Lopes is the Secretary of State for Innovation and Technical Training in Cape Verde and the founder of Geracão B-Bright, one of Cape Verde's most well-known youth organizations. During his term as secretary, Mr Lopes has created the youth council of the Prime Minister that works as an advisory board. Mr Lopes is one of the youngest people to ever be member of the Government. His priority as Secretary of State has been to bring innovators to the country to connect with local companies and to encourage the creation of startup incubators throughout the country.
Lam Tungwar Kueigwong, 35, South Sudan: Lam Tungwar Kueigwong is the State Minister of Information, Communication, Youth Culture and Sport in the Northern Liech area of South Sudan. He uses sports to unite and engage youth communities throughout the country. Kueigwong has also created an initiative to increase youth enrolment in schools to combat youth unemployment and campaign for zero tolerance of illiteracy. Having been conscripted as a child soldier during the war for South Sudan's independence he now campaigns against the effects of war and highlights the negative impact it has on young people in South Sudan and across Africa, being honoured by UN Habitat for his work as a Messenger of Truth.
Edison Broce, 27, Panama: Edison Broce is the youngest Member of Parliament in the Panama National Assembly who promotes education, youth, and the environment. He is a part of the International Panel of Parliamentarians for Freedom of Religion or Belief. He founded USMA University's environment group, ECO USMA, and Eco Éxito, an environmental NGO that raised awareness about the consequences of plastic straws for the environment through the No Straw campaign. Mr Broce also created the Youth Law bill which encourages youth participation and engagement in government and the first Recycling Law in Panama.
Julius Karl Dugboer Fieve, 29, Ghana: Julius Karl Dugboer Fieve is a Local Government Assembly Member in Ghana who has developed a Women Rising and Empowerment initiative, mentored young Ghanaian leaders, and organized a free Digital Skills Training for youths in communities in Ghana. Mr Fieve also organized health reproductive education workshops for over 1,000 girls and, in conjunction with the Bright Generation Community Foundation, distributed 1,000 pairs of shoes to school children who were accustomed to walking barefoot to school.
Bogolo Kenewendo, 31, Botswana: Bogolo Kenewendo has been the Botswanan Cabinet Minister of Investment, Trade and Industry since May 2018, having served as an MP since 2016 and since her appointment has passed bills for the protection of children's rights as well as to improve the ease of doing business in Botswana. Ms Kenewendo also co-founded Molaya Kgosi, a mentorship programme to mentor and inspire young women in Botswana. She was part of the former president Ian Khama's Private Public Dialogue structure, the High-Level Consultative Council which is a structure aimed at addressing the challenges of the private sector in Botswana.
Alan Mak, 34, United Kingdom: First elected in 2015, Alan Mak is the first British-Chinese Member of the UK Parliament. He is regarded as one of the leading international thought leaders on the Fourth Industrial Revolution (4IR) – how new technology will transform societies and economies. He has written three well-received policy reports, including a publication on digitising the UK's National Health Service that has been backed by the Secretary of State for Health. Mr Mak currently serves as Parliamentary Private Secretary (PPS) to the Secretary of State for Business, Energy & Industrial Strategy, and won the New Conservative MP of the Year Award in 2017. In his constituency, he launched the Havant Small Business Awards to celebrate the best local firms and also secured a quarter of a million in government funding to help local people start or grow their businesses. He is a former President of the children's charity, Magic Breakfast, and has also visited almost every primary school, secondary school and college in his constituency to speak to students.
Sayida Ounissi, 31, Tunisia: Sayida Ounissi is the Tunisian Secretary of State for Vocational Training, having been appointed in August 2016, who was the youngest Ennahda candidate to be elected to Tunisian Parliament. Ms Ounissi is committed to advocating for women's rights and solving the problems with gender inequality in Tunisia. In addition, Ms Ounissi helped pass the Startup Act which encourages technological innovation and the development of small businesses. In 2017, Ms Ounissi also lobbied to pass a national Tunisian law that combats economic, sexual, political and psychological violence against women and girls.
Karina Gould, 31, Canada: Karina Gould is the Canadian Minister of Democratic Institutions who has been giving back to the community since after graduating from high school. She advocates for women's rights and has volunteered at Halton Women's Place, an organization that provides shelter for abused women and children. Ms Gould was the first cabinet minister to give birth in office and is raising awareness for working mother's rights in Canada. Ms Gould additionally worked on Bill C-76, the Elections Modernization Act, which makes the Canadian electoral process more accessible for persons with disabilities, Canadian Armed Forces members and Canadians abroad.
Noel Rock, 30, Ireland: Noel Rock is an Irish Teachta Dála (Member of Parliament) who was previously the youngest member of Dublin City Council when elected. He has signed a pledge to publish his expenses during his term as councillor and not claim any expenses, therefore working to bring an end to the system which permits un-transparent expenses. Since being elected to the Dail, he has also refused to take a pay increase. Mr Rock has used his influence to advocate for equality and has campaigned for abortion and gay marriage legislation during the referendum campaigns.
Eva Maydell, 32, Bulgaria: Eva Maydell is a Bulgarian member of the European Parliament who has been pushing the European Union to be more supportive of startups in order to create an environment where young people are encouraged to start their own businesses. Ms Maydell is President of European Movement International which is the largest organization of associations and civil societies in Europe. In Bulgaria, Ms Maydell has helped set up education programmes to connect young Bulgarians to employers and is an ambassador for the E-skills for Jobs campaign. She is also heavily involved with the annual Europe Code Week.