One Young World, the global forum for young leaders, today announces Munich as the host city for its global Summit in 2020.  
The Summit will take place from October 14th – 17th 2020, where over 1,800 young leaders from more than 190 countries will gather across the city's well-known venues, including the Olympiapark, Olympiahalle, and The Residenz.
One Young World's arrival in Munich represents a significant moment for the Bavarian capital, renowned for its architecture and culture. Munich has become a major international centre for business, technology, engineering, research and medicine. It is home to several universities and is the headquarters for many multinational companies and world-class technology and science centres.
Since its launch in 2009, One Young World has built a network of over 9,000 Ambassadors – young leaders whose work projects have positively impacted 17.5 million people worldwide.
Welcoming the news today, the Deputy Mayor of Munich, Josef Schmid, commented "I am pleased that the One Young World Summit is coming to Munich. This congress brings different worlds and contrasting views together in a unique way. Munich stands for a high level of vigorous civic engagement, for new initiatives to mitigate climate change and promote sustainable development, and for a potent economy, high technology and the technologies of tomorrow. The Summit gives Munich the opportunity to show itself as an innovative, modern, liveable city to an international audience."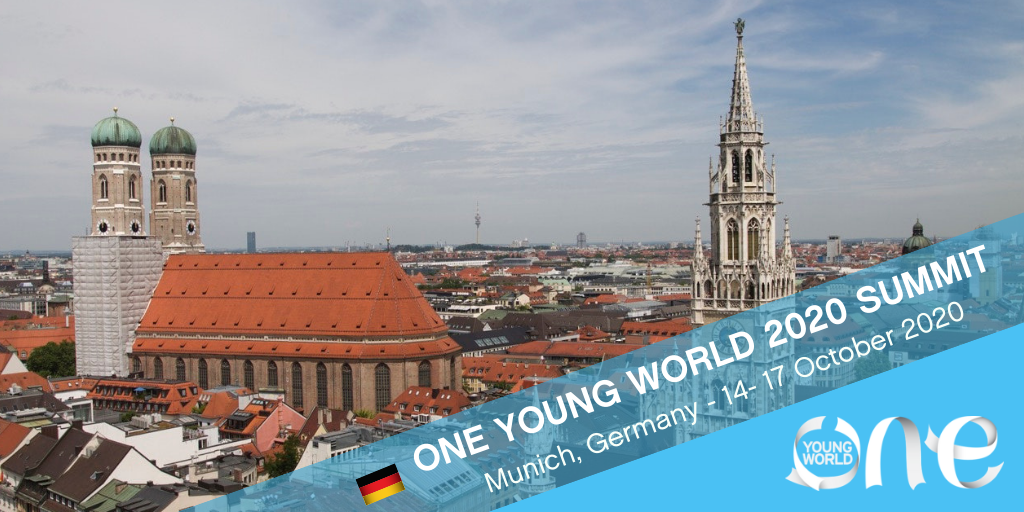 Munich will welcome One Young World Counsellors (high-profile leaders) who work with the young Ambassadors and delegates, sharing their experiences of making a positive social impact. In previous years, this group of Counsellors has included Nobel Peace laureates, heads of state, campaigners and activists including Archbishop Desmond Tutu, Sir Bob Geldof, Professor Muhammad Yunus, Mary Robinson, Justin Trudeau, Emma Watson and Meghan Markle.
The award-winning forum inspires young delegates to drive change, take action and tackle today's most pressing issues. In 2017 alone, 2.9 million people were impacted as a result of the work undertaken by One Young World Ambassadors and, for every $1 invested, the One Young World community delivered a social return of $13. 
The bid to host One Young World in Munich was led by the City of Munich's Department for Employment and Economic Development. The 2020 Summit will be sponsored by long-standing partners BMW, Siemens, Deloitte, Telefonica, McKinsey and KPMG, as well as other companies including Pro SiebenSat1, Freistaat Bayern, FC Bayern, Lufthansa, Süddeutscher Verlag, Munich Re, Flughafen München, Vereinigung der Bayerischen Wirtschaft, Deutsche Bahn, Serviceplan, ARRI and Motel One.     
Kate Robertson, Co-Founder, One Young World said: "We are thrilled to announce Munich as the Host City for One Young World 2020. This is a place closely associated with innovation that has made its name with its forward-thinking approach to business, technology and education. One Young World's mission is to create the next generation of more effective and responsible leadership: Munich is an ideal hub of innovative excellence to inspire young leaders to take on the world's challenges and make a significant impact. Munich is the perfect location for our eleventh One Young World Summit, which will put young leaders who are actively creating positive change, alongside politicians, CEOs and other prominent global luminaries."
David Jones, Co-Founder, One Young World said: "As one of Europe's leading hubs of technology and engineering, Munich will inspire the One Young World delegates to develop innovative solutions to social issues. Munich is an ideal destination for social entrepreneurs and there is much to learn from its civil society and spectactular surroundings".
Sabine Eberth, Head of Communication Strategy and Agenda Management at BMW Group said: "We congratulate Munich for becoming the host city for the One Young World Summit 2020. As a long-standing partner of One Young World, we are particularly pleased to be a partner for Munich 2020 and a catalyst for the One Young World Summit. Developing young talent and encouraging them to define their contribution to society as well as adding value within their organisations is a goal that BMW Group and OYW pursue equally."            
– ENDS –
Notes to Editors
To date, Summits have taken place in London (2010), Zurich (2011), Pittsburgh (2012), Johannesburg (2013), Dublin (2014), Bangkok (2015), Ottawa (2016) and Bogota (2017). The 2018 Summit will be taking place in The Hague from the 17th – 20th October.
Quotes from influential Counsellors and media outlets include:
Justin Trudeau, Prime Minister of Canada: "An unparalleled network of forward-thinking, progressive leaders from every corner of the world. I have often said that young people are not the leaders of tomorrow, they are the leaders of today and I know One Young World agrees."
Bob Geldof, Activist and Musician: "It's not small this, it's not a talking shop…At One Young World the delegates get to share the problems of their own countries and together, through social media and throughout the year, they engage with their governments and their own leaders to try and resolve the problems. It's very effective"
The late Kofi Annan, Former UN Secretary General: "Meeting tomorrow's young leaders and hearing your solutions to today's challenges is always a highlight of my year."
HRH Duchess of Sussex: "When I was asked to be a Counsellor at One Young World my response was a resounding 'yes'. One Young World invites young adults from all over the world who are actively working to transform the socio-political landscape by being the greater good. They are delegates who are speaking out against human rights violations, environmental crises, gender equality issues, discrimination and injustice. They are the change."
Yeonmi Park, One Young World Ambassador, North Korea: "I am here at One Young World because I believe that sharing my story is the first step to changing my country. One Young World restored my faith in humanity again – after One Young World, you shared my video and the North Korea issue on social media and world leaders listened."
CNN: "The junior Davos."
VICE: "The world's largest & most impactful youth leadership summit."
About One Young World:
One Young World is the global forum for young leaders working to accelerate change in every country. Its annual Summit brings together 1,500 of the most talented young leaders from across 196 countries to tackle the globe's most pressing issues, from climate change to conflict resolution.
One Young World is actively supported by a distinguished line-up of Counsellors including President Bill Clinton, Prime Minister Justin Trudeau, President Mary Robinson, President Juan Manuel Santos, Sir Bob Geldof, Archbishop Desmond Tutu, Emma Watson, Meghan Markle and Professor Muhammad Yunus. One Young World Counsellors work alongside delegates at the global Summits, sharing their collective experience in creating positive social change.
Since launching in 2009, One Young World has built a network of over 9,000 Ambassadors, whose projects have gone on to benefit 17.5 million worldwide. Notable Ambassadors include Olympic champion sprinter Kirani James, North Korean defector Yeonmi Park, Alan Mak MP, YouTube influencer and entrepreneur Michelle Phan, Founder of Global Citizen Hugh Evans, Lauren Bush, founder of FEED, and social media star Jérôme Jarre.
The award-winning annual Summit has been named International Conference of the Year on three occasions by C&IT. One Young World also has the largest corporate footprint of any NGO, and is partnered with more than 500 of the world's leading organisations, many of which are listed by Fortune 500 or FTSE 100.
To date, Summits have taken place in London (2010), Zurich (2011), Pittsburgh (2012), Johannesburg (2013), Dublin (2014), Bangkok (2015), Ottawa (2016) and Bogota (2017). The 2018 Summit is taking place in The Hague, Netherlands.
Image