Congratulations to Ambassador Khizr Imran Tajammul for winning the Shell Tameer Award. Khizr Imran received the prize for his business Jaan Pakistan, which produces affordable clean energy cooking stoves for use in low-income communities across Pakistan.
Khizr Imran received early-stage support for his organisation during the One Young World Summit 2014 in Dublin, where he received $20,000 USD in funding in the Rwanga Social Start-Up Competition. You can find his speech at the 2014 Summit below:
Smoke from open fires contributes to the death of more than four million people worldwide annually. As over 90% of Pakistan's rural population still uses primitive methods of heating - like burning wood - for household cooking needs, more and more people in Pakistan are diagnosed with deadly diseases like lung cancer and pneumonia. The cooking stoves that Jaan Pakistan produces reduce harmful emissions by up to 80% and offer significant savings on the cost of fuel through efficient combustion techniques.
The Tameer Awards were launched in 2003 as part of Royal Dutch Shell's Social Investment Programme and provide young entrepreneurs in Pakistan with business support to increase their impact.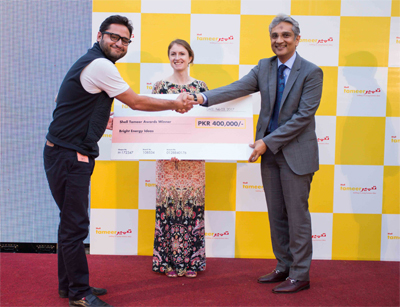 "The Shell Tameer Award was exhilarating to say the least," Khirz Imran said. "Jaan Pakistan engaged with a number of inspiring start-ups, and that only further strengthened our resolve to do the important work of researching and developing affordable energy solutions."
Jaan Pakistan aims to bring its alternate energy solutions to at least half a million households.​ The organisation is currently running a pilot programme in Bedian Village near Lahore, and will now extend the programme to four new rural villages across Pakistan.