After nine months of cancer treatment and 48 radiation therapies that culminated in surgery to prevent her from breaking her neck, Bibian Mentel-Spee climbed onto her snowboard just ten weeks later and won gold at this year's Paralympic games in PyeongChang.
It is a tale of bravery to rival anything in sporting history, and Bibian will be coming before delegates at One Young World's 2018 Summit to talk of her experiences and her motivation.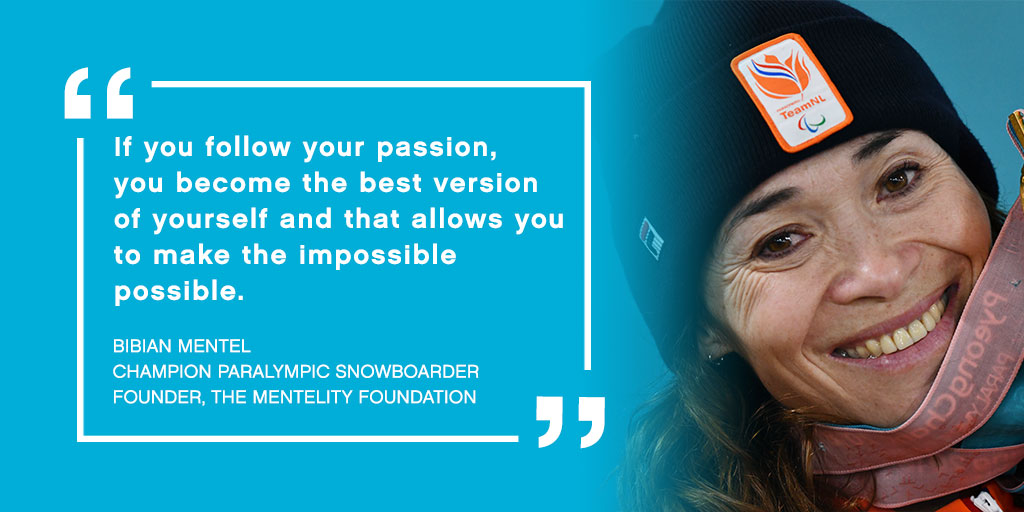 Few athletes have demonstrated such resilience in getting to the top of the podium.
Earlier in her life, the Dutch snowboarder seemed destined to compete at the Salt Lake City Winter Olympics in 2002, only for a tumour to appear in her ankle. She had to have her leg amputated below the knee.
Instead of giving up on her sport, she carried on, campaigning for it to become a Paralympic discipline. When that happened for the first time, at Sochi in 2014, she became the first woman gold medallist in the snowboard cross.
But in July 2017, as she prepared to defend her title, Bibian was diagnosed with cancer for the ninth time in her life, this time in her neck, oesophagus and ribs.
"It turned out my C6 vertebrae was 40 per cent cancer. I had about 48 radiation therapies over the summer," she told BBC Sport. "By the time I was back in recovery and training it turned out my vertebrae was collapsing because of the cancer and the radiation. They told me if they don't perform surgery I'll be paralysed because I'll break my neck."
With the Paralympic Games in March, Bibian went into surgery just before Christmas. After just three weeks of snowboarding training, she took to the snow slope in PyeongChang and narrowly beat her Dutch team-mate Lisa Bunschoten for the gold medal.
Speaking to website paralympic.org before the Games, she said that taking part in the event was more important to her than winning. "Just being there at the event with all my friends and showcasing the sport, that is the most important thing for me."
She said that getting back on her snowboard was the optimum form of rehabilitation and that recovering on the couch was not for her. "The best way I could treat my body and recover from all the surgeries and radiation and the cancer is to be as fit as possible and make sure that my immune system is as high as possible, which I do by playing sports."
One Young World Summit 2018 takes place in The Hague, Netherlands between 17-20 October.