The conflict in Syria has raged for six years and a critical ceasefire brokered by America and Russia in July lasted less than 24 hours before shooting broke out once more.
It is a familiar pattern in other parts of the world; the civil war in South Sudan has seen continual breaches of ceasefires over the past four years of fighting. In Colombia, the population lives in hope that the historic peace deal ending 52 years of civil war will hold. Nobel Peace Prize winner and Colombian President Juan Manuel Santos shook hands with FARC rebel leader Rodrigo Londoño at a disarmament ceremony in June.
One Young World Summit 2017, which opens in the Colombian capital of Bogotá on 4 October, will examine the importance of such processes in a Plenary Session titled: "How Do You Turn a Ceasefire Into Lasting Peace?" It is a question to which many living in areas affected by conflicted around the world are seeking an answer.
Leading by example, One Young World Ambassador Hyppolite Ntigurirwa will talk of his own remarkable journey to peace activism. During Rwanda's genocide against the Tutsi of 1994 his father was killed and left for dogs to eat. Many of his relatives died and he was forced to live like an animal in the bush, hiding among dead bodies and scratching for food in neighbours' gardens at night. He was seven years old.
Despite this, Ntigurirwa has forgiven his father's killers and dedicated himself to peace activism. His initiative, I Am Your Peace, Be My Peace, via his foundation Hyppolite For Peace, aims at halting intergenerational transmission of hatred. He is the first international young leader selected for the 2016-2017 Artist-in-Residence programme with Arts Connect International, where he uses the arts and lectures to restore love and peace against hatred and racism in the United States.

Generations of Afghans have suffered from wars and One Young World Ambassador Noorjahan Akbar is convinced that peace will only come if women are fully included in the dialogue. She has founded Free Women Writers, a collective of Afghan women writers and students who are dedicated to telling the authentic stories of Afghan women.
Its 125 contributors reach an audience of 48,000 Afghans every week through a Facebook blog in Pashtu and Persian. Their stories are used to campaign for change in Afghan policy and practice and to create a less patriarchal society. Free Women Writers recently led a successful campaign to prevent the government of Afghanistan from imposing restrictive school uniforms on girls around the country.
Source: Al Jazeera
Also addressing the Summit's Peace & Reconciliation Plenary will be Conor Houston. Conor has dedicated himself to building bridges for a brighter future for all on the island of Ireland: understanding the responsibility of his generation to build upon the peace we have inherited and to grow a prosperous, resilient and compassionate society for all. He is launching his "Connected Citizens" initiative at One Young World which seeks to empower young people globally who are passionate about driving change in their community. 
Conor is a lawyer and he is also the Chairman of the Ireland Fund Young Leaders which seeks to build progress through philanthropy. He has recently been appointed a Governor of the national newspaper in Ireland: the Irish Times.

As a child, Ousmane Ba survived civil war in his native Sierra Leone. His school was destroyed and his family fled to live in a tent in the mountains. As a teenager he lived through a political massacre in Guinea that claimed the lives of his close friends. He saw a young man killed in front of him. His mission today is to give young people access to education, which he sees as the key to a sustainable and peaceful nation. His organisation, Jeunesse, educates young people in Guinea on their basic rights and gives them a voice in society. He is a Global Youth Ambassador at A World at School, a network launched by former United Nations Secretary-General Ban Ki-moon.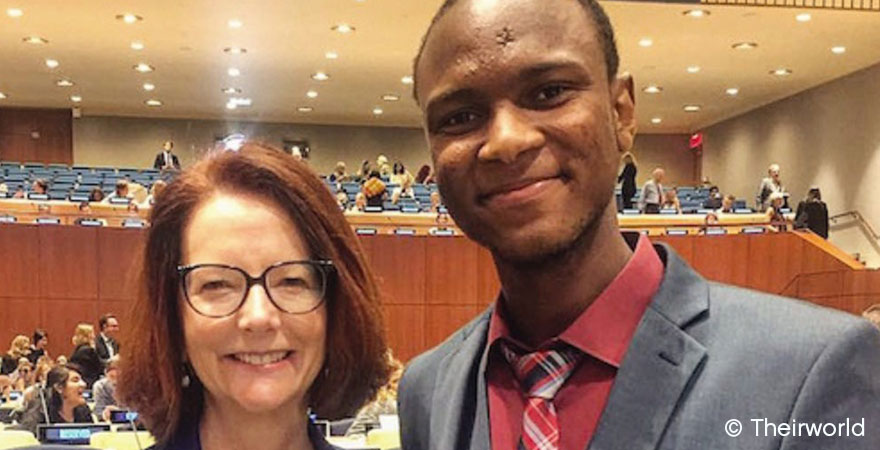 The Summit will also hear from Thai peace activist Asila Dorotae, a volunteer with The Association of Children and Youth for the Peace in the Southernmost Provinces of Thailand, a region that has suffered from armed conflict since 2004. The group is equipping orphaned children with emotional management and leadership skills to steer them away from vengeance. It is also working to empower youth to breed a new generation of leaders, using arts and creative activities to engage both Muslim and Buddhist orphans in healing camps and lead the community away from another generation of violence.

Taffan Ako Sharif is the Co-Founder & CEO of Swedish-based social enterprise TISFF and launched 'My ISIS story' in Iraqi and Kurdish refugee camps, a project aimed at integrating children and mothers whose fathers and husbands have abandoned them and joined ISIS. Through workshops and activities, these children are integrated with other Muslims, Christians, Yezidis and those of different backgrounds to promote peace, inclusion, love and understanding. Since May, 856 children and 232 parents have participated in the scheme in five refugee camps.