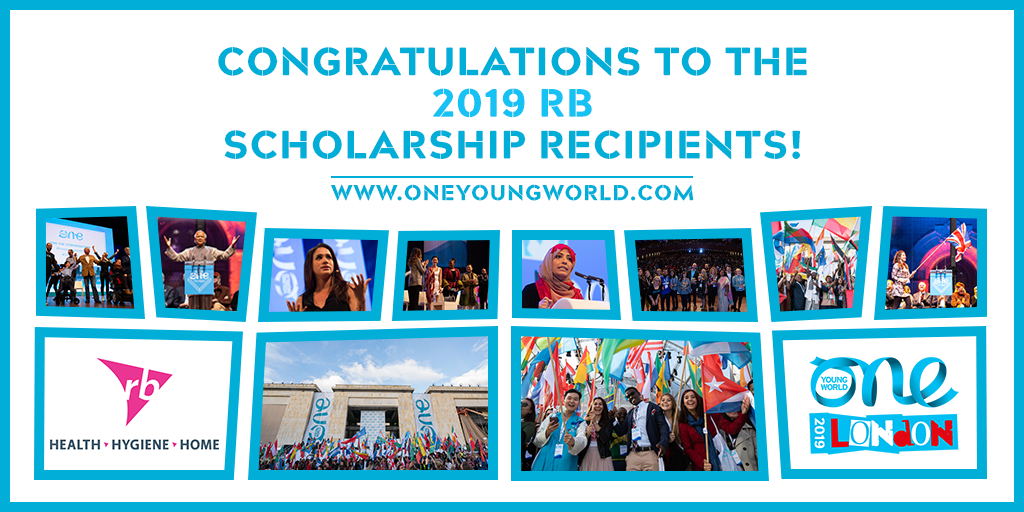 Following the launch of the first RB One Young World Scholarship, 10 young leaders will attend the upcoming OYW 2019 Summit as fully sponsored recipients of the inaugural scholarship.
RB has selected the 10 scholars for young leaders who are at the forefront of organisations and movements that focus on:
Sexual health and rights – particularly in the area of reducing unwanted pregnancy and preventing new HIV / AIDs infections.
Malnutrition and stunting – particularly in the area of the prevention of stunting in the first 1000 days
Water and Sanitation - focusing on the reduction of preventable diseases such as diarrhoea or cholera, and providing innovative solutions for quality, accessible sanitation
One Young World (OYW) has proudly partnered with RB, the global leading consumer health and hygiene company, for many years now. The 10 scholars form part of RB's 50-strong delegation attending the upcoming OYW 2019 Summit taking place from 22-25 October in London, it's largest delegation yet. Several OYW Ambassadors working for RB have gone on to successfully launch social impact initiatives within the company, proving the value of the OYW partnership.
RB is very much driven by its purpose to make a difference by providing innovative solutions for healthier lives and happier homes. Investing in social impact is a core tenet of its business and their purpose; learn more about RB and its social impact strategy here.
Congratulations to the 2019 RB One Young World Scholarship recipients:
Alexander Durán Macías, Colombia
Co-founder, Tierra Grata
As a Project Director and Co-founder of Tierra Grata, an organisation providing sustainable sanitation, water, and energy services to rural areas of Colombia, Alexander has committed his industrial design training to provide household services to underserved residents of his native country.
Anouluwapo Odusanya, Nigeria
Pharmacist / Volunteer, endcuttinggirls
A pharmacist, Anouluwapo has volunteered with the endcuttinggirls, a nonprofit organisation dedicated to the eradication of female genital mutilation in Nigeria. She has organised radio shows on the topic and helped prevent several cases. She also provides counsel on sexual health as a pharmacist.
Lebogang Motsumi, South Africa
Since she was diagnosed with HIV in 2009, Lebogang has become one of South Africa's most prominent HIV/AIDS advocates. She has campaigned for reproductive health, safe sex, and commonsense education focused on young women.
Neha Malla, Nepal
Co-founder, SOCHAI
In 2017, Neha co-founded SOCHAI (Social Changemakers and Innovators), an organisation conducting nutrition outreach and primary healthcare education throughout Nepal. SOCHAI has impacted thousands of people around the country, focusing on women and girls.
Mbali Mokotse, South Africa
Mbali has channeled her life experience into a career of activism for a variety of causes, including racial justice, LGBTQ+ rights, and HIV/AIDS. She has been outspoken about destigmatising HIV/AIDS as well as the importance of effective, inclusive education.
Francis Mtalima, Tanzania
Francis' volunteering experience includes stints with Raleigh Tanzania, READ International, Bridge For Change, and MEMA Tanzania. He has focused in particular on the development of sanitary and sustainable hygienic solutions in Tanzania.
Sanjay Tamang, Nepal
Sanjay has committed himself to improve the quality and prosperity of farmers in rural areas of Nepal. With the ExCEL project, he recently aided rural communities in the development of a new composting system along with eco-friendly, sustainable farming practices.
Oluwadamilola Oladipo, Nigeria
Oluwadamilola has dedicated her career to advancing reproductive health and HIV/AIDS prevention and care. She has additionally administered support to victims of sexual abuse and worked to advance healthcare educational initiatives in Nigeria.
Scarleth Suárez, Nicaragua
Passionate about sexual health and women's rights, Scarleth dedicates her time to empowering rural women with professional development skills development and sexual and reproductive health education.
Veronica Njaala, Tanzania
Veronica's work focuses on Water, Sanitation and Hygiene (WASH) to reduce the prevalence of cholera and diarrhoea in rural areas. Focusing on mobilising communities to embrace water storage, treatment, clean food preparation practices and more, she has helped over 2,400 community members and 400 primary school pupils to date.