After a year-long search and applications from over 90 countries, three finalists have been selected for the influential Rising Star Programme. The winner of the competition will take a seat on a once in a lifetime flight to space. 
With social media engagement, candidate profiles on the Rising Star website, video content and initial applications playing a deciding role, 30 shortlisted semi-finalists have been whittled down to three impressive future leaders. The programme is an initiative on behalf of Kruger Cowne in partnership with One Young World and Spaceship Earth Grants. 
Freeman Osonuga from Nigeria, Hussain Manawer from the UK and Keren Jackson from Ireland have been named as the programme's finalists and will fly to the One Young World Summit in Bangkok this November to deliver a five minute keynote speech in front of 1,300 One Young World delegates and a star panel of judges as part of a special session at the global Summit, which will be live-streamed across the globe. 
The chosen Rising Star will complete their spaceflight in 2016, on board the XCORE Lynx. The flight will not only provide a life changing journey but the Lynx will also carry out scientific tests, contributing to research that brings the possibility of commercial space flight ever closer. One Young World wishes all three finalists the best of luck in the next stage of selection for this incredible programme.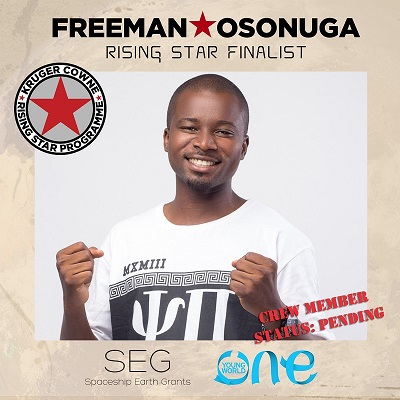 Finalist Freeman Osonuga is a WIRED 2015 Innovation Fellow, an Associate Fellow of the Royal Commonwealth Society, and a One Young World Ambassador. More poignantly, Freeman recently completed a six-month medical humanitarian mission to Sierra Leone as part of the African Union's Ebola Response Team and, as such, became a recipient of the Meritorious Service Award from President Bai Ernest Koroma of Sierra Leone. He was named as a 2014 TIME Magazine's 'Person of the Year' and recognized as one of 2013's 'Ten Outstanding Young Persons In Nigeria'.
[[[image 2- native]]]
Hussain Manawer's achievements already include being amongst the elite few who became Olympic torchbearers for the Olympics London 2012. Whilst studying at university, the up-and-coming media mogul climbed Mount Kilimanjaro, raising thousands of pounds for charity. At present, as well as interviewing a host of influential public figures on his online channel Hussain's House, the talented poet takes time out of his schedule to visit schools across the country, speaking to young people on issues such as cyber bullying and the importance of self-expression through the arts.
[[[image 3- native]]]
 
Keren Jackson is a social entrepreneur who has overcome hardship and struggles, going from being homeless to now fronting and holding the position of CEO of BlueFire, a social enterprise whose mission is integration through the arts and community engagement. Keren has spoken at the One Young World Summit and TEDx Dublin and is recognised as a Yunus & Youth fellow. In her two years of working with BlueFire, Keren and her team have brought over 13,000 people together in celebration of cultural diversity.
"We were overwhelmed with the phenomenal talent the shortlisted 30 exuded. It was a tough decision selecting the final three, however Freeman, Keren and Hussain embodied what it means to be a rising star, exemplifying leadership quality and a true passion to change the world. Going above and beyond their application, these three future leaders inspired us with what they stand for, what they were trying to achieve and what they have already achieved in the world." Mark Cowne, CEO of Kruger Cowne.
With astronauts, global leaders and entrepreneurs from the Kruger Cowne roster offering mentorship, the chosen young leader will be managed and positioned to develop powerful connections and given a platform to engage with a global audience and develop solutions to some of the world's most pressing issues.