Climate change is not only a buzzword. With 2017 seeing some of the most devastating climate disasters of the last few decades, from mudslides in Sierra Leone, droughts in the Horn of Africa and Hurricanes Irma and Harvey in North and Central America, now, more than ever, we need actionable solutions to mitigate against the effects of climate change.
Read how these ten One Young World Ambassadors are leading by example and building a sustainable future.
Tere Gonzalez, Mexico
Tere Gonzalez is a 2016 UN Young Leader for the SDGs and the president of Liter of Light Mexico, part of a global movement to re-purpose plastic soda bottles to create sustainable light sources for homes, businesses and streets. They work directly with minorities and marginalized groups, including gypsy and indigenous communities, people living in slums, victims of drug cartels and migrants.
Tere spoke at One Young World 2017 about how she's revolutionising access to electricity.
Anoka Primrose Abeyrathne, Sri Lanka
Through her role as Asia-Pacific representative of the UN-Habitat YAB, Anoka engages with over 717 million young people in the Asia-Pacific region to enable climate action initiatives. Featured in the Forbes 30 under 30 Asia list of 2017, she is the youngest female recipient of the Commonwealth Youth Award for Excellence in Development.
Anoka's Growin' Money eco social enterprise has helped over 5,000 vulnerable Sri Lankans after the devastating tsunami in 2004 which ravaged their homes and livelihoods - she has helped them adapt to these changes by equipping them with new farming techniques, eco-tourism and digital skills. She also led the replantation of over 60,000 mangroves destroyed by the tsunami.
Anoka spoke at the One Young World Summit 2016 in Ottawa. Listen to her story: 
David Naibei, Chad
With Chad being one of the hottest countries on earth, David Naibei is passionate about teaching children how to protect their environment. He is a Trainer with Espaces Verts du Sahel (EVS), an association which promotes the use of renewable resources and sustainable development while protecting environment. He's trained over 2,500 children from 54 primary and secondary schools in 4 regions of Chad to date.
David spoke at One Young World 2017 about his work in environmental education:
Khizr Imran Tajammul, Pakistan
Khizr is the founder and CEO of Jaan Pakistan, a cleantech social startup introducing fuel efficient, biomass cookstoves across off-grid Pakistan and with the goal to transition to solar thermal technologies and eliminate the use of firewood and other biomass materials altogether.
To date, Khizr's enterprise has already sold 500 units of biomass stoves, which has resulted in the reduction of 500 metric tons of carbon emissions a year, and preventing fatal respiratory illnesses across 3,500 lives.
Khizr spoke at the One Young World Summit 2014 in Dublin. Learn more about his commitment to clean energy:
Chebet Lesan, Kenya
With pollution killing over 4 million people annually, Chebet Lesan of Kenya is simultaneously revolutionising access to energy and tackling endemic pollution caused by cheap energy sources. Chebet is the Founder & CEO of BrightGreen Renewable Energy; so far, they have produced and distributed over 100 tonnes of sustainable fuel briquettes directly impacting over 300 households. Working with their local government, BrightGreen has collected over 120 tonnes of waste from Nairobi; it has saved over 800 tonnes of trees in Kenya forests.
Chebet spoke at One Young World 2017 about her work with BrightGreen:
Joseph Sarvary, Paraguay
Joseph is the founder of Voices of Nature, a Paraguayan environmental education program which gives young Paraguayan students the opportunity to become protagonists in the fight against climate disasters. To date, Joseph's program has educated over 120 children and hosted six different community action projects. By the end of 2018, they will have over 30 different clubs running in 20 different communities with more than 500 kids participating.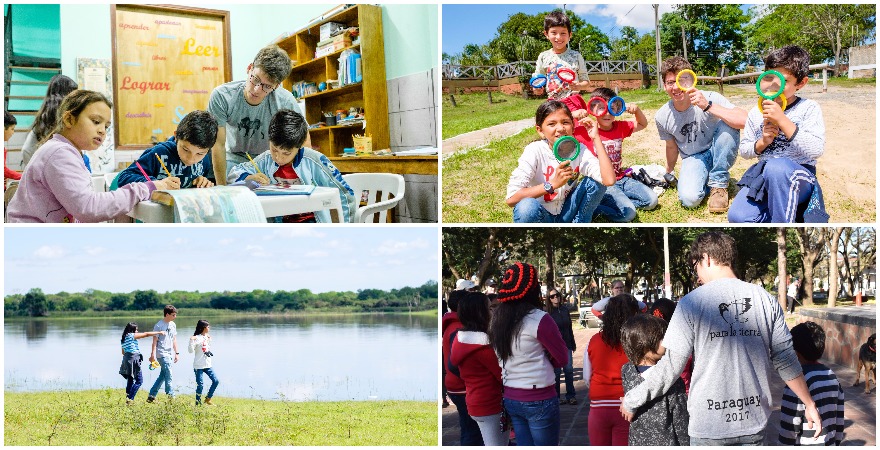 Karan Jerath, United States
Following the Deepwater Horizon Oil Spill near his home in Texas, Karan Jerath, originally from India, was determined to find a solution. Karan, a 2016 UN Young Leader for the SDGs, invented a ground-breaking, subsea wellhead capping device that contains oil spills at the source, showing the power of young people as innovators to achieve Sustainable Development Goal 14 on oceans. 
Karan spoke at One Young World 2017 about his innovative solution:
Yolanda Joab Mori, Federated States of Micronesia
Yolanda is at the forefront of climate change's devastating effects in small island communities. Working for the International Organization for Migration, she runs the Climate Change Adaptation, Disaster Risk Reduction & Education Program across Micronesia, the Marshall Islands and Palau. She's protected over 16,000 kilometers of coastline to date.
Learn more about Yolanda's work in climate adaptation:
Marek Kubik, United Kingdom
Marek Kubik of the United Kingdom will stop at nothing to improve the accessibility of clean energy through energy storage systems. The young Market Director of AES Energy Storage & Forbes 30 Under 30 innovator has championed market innovation and as a result has helped to deploy the first transmission scale commercial battery storage project in the UK in 2015. His project benefited an estimated total of 6.6 million people in 2016.
Marek told delegates at One Young World 2017 how batteries are the future of energy storage:
Eduardo Sanchez Gonzalez, Cuba
Hailing from Havana, Cuba, Eduardo Sanchez Gonzalez founded METRO, a public transport mobility platform for Cuba. The company focuses on the production of tracking devices which are then attached to buses. Eduardo is creating a mobility movement within Cuba and reducing the congestion and air pollution emitted as a byproduct of crippling traffic.
Eduardo spoke at One Young World 2017 about his innovative mobility solution: