Terry Crews, the American actor and campaigner for the rights of victims of sexual assault, is to be a speaker at One Young World's 2018 Summit in October.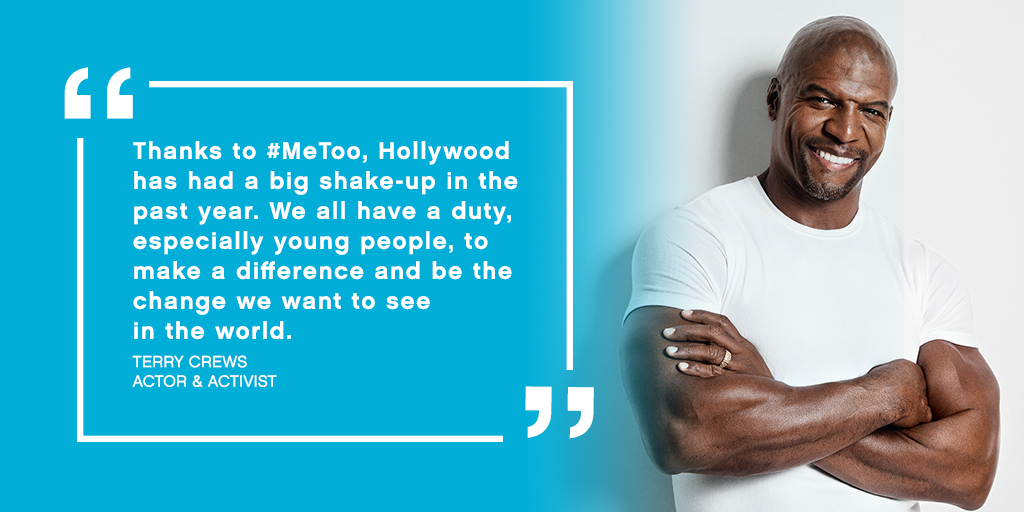 The former NFL star's bravery in testifying before a Senate committee about his experience of being sexually assaulted at a Hollywood party has shaped a national debate in America on giving greater rights to survivors of such attacks.

Crews spoke before senators in June as an advocate for the Sexual Assault Survivors' Bill of Rights, which codifies rights including the preservation of rape evidence and the subsidising of forensic testing for survivors. 

His testimony has raised awareness that men, as well as women, can be victims of sexual assault, after the #MeToo campaign put a spotlight on sexual harassment in Hollywood and in other industries and work places.

"This past year we have seen powerful men in Hollywood and elsewhere finally held accountable for sexual assault," Crews said in his opening statement to the Senate Judiciary Committee. "We also saw the backlash survivors faced coming forward. I wanted these survivors to know that I believed them, I supported them, and that this happened to me too."

He described how he had been at a show business party in 2016 with his wife when an executive at his talent agency twice grabbed his genitals. Crews refrained from reacting violently because he feared his career might be ruined. "As a black man in America you only have a few shots at success, you only have a few chances to make yourself a viable member of the community," he said.

But he decided to speak out publicly after the agency only responded to his complaint by demoting his attacker. "The assault lasted only minutes, but what he was effectively telling me while he held my genitals in his hand was that he held the power; that he was in control," he told senators.
 
I look forward to joining young leaders from 190+ countries at the @OneYoungWorld Summit 2018 in The Hague! Find out more about #OYW2018: https://t.co/YJIpG9M2gi pic.twitter.com/C6YVsy46gd

— terrycrews (@terrycrews) August 28, 2018
He said he had "never felt more emasculated" than by the assault. The lack of support he received as a victim made him "reflect on the cult of toxic masculinity", but he discovered that many men refuse to see such behaviour as abuse. "One man's horseplay is another's humiliation," he said. The man who he accuses has not been charged by police.

Crews, who played as a linebacker for NFL teams including the Los Angeles Rams and the San Diego Chargers, has had a successful acting career that includes a starring role in the sitcom Brooklyn 99.

After seeing women take to the streets for#MeToo protests, he became determined to take a stand and initially made his revelations in a series of posts on Twitter. 

He told the senate committee: "I sit here before you just as an example because a lot of people don't believe that a person like me could actually be victimised, and what has happened to me has happened to many, many other men in Hollywood."

The Sexual Assault Survivors' Bill of Rights was drawn up by Amanda Nguyen, founder and president of Rise, an American civil rights NGO. Nguyen, a former Deputy White House Liaison for the US Department of State, was raped in 2013 while at college in Massachusetts. She was nominated for the Nobel Peace Prize for her work in writing the bill of rights, which she drafted as a result of her own experience of being unsupported as a survivor of rape.

The legislation was unanimously passed in Congress and signed into law by then President Barack Obama in October 2016. As a result, victims of federal sexual assault cases have the right to be notified 60 days before their rape kit (evidence taken at the time of an attack) is destroyed. They are also guaranteed rights of access to their medical information.

Only 14 US states have voted to pass the legislation so far, and Nguyen and Crews are campaigning for the rights to be extended to victims of sexual violence all across the nation and worldwide.