NEW
Loujain Al-Hathloul's leadership recognised in TIME 100
Imprisoned activist Loujain was featured in the 100 leaders of 2019 published by Time Magazine. As it approaches a year since she was arrested by the Saudi regime for her fearless activism challenging discriminatory laws against women, the magazine has recognised her as "a model of Saudi womanhood". Each day her incarceration continues, and in light of recent reports that she has been "waterboarded, electrocuted and threatened with rape", the #FreeLoujain campaign becomes increasingly urgent.
Incredible news: Loujain is named @TIME's 100 Most Influential People of 2019! https://t.co/TM1BiiTffn #FreeLoujain

— Friends of Loujain (@FreeLoujain) 17 April 2019
Mohammed Barry and Lesego Holzapfel chosen for Tutu Leadership programme
The two OYW Amassadors were included in the 2019 cohort for the Tutu Leaderships fellowship. Mohammed and Lesego have been included alongside 21 other young leaders from the African continent, spanning 12 countries and from every industry. See the full list here.
Gregory Rockson the guest on Global Dispatches Podcast
Healthcare entrepreneur and OYW Ambassador, Gregory Rockson was interviewed on the Global Dispatches podcast. On the episode, they explored the high drug prices across Africa, his startup mPharma, and solutions to the challenge. Listen below.
Izzy Obeng invited to 10 Downing Street
Izzy was personally invited the office of the UK Prime Minister, to share the work of her organisation FounderVine, an inclusive community for startup founders. The team had the chance to discuss the future growth of the organisation with the PM's Business Advisor.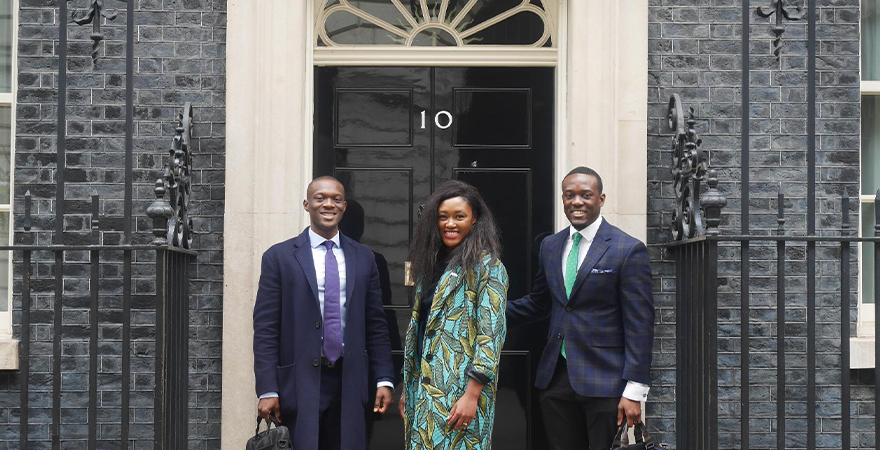 Abir Ibrahim selected as Ambassador for IEP
Abir was honoured to be chosen as 2019 Ambassador of the Institute for Economic & Peace. Specifically, in this position she hopes to explore how policy makers, international agencies and young people (particularly young women) can invest in the peacebuilding and development processes of Sudan.
Mohamad Al Jounde featured in film on youth activists
In a new documentary project produced by Hollywood film star Marion Cotillard, Mohamad has been identified an inspirational, young activist to be featured in the film for his work educating young refugees. Support the project here and watch the promotional film below.
Luke Hart publishes article on media coverage of domestic abuse in the Telegraph
Luke and his brother, Ryan, have written an article for the Telegraph which accounts the tragic murder of their mother and sister by their father, and the media's completely inappropriate and inaccurate coverage of the event and domestic abuse more broadly. See the full article here.
Lina Khalifah interviewed for Women in the World
Lina spoke about her experiences and her self-defense school, SheFighter, in an interview at the 2019 Women in the World Summit. Watch the interview below.
David Riveros Garcia endorses community-led anti-corruption work in Oxfam blog
David, the founder and Executive Director of reAccion, wrote a blog for Oxfam which denounces NGO growth at the expense of staying connected to the community. He believes this holds true for anti-corruption organisations such as reAccion, as community engagement is crucial to the success of any project. Read the full article here.
Aminetou Bilalal meets with the President of Mauritania
In her role on the Advisory Youth Council of the African Union, Aminetou had a one-on-one meeting with the leader of her nation, President Mohamed Ould Abdel Aziz.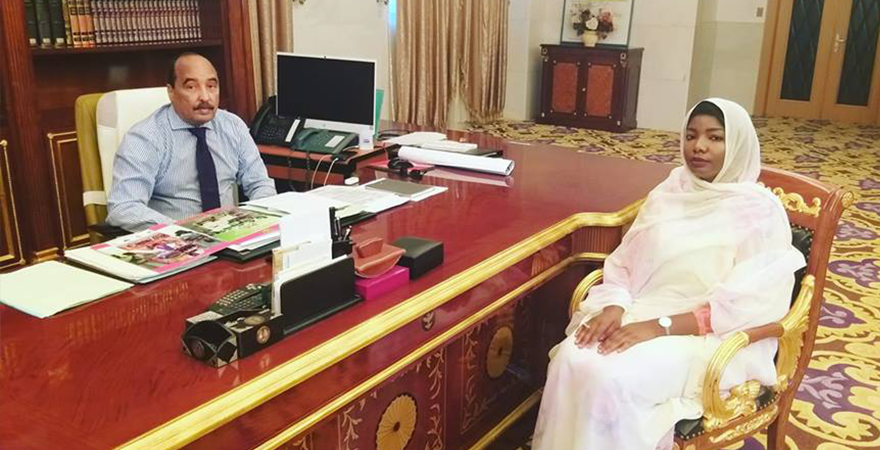 Jimena Vallejos represents Columbia University at conference on child healthcare
Jimena represented Columbia University's School of International and Public Affairs at the 14th "Break the Cycle of Children's Health Disparities" conference, discussing opportunities for caregivers to provide nurturing care in low-income communities in Paraguay.
You Sotheary interviewed on the Voice of Civil Society
Cambodian Ambassador You Sotheary featured on the live stream of the COMFREL Facebook page, on their programme Voice of Civil Society.
Nomindari Enkhtur contributes to the launch of the Cambodia Sustainable Finance Principles
Nomindari has been supporting the work of the Cambodian Sustainable Finance Initiative, by sharing the experiences of Mongolia. Her contribution has helped the Association of Banks in Cambodia (ABC), together with the Cambodia Microfinance Association, to launch the Cambodia Sustainable Finance Principles and its Implementation Guidelines – a voluntary framework to help banks integrate sustainability considerations into lending operations.
PREVIOUS
Yolanda Joab gives impassioned keynote statement at ECOSOC
Yolanda gave an inspiring speech on empowerment, inclusion and the fight for equality at the 2019 ECOSOC Youth Forum. She pushed the necessity of the participation of young people, and stressed the role of the Pacific decision-making on climate change. Watch the stirring speech below.
Tabata Amaral calls out the failures of the Brazilian Education Minister
Parliamentarian and OYW Ambassador Tabata burst into the national consciousness in Brazil as she held the Education Minister to account during a heated discussion in Congress. She lambasted him for his failure to understand, let alone manage and improve the Brazilian education system. In a BBC Brazil article, Tabata also criticised the regressive political culture and her experience of being harassed and patronised as a young congresswoman. Read the full article here.
Brazilian Ambassadors start campaign to fund emergency housing in Sao Paolo
On behalf of the organisation Teto Brazil, ten OYW Ambassadors have launched a campaign to raise funds for 100 new houses to will replace dangerously uninhabitable accommodation in the slums in Sao Paolo. To donate and help this essential mission, please follow this link.
Sinéad Burke appointed to Council of State by Irish President
President Michael D. Higgins appointed Sinéad as a member of the Council of State, along with six others. The disability activist and OYW Ambassador joins the Council which is consulted by the President of Ireland on constitutional issues and advises on the use of the President's discretionary powers. Read the announcement here.
Amanda Nguyen launches Rise Justice Labs – the 1st accelerator for civil rights movements
In an article publicised by Forbes, Amanda announced the launch of her incubator for civil rights movements. The first of its kind, Rise Justice Labs will scale the lessons learnt from Amanda's successful lobbying campaign Rise, creating an incubator with coaches and a curriculum. It is founded in her belief that "leaders of social campaigns should think more like startup CEOs". Read the full article here.
Fast Company publish article on the project of Irina Fedorenko 
Irina's startup Biocarbon Engineering produces drones which plant trees, using technology in the race against climate change. The drones have operated all over the world, and are now being used by a non-profit in Myanmar called Worldview International Foundation. To find out more about the project enabled by the innovative work of Irina, read the full article here.
Rumaitha Al Busaidi sits on Environmental Leadership Panel at World Economic Forum
Rumaitha spoke at the 10th World Economic Forum on the Middle East & North Africa. She was part of the Environmental Leadership panel discussing the essential skills that are needed to produce more environmental leaders and entrepreneurs.
Ambassadors addressed by Obama at Town Hall Session
Costas Georgiades and Jerome Jarre were honoured to have been invited to participate in the Obama Town Hall session in Berlin. The event convened over 200 young leaders from across Europe, and President Obama himself inspired the attendees.
Prakash Koraila selected as Nepalese NEWSMAKER 2075
Prakash was chosen by renowned national newspaper, Nepal Magazine, as a NEWSMAKER of 2075 (this Nepalese year). He has been recognised for his impactful work promoting financial literacy and inclusion across Nepal.
Ambassadors attend forums at Ibrahim Governance Weekend
Sesame Mogotsi was refreshed to interact with young leaders and professionals from across Africa and the diaspora, engaging in frank, factual and African-led discussion on mobility and migration. Also in attendance were fellow OYW Ambassadors Julius Fieve and Emmanuel Gasore. Julius wrote an insightful article on the forum, issues facing the continent of Africa, how to achieve good governance and the role of young African leaders. Read the full article here.
Koka Kapanadze represents Youth Delegates at the Council of Europe
As Georgia's Youth Delegate to the Congress of Council of Europe, Koka delivered a speech during the Council of Europe debates on social rights of young people. He represented the views and recommendations of the youth delegates, and placed special emphasis on the protection of labour rights of young people. 
Adam Matan presented with OBE by the Duke of Cambridge
Adam travelled to Buckingham Palace to receive one of the highest honours available in the UK, an OBE, bestowed upon him by Prince William in a ceremony which also honoured England football captain, Harry Kane.
Two Ambassadors recognised by Forbes 30 under 30
Tamana Asey (Afghanistan) and Eva Mackinley (Australia) were featured in the recently released list of young leaders in the Asia-Pacific region. Tamana was included amongst the top 30 young leaders in "Healthcare & Science" for her integral role in the criminalisation of hymen testing in Afghanistan, and continued campaigning against the inhumane practice. Meanwhile, Eva can be found in the "Media, Marketting and Advertising" list, celebrated for co-founding "The Last Straw" campaign, a project whose mission is to reduce the use of plastic straws and single-use plastics across Australia. See the full list here.
Gregory Rockson wins valuable Skoll Award and expands startup to East Africa
Gregory's Ghanain health startup mPharma is the proud recipient of the 2019 Skoll Award, rewarding their incredible impact fixing the drug supply chain for African healthcare. Awardees will receive $1.5 million investment or core support grant to scale their work and increase their impact. Additionally, mPharma recently acquired Kenya's second largest chain of pharmacies, breaking into the East African market.
"The Global Threat of White Terror" - Bjørn Ihler article published by the Khmer Times
In light of the tragic terrorist attack in New Zealand this week, Bjørn wrote an article exploring the platforming of far-right extremism and the normalisation of dangerous rhetoric. Read more here.
Begonia Randhav's film BLATTEN a winner at Women International Film Festival 2019
The festival aims to select films from around the world that engage and inform people about women rights related to gender issues, child abuse, sexual harassment, and stories of remarkable men and women who lend a helping hand in the struggle for equality and empowerment. Begonia's film placed as runner-up at the competitive event in Islamabad. 
TechInAfrica promote Ambassadors' initiative "TukAid"
The initiative, TukAid, which was established by OYW Ambassadors Jamie Boon and Edwin de Wit, was featured in an article on the website TechInAfrica. The article publicises the imminent launch of TukAid in Kenya and Nigeria. Read more here.
Kehkashan Basu attends UN Environment Assembly with Green Hope
Along with a delegation from her organisation Green Hope, Kehkashan attended the UNEA in Nairobi. Whilst there, Green Hope conducted a sustainability workship for children of prisoners. They also engaged with over 150 young people in Kisumu, donating water storage containers and solar lamps as well as educating them about the sustainable development process. In addition, Kehkashan was recently the youngest person ever to feature on the cover of CREDO magazine, and was introduced by an editorial from HSH Prince Philipp von und zu Liechtenstein. Read the online edition here.
Ioanna Demosthenous selected for Expert Working Group on Youth Rights
Ioanna was chosen by the European Youth Forum as a member of the Expert Working Group on Youth Rights. She is currently attending a capacity building training in Geneva.
Karen Carvajalino is talks women in tech on International Women's Day
It was a busy day for Karen, who participated in a conference at Microsoft Latam with a girls programme in tech and entrepreneurship. She was then interviewed on the importance of women in ICT, and increasing participation. Finally, she spoke at the Telefonica conference on women's empowerment and the future.
Ambassadors selected as 2019 Tony Elumelu Foundation's Entrepreneurship fellows
Fatoumatta Kassama was selected from over 200,000 applicants for the fellowship, receiving access to mentorship, training and $5,000 seed capital for her organisation Eye Care for All. Dr Isaac Olufadewa, founder of the Slum and Rural Health Initiative Network Africa, was also named as one of the as 2019 Tony Elumelu Foundations Entrepreneurship fellows, receiving the same support.
Emmanuele Marie Parra featured on Light TV radio show 
Emmanuele Marie was a guest on the radio show as a representative of "Powerful Ladies in the Philippines". In an in-depth discussion, they explored her advocacy for human rights, leading CSR at Thomson Reuters Manila, and her role as an Ambassador at OYW. She was also humbled to receive the Women Who Rock: Corporate Social Responsibility Award, and honour bestowed for her relentless and impressive work at Thomson Reuters and beyond in our community.
Wilbur Tupua joins the High Court of New Zealand
Wilbur was ecstatic to officially qualify as a Barrister and Solicitor of the High Court of New Zealand. 
Charif Hamadi attends the Global Education and Skills Forum
Charif attended the inspiring event hosted by the Varkey Foundation. Whilst there, he shared research insights from his organisation Ed 4.0 and their new, innovative solutions to democratise access to quality education.
James Thuch Madhier delivers keynote speech at UNICEF Canada Gala
At the fundraising Water for Life Gala, James was invited to give the keynote speech by UNICEF Canada. He is the Founder and Executive Director of Rainmaker Enterprise, implementing solar-powered, water infrastructure to support sustainable agriculture and consumption in remote, rural regions.
Dr Rimla Akhtar MBE tackles the topic of racism on Sky Sports 
In light of recent events and a concerning trend in the world of football, Rimla participated in a panel discussion on Sky Sports on the issue of racism in football, wider society, and potential solutions. Watch the extended feature below:
Luciana Vilar Denardi speaks at CFO Summit ANZ
Luciania, CA for Oceania, spoke to the audience of senior business leaders about CSR, its targets and its costs. She also touched upon the role of One Young World as a driver for positive change. 
Julius Fieve hosts Women Rising Summit
Julius hosted the 2nd Annual Women Rising Summit in the Mafi Zongo Electoral Area. The summit focused primarily on promoting gender equality and empowerment of women.
Events & Caucuses
Bath Caucus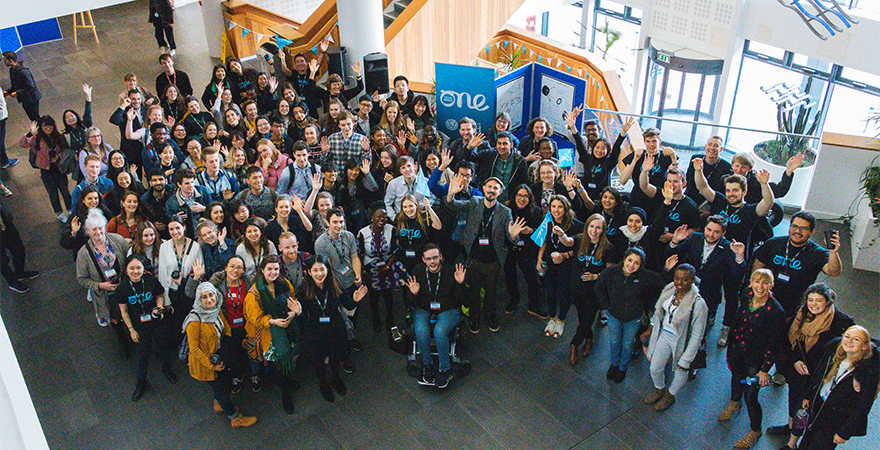 On April 6th, One Young World Bath hosted a caucus attended by university students, OYW Ambassadors and staff. The event was composed of a series of succinct talks discussing issues aligned with the One Young World values and the UN Sustainable Development Goals, focused especially on Health & Development, Sustainability & the Environment and Equality & Inclusion. Speakers included Mary Helda Akongo, founder of Roaring Doves and Coordinating Ambassador for East Africa, and Caroline Casey, disability activist and OYW Counsellor.
Hong Kong Caucus
In partnership with One Young World, the HKFYG Leadership Institute hosted a two-day caucus in Hong Kong. Five ambassadors were flown over to give speeches and host workshop events on their fields of expertise: Caritta Seppa, Brighton Kaoma, Nicolle Fagan, Karan Jerath and Heidy Quah. 
Finance & Business 2030
One Young World, Chartered Accountants Worldwide & City of London hosted Finance & Business 2030 at Mansion House, London. #FinanceBiz2030 is an initiative to unite the finance and business community to achieve the SDGs by 2030. Over 100 young professionals from the world's biggest firms took part.
Ambassador Meetups