Andrea Ngombet is running for President of the Republic of Congo
I'm running for the office of President of the Republic of the Congo. https://t.co/6H1nX29hyt

#Africtivistes #Sassoufit #IE

— Andréa Ngombet (@andrea_ngombet) June 18, 2019
Andrea Ngombet is running for President of the Republic of Congo in the elections of 2021. Andrea is the founder and the coordinator of Collectif Sassoufit, a collective protest movement against Sassou Nguessos's dictatorship. Through his campaign, he was able to mobilise young people through social media to denounce the regime. His presidential campaign "Incarner l'espoir" (incarning hope) proposes a collective vision for a true emergence of the Republic of Congo. To find out more about his presidential campaign, click here.
#Incarnerlespoir #Andrea2021 #Sassoufit
Isaiah Owolabi selected as an Obama Foundation Scholar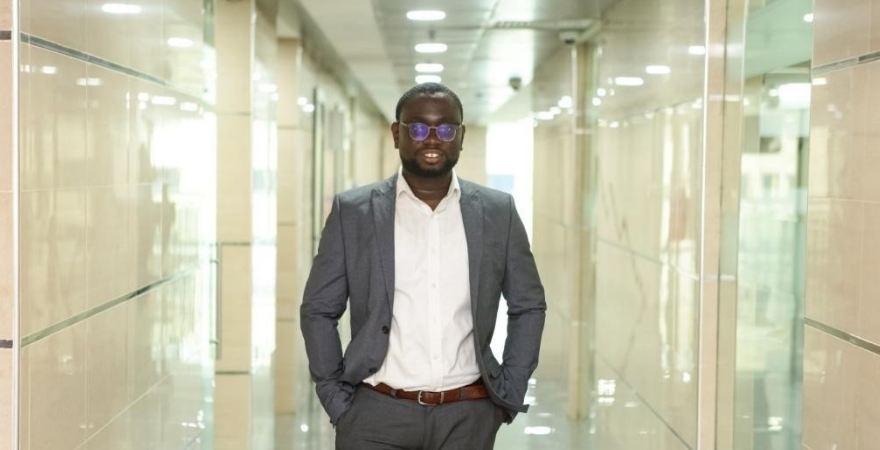 The Obama Foundation announced that Isaiah Owolabi is among its second cohort of the Obama Foundation Scholar. Isaiah Owolabi is the project director and co-founder of the HACEY Health Initiative which aims to significantly improve the life outcomes of women and girls.  The Obama Foundation Scholars at Columbia University will participate in Columbia World Projects, an initiative in which students, faculty, and researchers from Columbian partner with governments, non-profits,  the private sector and intergovernmental organisations to use university research to create tangible solutions to real-world issues. To learn more about Isaiah's work at HACEY Health Initiative, please click here
Padinya Aree project with recycled plastic sandals featured on Bangkok Post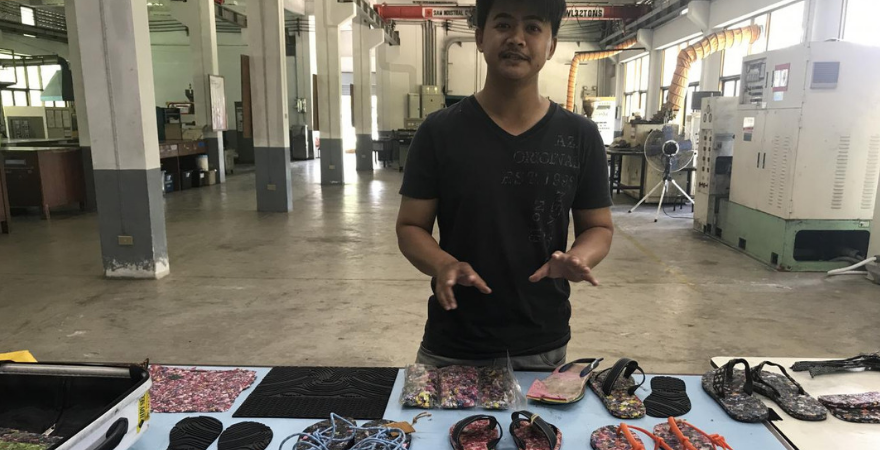 Thailand is among the top 10 countries in the world polluting the oceans with rubbish but a company called Tlejourn has already recycled 25% of broken rubber sandals. It was Padinya Aree, who came up with the idea for Tlejourn flip-flops. Padinya Aree is a researcher of polymer technology and the creator of Tlejourn flip -flops. Tlejourn flipflops and sandals are made from washed-up rubber and plastic. Over the past years, thanks to Padinya's idea, the group has produced over 2,000 flip-flops. Read the full article here.
Trisha Shetty will speak at The Business of Fashion Voices 2019
Along with other game-changers, Trisha Shetty will discuss gender rights in India at #BoFVoices 2019. Trisha Shetty is an Indian activist for gender equality and the Founder and CEO of SheSays, a platform to educate, rehabilitate and empower women to take direct action against sexual assault in India. To date, SheSays has actively helped 151,426 people and one of her campaigns - #LahukaLagan - received over 25 million impressions online.
Ismael Essome featured on Al Jazeera for the creation of eco-boats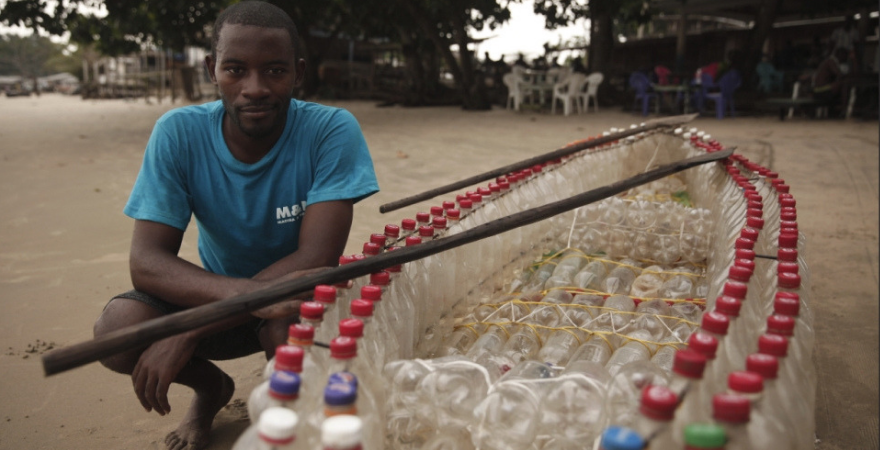 The expansion of plastic waste across the globe is threatening the survival of our planet but OYW ambassador in Cameroon: Ismael Essome is cleaning up the country from plastic waste by picking bottles that litter the natural environment and turning them into eco-boats. To date, he has already built 37 boats which have removed 24,000 bottles from Cameroon's rivers. His work has been featured on Al Jazeera, to read the full article please click here.
Yanelys Hernandez Cordero will attend the Haiti Tech Summit
#HaitiTechSummit19 Participant: Yanelis Hernández Cordero is the CEO of Havana Live Magazine, which offers free & quality content, using the new media, to people in the arts industry, tourists & visitors interested in the Cuban culture: https://t.co/BRAzvRe0Wo #YLAIatHTS pic.twitter.com/3b5tcsFZl5

— U.S. Embassy Haiti (@USEmbassyHaiti) June 19, 2019
Yanelys Hernandez Cordero will be attending the Haiti Tech Summit taking place on June 24th. Yanelys is the CEO of Havana Live Magazine, a platform that offers free & quality content to people in the arts industry, tourists and visitors interested in the Cuban culture. Havana Live Magazine also helps Cuban entrepreneurs showcase their products and services. The Haiti Tech Summit brings together thousands of entrepreneurs, investors, and creatives under one roof together to address humanity's greatest challenges via tech and entrepreneurship.
Hussain Manawer opens Socceraid at Stamford Bridge
Hussain Manawer has recently opened Socceraid at Stamford Bridge helping to fundraise money for UNICEF. Hussain Manawer is an advocate for mental health and to date has spoken to over 14,000 high school students.
Sara Rajabli sits on a "SHE – embrace the change" panel hosted by 100 Business Women in Azerbaijan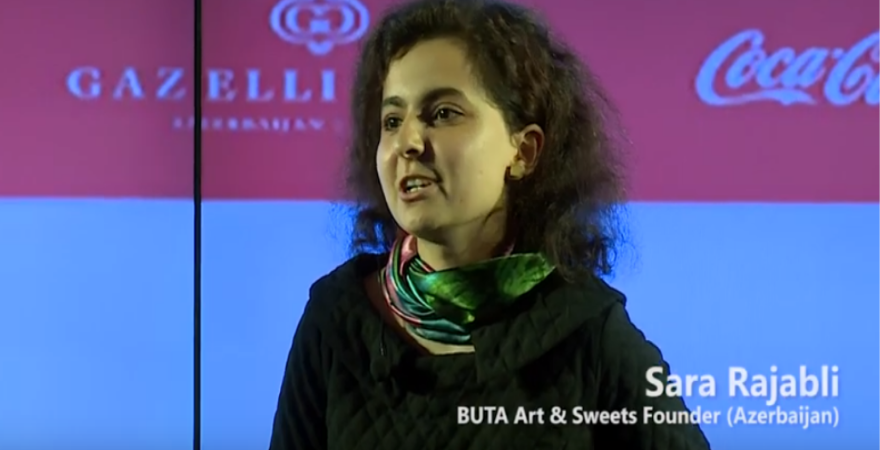 Sara participated in a panel discussion about "more than profit – not wait for changes, but to be change" with other women entrepreneurs nominated by the 100 Business Women in Azerbaijan. Sara Rajabli is the founder of BUTA Arts & Sweets, the first social business about sweets, including women with special needs. She is also the founder of the Social Business Youth Center.  To watch the whole panel discussion, please click here
Previous
Sara Rajabli wins the Social Entrepreneurship Nomination Award
Sara Rajabli was presented with the Social Entrepreneurship Nomination Award, which was awarded for the very first time in Azerbaijan. Sara is an Azerbaijani social entrepreneur who is focused on working on the unemployment problem of women with special needs. Her first social business project was selected for the "Yunus & Yunus  Social Entrepreneurship Fellowship program". Her work would have not been possible without the support of the Agency on Development of SMEs, Ministry of Economy and Confederation of Azerbaijani Entrepreneurs.
Meg Zeenat Wamithi appears on Channel 5 News
Meg Zenna Wamithi, founder and director of "My Mind Matters Too", was invited to Channel 5 News to discuss student mental health. "My Mind Matters Too" is a student-led mental health consultancy which runs an ongoing mental health campaign jointly with King's College London and various charities. The campaign aims to add positively to the discussion of mental health within 18-25- year olds.
Caritta Seppa meets with Finland's former president
Caritta met Finland's former president, Tarja Halonen, at the opening ceremony of the Chinese Women Association in Finland. Caritta is the co-founder of Tespack, a company specialised in mobile energy, her vision is to make everyone energy independent. As a result of her work, she was shortlisted by Forbes 30 Under 30 in Europe.
Arash Bordbar interviewed by BBC journalist at the Women Deliver Conference 2019 in Vancouver
Arash Bordbar is fighting for refugee youth rights and advocating for gender equality. He recently attended the Women Deliver Conference that took place in Vancouver in June. When receiving a question regarding what Arash will do with his power to advance equality, he responded the following: "to really use my power to talk about the positivity that working with women brings. We heard from the CEO of Women Deliver, that having a gender equality world will really help us to have a wealthier, healthier and more productive and more peaceful world that we can all live in together". Go to minute 7 to watch the full interview. 
Victor Odhiambo writes an article about #BlueforSudan
Many Ambassadors have changed their profile pictures in their social media accounts to blue to show solidarity with protesters in Sudan in the wake of the crackdown that has killed dozens in the capital. The colour blue honours the memory of one of the latest victims, Mohammed Mattar, whose favourite colour was blue. One Young World Ambassador, Victor Odhiambo writes about the importance of the youth in Sudan. Read the full article here.
Kurba-Marie Questelles attends a UN Security Council session
Kurba-Marie Questelles, Ambassador from Trinidad and Tobago, briefed the United Nations Security Council alongside the UNODC Regional Representative for Central America and the Caribbean, the Defense Minister of the Dominican Republic and the Executive Director of CARICOM IMPACS on 7th June.
Priya Prakash helps to set the policy at National Symposium for School Healthcare
Priya Prakash, founder of HealthSetGo, is shaping the policy at the National Symposium for School Healthcare, in collaboration with Assocham India's Health Council. The HealthSetGo team created the Benchmark for Healthy Schools in India thanks to the support of the Food Safety & Standards Authority of India.
Rahama Nantoumé support the launch of a Zero Victim Campaign in Mali
In partnership with #Doniblog and #Thinkpeace, Rahama, a OYW Peace Ambassador, has launched the Zero Victim Campaign on 13th June. The aim of the campaign is to engage local citizens, especially young people and women, in conflict prevention through raising awareness and communication.  
Amir Ashour's IraQueer, chosen as one of the three organisations to work with Amplifund
Amplifund is a new fund launched by Gay Times that will support LGBT media and activism across the world. OYW Ambassador, Amir Ashour has spoken in the launch of the fund about IraQueer's mission to change the language Iraqi media use towards LGBTQ people.
Neeshad Shafi featured in Landscape News
In an article of Landscape News,  Neeshad Shafi, who is Coordinating Ambassador for the Middle East was featured for his environmental activism. The article called "Reattaching young people to the climate crisis" highlighted Neeshad's advocacy and community efforts to change people's perceptions and collection behaviour on the climate crisis. Read the full article here. Neeshad Shafi will speak at the Global Landscapes Forum in Bonn, Germany on the 22-23 June. The Global Landscapes Forum is the world's largest knowledge-led platform on sustainable land use, dedicated to achieving the Sustainable Development Goals and Paris Climate Agreement. It has connected 4000 organizations and 180,000 participants to gatherings in Warsaw, Lima, London, Paris, Marrakech, Jakarta, Bonn, Washington D.C. and Nairobi – and reached over 500 million from 185 countries. To register please click here. 
Two Ambassadors included in Apolitical's list of the World's 100 Most Influential People in Global Policy on Gender Equality
OYW Ambassadors Loujain Al-Hathloul and Amanda Nguyen, and OYW Counselor Emma Watson, have been featured in the list produced by apolitical.co which celebrates the most prominent figures working for global policies regarding gender equality. They are included alongside other prominent politicians, civil servants, academics and activists including Ruth Bader-Ginsburg and Michelle Bachelet. To view the full list and works of each individual, click here.
Adam Bradford announces partnership with GVC Holdings on "Changing for the Bettor"
As co-founder of Safer Online Gambling Group (SOGG), Adam announced SOGG's partnership with GVC Holdings -- betting and gaming operator group – as part of GVC's Changing for the Bettor campaign. Through this partnership, both groups seek to tackle "the issues of gambling-related harm head-on". SOGG will support GVC in its research, education and treatment programme to deliver support to addicts who show signs of problematic play.
Candace Nkoth Bisseck featured in Forbes Column for her new role in eTrade for Women
On May 21st 2019, Candace's interview with Nina Angelovska was featured by Forbes Column. Previously named as a "The Super Woman of e-commerce", Candace has been devoting her years to being a role model for other women in STEM. She further satisfies this role as the Program Manager of the very new initiative of UNCTAD -- the eTrade for Women. The eTrade for Women is an initiative which aims to support women in the e-commerce field in developing countries by showcasing women leaders' work and providing the network for connections.
Sophie Kanza on eNCA discussing Breaking Down Border
Sophie, who is a co-founder of Sophie A Kanza, was on ENCA discussing the Summit and her Ambassadorship. In the 2018 Breaking Down Border Summit, she attended as a summit speaker.
Liz Rebecca Alarcón shares her opinion on the USA's relationship with Venezuela
Receiving question regarding her opinions on Maduro and on Trump's actions towards Venezuela, Liz Alarcón shared her answer in her article "I'm a progressive Venezuelan American. Disliking Trump doesn't mean I will support Maduro" on USA Today. Although Liz considers herself as a Democrat and a progressive, she does not support Maduro' regime. She suggests that "[t]o do the most good, the U.S. government should support the constitutionally backed interim presidency of Juan Guaidó". Read the full article here.
Dimpho Lekgeu in training under DICE Young Storymakers programme at London
Dimpho participated in a training session as part of the first DICE Young Storymakers programme in London. The DICE Young Storymakers programme is an initiative of Pioneers Post and the British Council that provides a week of training, discussion and networking on social and creative enterprise to early-career journalists and storytellers aged between 18-25 from Brazil, Egypt, Indonesia, Pakistan, South Africa. Fourteen young journalists were selected to come to London and produce stories in written, audio or video format, the best of which will be published on Pioneers Post over the next ten months.
Seleman Yusuph Kitenge engaging at the Atlantic Dialogue in Morocco
Seleman and other attendees of Atlantic Dialogue in Morocco were assigned a task to imagine the future of the Atlantic basin, as well as the global South, and predict the challenges that we will face by 2025. proposing possible solutions.  During this task, Seleman co-authored an article, which has been published by Policy Center for the New South and shared to other Key stakeholders. Read the full article here.
Khanya Mkoto hosted the Breaking Down Borders Africa Youth Summit
From the 22nd to 24th May, Khanya is the Programme Director at Breaking Down Borders Africa Youth Summit in Johannesburg. The Summit is "a Pan African Annual Conference for young leaders across the continent & appropriately it takes place during Africa month, with the theme 'Reclaim Africa'." There were 200 young leaders that represent 25 African countries in attendance.
Margianta Surahman Dinata gives a TED talk titled "You Do You(th)"
Margianta, the initiator of FCTC untuk Indonesia and Emancipate Indonesia, gave a talk at TEDxBinusSchool Jakarta, representing Emancipate Indonesia and Youth Movement for FCTC. The talk was titled "You Do You(th)," and he shared his life journey as a youth change-maker, along with how he overcame obstacles and doubts over his young age.
Value 500 urges businesses to commit to put disability inclusion at St James's Palace
Unilever UK & IRE has shared that The Value 500 urged businesses to commit to putting disability inclusion on their board agendas. They believe that the pledge can bring a huge impact on creating inclusive opportunities in business for people with disabilities.
Tudor Mihailescu joins Antler's inaugural cohort in Amsterdam
Tudor Mihailescu, OYW Peace Ambassador, recently joined Antler's Amsterdam program. Antler is a global startup generator founded in 2017 by Magnus Grimeland and a team of McKinsey, Google, Spotify, Harvard, and MIT alumni, with a mission to turn exceptional individuals into great founders. Antler chooses the world's most talented people and helps them find the proper network worldwide.
Brian Bosire featured in White Collar Magazine
In the February issue of the White Collar Magazine, Brian was featured for his part in the Vanity Fair Global Goals list. The Global Goals list honours individuals who are leading the charge to achieve the 17 Sustainable Development Goals outlined by the United Nations' 2030 Agenda. Find the online edition here.
Maira Duque meets Barack Obama in Bogotá
Along with eleven other emerging leaders, Maira Duque met President Obama in Bogotá, discussing how the Obama Foundation can help to form the networks of young leaders in order to make positive changes across Colombia. Maira has been leading social mobilisation to press for changes on issues such as air quality, homicide, migration, and civic participation.
El Tiempo feature Lead2030 winners Ilana Milkes and Jenifer Colpas
Recently, One Young World announced the list of  Lead2030 winners, a programme designed to find, fund and accelerate the most impactful youth-led solutions that are moving the needle on the SDGs, with support from a coalition of the world's most prestigious coorporations. Two of the successful leaders, lana Milkes and Jenifer Colpas, were featured in El Tiempo. Ilana, who is a former soccer player, leads the project, "World Tech Makers" to tackle SDG4: Quality Education. Jenifer heads up a project to improve sanitation in remote communities, primarily on the Caribbean coast. To view the article, please click here.
Joannes Yimbesalu leads a new United Nations global partnership
Joannes recently relocated to Abuja, Nigeria on an offer by the United Nations Children's Fund (UNICEF) to lead a new United Nations global partnership called Generation Unlimited. The new partnership prepares young people from the entire country to become productive and engaged citizens by connecting secondary-age education and training to employment and entrepreneurship, empowering every young person to thrive in the world of work. Moreover, Joannes' work on global education was recently nominated for a Luxembourg Peace Prize, an initiative of the Schengen Peace Foundation.
Willice Onyango won the competition for the Public Participation Application.
Willice's idea for the Public Participation Application has won the competition, selected by the National Youth Office of Kenyan Parliament. With an aim to reduce problems with lack of youth participation for public participation forums on legislation, the initiative was designed to promote open governance, inclusivity, and transparency in parliamentary activities. For further information about the initiative, visit National Youth Office website.
Hyppolite Ntigurirwa finished 50 days out of 100 days of Be The Peace Walk
Hyppolite and Be The Peace initiated #BeThePeaceWalk, which is a walking performance held from 15th April to 15th July, in remembrance of Genocide Against Tutsi. Finishing the first 50 days of the walk, Hyppolite posted highlights video on his social media, sharing his experience. To gain more information about the campaign and to be involved, please click here, and watch the video below.
Shilpa Yarlagadda featured by the Wall Street Journal
OYW Ambassador, Shilpa, was featured in the Wall Street Journal for her remarkable work with her jewellery brand, Shiffon Co. Her jewellery is not only worn by famous figures such as Serena Williams, Michelle Obama and Emma Watson, but also has been funding female-led companies around the world. To check out the jewellery, please visit Shiffon. Co. To access the WSJ article, please click here.
Dara Kirton included in The EMpower Top 50 Ethnic Minority Future Leaders 2019
Dara was included on the recent list of The EMpower Top 50 Ethnic Minority Future Leaders 2019 by Empower and Yahoo Finance. The list celebrates inspirational people of colour who are not yet senior leaders in their organisation, but are making a significant contribution to ethnic minority inclusion at work. Empower and Yahoo Finance recognised the proactive role Dara has been playing in diversity outside of her day job, such as encouraging students from underrepresented backgrounds to seek and gain careers in professional services
Events & Caucuses
One Young World hosts its second UK Caucus in London
On 1st June, OYW partnered with the British Council to host a successful Caucus on the topics of post-Brexit, gender equality and the effectiveness of the UN sustainable development goals. There were many OYW Ambassadors, British Council representatives and external speakers involved in the panels, including: Virginia Stuart Taylor (EU policy advisor), Luke Hart (Technology Associate at BP), Paolo Zeppetello (HR Analyst at Barclays), Shruti Sharma (CSR professional) and Mete Coban (shortlisted for OYW Politician of the Year 2019).
OYW Ambassador & UK's G7 Youth Delegation leader meets with OYW Japan in Tokyo
OYW Ambassador & UK's G7 Youth Delegation Leader James da Costa met with members of the OYW Japan, Ackey Toda and Kimy Okubo.
Ambassador Meetups