Tabata Amaral has been nominated the Best Deputy of Congress in Brazil
Tabata Amaral de Pontes was elected as a member of the Lower House of the National Congress, representing the State of São Paulo on Sunday 7 October, 2018. Representing the Democratic Labour Party, she was one of the youngest elected officials in Brazil's elections last year. She focused her campaign on education reform, job creation, housing and anti-corruption. She has recently been nominated the Best Deputy of the Brazilian Congress in 2019.
Johannah Maher launches IMPACTR, the new social network
Johannah is the CEO & Co-Founder of  IMPACTR, the new social network for sustainability, that connects a global audience with trusted opportunities to impact. Prior to becoming an impact entrepreneur, Johannah was a senior executive in the renewable energy industry. She worked across the world at Vestas, the world's largest wind turbine manufacturer, leading innovation and business areas in commercial, sales, technology, R&D, product development and financial engineering. Sign up to IMPACTR here and join the IMPACTR community.
Karan Jerath has been featured in the documentary series The Power of the Centennials
The Power of the Centennials RELEASED TODAY!! Check out my episode with the CEO of Corona Industries, a multi-billion dollar Colombian mining and ceramics company! https://t.co/W5nxOxuKbY

Sponsor: @Bancolombia
Company: @CoronaInspira
Host: @SebastianYatra
Clothing: @Everlane

— Karan Jerath (@karan_jerath) September 13, 2019
The Power of the Centennials is a documentary series by Bancolombia that connects 6 centennials with 6 executives and creates a conversation on how these leaders can implement more sustainable practices within their companies. OYW Ambassador,  Karan Jerath has been chosen as one of the Centennials to have a conversation with Corona Industries. The objective of each episode is to show a youth's perspective on how leaders of multinational corporations should operate. Karen had direct conversations with the President and CEO of Corona Industries, a multi-billion dollar Colombian mining and ceramics company, on how to develop and implement sustainable practices. Watch the episode here.
Gregory Rockson launches My Padi, an innovative diabetes management service
Happy to talk about My Padi. My Padi is borne out of a partnership between mPharma, Sanofi and selected government hospitals in Nigeria. We hope that this partnership will lead to better glycemic control in persons living with Type 2 diabetes. https://t.co/BYof5VXN0n

— Gregory Rockson (@Rockson2) September 16, 2019
Gregory is the Founder of mPharma, a digital healthcare company that is building Africa's largest network of community pharmacies.It is estimated that over 4 million people in Nigeria live with diabetes so mPharma and Sanofi have recently partnered to launch My Padi, an innovative diabetes management service for Type 2 patients in Nigeria. My Padi is built on the Mutti platform and uses digital nudges and in-person counselling to increase patient adherence to treatment. Each patient enrolled in the service gets a free glucometer to enable them to do self-monitoring of their blood glucose at home and they also receive daily meal plans.
Dr.Siobhan Gardiner has been shortlisted for the Women of the Future Awards
Thrilled to announce I've been shortlisted for the 2019 @womenoffuture awards for my work on #SDGs ! @Unilever @OneYoungWorld https://t.co/IQ8wbqArxp #ZeroHunger #QualityEducation #GenderEquality #Sustainability #LifeonLand #NoPoverty #ClimateAction @circulareconomy pic.twitter.com/gwSoVXQD1e

— Dr Siobhan Gardiner (@Just_Shiv) September 19, 2019
The Women of the Future Awards was founded by Pinky Lilani CBE DL in 2006 and is aimed at providing a platform for female talent in the UK. Through the Women of the Future Programme, they have built a remarkable, informal community of influential women determined not only to build fruitful professional and personal relationships with one another but to be advocates for an exciting new generation of business talent. Dr. Siobhan is a senior manager of Global Sustainable Technology Programme at Unilever.  She has been actively pushing technology transfer and policy regarding food security, access to education and addressing the challenges of gender inequality. Read the full shortlist here.
Saeed Atcha relaunches Youth Leads
We've got that #FridayFeeling! Say hello to our exciting new name, brand and focus - Youth Leads is here. With new projects launching soon, we'll continue to publish Xplode and run our social action programmes! All the details → https://t.co/NoZ1t6tZ64 pic.twitter.com/1kFRP7bCJO

— Youth Leads (@YouthLeadsUK) September 13, 2019
Saeed is an advocate for youth development and he promotes the advancement of education in regards to the media and business sector. Saeed founded Xplode Magazine, bringing in over 250 volunteers, and training over 4,000 young people in employability, media, business and life skills. The popular youth charity Xplode Magazine has rebranded to Youth Leads marking a change of focus. The rebrand comes as the organisation celebrates upskilling 5,000 young people and offering 300 volunteering opportunities. Read more about the rebranding here.
Solomon Elliot's Student View has been named the best media literacy programme in the world
We've been awarded the 2019 Global Youth & News Media Prize! We can't wait to train even more teens as local news reporters thanks @Googleorg @FT and our amazing volunteers #mediamatters https://t.co/bsr3VvXtlR

— The Student View (@TSV_ORG) September 23, 2019
Solomon is the Founder and CEO of Student View, the UK's leading media literacy charity that gives young people a chance to share their world through words. He created the Student View as he wanted his teenage pupils to learn about disinformation by first becoming investigative journalists themselves. The programme includes journalists from publications such as The Financial Times coaching students and the charity has already launched 72 pop-up newsrooms in schools throughout the country, mostly serving students from low-income backgrounds.
Prince Agbata interviewed on PlusTV about plastic waste recycling 
Prince is the co-Founder of Coliba recycling services, which leverages mobile technology, innovation and incentives to address plastic waste challenges through recycling in West Africa. Their solution is serving over 12000 households in Ivory Coast and 4000 households in Accra Ghana through an incentive-based plastic recovery system that is broadly supported by mobile technology, Voice, SMS and USSID functionalities. Watch the full interview here.
Amanda Bartley has been appointed  Vice President, Board of Directors at Family Service Toronto
Family Service Toronto is a century old organisation working with individuals and families in Toronto that are destabilised by precarious socio-economic circumstances and/or mental health challenges. Amanda has been recently appointed to a more senior role within the organisation as Vice President, Board of Directors. Prior to this appointment, Amanda served as a general Board member and sat on the Governance Committee. She has also supported the organization through some critical projects over her tenure, most recently as a member of the Executive Search committee.
Achaleke Leke published an article on how to curb hate speech in Cameroon
NEW PUBLICATION ALERT! "Hate Speech and Violent Conflict in Cameroon" @loyocameroon excited of our youth-led evidence based research #Read full version https://t.co/N16qIpQP1h @StopFundingHate @hatebase_org @SFCG_ @USIP @ComSecCVE @unoy_peace @USAID @FightExtremism @ISDglobal

— achaleke (@achaleke1) September 18, 2019
Achaleke is a youth civil activist and peace advocate that volunteers as the National Coordinator of a youth-led civil society organisation called Local Youth Corner Cameroon. His publication "Hate Speech and Violent Conflict in Cameroon" is a youth-led evidence-based research that examines the nexus between hate speech and violent conflict in Cameroon and provide recommendations on how to curb hate speech in Cameroon. Read the full report here.
H L Ananda Piyankara opens a school in Sri Lanka 
HL Ananda is the Founder of Ant Commodity, a B2B platform empowering buyers and producers of spices and tea to use technology to trade more efficiently. Ananda has recently published an article about the school he is opening in Sri Lanka. The Lorry Body School will transform the lives of Indian Tamil children.  They will start with 5 children and they have set an ambitious goal of reaching out to all Indian Tamil children in Sri Lanka.
Hope Mwanake meets Jane Goodall at Vienna
Working for a better world! @JaneGoodallInst met the winner of Mondi's Lead2030 challenge in Vienna last night. Hope Mwanake, co-founder of a company in Kenya called EcoTiles, has developed a process to create beautiful roofing tiles out of plastic waste. #BeJane #Lead2030 pic.twitter.com/J0EktV4z7K

— Mondi Group (@mondigroup) September 12, 2019
Hope Mwanake is the winner of Mondi's Lead2030 challenge and co-Founder of EcoTiles, a Kenyan company that has developed a process to create beautiful roofing tiles out of plastic waste.
Previous
Kehkashan Basu delivered a keynote speech  at UN Global Compact Conference held in Toronto 
Kehkashan was invited to deliver a keynote address yesterday at the opening plenary of the UN Global Compact Conference held in Toronto on the theme "Making Global Goals Local Business Summit".This was a congregation of industry leaders and heads of sustainability from all major Canadian and international organisations. Kehkashan talked about how corporate social responsibility should move beyond tokenism and focus on localising the SDGS at grassroots level. Kehkashan is the Founder of the Green Hope Foundation,  a youth organisation working on UNESCO's Education for Sustainable Development, children's rights and environmental protection.
Kemi Adetu, Sheree Atcheson and Lola Olaore named HERoes Top 50 Future Women Leaders 2019 
The 2019 HERoes Future Female Leaders list celebrates 50 inspirational women who are making a significant contribution to gender diversity at work. Sheree is the UK technology respect and inclusion manager at Deloitte; Founder of I Am Lanka and a board-appointed global ambassador for Women Who Code. Kemi joined Standard Chartered Bank in 2016 and became a member of the Bank's Gender Engagement Network, a key employee resource group focused on gender issues. She has played a key role in improving gender balance in Standard Chartered's internship and graduate programs. She has also launched two initiatives last year, GLOW UP and Fempire Professional Network. GLOW UP works to empower female orphans and provide children in Africa and the United States with the knowledge, skills, and confidence to be economic leaders. Fempire Professional Network is an international community of female professionals of colour across several professions and sectors, creating a support system and providing a platform of opportunity. Lola is an analyst for AND Digital and Founder of AND She Can, an initiative to raise awareness, inspire, support, educate and facilitate the transition of young girls into a career in technology. Beyond AND, Lola founded thinkHER ambition, an organisation aiming to upskill 14-19-year-old girls. Since its founding last year, thinkHER ambition has impacted over 500 young women and partnered with organisations such as Google, YouTube, Accenture, EY and IBM. Kemi, Sheree and Lola are all considered very influential women in tech. Read the full list here.  
Aminka Belvitt will speak at the Bridging Gaps Forum in Toronto
The BridgingTheGap to Youth Forum connects emerging young leaders with decision-makers—from business, government and community sectors—to bridge opportunity gaps and co-create solutions to the challenges they face. Aminka Belvitt is the Founder of The ForUsGirls Foundation,  a registered not-for-profit community-international organization committed to the celebration, acceptance, and development of marginalized unique, fierce and daring young women and girls. She is also the Founder of Wofem tech Solutions, a platform that empowers and connects entrepreneurial and professional women via video conferencing & webinars. Come see her speak, buy your tickets here.
Tijani Christian has been appointed a Board Member of UNICEF'S Generation Unlimited
Tijani has become the newest Board Member of UNICEF'S Generation Unlimited appointed by the Executive Director of UNICEF, Ms. Henrietta H. Fore. UNICEF and its partners launched Generation Unlimited (GenU) as a multi-sectoral global partnership to help young people become productive problem-solvers and members of society. By bridging secondary-age education and training to employment and entrepreneurship, the partnership has and will support every young person to thrive in the world of work.
Sebastián Arévalo Sánchez was invited by the International Organization for Migration to participate in the 5th Summer School of Migration 
The Colombian OYW Ambassador Sebastián Arévalo Sánchez, was invited by the International Organization for Migration (IOM) to participate as a lecturer in the "5ème Ecole d'Eté sur la migration" (5th Summer School on Migration) in Tunisia. The school took place from 2nd to 7th of September 2019 and its main topic was "Trafficking in Persons and Smuggling of Migrants: a multi-level and multidisciplinary analysis".Sebastian is the CEO of Fundación Pasos Libres which is promoting the development of technologies to disrupt human trafficking by promoting innovation competitions like the BlueHack Pasos Libres and the DataJam Pasos Libres in partnership with IBM and the support of organizations like the One Young World and the UK Embassy.
Bozhanka Vitanova publishes an article for UN Youth Skills Day 
Bozhanka developed a novel way to train generations of impact entrepreneurs, called entrepreneurial muscle memory. She later founded the Entrepreneurial Muscle Lab (EML),  a professional training company that provides tools and frameworks to build innovation teams across company and functional divisions.  Bozahnka recently published a paper linked to EML as part of the UN Youth Skills day. The paper looks into employees core competencies and weaknesses and how this affects innovation in the workplace. Download the file here (page 12-16).
Courtney Sunna leads the LEAP program to deliver impact with social innovation and women's leadership development 
Courtney is the Director of LEAP (Leadership & Executive Acceleration Program) focusing on women's leadership and business acumen, and she also sits on the Board of Directors for the IIBN (Irish International Business Network)  in New York City. On the 25th of June, LEAP celebrated the graduation of sixteen Irish and Irish-American women who participated in the 6-month leadership development, mentorship, and social innovation program. Read the press release here and the video here.
Tariq Al-Olaimy launches a new website for Recipes for Wellbeing 
Tariq is the Co-Founder of 3BL Associates, Bahrain's first social impact and sustainability consultancy and think-do-tank, which was established to further multi-stakeholder sustainable and regenerative development in the MENA region. He is also the co-Founder of Recipes for Wellbeing, which works towards shifting the culture of changemaking to include a focus on holistic wellbeing to enable anyone to contribute more effectively to creating positive change in the world. The new website has 25 new recipes and shares information about wellbeing labs, conference, workshops and even about digital wellbeing. Check out their new page here.
Victor Odhiambo's work has been featured on People's Daily Newspaper in Kenya
Victor Odhiambo is the Founder of Garden of Hope Foundation, a youth led community organisation that is passionate about restoring hope through providing mentorship, leadership, and youth empowerment.  Garden of Hope Foundation has worked with 5,000 young people since its inception, helping them to develop their entrepreneurial and leadership skills. The foundation runs an entrepreneurial skills training programme for women and girls living in Kibera who have been victims of forced marriages or have dropped out of school at a young age. So far 3,000 women and girls have been equipped with entrepreneurial skills through this programme. An article called Giving youth a fighting chance talks about the transformation story of Garden of Hope Foundation.
Support Zina Saleh to open her first workshop!
Zina Saleh is an OYW Ambassador and Founder of Ishtar Handmade Soap which is the first Iraqi women-led business that helps women in vulnerable situations and provides them with the raw materials so they can make the soap products and sell them in Iraq. Due to terrorism and war, rent in safe areas in Iraq has become extremely expensive for small businesses. Support Zina's cause by donating to her GoFundMeCampaign. The final goal is to raise the equivalent of 2 years rent ($24,000). Donate here.
CP-OYW Delegation pays courtesy call to H.E. Mr. Don Pramudwinai, Minister of Foreign Affairs, at the Foreign Ministry in Bangkok
The Charoen Pokphand One Young World Delegation made a visit to  H.E. Mr. Don Pramudwinai, Minister of Foreign Affairs, at the Foreign Ministry in Bangkok in preparation for OYW 2019 London Summit.
Aya Chebbi meets with the President of South Sudan on her Solidarity Mission to South Sudan 
The African Union Youth Envoy, Ms. Aya Chebbi, and AU Youth Advisory Council member, Mr. Simon Marot Touloung have taken a solidarity mission to South Sudan to amplify the voices of young people, especially young women and girls to the highest level of decision making. The objective of the Solidarity mission was to bring the AU closer to South Sudanese youth and demonstrate support for the full implementation of the Revitalized Peace Agreement.Ms. Aya Chebbi met with President of South Sudan, H.E Salva Kiir Mayardit, in Juba and highlighted the advocacy objectives of the solidarity mission including the urgent need to implement the Revitalized Agreement on the Resolution of the Conflict in South Sudan.
Ashleigh Sean Rolle writes an article for the BBC about Hurricane Dorian's destruction in the Bahamas
Hurricane Dorian has been declared as the strongest storm on the planet this year. OYW Ambassador for the Bahamas and writer for the 10th year Seniors, Ashleigh Sean Rolle describes the helplessness and fear she feels for her family and people at home. Ashleigh is a native Bahamian and a writer for the 10th year Seniors. Read the full article here.
Ilwad Elman named among the most influential African women 2019
Human rights campaigner, social activist and OYW Ambassador  Ilwad Elman has been named among the 100 most influential women in Africa for 2019. Ilwad is the director of programmes at Elman Peace which champions for the cause of child soldiers, vulnerable women and defectors from extremist groups in Somalia joins the league of women who have made an impact in various sectors of society in Africa. Read about her nomination here.
Kriti Sharma was announced a Points of Light Winner by the Prime Minister's Office
Points of Light award recognises outstanding individual volunteers - people who are making a change in their community. Kriti is the Founder of AI for Good, an initiative pioneering AI techniques to tackle a range of social challenges. Only in its first year, AI for Good provided 1.5m consultations to people in need on critical topics such as domestic violence in South Africa, reproductive health in India and mental health support globally. Read her nomination here.
Achaleke Leke inaugurates the first-ever social enterprise for former prisoners in Cameroon
Achaleke is a youth civil activist and peace advocate that volunteers as the National Coordinator of a youth-led civil society organisation called Local Youth Corner Cameroon. After 20 months of providing training in barbering and hairdressing as an alternative to violence to 15 male and female former prisoners, Achalek's organisation collaborated with the former inmates to construct the first out of prison enterprise to support their rehabilitation and reintegration. Watch the full news report here.
Sebastián Arévalo Sánchez was invited by the Tunisian Government and International Organization for Migration to speak in the 5th Edition of Migration Series
Sebastian is the CEO of Fundación Pasos Libres, a foundation that works to prevent human trafficking in young people with the purpose of contributing to the construction of peaceful, fair and sustainable societies. He has also worked at the United Nations Office on Drugs and Crime (UNODC) and was Regional Coordinator of the National Youth Network against Trafficking in Persons of the Latin American Observatory on Trafficking in Persons and Smuggling of Migrants. He will participate in Ecole d'Été sur la Migration 5th edition to discuss technological and social innovation solutions to disrupt human trafficking. Read the full article here.
Mary Moeono-Kolio invited to speak at NZIIA Live Pacific Futures Conferences
Mary is the 350 Pacific Climate Warriors Coordinator and the OYW Coordinating Ambassador for the Pacific region. She has been invited to speak on a panel to discuss how Pacific leaders are addressing climate change.
One Young World Ambassadors participated in a panel discussion with Build Series
Aminka Belvitt of ForUsGirls, Ousmane Ba of Girl Child Project and Saad Amer of Plus 1 Vote sat down to have a discussion with Justina Nixon-Saintil of Verizon Foundation. The theme of the panel was Does the future of education need to be reimagined? Watch the discussion here.
Slow progress on Saudi Women's Rights
Saudi Arabia has recently announced that women over the age of 21 will be allowed to travel abroad without the permission of their male guardian. Although this may be seen as progress to Saudi Women's rights, it is important to not forget the activists who are still imprisoned. It has been more than a year since Saudi Women's rights activist and OYW Ambassador Loujain al-Hathloul was imprisoned. She was arrested on several occasions for defying the ban on women driving Saudi Arabia and later imprisoned for trying to destabilise the kingdom. Read the full article here.
Ilwad Elman's work featured in the Toronto Raptors campaign
Ilwad
runs the Elman Peace and Human Rights Center (EPHRC) in Mogadishu with her mother, Fartun Adan who set it up in honour of her late husband, Elman Ali Ahmed, an ardent Somali peace activist who was assassinated in 1996. The Elman Peace Centre is a non-profit organisation dedicated to empowering the youth in Somalia to be decision-makers in efforts of ensuring their well-being. The Elman Peace Centre was featured by the world champions, Raptors. The theme of the campaign was Basketball, Peace and Love.
Hussain Manawer will embark on his first UK tour 
Hussain
is a British poet, OYW Ambassador and advocate for mental health. For the opening performance of the 2019 Soccer Aid Football Match, Hussain wrote and performed his poem to help raise donations for UNICEF. He also performed at Glastonbury Festival. He is now set to embark on his first UK tour 'The Show Must Go On' this October, with shows confirmed for Manchester, Birmingham & London. For more information on concert dates, click
here.
Michael de la Peña named as one of the 6 young Filipinos making a difference in their countries by CNN
Michael is currently working as the Assistant Program Manager of Heads Up Philippines, a mental health program focusing on building mentally healthier communities, and is the Director for Communications and Partnership at Positive Youth Development Network. To this day, Michael and his team have engaged over 200,000 youth leaers who have reached out to over 2.4 million Filipinos nationwide. His project High Five, united 10 rival universities to champion HIV prevention programs in the province and launched the largest youth-led movement to address HIV in Visayas.Read the full article here.
Sara Rajabli was selected for the  International Visitor Leadership Program (IVLP) 2019
The International Visitor Leadership Program (IVLP) is the U.S. Department of State's premier professional exchange program. Through short-term visits to the United States, current and emerging foreign leaders in a variety of fields experience this country firsthand and cultivate lasting relationships with their American counterparts. During her visit, Sara represented Azerbaijan and discussed social entrepreneurship. Sara is the Founder of BUTA Arts & Sweets, the first social business in Azerbaijan that aims to reduce unemployment among women with special needs. She is also the Founder of the Social Business Youth Center, a social organisation that educates and enlightens young people on social entrepreneurship. Read about her experience as a IVLP 2019 finalist here.
Salam Al-Nukta creates a new startup called LeafUp
Salam is an entrepreneur, OYW Ambassador and startup enthusiast with a passion for bringing immediate and strategic value-added projects focusing on women's empowerment and communities' prosperity. She is the Founder of ChangeMarkers, an youth-led initiative that serves as an educational catalyst, with a strong focus on technology and coding,  to help young innovators develop their ideas. Her new venture, LeafUp is a platform that offers memberships to ethical coffee drinkers to invest in the future of coffee, fight poverty and support sustainable coffee production techniques. Learn more about LeafUp here.
Kennedy Chiduziem Ekezie-Joseph's work celebrated by BellaBaija entertainment 
Kennedy
is the Founder of the Calabar Youth Council for Women's Rights (CYCWR), which supports the rights of women in the areas of female genital mutilation (FGM), domestic abuse, forced child marriage and access to education for girls.He has been working with the government to introduce anti-FGM laws and anti-FGM and gender-based violence education into the curriculum of all secondary schools. Earlier this year, Kennedy announced the launch of his Africave platform, an initiative that will guide the development of young Africans aged 13 – 19 by connecting them with mentorship for self-development as well as to access global opportunities. Read the full article
here.
\
Esther Marshall showcases her work on Cheddar Business
Esther
talks to Cheddar News about helping domestic abuse survivors find the right support through the sTandTall platform. Esther Marshall is a Unilever employee and the Founder of
sTandTall,
a web-based platform for NGO and charities to publicise their services to help victims of domestic violence across the world.
Adrianna Mateo featured on CNN courtesy with Refugee Orchestra Project. 
Adrianna is a OYW Ambassador, violinist, singer-songwriter and actress. She has performed on Broadway in Tootsie and can be seen on HBO's current season of Succession. She was recently featured on CNN courtesy of the Refugee Orchestra. For more information on her projects, sign up to her newsletter.
Trisha Shetty invited onto The Lens Podcast 
Trisha joined Scarlett and Richard Curtis to discuss the generational divides on sexism. Trisha Shetty is an Indian activist for gender equality and the Founder and CEO of SheSays, a platform to educate, rehabilitate and empower women to take direct action against sexual assault in India. To date, SheSays has actively helped 151,426 people and one of her campaigns - #LahukaLagan - received over 25 million impressions online. Listen to the podcast here. 
Vuyolwethu Dubese featured on Womandla for her work empowering STEM related communities
Vuyolwethu serves as an Associate of Impact Accelerator at investment and advisory firm Impact Amplifier, a Mentor at Allan Gray Orbis Foundation and the Chair of the Board for GirlHype which is an organisation that has impacted coding and leadership skills training of 100 000 young girls over 14 years. She has been selected as  A Millennial Mag 20 Young People to Watch honouree and Top 50 South Africa Women in Technology nominee. Read the full article here.
Arash Bordbar has created a scholarship for refugees
Arash
is a former refugee and currently the Co-Chair of UNHCR and the Chair of the Asia Pacific Refugee Rights Network. He is taking the
Chancellor's Challenge Abseil
to raise money for the Dream scholarship, a scholarship for refugees to study at the University of Sydney. To support his project click
here.
Olasupo Abideen selected out of  almost 50,000 applicants to the National Training Academy
Olasupo is the National Coordinator at Brain Builder International, a non-governmental organisation committed to youth empowerment and community development that aims to address the high rate of out-of-school children in Kwara. Olasupo has recently graduated from the National Training Academy in Egypt after being trained on Leadership, Governance and Business for 5 weeks. He was one of 100 selected out of a 45,765applicants .
Kristin Duquette writes an article for Forbes
Kristin's article Enabling Sexual and Reproductive Rights for People with Disabilities has been featured on Forbes. Kristin Duquette is a globally-recognised disability rights advocate, OYW Ambassador, a five-time American Paralympic Record Holder, three-time Junior National Record Holder, and former Captain of the U.S. Swim Team for the 2010 Greek Open. Read the full article here.
Events & Caucuses
OYW Kampala Caucus - a huge success!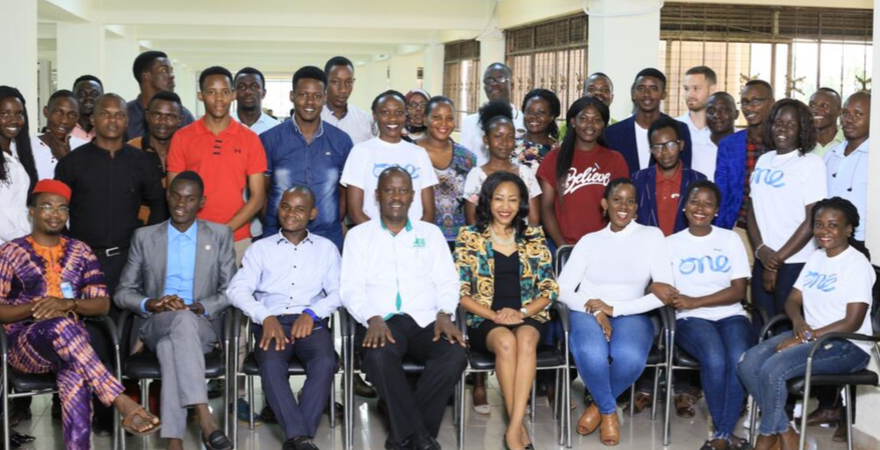 The event was hosted at the Kampala International University Caucus and convened around 70 guests including OYW Ambassadors and socially-engaged students. Attendees had the opportunity to dialogue and exchange on the potential of entrepreneurship, innovation and technology to transform their lives. The focus of the day was to explore different options for students who were about to graduate from university. Guest speakers included Leo Henghes, Ambrose Kibuuka, Raymond Mujuni, Sheila Niyonsaba and  Ajwok Mary Valentino.
OYW Japan Committee held an exciting pre-summit send-off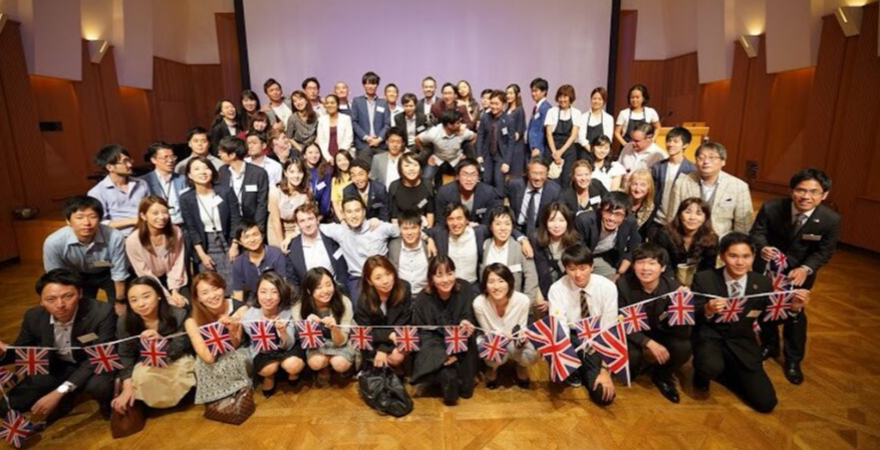 OYW Japan Committee has creatively designed this year's Send-Off at the Music Hall. The event had over 100 guests, including Delegates, Partners (PwC, Astellas, JT, Amuse, Evertron, Okayama Univ. Mitsui Sumitomo, Adventure World, J&J, Deloitte, KPMG, City Group, etc),  Ambassadors, along with BCCJ (British Chamber of Commerce Japan) as well, representatives from Tokyo City (Tokyo Convention & Visitors Bureau) and JNTO (Japan National Tourism Board). The send-off was a great success with live music and catering food featuring all the past summits from 2010 to 2019.
Several OYW Ambassadors speak at Buhler's Event 
Buhler Group organised an event on diversity and inclusion called Generations for a Better World. Four OYW Ambassadors Farai Mubawa, Mbali Misimeki and Dr. Shakira Choonara were invited to speak to about their work.
DataJam Pasos Libres was a huge success
Fundación Pasos Libres, IBM, One Young World, UNODC, the British Embassy in Colombia, and Red Bogotá Lider have joined forces to organised the DataJam Pasos Libres. It was a 12-hour innovation competition that brought together young people, companies, international cooperations and governments interested in using the power of data to identify irregularities and trends related to human trafficking.
OYW Toronto Caucus highlights video is out
On the 9th of May, OYW hosted a caucus in Toronto at Deloitte, bringing together OYW Ambassadors and like-minded leaders to connect face to face, explore opportunities for collaboration and gain insights on emerging education issues. The first Canadian Caucus of 2019 kicked off with speeches from Mark Tewksbury. OYW Counsellor & Chair of Special Olympics Canada and The Right Honourable David Johnston, C.C., followed by OYW Ambassadors Samar Mezghanni and Kelly Lovell. Attendees then participated in an ideathon and working dinner session, devising social impact solutions that could be implemented locally.