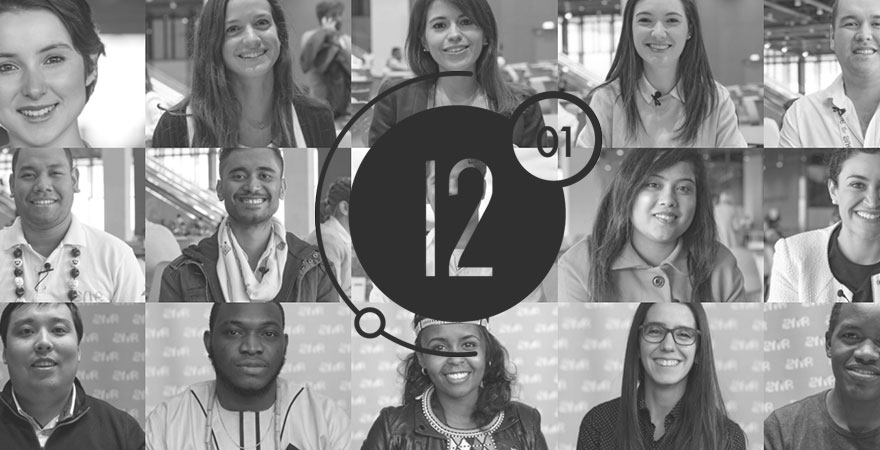 The 12.01 Project, a documentary production company co-founded by One Young World (OYW) Ambassador Pierre Heistein, attended the eighth annual One Young World Summit 2017 in Bogotá to investigate the impact young leaders are having around the world.
The 12.01 Project chose 26 leading Ambassadors from 26 countries who shared solutions to diverse challenges, from leading youth movements in Tunisia, changing UN laws for climate refugees, giving women a voice in Afghanistan, and fighting for LGBTI rights in Timor-Leste and the Seychelles, among others. 
Through these interviews, The 12.01 Project aims not only to raise awareness of such initiatives, but to turn this awareness into action. Each interview is complimented with a set of resources through which viewers are able to connect to the work of the OYW ambassadors and help grow their impact.
Watch the interviews of four amazing young leaders below and keep following OYW's and The 12.01 Project's social media channels as new videos are being released weekly.  
Hammadi Khelifi, Youth Can Organisation, Tunisia
Noorjahan Akbar, Free Women Writers, Afghanistan
Hyppolite Ntigurirwa, Hyppolite for Peace Foundation, Rwanda
Wilber Tupua, Samoa
Want to get involved or find out more about what impact other ambassadors are having?
Go to http://the1201project.com/one-young-world/ to see the full set of interviews and tools with which you can take action to support their work.
About The 12.01 Project: The 12.01 Project was founded by OYW ambassador, Pierre Heistein, and Benjamin Cook of Anti/Type Films. They create documentary films as a catalyst for social change. Through film and its online information platform, The 12.01 Project builds communities around existing solutions to the world's largest social and environmental challenges and provides viewers with effective tools to take action on the solutions provided.
You can learn more about The 12.01 Project by visiting their website at the1201project.com/one-young-world/ and follow them on social media: