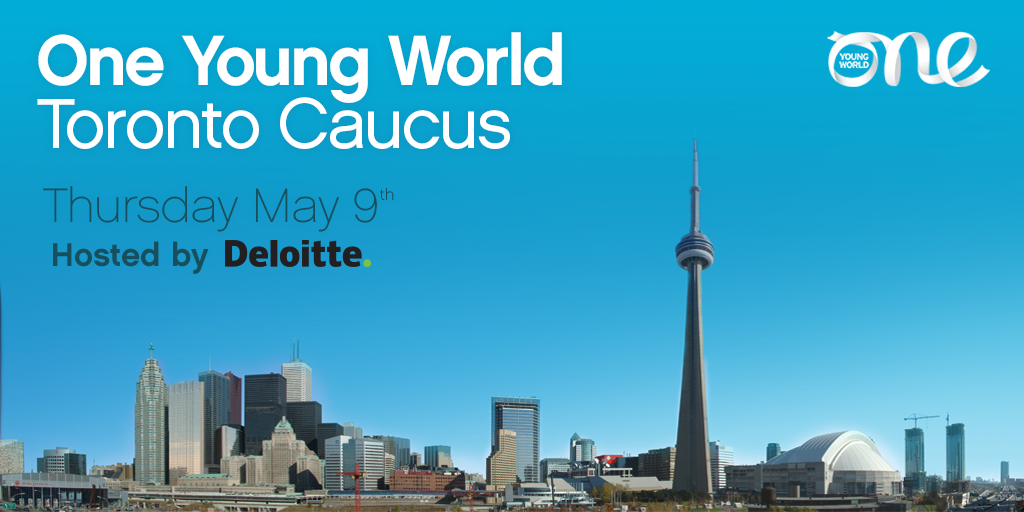 One Young World invites you to join the first Canadian Caucus of 2019 taking place in Toronto.
Thursday 9 May
REGISTRATION FOR THIS CAUCUS IS NOW CLOSED
About the Caucus
Caucuses provides an opportunity for like-minded leaders to connect face to face, explore opportunities for collaboration and gain insights on emerging education issues. Through various speakers and an ideation session, we will explore solutions to promote inclusive, equitable education and lifelong learning.
We are excited to share the Caucus keynote speech will be delivered by OYW Counsellor Mark Tewksbury. 
When & where:
4.00 - 10.00pm 
Deloitte Toronto
Bay Adelaide Centre, East Tower 
8 Adelaide Street West, 5th floor podium
Toronto, Ontario
M5H 0A9
Agenda:
4:00 – 4:20. Welcome, meet & greet
4:20 – 4:30. Kick-off by OYW Deloitte Ambassadors
4:30 – 5:10. Keynote: Mark Tewksbury. OYW Counsellor & Chair of Special Olympics Canada. The Right Honourable David Johnston, C.C.
5:10 – 5:40. Speakers including: OYW Ambassadors Samar Mezghanni and Kelly Lovell
5:40 – 6:10. Break
6:10 – 7:40. Ideathon + working dinner session
7:40 – 8:30. Share findings + reflection
8:30 – 8:40. Closing remarks
8:40 – 10:00. Cocktail reception
About The Right Honourable David Johnston, C.C.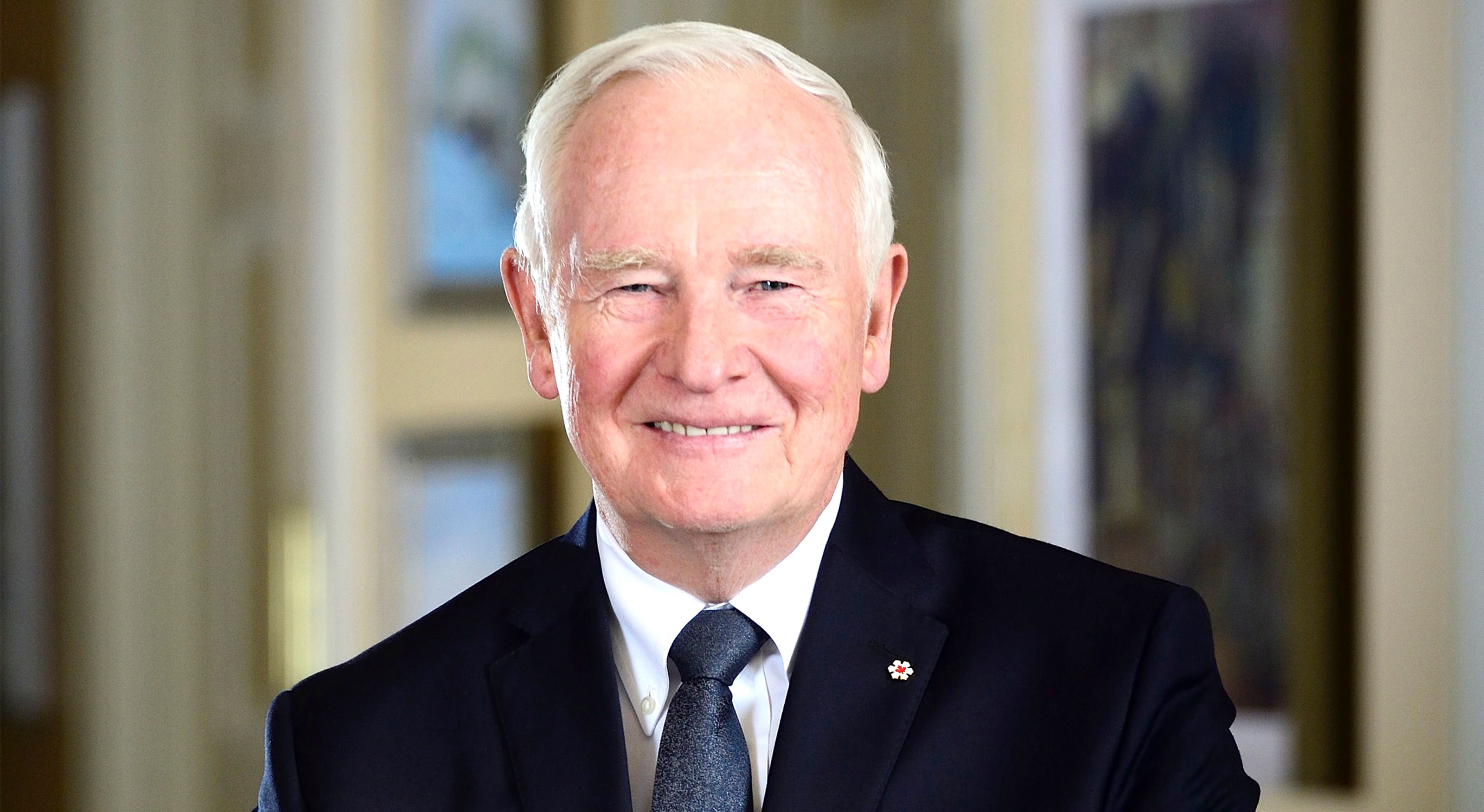 David Johnston is Executive Advisor to Deloitte, where he focuses on innovation, leadership development, inclusion, and helping businesses make courageous choices to improve growth and productivity.
Mr. Johnston was the 28th Governor General of Canada, from 2010-2017.
He was born in Copper Cliff, near Sudbury, Ontario on June 28, 1941, the son of Dorothy Stonehouse and Lloyd Johnston, the retail manager of a local hardware store.
Mr. Johnston attended Harvard University where he earned a Bachelor of Arts degree in 1963, twice being selected to the All-American hockey team on his way to being named to Harvard's athletic hall of fame. He later obtained Bachelor of Laws degrees from the University of Cambridge and Queen's University.
Mr. Johnston's professional career began in 1966 as assistant professor in the Queen's University law faculty. He moved on to the University of Toronto's law faculty in 1968, and became dean of Western University's law faculty in 1974. He was named principal and vice-chancellor of McGill University in 1979, serving for fifteen years before returning to teaching as a full-time professor in the McGill Faculty of Law. In June 1999, he became the fifth president and vice-chancellor of the University of Waterloo, serving until 2010. He is married to Sharon Johnston, with whom he has five daughters. They are grandparents to 14 grandchildren.
When David Johnston became governor general, he called upon all Canadians to join in the building of a smarter, more caring nation. His seven-year viceregal mandate—the third longest in Canadian history— was characterized by inclusiveness, dedication, energy and ambition in quest of a smarter, more caring Canada and a better world.
About Mark Tewksbury: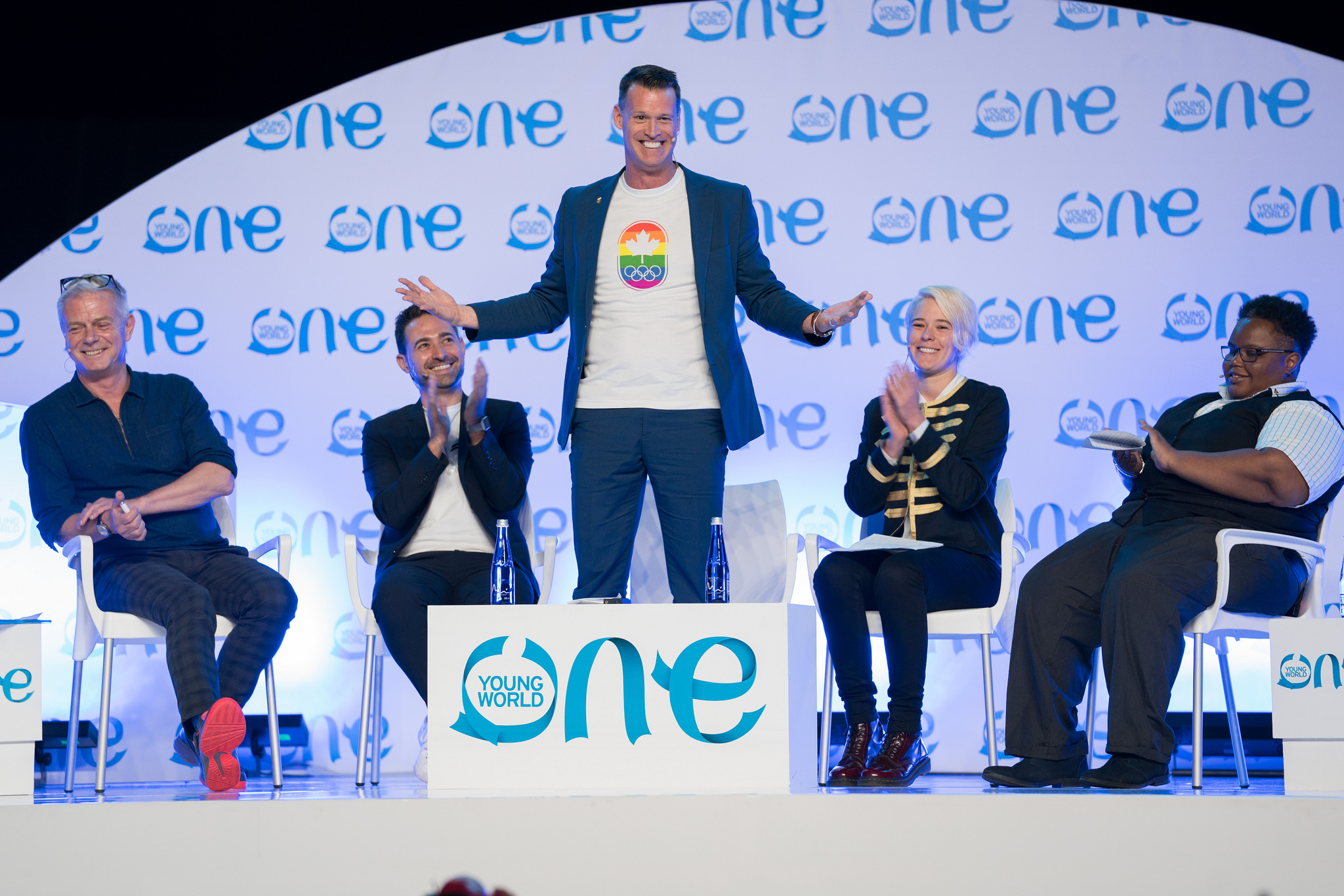 Mark Tewksbury is recognized as a leader of social change. Author of three books, including Inside Out:  Straight Talk from a Gay Jock, Tewksbury is one of the few openly gay Olympic champions in the world. Not someone afraid to speak out, in 1999 Mark co-founded OATH with leading athletes and advocates to take a difficult but necessary step to hold the International Olympic Committee accountable to its own ideals.
In 2006, Mark was the president of the first World Outgames held in Montreal, and was recognized as one of OUT Magazine's top 100 people. In 2007, he was named by Foundation Emergence as the person of the year for his fight against homophobia, and in 2008, he was asked by the Government of France to speak on LGBT issues at the United Nations in NYC. He was also an ambassador for the historic Pride House at the Vancouver Winter Olympic Games in 2010, ensuring the LGBT community had a presence for the first time at the Olympic and Paralympic Games.  Most recently, Mark lent his Olympic gold medal to the Canadian Museum of Human Rights to be displayed as part of the "2015 Year of Sport" exhibit. 
Mark is currently Chair of Special Olympics Canada and sits on the board of the Canadian Olympic Committee.  Mark continues to use his personal experiences of being marginalized and stigmatized to break down barriers for those who feel unable to be their authentic selves in today's society.  
About Samar Samir Mezghanni
Samar is a Tunisian/Iraqi writer and international speaker with two records in Guinness Book for World Records as the youngest writer in the world in 2000 and the most prolific writer in the world in 2002. She has written over a hundred short stories for children and published 14 books. Her work earned her several national and international awards and her stories were quoted by the Chair of the Nobel Prize in her speech at the Nobel Prize Ceremony in 2015.
Samar is the first Tunisian to obtain a PhD from the University of Cambridge ever (in more than 800 years). Fluent in four languages, she delivered keynote speeches in more than 20 countries across 5 continents including at the United Nations (UN) and TED. The BBC nominated her as one of the 100 most inspiring women. The UN appointed her as one of 17 United Nations Young Leader for the Sustainable Development Goals amongst 18000 nominations. She also was classified as one of the most influential Arab women in 2013 and one of the most important young leaders in the Arab region in 2012.
Samar worked with several international organizations such as the UN, the IMF, the British Council and CIVICUS. Her work and speeches focus on literature, education and youth and women empowerment.
About Kelly Lovell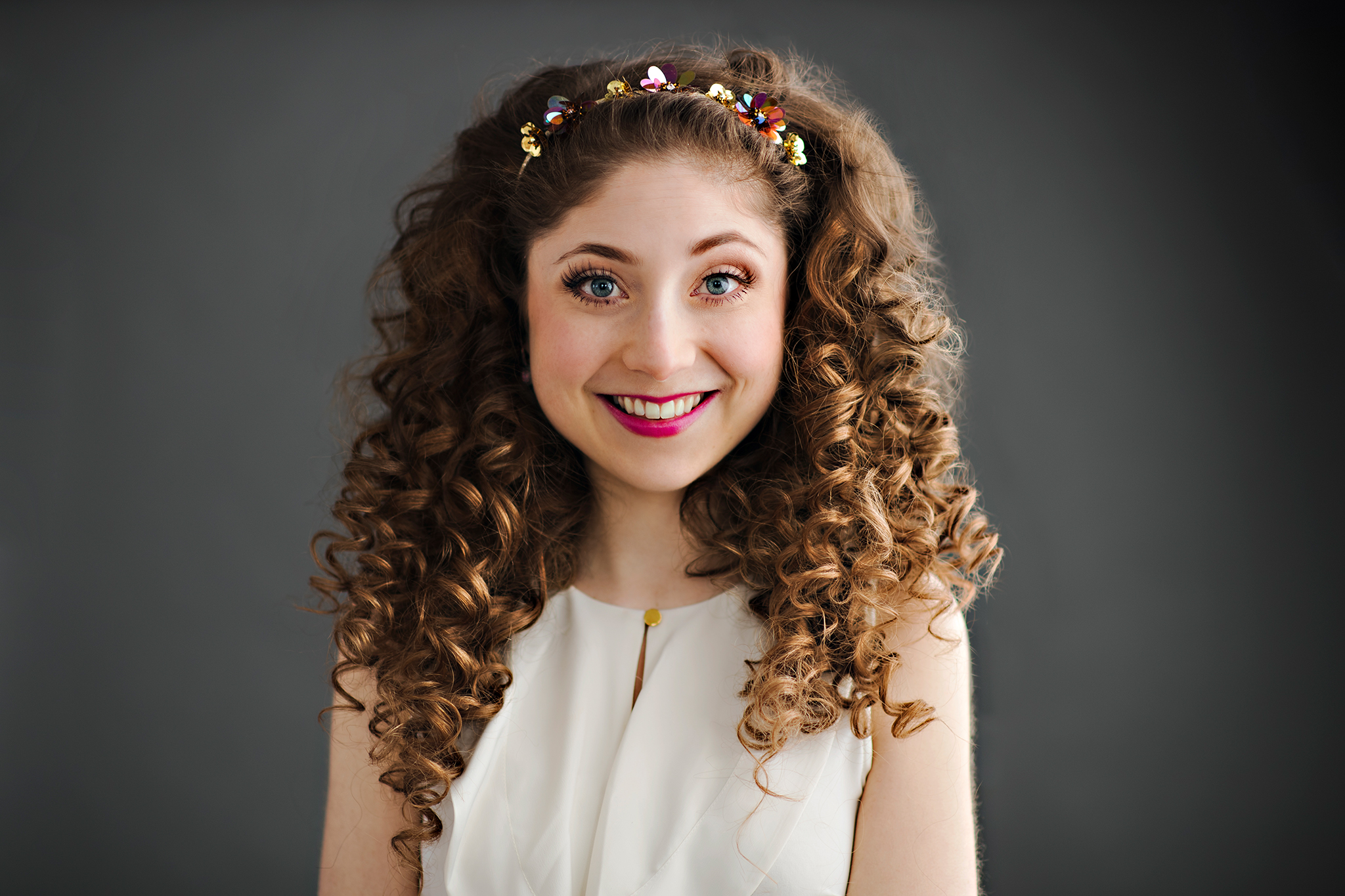 Kelly Lovell, President of Lovell Corporation and founder of MyEffect, is globally recognized for her expertise on "BridgingTheGap" to the next generation. A 16-time award-winning entrepreneur and speaker, Lovell is an expert ranked among the top 0.1% of online influencers for youth-led innovation, future skills training, and preparing for the future of jobs. 
Through her global youth consultancy and innovation firm Lovell Corporation, Kelly helps organizations adapt to the changing workforce to recruit, retain and develop emerging talent. Putting principles into practice to bridge the widening skills gap and youth unemployment, Lovell created MyEffect to track and regulate the assessment of lifelong learning experiences outside of the classroom–a solution to makes future skills education accessible to all. 
An active champion for the Sustainable Development Goals, Kelly holds numerous advisory roles for the SDGs including: director of youth-led innovation for the Blockchain for Impact group, founding chair of the Youth2030 Challenge, member of the Volunteer Groups' Alliance and Impact2030 Toronto Council.  Kelly is also a three-time TEDx speaker and has spoken at numerous UN forums including the High-Level Political Forum, ECOSOC Youth Forum and the 72nd President of the General Assembly's young dialogue, where she shared her "Young Entrepreneurs' Guide to Success".  As a future of work policy advisor she is member of the a G20 Young Entrepreneurs' Alliance, and the youngest advisor for the W20 Digital Disruptors team and the Government of Canada's Talent Cloud initiative–which aims to investigate the applications of disruptive technologies like Blockchain and AI to improve talent mobility and bias reduction in the workplace. In recognition of her continued impact and dedication to creating youth prosperity, Kelly received the Queen's Young Leader award–a prestigious distinction personally bestowed by Her Majesty at Buckingham Palace to exceptional young people under 30 from the Commonwealth who are using their skills to leave a legacy of change.
REGISTRATION FOR THIS CAUCUS IS NOW CLOSED